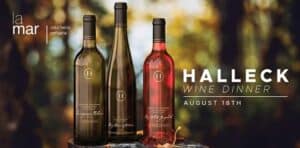 Thursday August 18, 2022
Please join us for a very special dinner at La Mar, one of San Francisco's most popular and innovative restaurants.
On the Embarcadero in a private dining room; seating is VERY limited.
6-course menu prepared by Executive Chef Victoriano Lopez and Sous Chef Ricardo Younis
specifically for Halleck Vineyard wines. These dishes are not on the current dining menu.
Priced as a gift to our community.

Peruvian Restaurant
San Francisco's premier Peruvian restaurant
located on the Embarcadero and overlooking the Bay