A family one acre site, Halleck Vineyard is perched above the Russian River watershed and flanked on the west by the slopes to the Pacific Ocean. It commands an expansive view of the rolling Sonoma County hills to the northeast and Mt. Helena. At 900 feet elevation, it is one of the highest vineyards in Sonoma County. Planted to encircle the Burnside home, the vineyard faces the west and the north.
During the second half of the growing season, coastal fog envelopes the landscape every afternoon and on rare days, the sun only peeks through. This cool weather allows the fruit to mature slowly and the flavors to intensify. Our Indian summer heat in late September through October spikes the ripening and sugar levels at the last moment for perfect harvest conditions.
The primary intent for this vineyard was to serve as a college fund for our three boys, Connor, Adam, and Quinn. Of course, a passion for Pinot led the charge.
It remains our flagship, being selected by the Somm Journal in 2018 as one of the top 5 vineyards in Sonoma County. Experience one of the best Sonoma wine tastings at our Sebastopol Estate.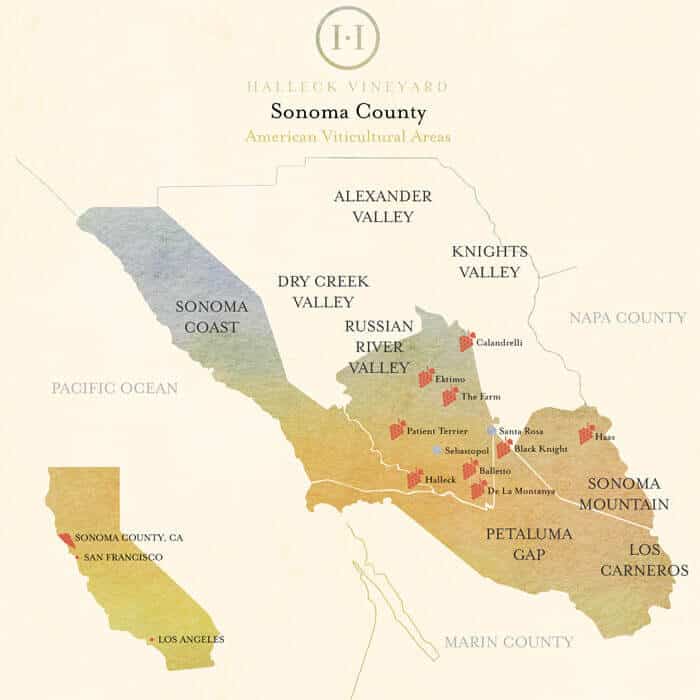 This is a family journey. We invite you to join us.
We planted the Halleck Vineyard in 1993, the first in the hills of Sebastopol, in western Sonoma County. Intended as a college fund for our son, two more sons and six years later until our first harvest, this seemed a flight of fancy.
In 2002, we earned #1 Pinot in the United States for the first wine from our Estate.
A community assembled around our family of wines. We were inspired to contribute and participate. We collaborate with charities to support our world. It's the most meaningful part of this work.
We welcome you to join us in making the world a better place. We invite you into our community.