Intimate Wine Tasting in Sonoma
Sonoma Wine Tasting at our Sebastopol Winery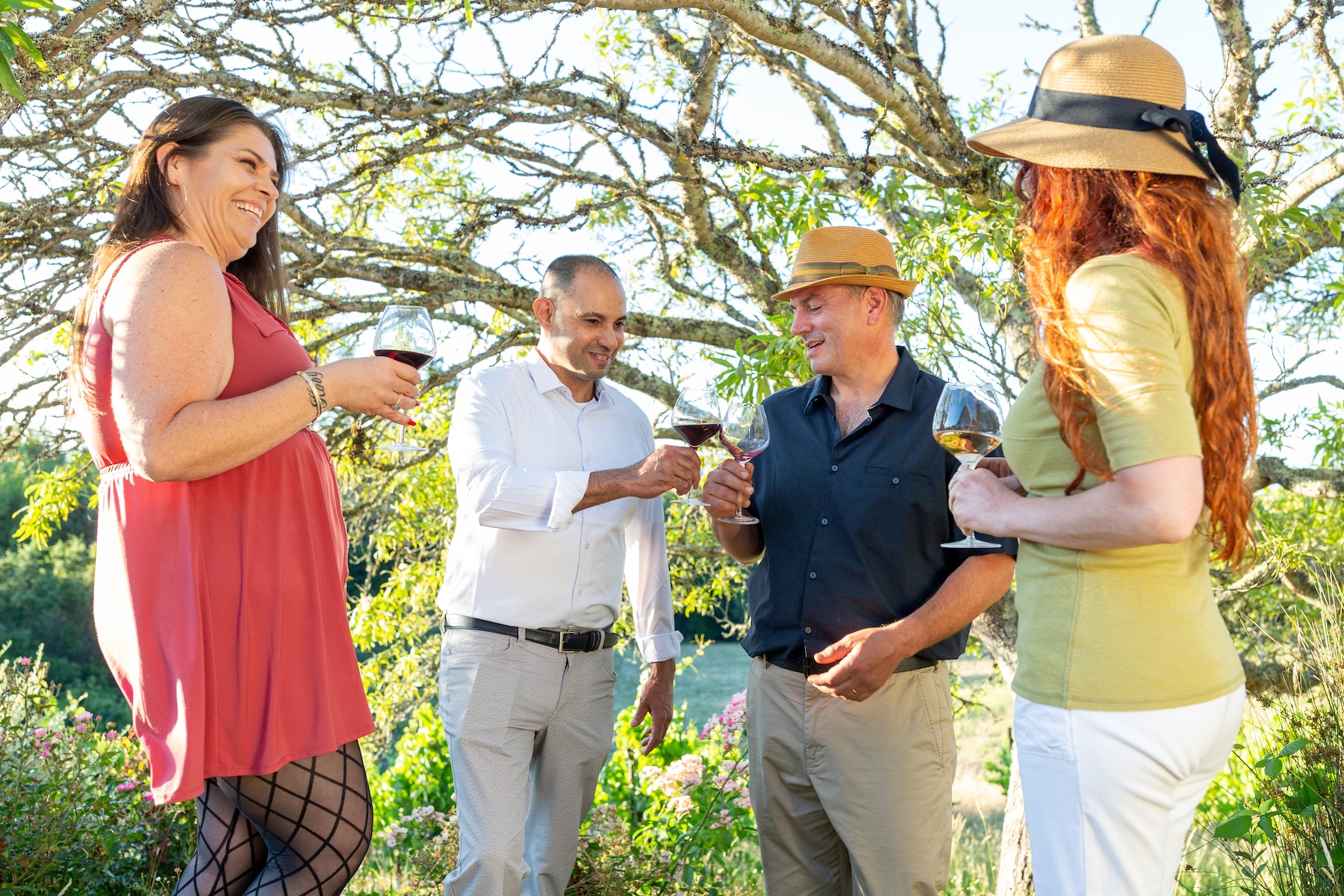 $65 per person
16 guests max per wine tasting

Sip 8 Sonoma Wines with Local Delicacies
Sonoma wine tasting experience includes:
3 best-in-class, double gold Sonoma white wines
1 award winning Sonoma Rosé wine
4 best-in-class, double gold Sonoma Pinot Noir red wines
Local cheeses, infused chocolates, dried apricots and delicacies
Full menu here
Judged Best Pinot Noir in America again and again.
Our small-production Sonoma winery continues to draw accolades for its expression and quality. Live the dream. Tour our Sebastopol vineyard, visit our Sonoma wine tasting room and sip our vintages made from fruit sourced from our own estate vineyard, as well as from Haas Vineyard in Glen Ellen, Balletto Vineyards in Santa Rosa, and Black Knight Vineyards in the heart of the Bennett Valley, overlooking the Petaluma Gap at the inflection point of the fog wind tunnel.
Best Sebastopol Wine Tasting in Sonoma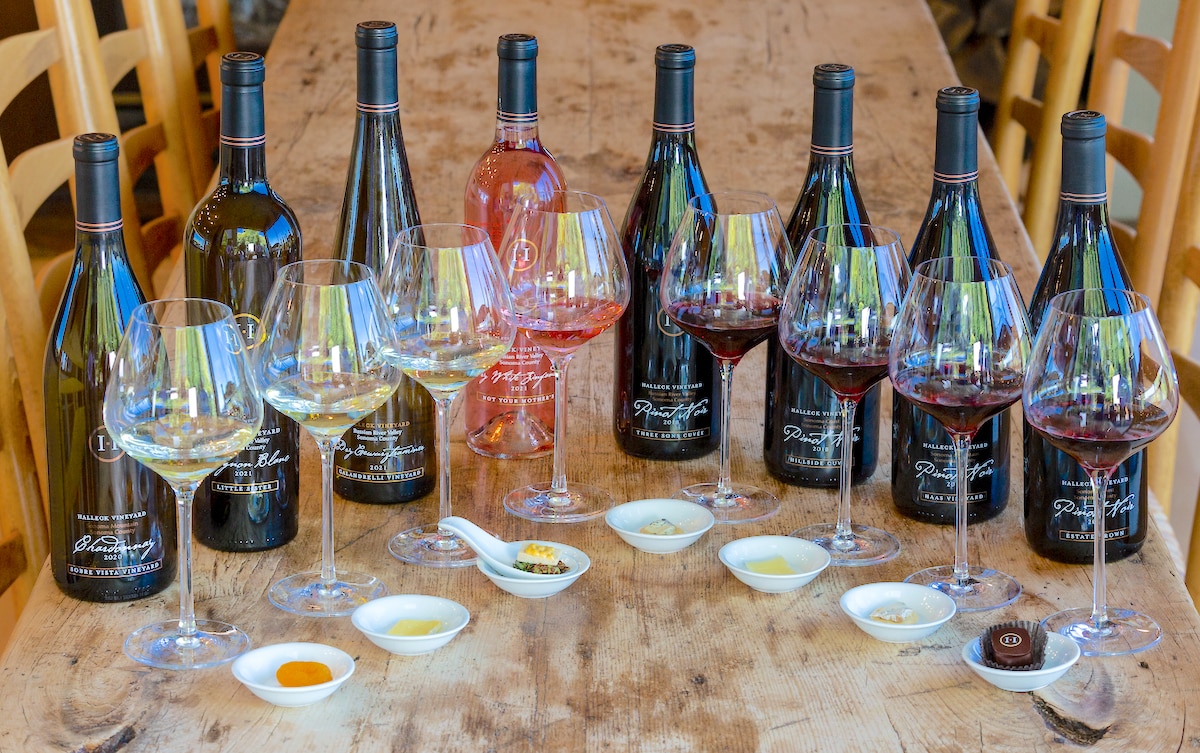 Best Pinot Noir Sonoma Winery
Wine tasting in Sonoma County just 15 minutes from the Barlow

Sebastopol winery 20 minutes from Bodega Bay

Nestled in foggy Sebastopol hills in Sonoma County

Sweeping views overlooking the Russian River Valley

One of a handful of Sebastopol wineries on the Sonoma Coast

On the border of the new West Sonoma Coast AVA
Wine tours of Sebastopol's oldest Pinot Noir Vineyard
One of the best Sonoma wineries for Pinot Noir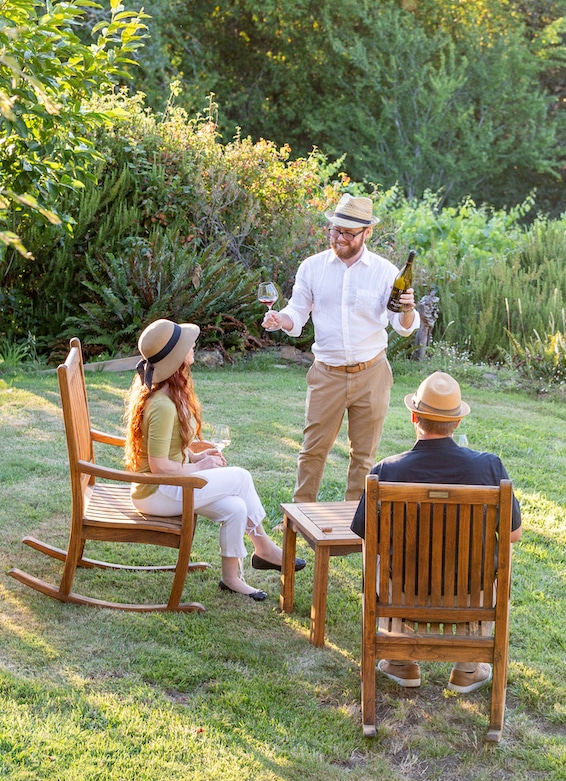 Tour our Winery and Live the Dream in Sonoma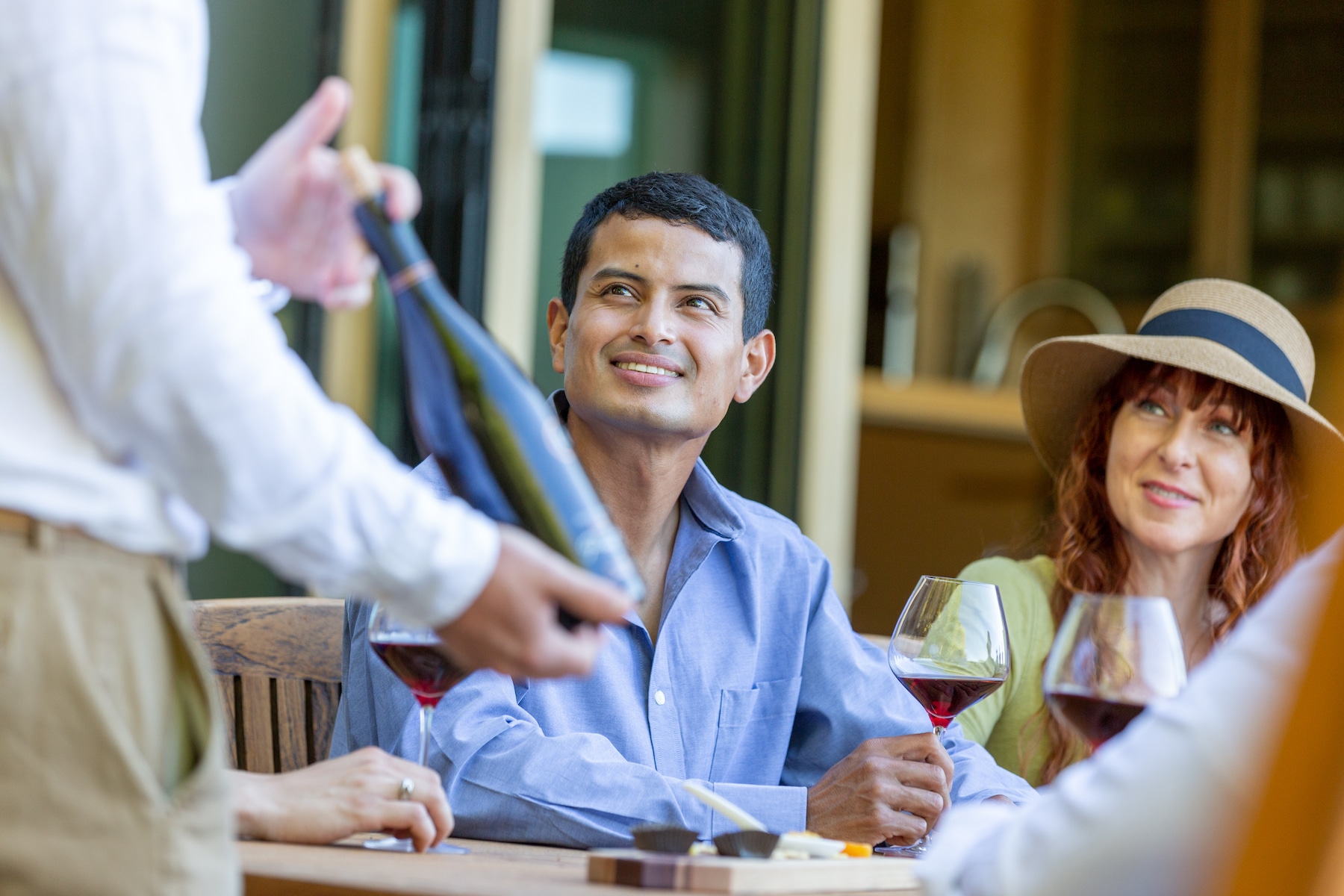 As we move through our Sebastopol hills wines, we invite you to taste the nuances in the aroma and flavor of our Pinot Noirs, Sauvignon Blanc, Gerwuztraminer, and Dry White Zinfandel. We'll also explore the benefit of pairing food and wine to lift and enhance your experience - and transform the ordinary into the extraordinary.
Flavor is an amazing thing. It can evoke emotions and memories - and we'll help to create new memories on this exclusive Sonoma wine tasting journey.

Sebastopol Wineries Wine Tour Map

Thurs-Sun
at 11am and 3pm
+1 (707) 738-8383

Experience the Sonoma Winery Lifestyle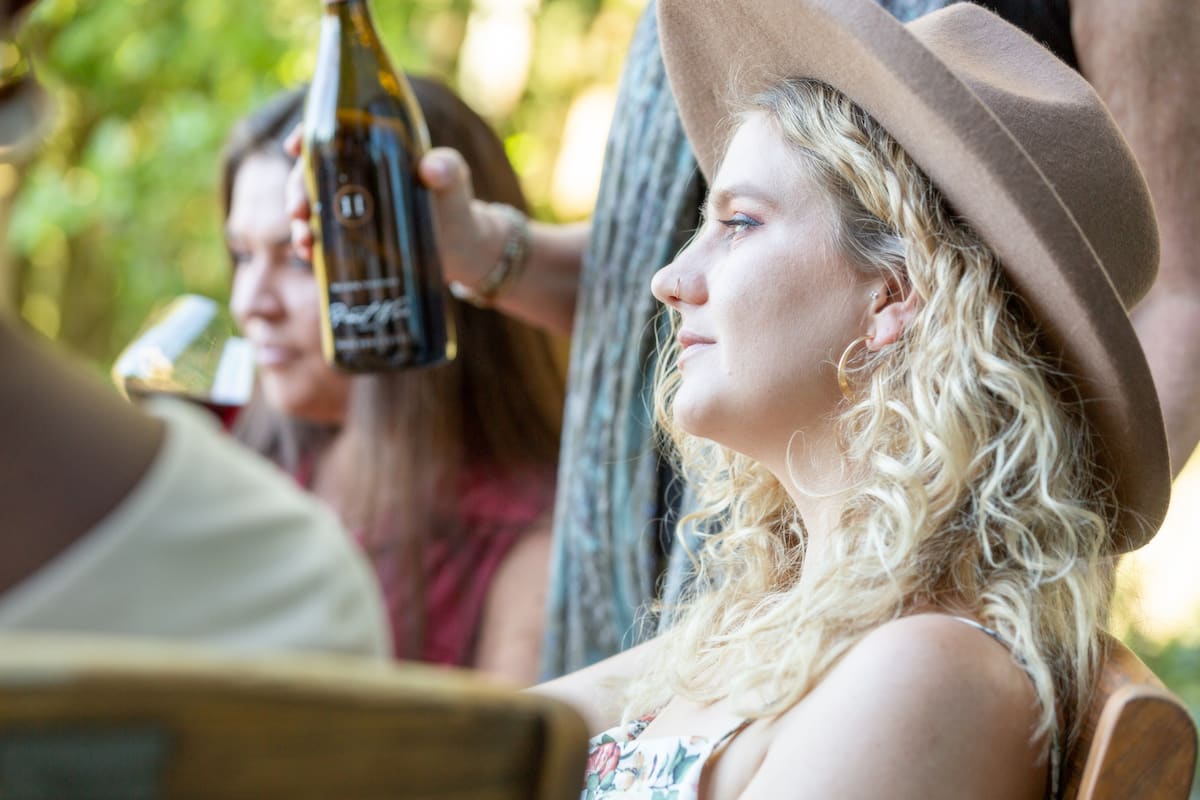 Your Sonoma wine tasting at the Halleck Vineyard Sebastopol winery does not take place in a traditional wine tasting room. This is our home, and inviting you in is a gesture of friendship and intimacy. This family-owned and the unpretentious setting is partly what makes our wine tasting in Sonoma County so unique.

Best Boutique Sonoma Winery in Sebastopol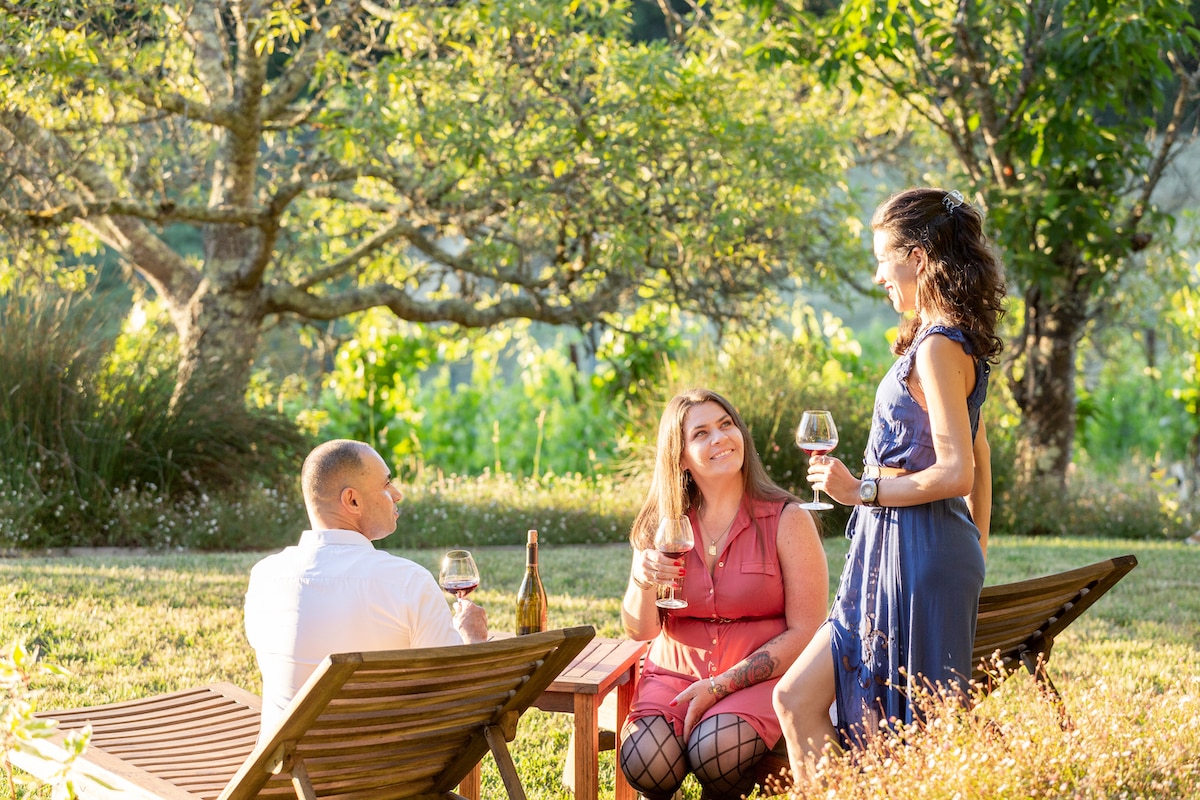 The sustainably farmed 1-acre estate Pinot Noir vineyard that surrounds our house was the first in the Sebastopol region, and as pioneers in the area, as winemakers we feel particularly qualified to share what makes our fruit and our Sonoma wine tastings so special.
You'll learn about the magic of this winegrowing region, from the famed morning fog that blankets our hills, to the fermentation process, sustainability, and soil content from the Sonoma Coast to the Russian River Valley that lends such diversity and character to our wine tastings.

Live the Sonoma Wine Tasting Dream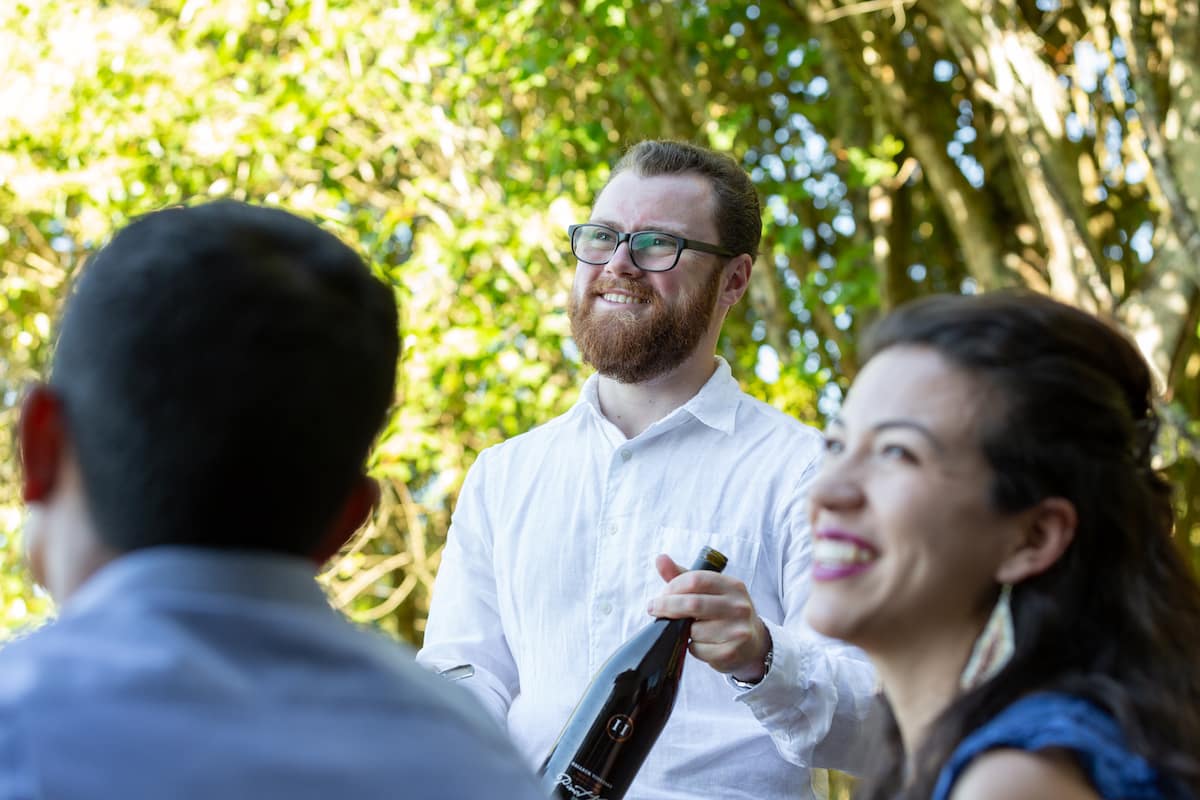 Our mission is Building Community Through Wine, employing these extraordinary fruits of the earth. So be prepared to discover, explore, and form meaningful connections with others through this very personal 90-minute Sebastopol wine tasting experience.
We believe in shared experiences, and in making the world a better place by raising money with our award-winning Pinot Noirs. We've raised over three quarters of a million dollars for the charities supported by our wine club members. Being able to make that difference is what gets us up in the morning.
Wine tasting is an inner journey, and we hope to guide you and join you on that journey – so you can determine for yourself which of our Sonoma wines breathe magic into your glass and even your soul.

Vineyard Wine Tasting at our Sebastopol Winery
Intimate Sonoma Wine Tasting Tour
• Sonoma wine tasting salons for up to 16 guests.
• Taste Sonoma wines made from Sebastopol's finest cool-climate grapes.
• Try award-winning wines from the foggy Sebastopol hills.
• Our Sonoma winery is also our home.
• Taste the best Sebastopol Pinot Noir in America.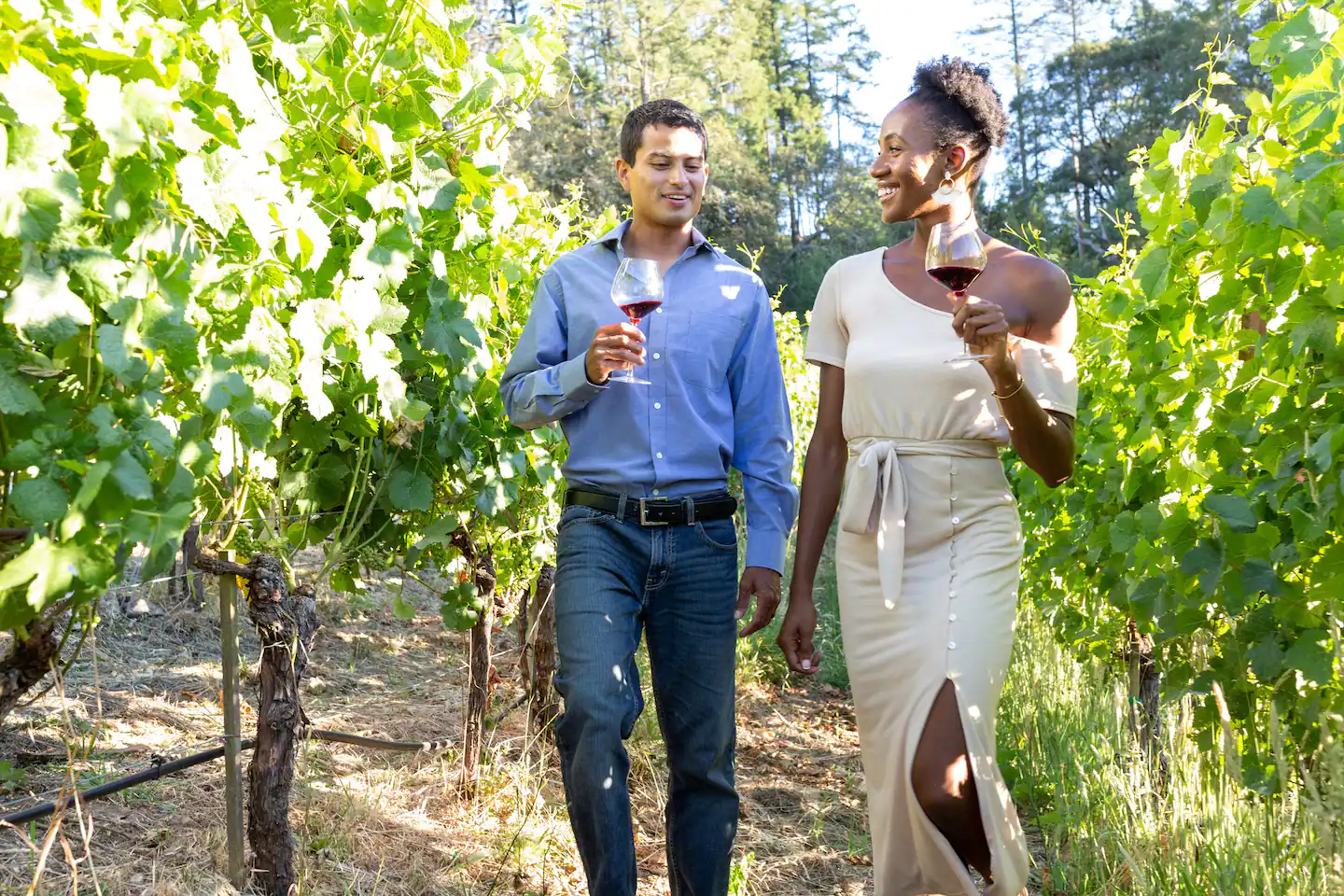 How to Dress for Wine Tasting Visits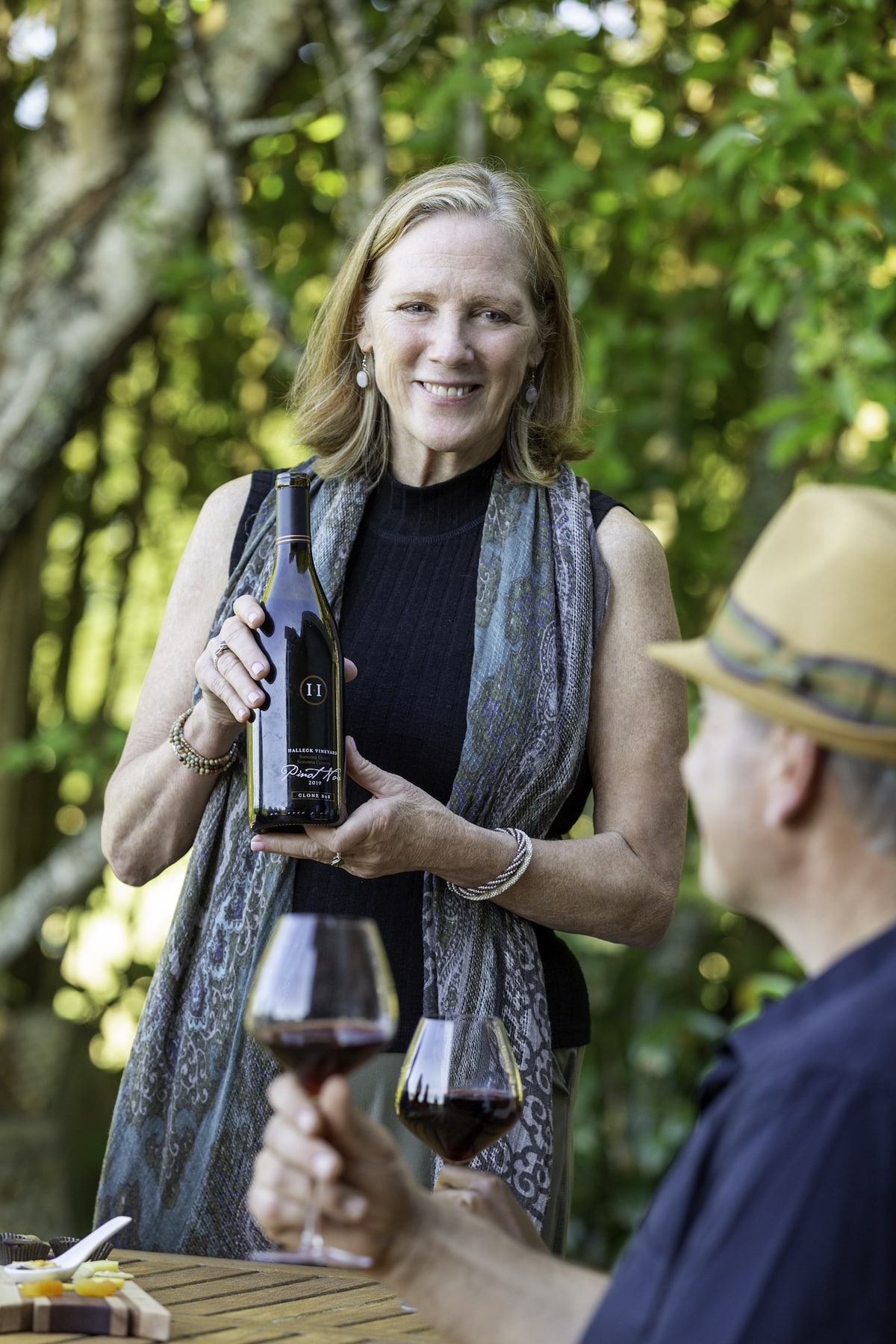 We want your Sonoma County winery experience at our Sebastopol wine tasting to be a comfortable one. If you're looking for where to stay in Sonoma County for wine tasting, book private stay in our Sebastopol Wine Lodge.
Above all, come to the Halleck Vineyard Sebastopol Winery with curiosity and interest in Sonoma Wineries – and be prepared to thoroughly enjoy yourself.

How to Enjoy Wine Tasting Visits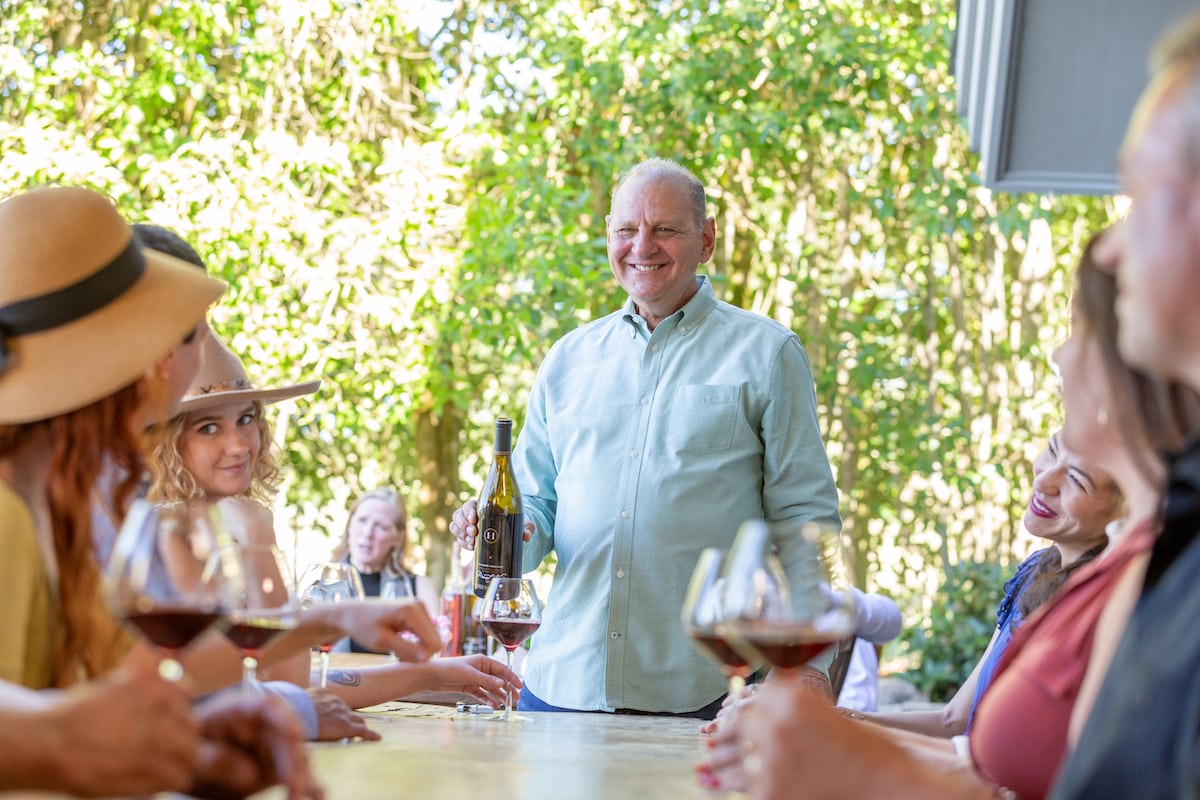 The coastal breeze and morning fog often give way to hot sunny afternoons in Sonoma County, which means you need to be prepared for any weather. That's why we recommend you dress in layers on the day you join us – and bring sunscreen just in case.
When choosing your outfit, it's often best to opt for darker colors or patterns that can help hide wine spills should they occur. It's also best to wear comfortable shoes for your tour of our Sebastopol vineyard.

Sonoma Wine that Delights Your Senses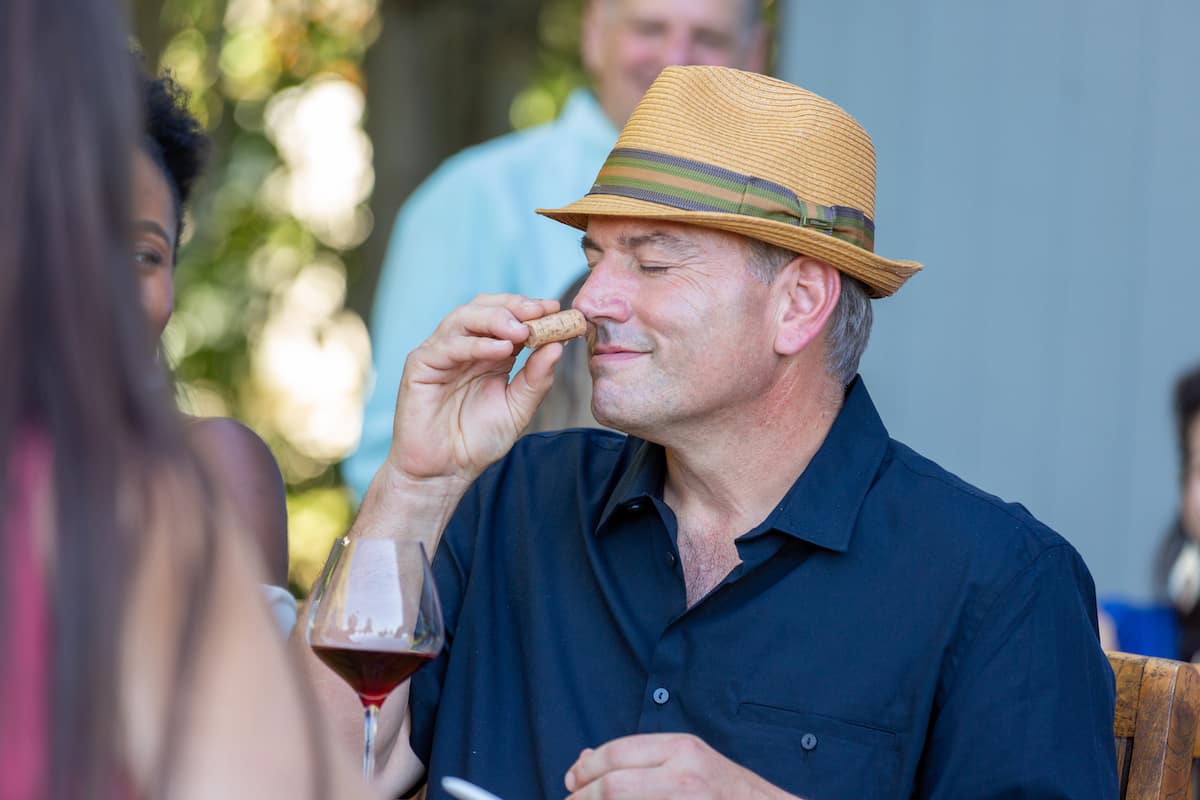 Since smell is a huge part of the wine tasting experience, you don't want any scents competing for your attention. So please skip the perfume or cologne. Lipstick or flavored lip balms can also interfere. You may also wish to avoid coffee, breath mints and smoking right before your tasting, as these can mask flavors as well.

Dog Friendly Wine Tasting in Sonoma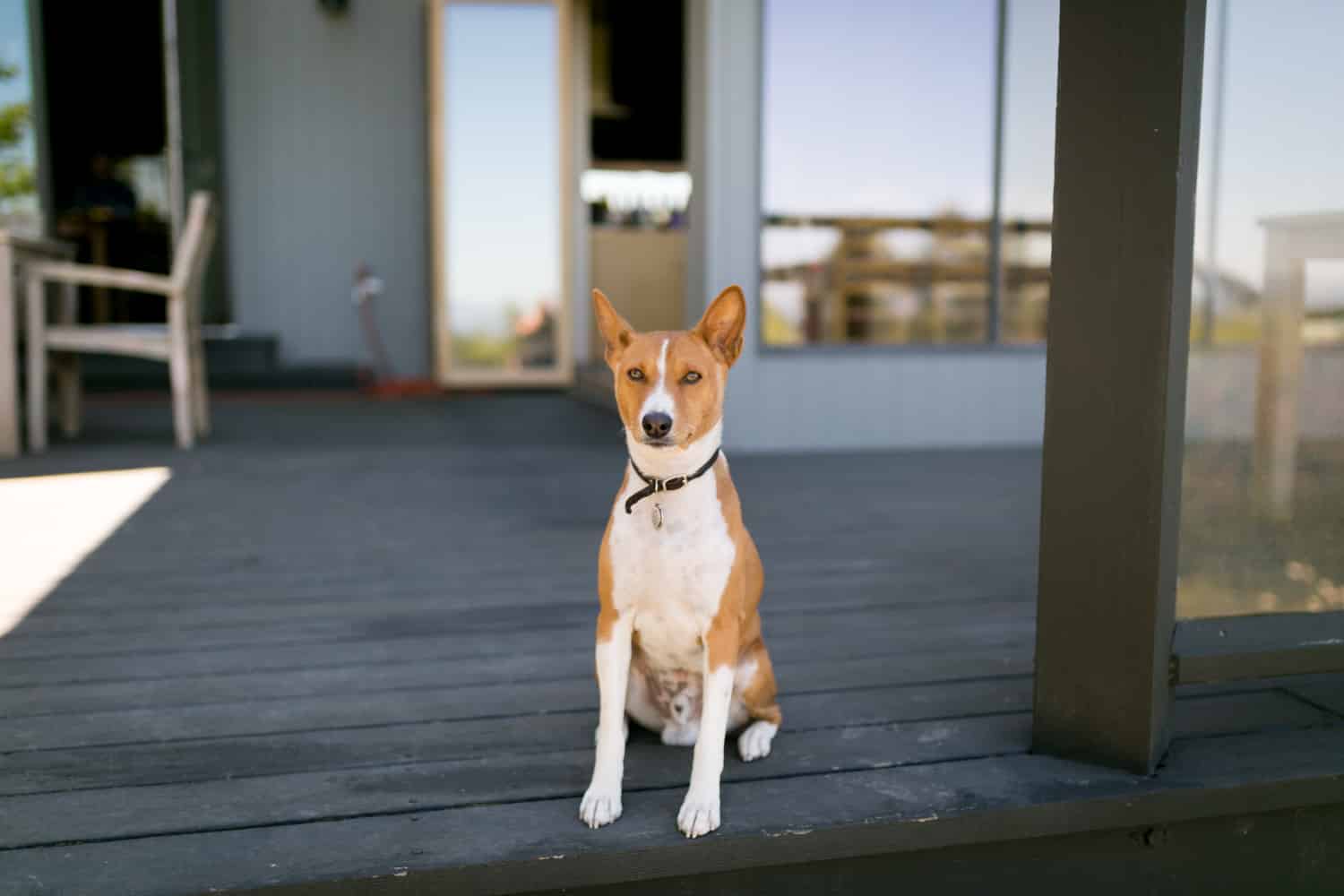 Our African Basenji Franki is a nonshedding, hypoallergenic dog who enjoys hosting other pups on our estate, which is 100% fenced to prevent deer from eating our grapes. So if your dog is socialized, wants to run free and play with other dogs, this Sonoma wine tasting experience is going to be a lot of fun for you and your best friend. Our dog Franki is friendly, but also very independent. He does not beg or demand affection. Halleck Vineyard is a dog-friendly estate, and we tend to resonate with dog lovers. We even have a Halleck Vineyard Dog Club. So if you can't bring your dog, bring a picture.
Make sure you are at our black wrought iron gate. It has a wire deer fence with wood posts on both sides to keep deer out of our Pinot Noir vineyard. The keypad is on the 2nd wood post to the left of the gate. Call the phone number printed above the keypad. We will open the gate for you. The gate stays closed, so the deer don't eat our grapes or vines.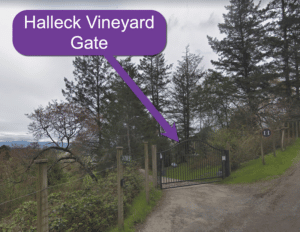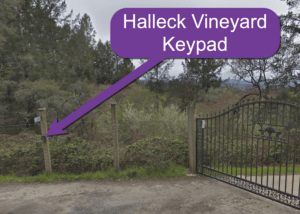 It's a 90-minute Sebastopol wine tasting experience. You will be served 8 different wines, each of which are paired with a bite size delectable food pairing. And each Sonoma County wine varietal is presented with an explanation of where the fruit was grown and how it was made.
We are a small production Sonoma winery. We have parking for cars, SUVs and vans, but not for limos or buses. If you are arriving in a limo or bus, please have them drop you off at the gate on Burnside Road. Our driveway will not accommodate larger vehicles. Please park buses or limos by our gate on Burnside Rd. leaving enough room for cars to pass and walk down the driveway. If you have a smaller car and there's no room in the driveway, park on the dirt road in front of our estate winery, beside the sign like this: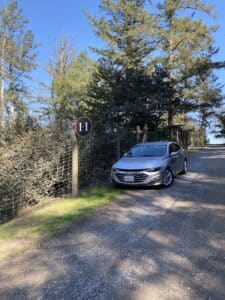 Yes, and there is no charge. But we need to know in advance so please enter those details in the Special Requests box when you book your wine tasting or call us at (707) 738-8383 so we can make sure they are comfortable.
We are a small production Sebastopol winery hosting intimate wine tasting salons for small groups. If your wine tasting group is larger than 8, please call us (707) 738-8383 to make sure we can accommodate you appropriately.
Yes. None of the food and wine pairings have gluten in them so that you can stay on your gluten-free diet without missing out on anything.
No. We serve cheeses with our Sonoma wines so it is not a lactose free wine tasting experience. So, unfortunately, our lactose-intolerant guests will miss out on some of the pairings. For our complete menu, check the previous link.
We discourage guests from bringing young children. Our Russian River Valley Wine Tasting Sonoma County experience lasts 90 minutes and that's a long time for a young child to sit unattended. We love kids. We have our own. But children and wine are not 100% compatible, and as a courtesy to all guests, we prefer to keep our Sebastopol wine tasting experience to guests 21 and over.
If your dog is friendly and socialized, then definitely. Our Sebastopol winery is entirely fenced and our African Basenji dog – a nonshedding, hypoallergenic dog – enjoys other pups and is an excellent host. All dog visitors are automatic lifetime members of the Halleck Vineyard Sebastopol Winery Dog Club.
Unfortunately, we are not a wheelchair-compliant winery. It is possible to wheel around to the side of our deck, but there are 2 steps you need to get up to access the deck. We do not have a ramp. Also, our bathroom is not wheelchair accessible. 
Virtual Wine Tasting Salons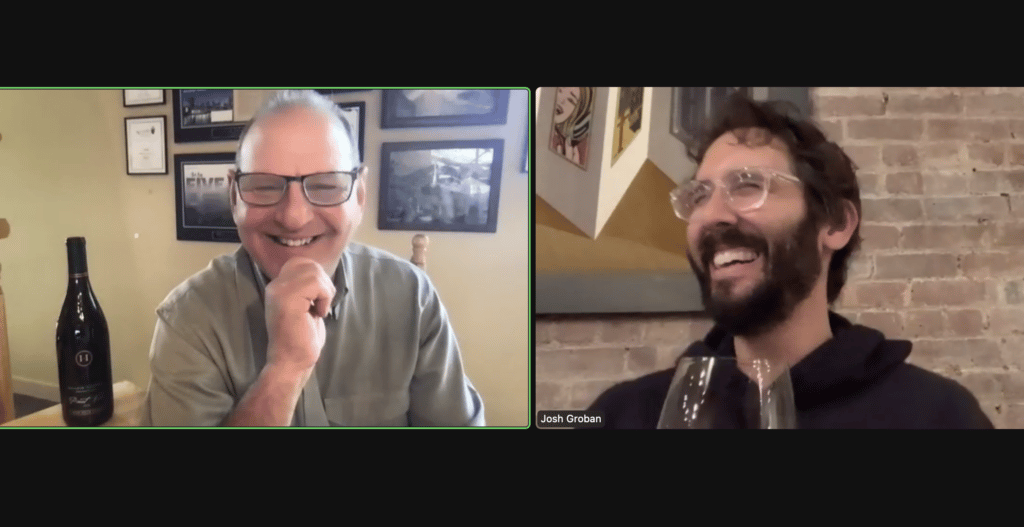 Experience the best virtual wine tasting in Sonoma County - from the comfort of your home. A virtual wine tasting with Halleck Vineyard is educational, interactive, and incredibly entertaining.
Invite our vintner, Ross Halleck, for an online wine tasting at your convenience through Zoom. We also host exclusive virtual wine tasting with special guests like signer-songwriter Josh Groban.
Courtesy Wine Tasting Kit
When you sign up, we'll send a virtual wine tasting kit straight to your doorstep. This includes 3 bottles of wine, a Halleck Vineyard wine opener, an aroma wheel, a tasting menu, a wine tasting place mat and a map of Sonoma County.
You can even add food pairings and a Coravin to your package - and all that goodness is just a click away.
Subscribe to our Newsletter
For updates on Sonoma wine tasting events and allocations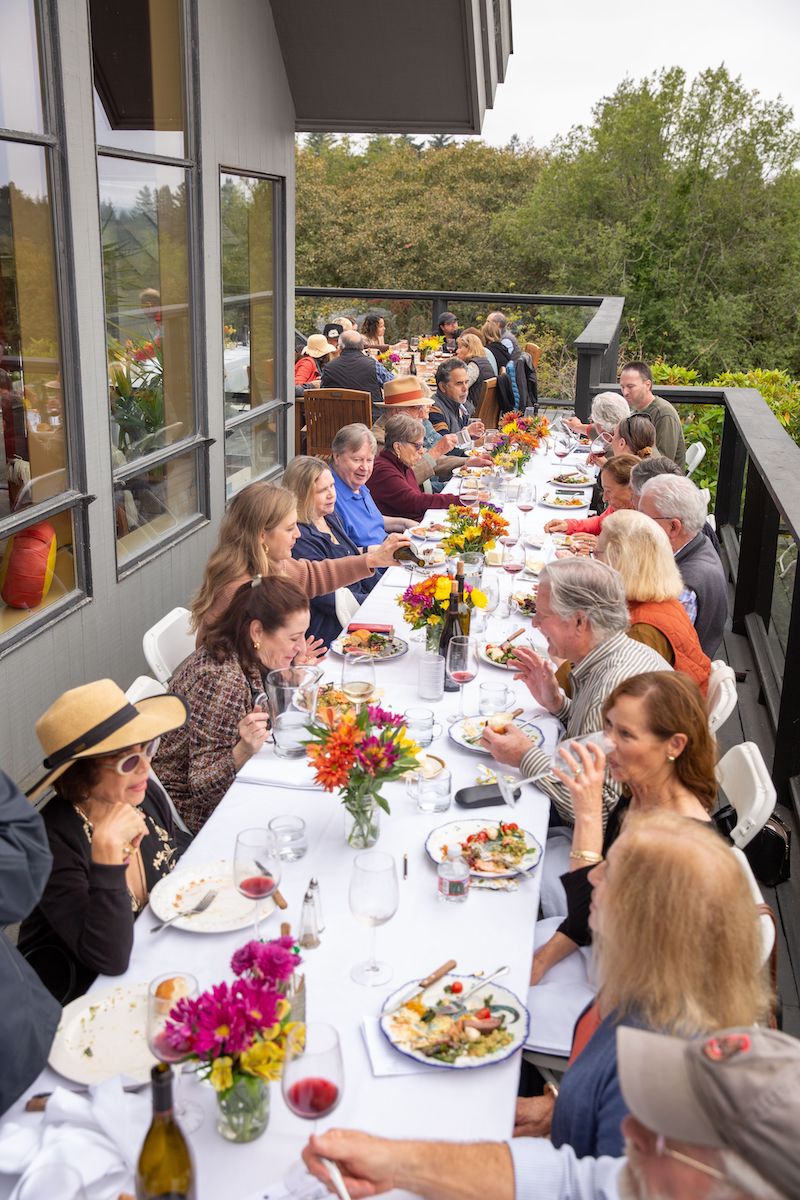 Subscribe to our newsletter for information about upcoming special wine tasting events, vintner dinners, food and wine pairing dinners, wine tours to exotic destinations, and allocations to our limited reserve Sonoma wines.
Sonoma Wine Tasting Events & Experiences
Outdoor Activities Near Our Sonoma Winery
While you're Googling "vineyard wine tasting near me in Sonoma," don't forget to check out some of the other incredible experiences in our neighborhood!
Taste wine at the Barlow. A 220k square foot culinary and arts center.

Admire the Laguna de Santa Rosa wetlands

Sonoma's Armstrong Redwoods State Natural Reserve has Amazing Hiking Trails

Time your visit with the Sebastopol Gravenstein Apple Fair