The Red Wine Lover's Guide to Russian River Valley Pinot Noir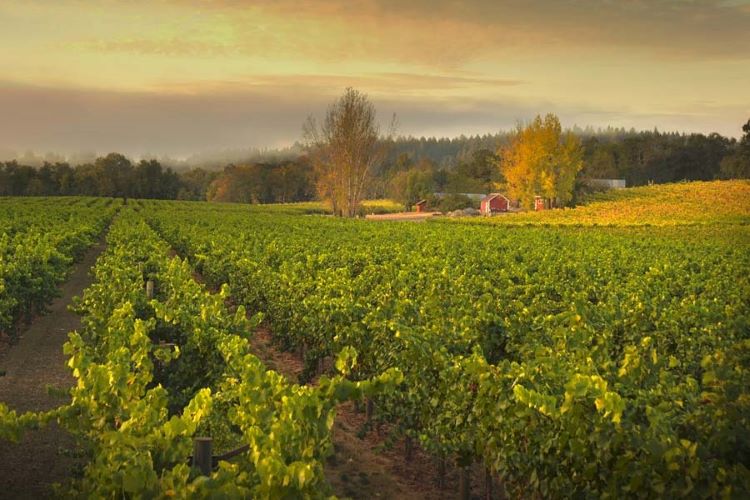 Ask any wine connoisseur where the best Pinot Noir in the US is made – and the Russian River Valley will be at the top of the list. It is truly unlike any other Pinot on Earth – and we're here to tell you what makes a glass of red wine from this region so special.
The Russian River Valley, with its foggy mystique and rolling hills, produces startlingly vibrant Pinot Noir wines – so bold and fruity you might initially think they are Syrahs.
But make no mistake; this is not because Russian River Valley Pinot Noirs are blends of any other grapes. They are Pinots in their prime – Pinot perfection if you will.

So, what is the secret of Russian River Valley Pinot Noir? What makes Russian River Valley Pinot Noirs win awards year after year? Let's find out by exploring this incredible region where winemaking pioneers put New World Pinot Noir on the map – and where Halleck Vineyard is proud to call home.
A brief introduction to the Russian River Valley
The Russian River Valley lies 55 miles north of San Francisco. Its borders flirt with the Pacific Ocean but never quite kiss the coastline. Rather than the quintessential beaches and rolling ocean waves with which California is synonymous, this area is instead filled with rolling hills, apple trees, giant redwood trees, a beautiful river, and – you guessed it – award-winning vineyards.
In fact, some of the oldest grapevines in California are planted among these hills, and the Russian River Valley has been a wine-growing area since 1876. The region produced over 500,000 gallons of divine wine from just 7,000 acres of vineyards at that time.
---
---
It was recognized as an AVA (American Viticultural Area) in 1983, due to its superb climate and the hard work of some boutique winemakers who took a chance on Pinot Noir in the 1960s-70s.
Other winemakers took note, new vineyards popped up and existing ones continued to grow. And by 2008, the Russian River Valley contained almost 20% of all the Pinot Noir in California, characterized by lively acidity, bursting flavors, and strikingly robust tannins.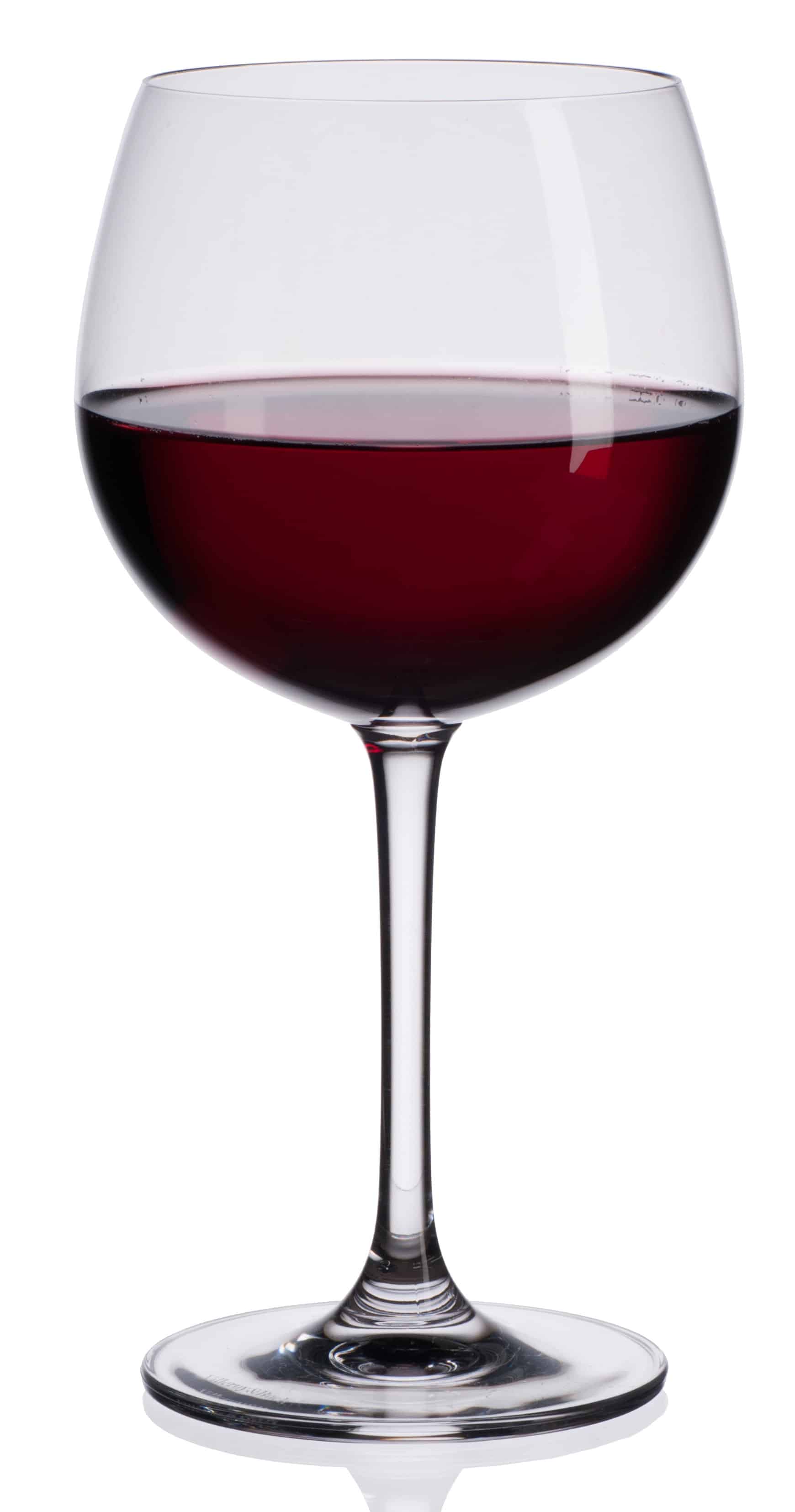 One thing Russian River Pinot Noirs didn't have was a bold color. This led to some lower scores from wine critics, despite the phenomenal Pinot Noir tasting notes.
So winemakers set out to enhance the color. Some tried blending in a bit of darker grapes like Alicante Bouschet or Syrah, while others created new trellising systems which exposed the grapes to more sunlight.
This new trellising system enhanced not only the color-producing phenols but also increased the sugar content of the Pinot Noir grapes (and in turn the alcohol content).
These Russian River Pinot Noirs became heavier, fuller-bodied, and almost "Syrah-like" – even though they didn't contain Syrah. While one would normally think of Pinot Noir vs Cabernet Sauvignon vs Syrah and label the former as a lighter, more subtle wine, that may not be the case with the Pinots here.
But make no mistake – you cannot characterize all of Russian River Valley Pinot Noirs as a whole. Each glass (and vineyard) tells its own story, and the visionary winemakers of the Russian River Valley have crafted Pinot Noirs like no other.
One of the reasons for the success of Pinot Noir in this region was that winemakers struck gold with the soil.
Why is the Russian River Valley so famous for Pinot Noir?
The Russian River Valley is to soil as the Amazon Rainforest is to animals.
That's to say, full of diversity.
Within the mere 165,000 acres of the Russian River Valley AVA, there is a huge range of soil compositions throughout the area. It has more soil types blanketing the ground than the whole country of France, which has 74 million acres, for those who may be wondering.
How?
Well, to understand, we need a bit of geography lesson.
The Russian River Valley was formed millions of years ago when the North American and Pacific tectonic plates repeatedly collided. These collisions caused volcanic eruptions that covered the ground with layers upon layers of volcanic ash. This ash created a sandstone equally rich in sand, silt, and clay which geographers would call "loam" and the people of the Russian River Valley would come to call "Goldridge soil."
As it turns out, it's a perfect match for Pinot Noir grapes. If grapes could sing, this soil would make Pinot Noir grapes burst out in the most joyful, happy love song you've ever heard.
But due to the way the volcanic ash was disrupted and mixed with the existing soil, the exact composition varies even within the region. You can find clay-heavy soil in the Sebastopol Hills which retains less water and lends especially well to Pinot Noir grapes. In comparison, the soil near the Russian River contains more gravel and sand, producing an altogether different nuance to its award-winning Pinot Noir wines.
The fickle grape has finally found its match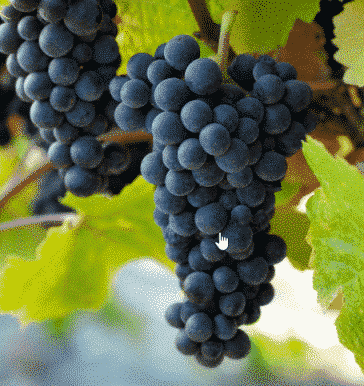 What is a Pinot Noir grape if not incredibly particular?
If you are just getting to know more about this red wine, you may not know that Pinot Noir grapes are some of the hardest to grow, or that only a handful of regions have the proper climate for growing superb Pinot Noir wine.
Pinot Noir grapes need cool climates with lots of sunshine. If it is too cold they can develop diseases. If it is too hot they shrivel and raisin.
They need well-draining soil, vigilant protection from pests, and have a short harvesting window.
And you can also add that the Russian River Valley just happens to have the rare mix of climate and soil conditions that Pinot Noir grapes love.
In short, Pinot Noir grapes are truly a labor of love. And, indeed, there is a lot to love about the wine they produce, particularly with Russian River Valley Pinot Noir. The sandy, loamy soils are particularly well-draining, and lend to some sublime flavors.
But, in addition to the soil, we also must tip our hats to the fog.
It's all in the terroir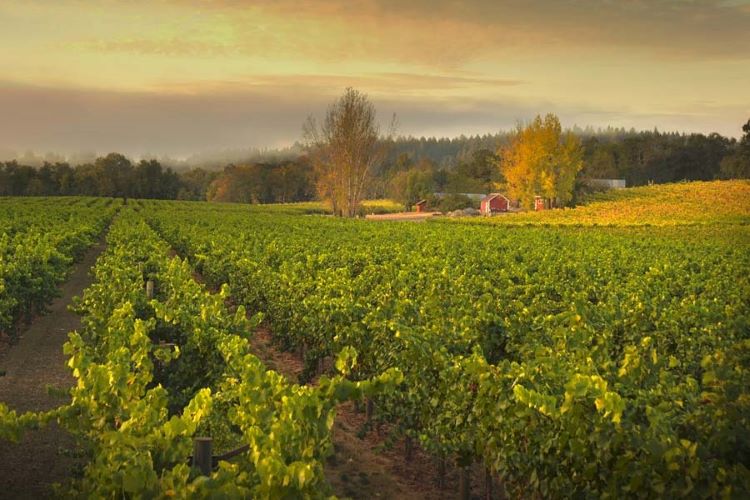 The terroir in the Russian River Valley couldn't be more perfect for Pinot Noir. And one part of that is the unique climate.
Nearly every evening, a majestic fog creeps in from the Pacific Ocean and blankets the Russian River Valley. The fog settles in around the grapevines and envelopes them with a cooling caress, causing temperatures to dip by as much as 40 degrees.
This maritime air conditioner gives the grapes new life and an extended growing season – up to 20 percent longer than neighboring wine regions – allowing the grapes to develop deeper flavors than were originally thought possible in Pinot Noir.
Many winemakers credit the fog as the defining characteristic of the Russian River Valley, and while it is a major player in creating stunningly good Pinot Noir, it does not work alone. The fog dissipates by late afternoon, giving way to gentle, yet unwavering, sunshine and creating a climate in which Pinot Noir grapes thrive.
Yet another factor is the Russian River itself. This rain-fed waterway swells in the winter and provides all the irrigation needed during the late spring dry season.
The fog, the sunshine, the sea breeze, the river, and the fertile, ancient soils (altogether called the "terroir") produce some of the absolute best Pinot Noir wines on the planet. Wines with lush textures, crisp acidity, ample tannins, and gorgeous black cherry flavors.
The Russian River Valley is a Pinot Noir vintner's dream.
But with so much diversity in the terroir, you cannot truly understand the Russian River Valley if you look at it as a whole. You need to break down each AVA into little snapshots – or wine growing "neighborhoods" as we endearingly call them. Because wines from one neighborhood of the Russian River Valley will taste spectacularly different from another Russian River Valley Pinot Noir. 
---
---
The neighborhoods of Russian River Valley
Let's take a tour of each neighborhood so you can learn about the distinct personalities of Russian River Valley Pinot Noir.
Middle Reach
Middle Reach has some of the oldest grapevines and more warmth than some of the other neighborhoods in the region. This produces wine that is not so much defined by acidity or aromatics, but by texture, firm tannins, and a dark, meaty finish.
The Russian River Valley Pinot Noir from Middle Reach is known for tasting notes of cola spice, dark fruit, and strong earthy undertones.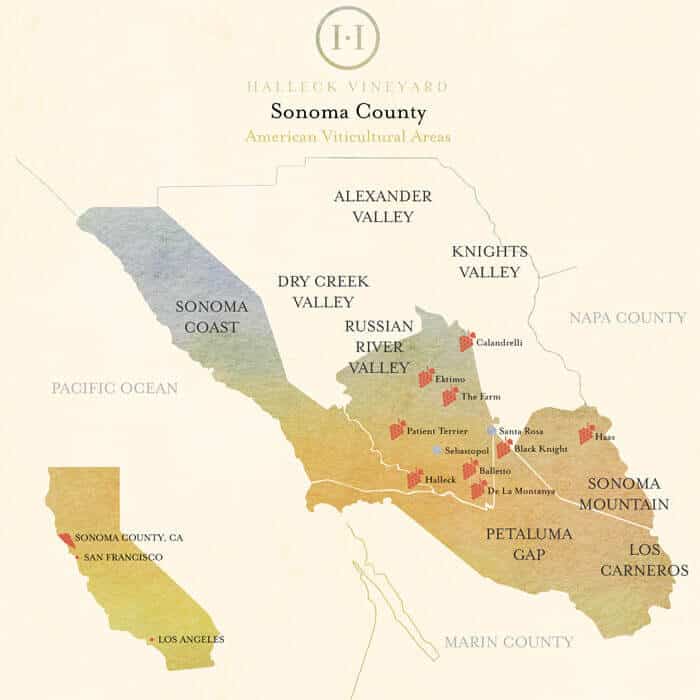 Laguna Ridge
South of the Middle Reach in a narrow strip with fertile Goldridge soils is the Laguna Ridge. The best Pinot Noir wines from Laguna Ridge have a moderate acidity and fruit flavors from strawberry and blackberry to nectarine and plum.
While they are not as rich or linear as other Russian River Valley Pinot Noirs, there is an extra hint of spice to these wines, as well as a great mouthfeel.
Santa Rosa Plain
To the southeast of Laguna Ridge lies Santa Rosa. This neighborhood may be best known for its old plantings of Zinfandel grapes, but it also produces some really good Pinot Noirs. The Pinots here have more red fruit flavors, due in part to the clay-rich soils.
Green Valley
Russian River Valley Pinot Noir from Green Valley is best known for notes of rhubarb, pomegranate, tart cherry, cranberry, and anise. The best Pinot Noir wines here have notably high acidity and ripe tannins, bringing special intensity to the wine.
Sebastopol Hills
Last, but certainly not least, is the Sebastopol Hills. Set in the southern reaches of the Russian River Valley, the climate here is as cool as it gets in the AVA. This foggy, windy neighborhood is where Halleck Vineyard chose to call home.
And we are pushing winemaking boundaries. Some producers thought the climate would be too cold for Pinot Noir, but it has produced some of the best Pinot Noir wines in the world.
There is ample Goldridge soil here, as well as unique clay content, which provide Sebastopol Hills Pinot Noirs with crisp red-fruit characteristics and unique notes of black tea and dried herbs which creates a fascinating palate contrast.
Our very own award-winning Russian River Valley Pinot Noir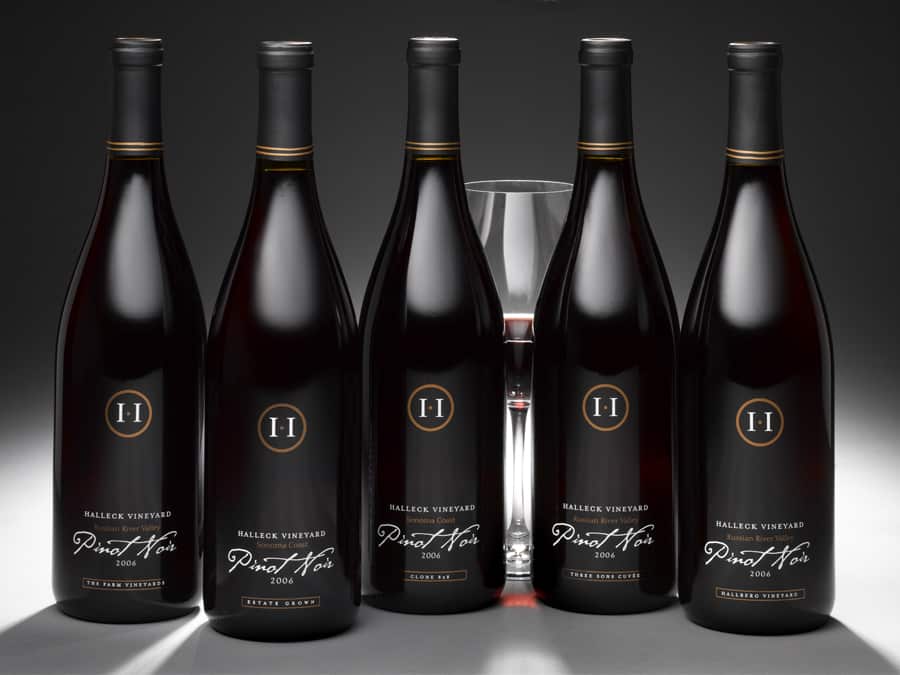 Halleck Vineyard was one of the first vineyards to be planted in Sebastopol, back in 1993. Through passion, hard work, and dedication, this family-run business has produced the #1 Pinot Noir in the United States multiple times.
Halleck Vineyard has had scores of award-winning wines throughout the years, and in 2019, it was judged "BEST IN CLASS" for The Farm Vineyard Pinot Noir at the largest wine competition in North America. 
Likewise, the Haas Vineyard Pinot Noir has earned multiple Double Gold titles at the San Francisco Chronicle Wine Competition, as has our Clone 828, each of these sourced from a different AVA. The grapes in these award-winning Pinot Noirs were picked before sunrise and hand-sorted and de-stemmed to ensure the absolute best quality.
Our Russian River Valley and Sonoma Coast Pinot Noir is silky and rich on the tongue with a long finish of black pepper, clove, and other spices. They are highly aromatic with a bouquet of red cherry, currant, and rose petals. In appearance, they embody a garnet-like quality in their brilliance, transparency, and color.
The truly sophisticated Pinot Noir wines from Halleck Vineyard are crowd-pleasers – equally as great for a weekday family dinner or casual brunch with friends as a romantic date or polished dinner affair.
How to find the best Pinot Noir for you
If you haven't tried a Russian River Valley Pinot Noir, then it's high time we changed that. The words "Russian River Valley" printed on your wine bottle guarantee that you're getting quality.
There is a reason these wines have been called the best Pinot Noirs in the United States. One sip will have your taste buds sifting through delightful layers of complexity.
You can almost taste the history in your glass!
Whether you try the award-winning Pinots from Halleck Vineyard during a Sonoma wine tasting at our estate or with loved ones during our signature virtual tasting experience (social distancing approved!), we're sure you will fall in love with a completely new side of red wine.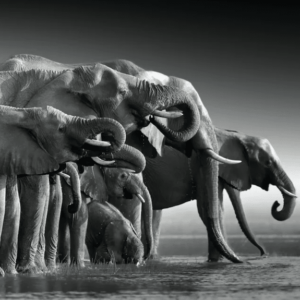 Join Sonoma vintner Jennifer Halleck on an unforgettable journey to Africa, where you will explore the wonders of this vibrant continent and share your passion for wine with fellow enthusiasts.…
Read More
Want to experience the best Pinot Noir wine this world has to offer? Pinot Noirs that are so bold and fruity you might mistake them for Syrahs?…
Sonoma Wine Tasting in Sebastopol