Acacia Pinot Noir vs Halleck Vineyard (Wine Review)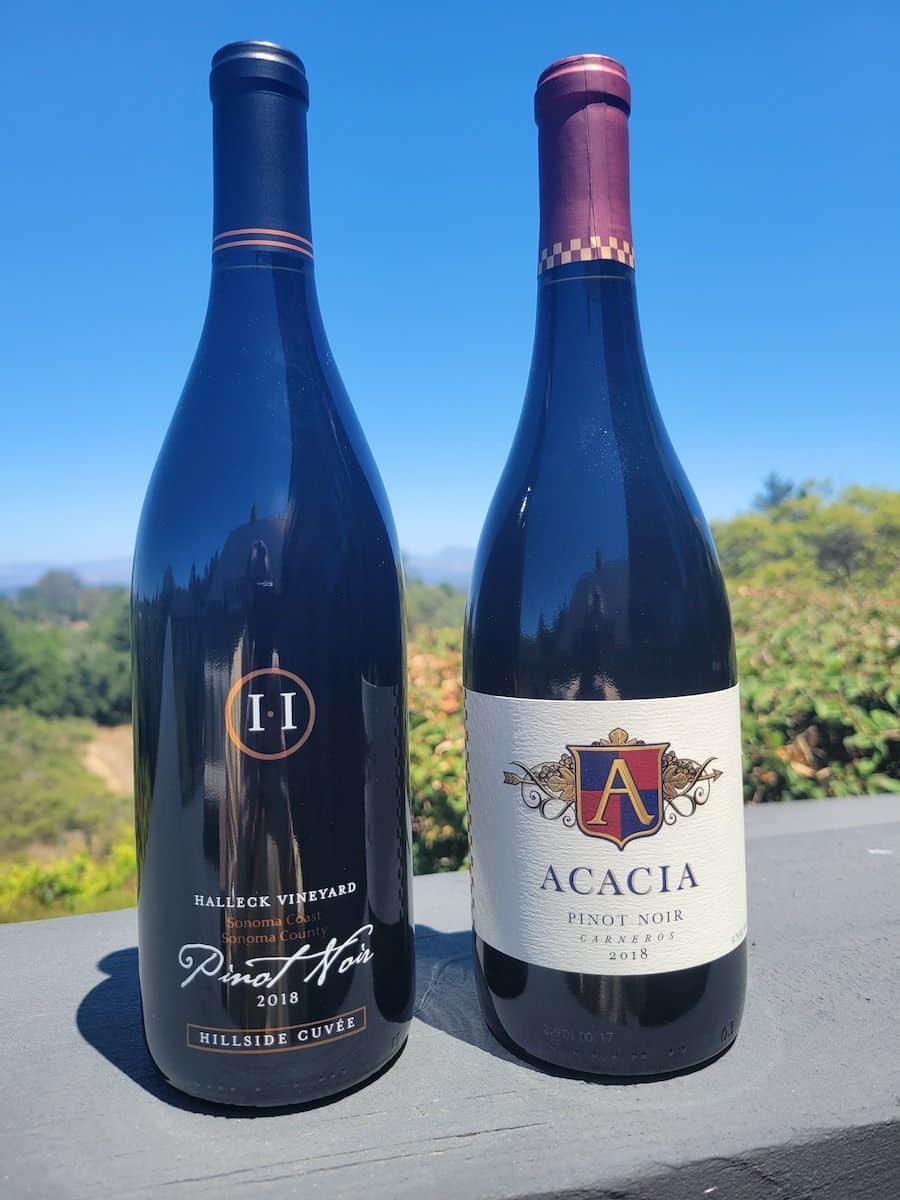 If Pinot Noir were an animal, it'd be a chameleon. There seems to be no other grape that takes on its environmental surroundings quite like this highly-adaptable varietal. Preferring a cool climate, this thin-skinned grape is legendary for its versatility. It can be used to make white, red, rose, and sparkling wine of tremendous quality.
Pinot Noir Wine Reviews
The historic home for Pinot Noir is in Burgundy. The wines can range from very light in body and color, to highly structured and powerful examples that are capable of aging for decades. There's always a pronounced level of acidity present, and an obvious through line of minerality.
---
---
In California, the climate is hotter and drier than in France. This generally leads to a bit fuller and jammy style of wine. Bold and rich are the defining characteristics. Wines are higher in alcohol and deeper in color than in Burgundy. In this article we're comparing Sonoma Coast Pinot from Halleck Vineyards to Carneros Pinot Noir from Acacia Winery.
Carneros Pinot Noir from Acacia Winery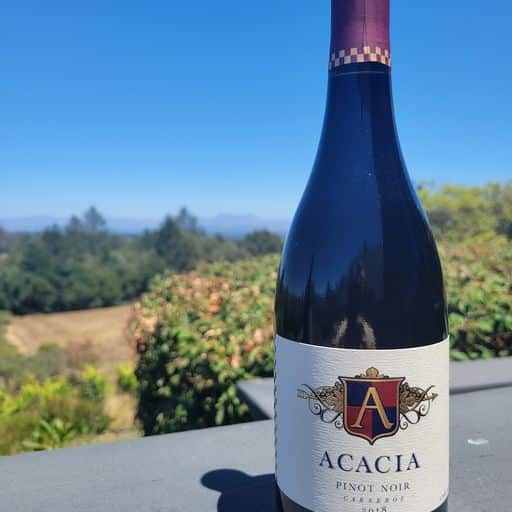 The Acacia Pinot Noir we tasted is from Carneros. This is an area that is farther inland from the Pacific Ocean. It's hotter and receives less rainfall than other areas in Sonoma. Yet its shallow clay soil allows enough moisture to be retained, so there's often no problem with the grapes reaching optimum ripeness.

A deep ruby color is immediately apparent. Although the alcohol is a touch higher than average, it doesn't show any obvious heat on the nose. Instead, solid aromas of black raspberry, fruit leather, and lavender herbs dominate. As keeping with Carneros style, this is a rich, mouth filling Pinot with moderate to low acidity. Again, the alcohol doesn't show strong in the mouth. The baked red fruit and herbs continue to flow through the mid-palate and into the creamy finish. Hints of Asian spice as well. Acacia Pinot Noir is a finely balanced, elegant style of wine that delivers a great value at the price point. Try with roasted duck in plum or cherry sauce.
| | |
| --- | --- |
| Label | Acacia |
| State | California |
| Varietal | Pinot Noir |
| Vintage | 2018 |
| AVA | Carneros |
| ABV | 14.7% |
| Body | Medium |
| Style | Smooth, Fruit forward |
| Retail Price | $19.99 |
| Food Pairing | Roasted duck in plum sauce |
Sonoma Coast Pinot Noir Hillside Cuvee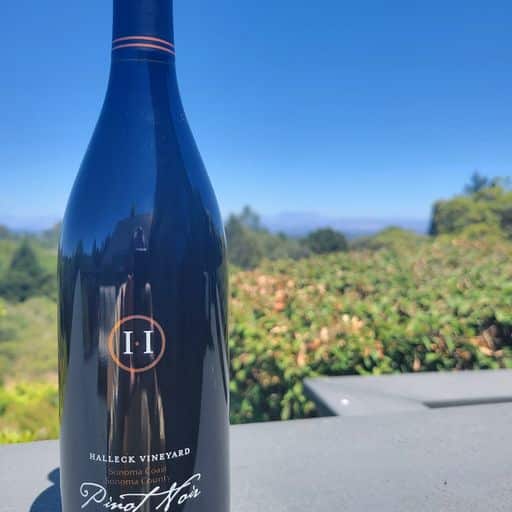 Sonoma Coast Pinot Noir Hillside Cuvee from Halleck Vineyard is a blend of three different Sonoma Coast vineyards. The Sonoma coast AVA is much closer to the ocean than Carneros and benefits from the influence of the Pacific. It's a more maritime climate with cooler overall temperatures and heavy coastal fog. As a consequence, the grapes tend to retain a bit more vibrant acidity and minerality. This makes the area more reminiscent of Burgundy.

This Halleck Vineyard Hillside Pinot Noir is not as dark as Acacia Pinot Noir, but has a red-purple jewel like transparency. The aroma is brighter and more lifted as well. There's punchy pomegranate and cranberry notes with a touch of tarragon and white pepper. A general mineral/earth scent wafts in from the background. Big and lively in the mouth. 

Here the higher acidity clearly distinguishes it from Sonoma Coast rather than Carneros. More crushed rocks and damp earth on the palette than the nose. Plenty of black and red berry fruit. Fine tannins give it a graceful structure. The earth/mineral/fruit components never fight for supremacy. Very well-balanced wine. Pair with truffle risotto.
| | |
| --- | --- |
| Label | Halleck Vineyards |
| State | California |
| Varietal | Pinot Noir |
| Vintage | 2018 |
| AVA | Sonoma Coast |
| ABV | 14% |
| Body | Medium-light |
| Style | Complex, Structured |
| Retail Price | $56.99 |
| Food Pairing | Truffle Risotto |
Buy Halleck Sonoma Coast Pinot Noir
Video Pinot Noir Wine Review
In this video, winemaker Ross Halleck and wine steward Harris Miner compare 2018 Acacia Carneros Pinot Noir to their own Hillside Somona Coast Pinot Noir.
Acacia Pinot Noir vs Halleck Vineyards Wrap Up
If you're looking for a smoother wine with a bit higher alcohol content, try the Acacia Pinot Noir from Carneros. Soft and generous with gentle tannins. If you'd like to try a more complex, multidimensional wine, try the Halleck Vineyard Hillside Pinot Noir from the Sonoma Coast.

The Halleck Pinot is more vivacious and structured with a capacity to improve with age. While there are common stylistic affinities between the two wines, both show subtle differences that encapsulate their respective regions. And that's what makes Pinot Noir such a unique animal in the wine world.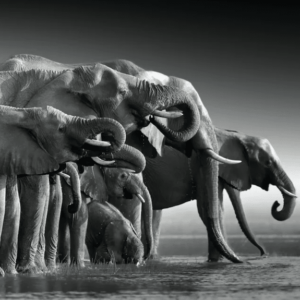 Join Sonoma vintner Jennifer Halleck on an unforgettable journey to Africa, where you will explore the wonders of this vibrant continent and share your passion for wine with fellow enthusiasts.…
Read More
Although they are based in west Santa Rosa, DeLoach has every right to call themselves a Russian River Valley winery. Sure, they also source fruit from the Sonoma Coast,…
Sonoma Wine Tasting in Sebastopol