What is Chardonnay Wine? History, Tasting Notes, and Pairing Tips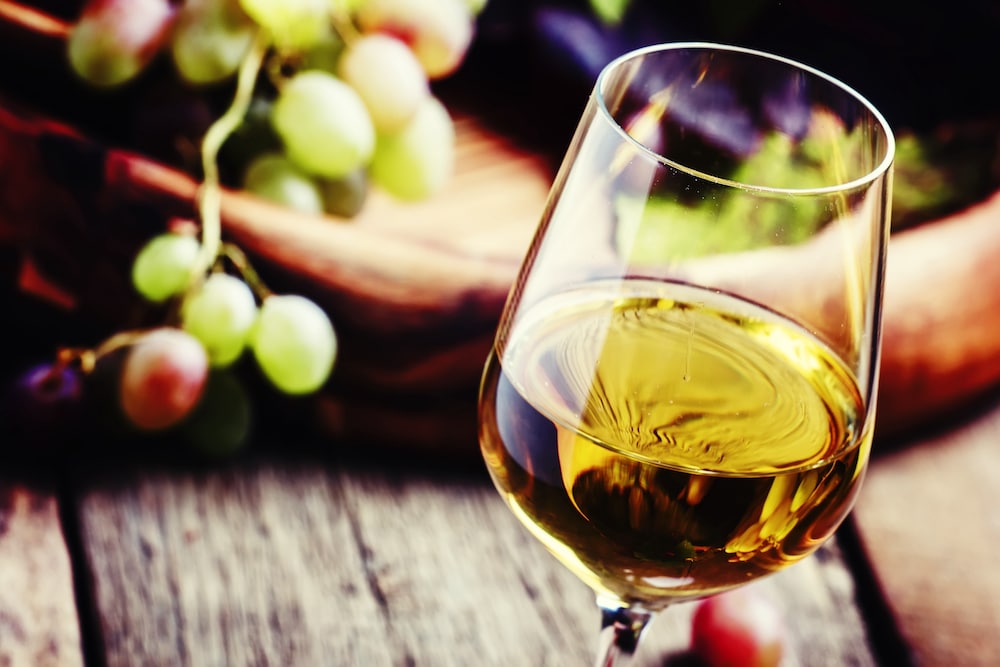 Chardonnay wine is one of the most popular wines in the world – and with good reason.

Chardonnay is balanced, versatile, and easy to pair with a great many delicacies. 

In fact, Chardonnay is so popular that die-hard fans have labeled that last Thursday in May as "International Chardonnay Day" 
---
---
And, at Halleck Vineyard, we're pretty partial to this white wine varietal as well. We recently bottled one of our best Chardonnays, and as such, we wanted to take the time to really appreciate this special wine.

We're here to tell you all about this incredible wine variety. We'll talk about the history of Chardonnay, the tasting notes, the calorie breakdown, the best food pairings, and more.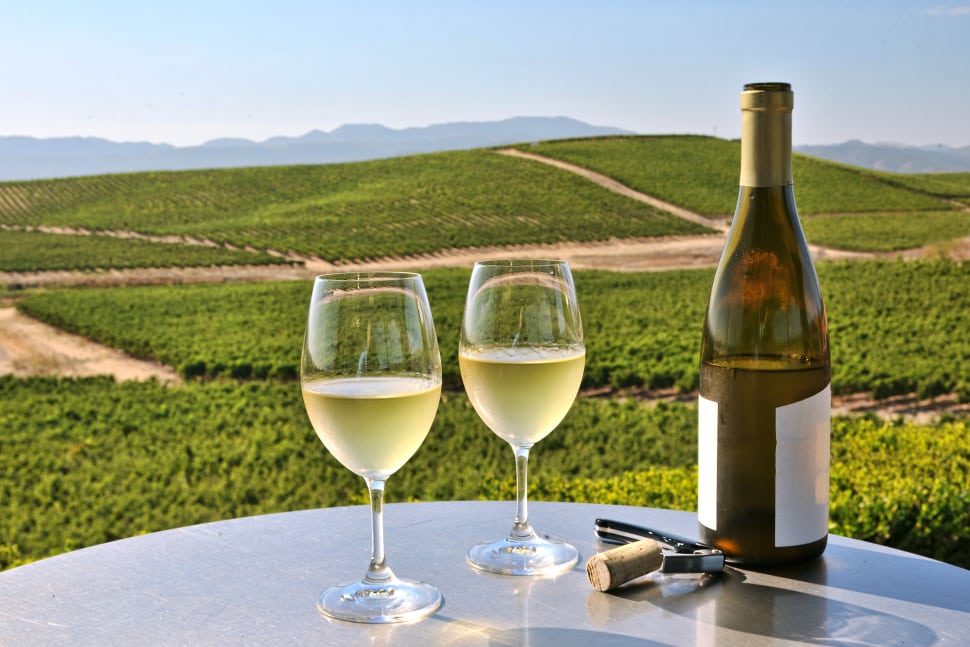 What is chardonnay wine?
Chardonnay is an immensely popular dry white wine that can be found in most wine-growing regions around the world. From California to New York, Quebec to Italy, South Africa to New Zealand – Chardonnay has its hold on the industry.

A glass of Chardonnay can range in color from pale yellow to straw gold, and is medium to full-bodied with moderate tannins and acidity.

Chardonnay is known for its adaptability, ageability, and buttery taste. It's also one of the easiest wine grapes to grow – which has helped its popularity take off around the globe.
Chardonnay grapes
Chardonnay grapes are just as happy in cool climates as they are in warm ones. And that has made them one of the most widely-planted grape varieties on Earth. They are used to make not just Chardonnay, but Champagne, sparkling wine, and dessert wine as well.

The grapes used in Chardonnay white wine are yellow-green at first ripening, and often darken to yellow or green-brown by harvest. These small, round grapes maintain quite high acidity and green fruit flavors in cool climates, but take on tropical fruit flavors in warmth.

Chardonnay of esteemed quality can be made in most any climate. But the best qualities in Chardonnay grapes are expressed in areas with soil high in chalk, clay, and limestone.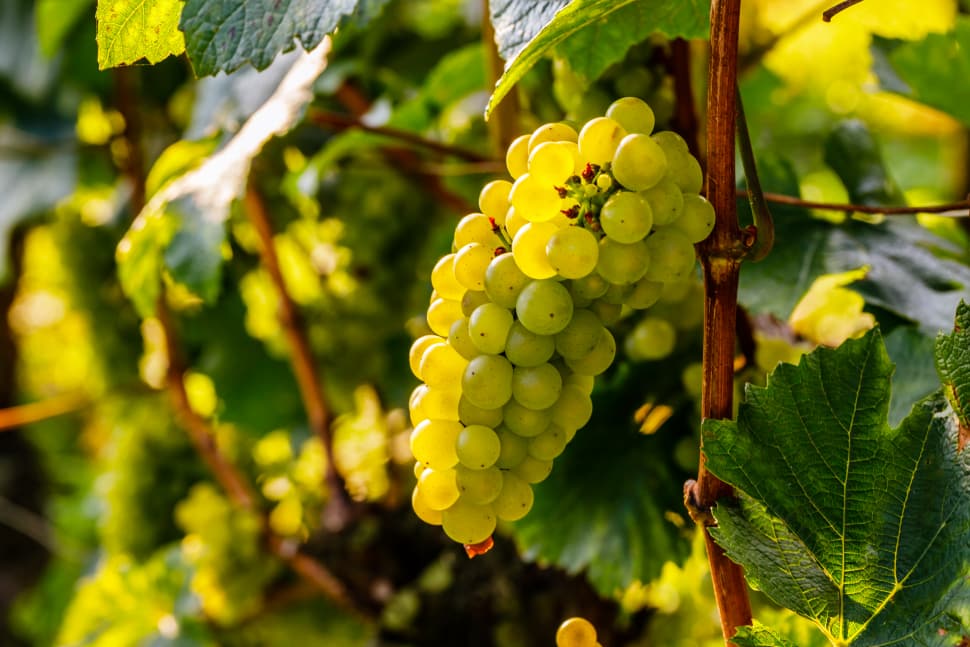 This is why Chardonnay fairs so well in Sonoma County and the Russian River Valley in particular.

Indeed, Chardonnay grapes truly take on the flavor of their terroir (that is, the soil and climate they are grown in). This allows for many styles of Chardonnay to be produced, from smoky and citrusy wines to mineral-driven wines to honeyed tropical ones.
Chardonnay tasting notes
Because Chardonnay grapes are so expressive of their terroir, the range of resulting flavors is incredibly nuanced and diverse. The primary fruit flavors can be anywhere from meyer lemon zest to passionfruit to baked apples.

A cooler climate Chardonnay will be more citrus-forward. Meanwhile, a warmer climate or late harvest Chardonnay will have a bit less acidity, with notes of papaya, pineapple, or fig.

In certain soils, Chardonnay picks up flavors of wet flint rocks, beeswax, or jasmine.

But these are just one aspect of a Chardonnay wine's flavors. Indeed, a whole host of other flavors are imparted not by the soil, or by the grapes, but by the winemaking process.
Oaked vs unoaked chardonnay – what's the difference?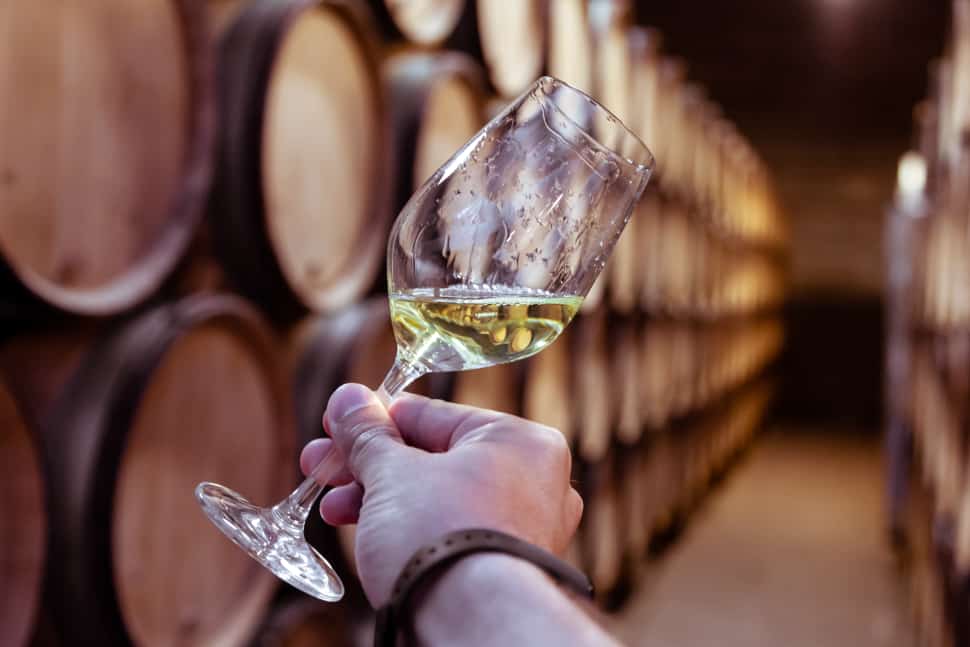 The big difference between oaked vs unoaked Chardonnay is the flavor – because you can't get that signature buttery taste without oaking your wine.
Where does the butter flavor in Chardonnay come from?
The butter flavor comes from diacetyl, a byproduct of the malolactic fermentation process within the oak barrel. This is a process most red wines go through. However, Chardonnay is one of the few white wines that has the depth and strength to stand up to it.

Malolactic fermentation (MLF) is a process where Oenococcus oeni (a good bacteria) converts malic acid into lactic acid.

Malic acid is something found in grapes and green apples, which contributes to their tartness. Lactic acid, on the other hand, is found in dairy products. It is a softer, creamier acid. So you can already see how this process can transform an acidic wine into a creamy one.

Winemakers may add different strains of bacteria to strengthen or diminish this chemical process. Or they may simply trust nature to do its work.

But it's the resulting diacetyl that is the star in an oaked Chardonnay. Diacetyl is used to make "butter flavored" popcorn taste like butter – and it creates our iconic buttery wine as well.

Chardonnay that is aged in oak barrels may also express notes of vanilla, coconut, and baking spices like cinnamon and nutmeg. It often tends toward more tropical fruit flavors.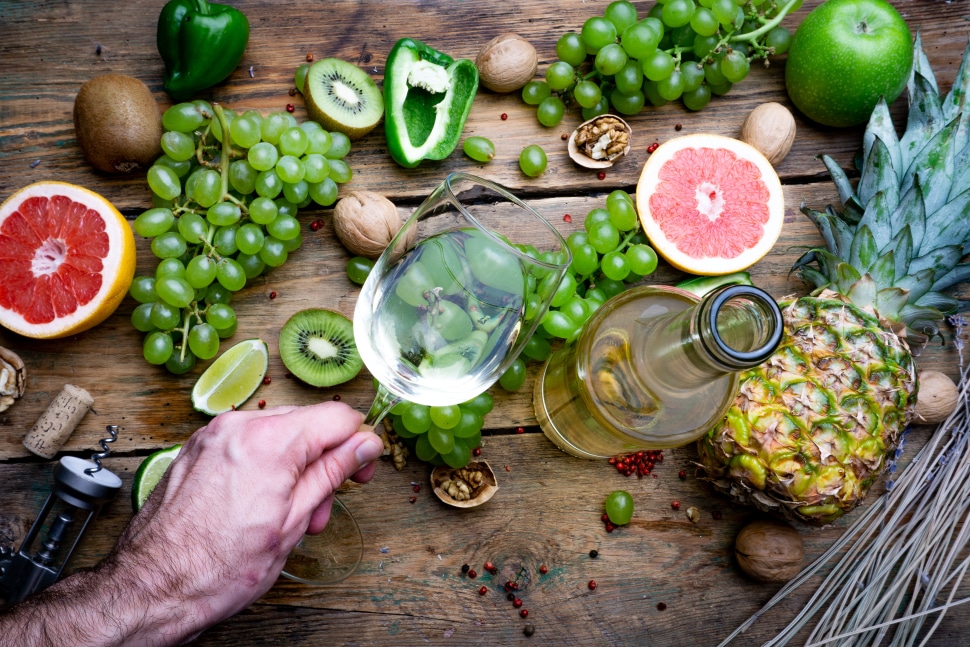 Not all Chardonnay is oaked though, and unoaked Chardonnay has a very different personality than her smooth sister.
What does an unoaked Chardonnay taste like?
Unoaked Chardonnay is made in stainless steel barrels. Because the MLF is blocked, it doesn't take on buttery qualities. Instead, it has a crisp taste and tart flavors of lemon, pear and green apple – a bit like a Pinot Grigio, but less floral.

This white wine is fresh, bright, and distinctly dry. The notes of acid and minerality are truly allowed to shine through, which makes it tingly and light on the tongue.

At this point, you might be wondering how such distinctly different wine styles came about! So let's take a look at where Chardonnay wine came from, and where it's going.
A brief history of Chardonnay
Chardonnay's origins stretch back a thousand year, and many of those years are shrouded in mystery. It wasn't until quite recently that scientists discovered Chardonnay grapes to be a crossbreed of half Pinot Noir and half Gouais Blanc.

Gouais Blanc originated in Croatia, spread throughout the Roman empire, and today is all but extinct. We are incredibly lucky that nature took its course and gave us the gift of Chardonnay.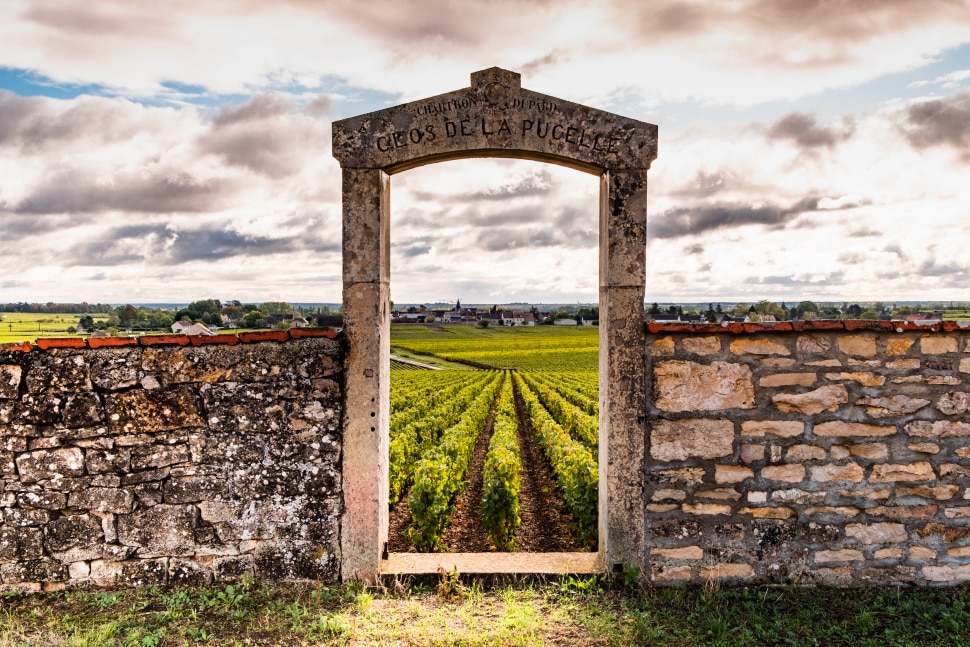 Beginnings in Burgundy
Chardonnay is named after the place it was first cultivated – the little village of Chardonnay in the Burgundy region of France. It was tended to by Cistercian monks, who set up vineyards in the 14th century solely dedicated to the grape.

These monks were the first to recognize that variations in soil and climate affected the flavor in the wine. Their notes have inspired many of our modern day winemaking techniques.

The wines they produced were buttery, beautiful, and instantly iconic.
Barreling towards disaster
Because Chardonnay fared so well in France, immigrants took the vine to the Americas in hope to achieve success in the New World.

This did indeed go well for a while. But, in the age of excess (also known as the 1980s) – when wine drinking was extra in-fashion – things took a bit of a turn.

Big businesses tried to capitalize on the popularity of Chardonnay by flooding the market with affordable bottles. Unfortunately, they cared more about profit margins than perfection, and these heavily oaked borderline sweet wines received some serious backlash.

Chardonnay became associated with a low class wine for people who don't really like wine. The Frappuccino of the wine world if you will. It even earned itself the acronym ABC.

Anything but Chardonnay.

Thankfully, all was not lost. Some thoughtful vintners set about finding the very best qualities in their Chardonnay grapes, and a new style of Chardonnay was carefully tended.
Chardonnay finds its balance
In the past couple decades, a new wave of Chardonnay has been born. This Chardonnay is less oaky, and more refined. It's the partially-oaked Chardonnay wine. A wine with elegance and freshness – where the best features of the fruit are brought to light.

When oaking is dialed back, it allows the wine to age incredibly while still reflecting the terroir of its birth. The best of these balanced Chardonnays come from Sonoma California, and in particular, the Russian River Valley.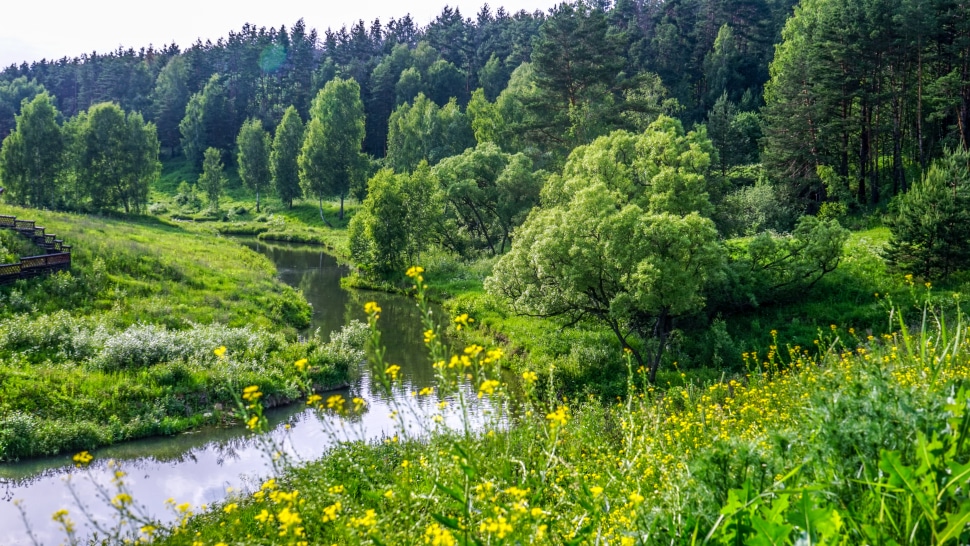 This change and variety in flavors and styles has often left wine drinkers perplexed: "Is Chardonnay sweet or dry?" "What style was my Chardonnay made in?" "How many calories in a bottle of Chardonnay wine?"

Let's find out.
What's in a glass? Dissecting your Chardonnay
What is Chardonnay Wine? History, Tasting Notes, and Pairing Tips

We're here to end the confusion once and for all. Chardonnay wine is dry. That is to say, it is classically made with little-to-no residual sugar after the fermentation process is through.

But that doesn't mean you can't detect hints of sweetness in a glass of Chardonnay. A fruit-forward Chardonnay might have notes of baked apple, mango, or pineapple.

The oaking process as well can impart caramelly, buttery qualities to your glass – which can be confused with a sweet taste.

All things considered, however, Chardonnay is quite a dry white wine. It is nowhere near as sweet as a Riesling or Moscato. But, if you look at a Chardonnay vs Sauvignon Blanc, a Chardonnay doesn't hold quite the same dry zing.

This balance has made Chardonnay a perfect fit for many wine drinkers.

Even though Chardonnay is a delightfully dry wine, all alcohol has calories. Let's look at how many carbs are in Chardonnay, and how many calories are in a glass of Chardonnay wine.
Calories in Chardonnay
A typical 5-ounce serving of Chardonnay wine has 120 calories. This means there are around 625 calories in a bottle of Chardonnay.

If there is a touch of residual sugar in your wine, it will also contain some carbs. Rest assured that your glass of wine would only contain a small amount of them. You can expect to find around 2 grams of carbohydrates in your serving of Chardonnay.

So now that you know what's in your glass…what do you do with it? Let's dive into the very best pairings for your refreshing white wine.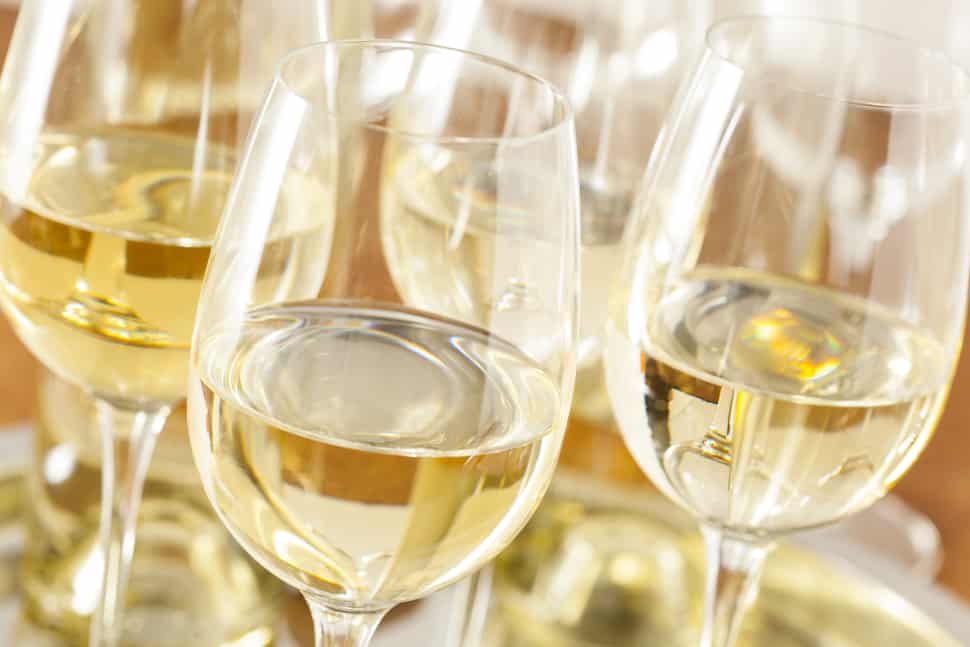 The perfect pairings for Chardonnay wine
Because Chardonnay has such a vast range of flavors, it is delightfully easy to pair with a variety of foods.

All types of seafood are a good place to start, from grilled fish to raw fish to shellfish.

White meats like chicken and pork can also work nicely, especially if prepared with a mild, buttery, or creamy sauce. When pairing meats with Chardonnay of any kind, you want to avoid any super sweet sauces.

Depending on if your wine is oaked or unoaked, you will be able to play off different nuances when pairing your wine with food.

Serve your Chardonnay slightly chilled between 50–55 °F to get the most out of it. You can also opt for a Chardonnay wine glass (the widest wine glass used for white wine). This will dispense the bold flavors evenly across your palate.
Food pairings for oaked Chardonnay
The complexity, richness, and buttery undertones of an oaked Chardonnay make it a perfect match with fresh lobster. It can also stand up nicely to the richness in crab, veal, pork, chicken, and fatty fishes like seared salmon.

A heavily oaked Chardonnay will work wonders with bolder cheese such as Camembert or blue cheese.

You can also compliment your oaky wine with roasted flavors, from smoked foods to caramelized onions to toasted nuts.
Food pairings for unoaked Chardonnay
In contrast, an unoaked Chardonnay will pair best with more delicate white meat flavors. White fish, simple roast chicken with herbs, or some fresh shrimp would work very nicely with this crisp white wine.

You might also try pairing your unoaked Chardonnay with a soft, creamy cheese like goat cheese or Brie. Creamy soups and pasta dishes are also delicious accompaniments.
Experience the best of California Chardonnay
If you've sworn off Chardonnay because of some unfortunately over-oaked experiences, you haven't had the right bottle yet. But this is it.

Our Sonoma Chardonnay wine is the best of both worlds. A New World wine with Old World style and the perfect balance of acidity, minerality, and the lightest hints of oak. 

Are you a fan of White Burgundy? Do you want your sip to take you back to an era where Chardonnay was at its most refined? Then this is the wine for you.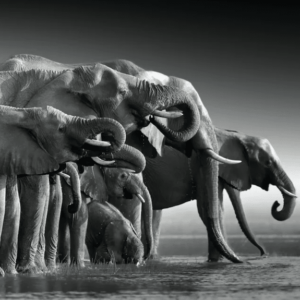 Join Sonoma vintner Jennifer Halleck on an unforgettable journey to Africa, where you will explore the wonders of this vibrant continent and share your passion for wine with fellow enthusiasts.…
Read More
If you asked any beginning wine drinker to name a white wine, they would probably say Chardonnay. That's because Chardonnay is the most popular white wine grape in the world….
Sonoma Wine Tasting in Sebastopol