Château Ste. Michelle Gewürztraminer Vs Halleck Vineyard (Wine Review)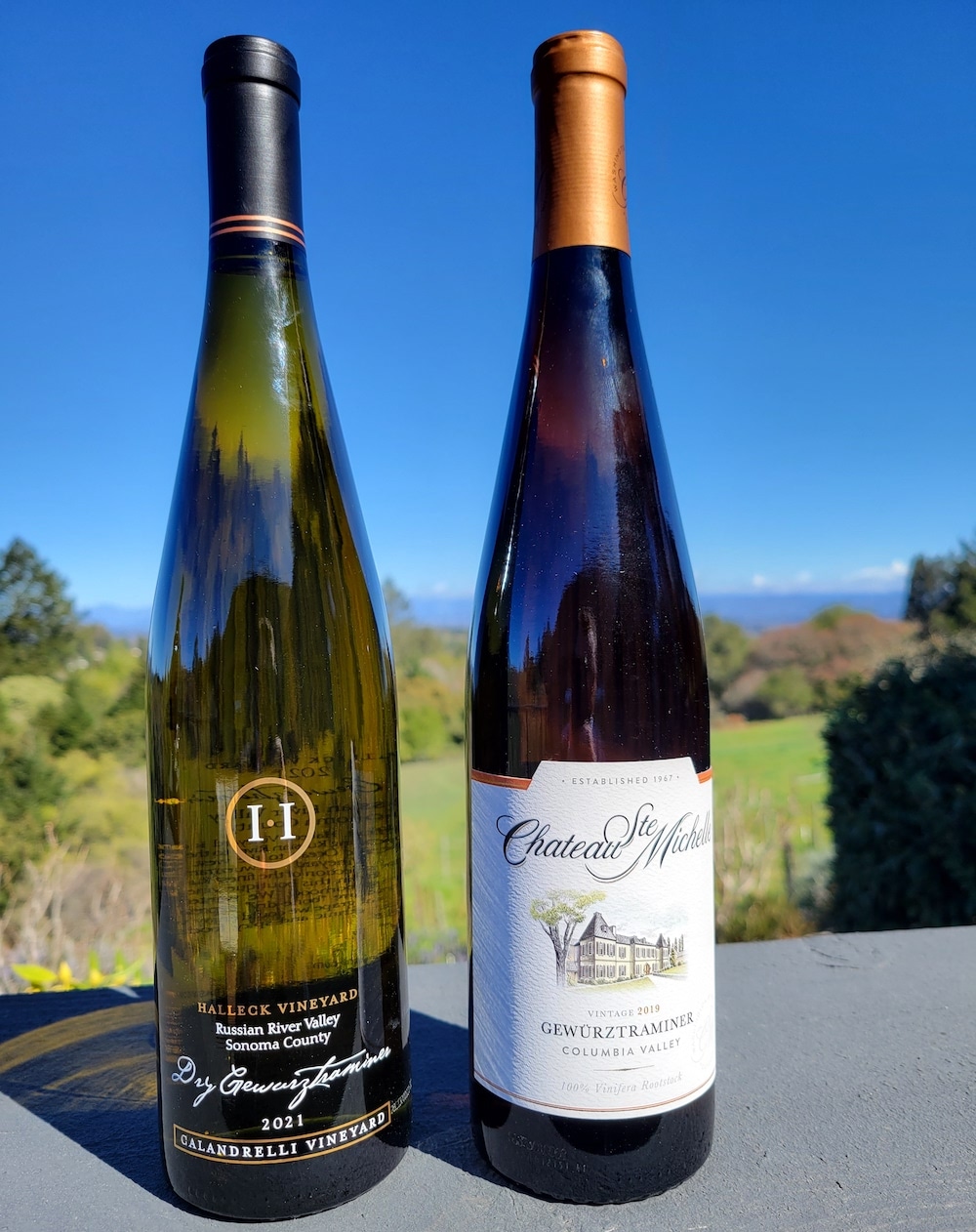 In this wine review, Ross Halleck and Harris Miner are in Sonoma wine tasting and talking about New World Gewürztraminers from the Russian River and Columbia Valley appellations.

First on the list is 2019 Château Ste. Michelle Gewürztraminer from Washington's Columbia Valley, and then we'll move on to the Halleck Vineyard Dry Gewürztraminer Callendrelli Vineyard from the Russian River Valley in Sonoma County.
The Gewürztraminer Grape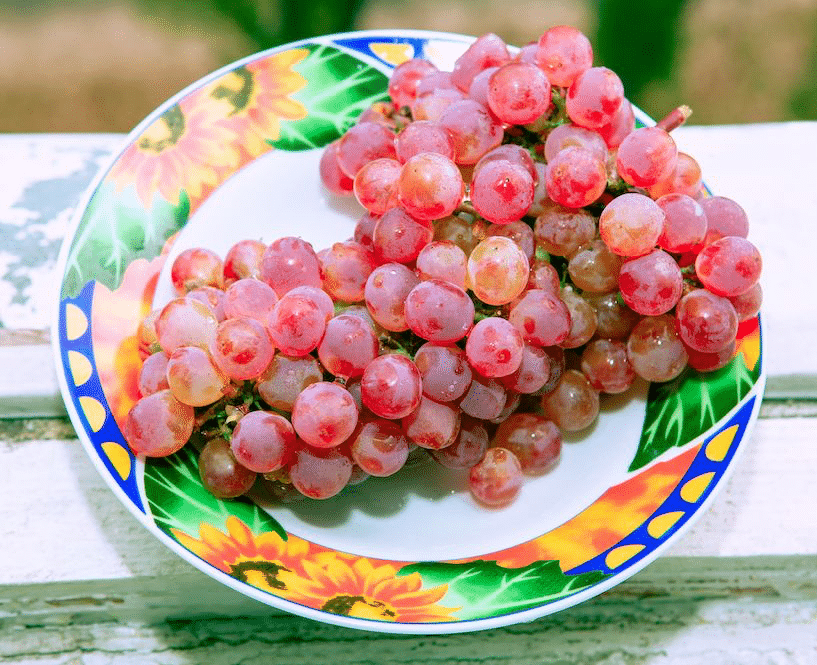 Gewürztraminer is a cool-season, pink-skinned grape with its ancestral roots in the foothills of the Alps. It was first cultivated in Alsace, France. Alsace sits on the border between France and Germany, which explains the Germanic Gewürztraminer pronunciation. The grape is high in natural sugars that give the wine its trademark lycée bouquet.

Gewürztraminer is typically described as an off-dry wine with tantalizing shadows of sweet field flowers, lychee fruit, roses, aromatic spices, and honey. Variations exist depending on region — German Gewürztraminer, for instance, is typically more restrained than its counterparts from other regions.
---
---
Traditional Gewürztraminer Pairings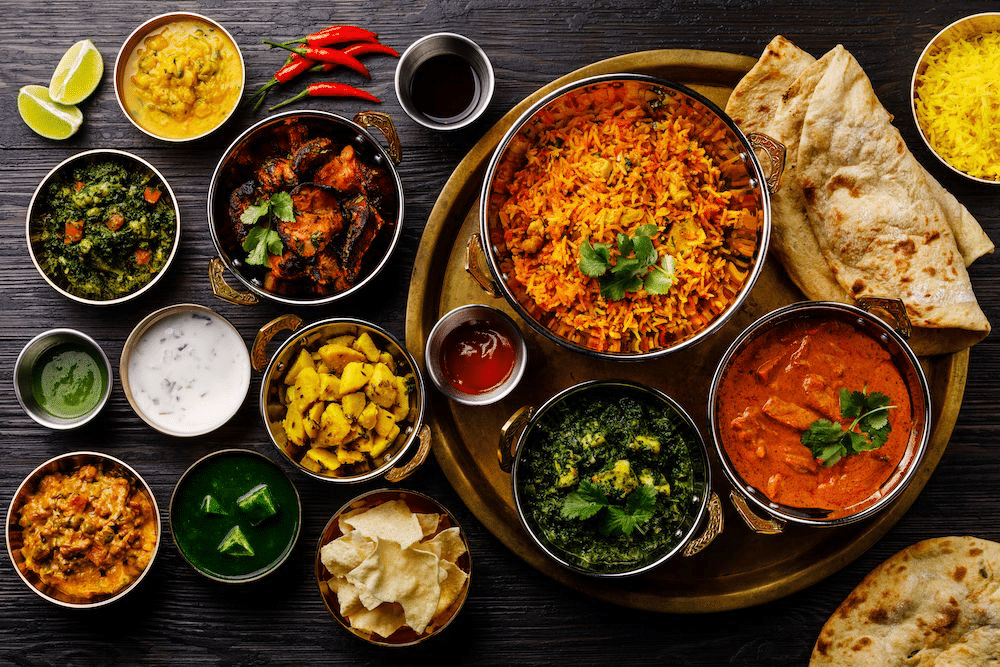 Gewürztraminer's complex flavor profile lets it pair well with a wide range of foods.

Gewürztraminer food pairing involves a wide range of foods, but it shines best with rich poultry dishes such as duck a l'orange, butter chicken, traditional Germanic fare such as wiener schnitzel and pork chops, and egg dishes such as Eggs Benedict and simple quiches. It's also a great vegetarian option for dishes with a ginger or soy base, anything prepared with coconut milk, and oily seafood such as salmon.

This is also a great pairing wine for those who enjoy culinary exploration, so don't be afraid to veer off the beaten track and uncork Gewürztraminer with something not so obvious. It's okay to break a few rules along the way — thanks to its nuanced flavor profile and rich notes of honey, roses, and spices, Gewürztraminer is suitable for pairing with marbled red meats.
Château St. Michelle Gewürztraminer Wine Tasting Notes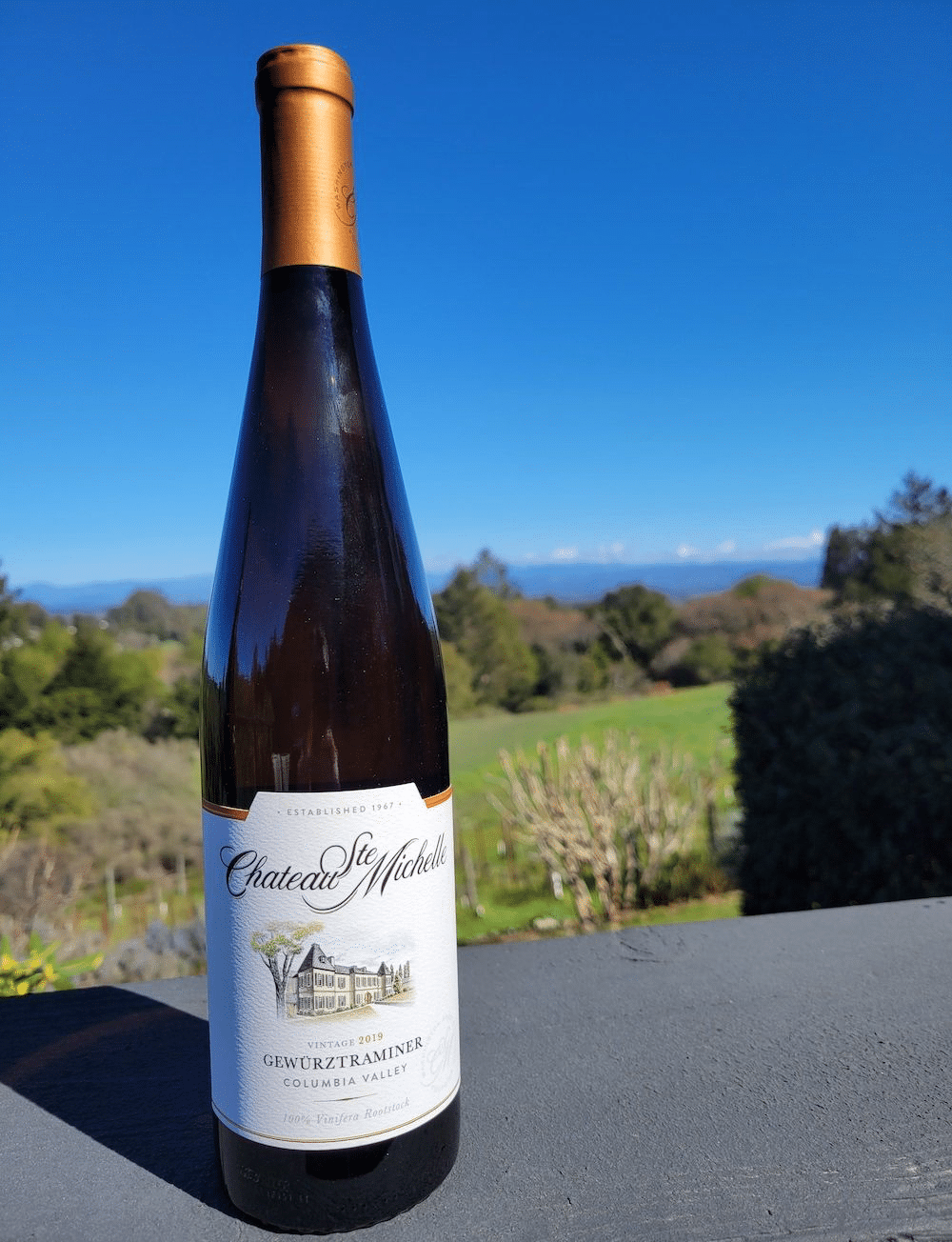 Château Ste. Michelle's Gewürztraminer is an inexpensive option ideal for casual al fresco dining.

Our first impression was of an exuberant orange bouquet nicely tempered with bits of clove We especially liked the tease of orange creamsicle just below the surface and the wine's pale yellow hue. This is a lively Gewürztraminer with a solid mouthfeel and just enough sweetness for balance. However, it didn't have the definition usually associated with Old World Gewürztraminer.

Overall, we felt this was a pleasant wine perfectly suited for use as a cocktail wine, during the fruit course, or as a light dessert wine with fresh fruit and ice cream. It's also good with uncomplicated spring pasta dishes such as pasta primavera.
Brand: Château Ste. Michelle
Country/State: Washington
Wine Type: White Wine
Varietal: Gewürztraminer
Vintage: 2019
Alcohol: 12.5%
Retail Price: $15
Restaurant Price: Approximately $25
Pairings: Fruit salad, fresh fruit bowls, and most types of picnic food
Halleck Vineyard Dry Gewürztraminer Wine Tasting Notes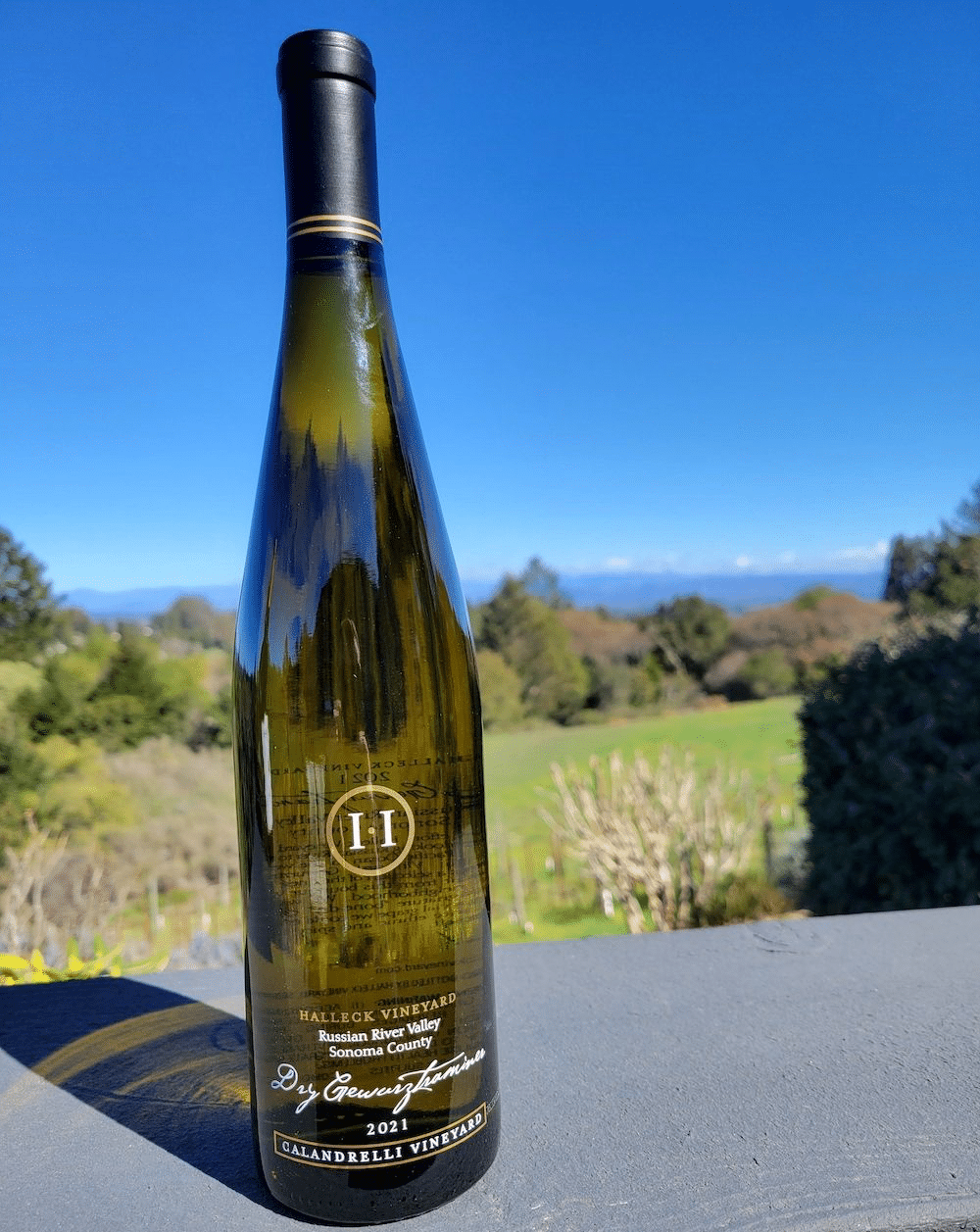 The Halleck Vineyard Dry Gewürztraminer brings black tie elegance to the table. 

We recognized Halleck Vineyard Dry Gewürztraminer's Alsatian heritage right away in its white-gold color and elegant notes of rose petals and lychee in the nose. A light breeze containing faint notes of honeysuckle follows along with traces of candied ginger. Make no mistake, though — this isn't a sweet wine despite the floral accents. As its name implies, it's dry as a bone. 

This wine features a bright acidity, balanced minerality, and a nuanced flavor profile ideal for pairing with a variety of foods. It's particularly suited to spicy cuisines, seafood with bold flavors such as grilled black cod served with a drizzle of wild berry and honey sauce, and with stinky cheese during the cheese course. It also makes a great holiday wine and pairs especially well with pumpkin pie and roast goose or duck.
Brand: Halleck Vineyard
Country/State: California
AVA: Russian River Valley
Wine Type: White Wine
Varietal: Gewürztraminer
Vintage: 2021
AVA: Russian River Valley
Alcohol: 14.3%
Retail Price: $65
Restaurant Price: Approximately $95
Pairings: Indian curry with fruit chutney, full-flavored seafood, and Korean fried chicken
Wine Review (Video)
Gewürztraminer Wrap Up
Both wines were instantly recognizable as Gewürztraminer, which doesn't always happen with other white varietals. We also felt they did a great job of representing the wide variation characteristic of this wine, with Halleck Vineyard's Dry Gewürztraminer being the little black dress to Château Ste. Michelle's sweet floral sundress. One of them goes to festivities after sunset, while the other attends sunlit picnics among fields of blooming flowers.

However, we feel that Halleck's Dry Gewürztraminer's nod to Old World traditions brings its New World wine up several notches and appreciated how it offers the best of both worlds. Whether you want to celebrate a special occasion or add a festive accent to an ordinary occasion, Halleck's is the one to uncork.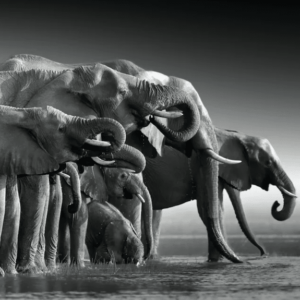 Join Sonoma vintner Jennifer Halleck on an unforgettable journey to Africa, where you will explore the wonders of this vibrant continent and share your passion for wine with fellow enthusiasts.…
Read More
Although they are based in west Santa Rosa, DeLoach has every right to call themselves a Russian River Valley winery. Sure, they also source fruit from the Sonoma Coast,…
Sonoma Wine Tasting in Sebastopol