New Zealand vs California Sauvignon Blanc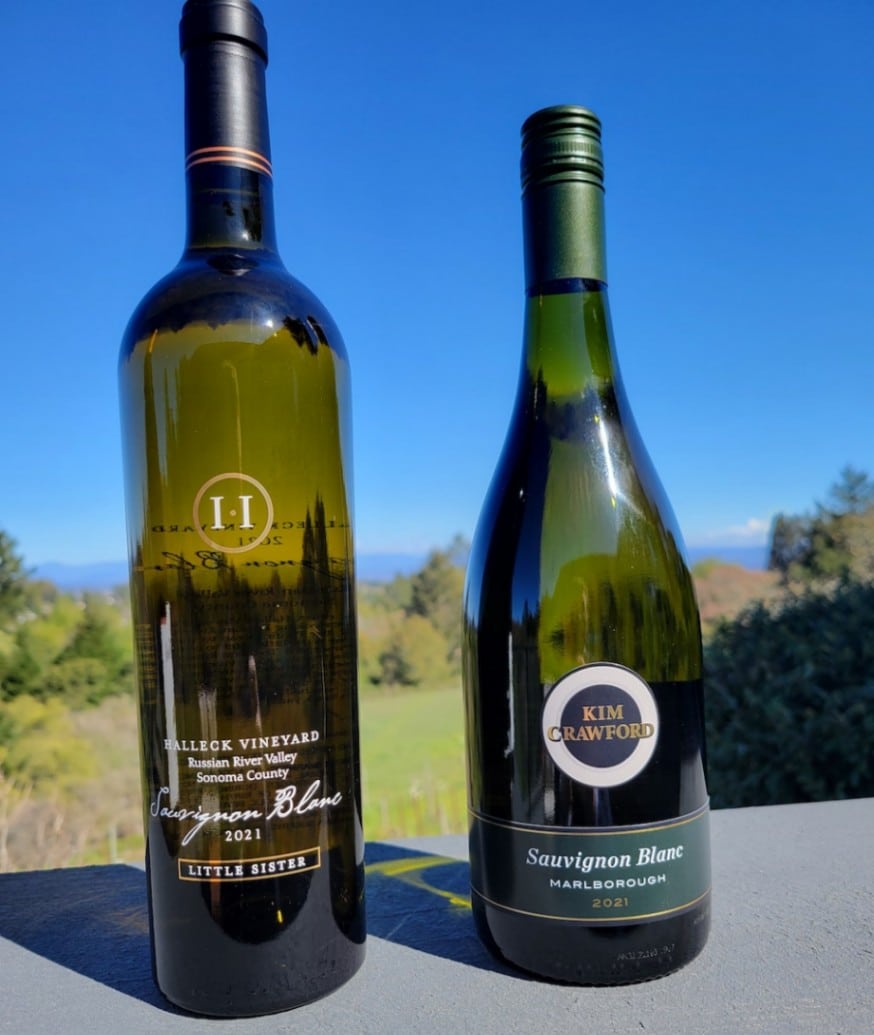 California Sauvignon Blanc is like New Zealand Sauvignon Blanc in many ways. But the two varietals from different regions deviate in some respects as well. In this wine review, Ross Halleck and Harris Miner are in Sebastopol wine tasting and discussing the popular Kim Crawford Sauvignon Blanc, comparing to the Halleck Vineyard Sauvignon Blanc, judged Best of Class White and Best White Wine in California (94 pts) at the 2019 Orange County Wine Society.
Kim Crawford Sauvignon Blanc (2021)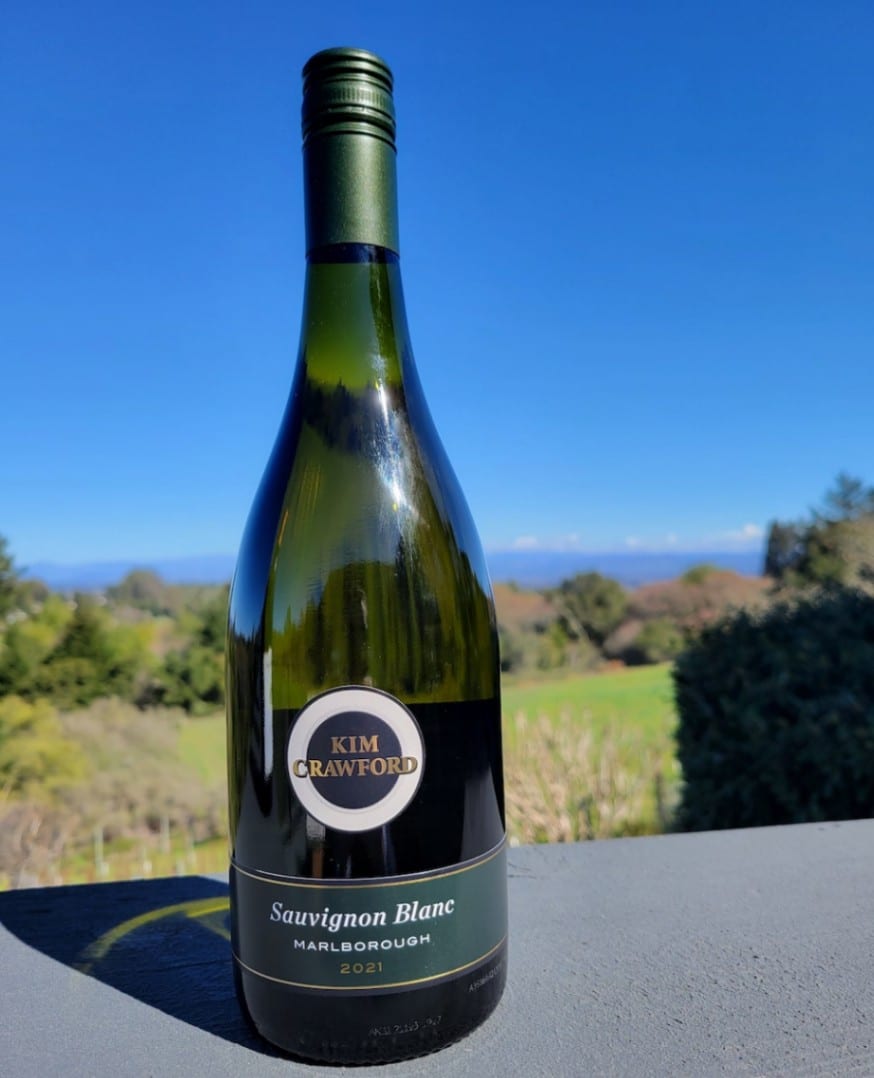 The best California Sauvignon Blanc comes from Sonoma County. The best New Zealand Sauvignon Blanc comes from the large and diverse region of Marlborough. It exploded onto the wine scene in the early 1970s with an exuberant personality that hasn't dimmed to this day. In recent years there's been a substantial investment in infrastructure and more refined winemaking techniques. This results in wines of greater precision and expression, bringing the most out of its exceptional terroir.

Very dry and sunny, this area is not the one-trick pony it seems. The terroir shifts from the rugged loamy terraces on the ocean coast, to the historic stony vineyards in Wairau. In the south are clay-dense glacial valleys. Overall, the high summer heat, warm winds, and cool nights give such a powerful specificity to the wines in this corner of the earth.

Kim Crawford draws from vineyards all over Marlborough to create a classic style that defines the best New Zealand Sauvignon Blanc.
A typical color of pale straw with streaks of light green. The nose is jumpy and intense, full of green bell pepper, fresh cut grass, and electrified grapefruit. It's assertive on the palate, proud of its flavors, which mirror the nose with a little bit less intensity. Striking acidity gives the wine a sharp but ultra-fresh feel. Grapefruit shines through most prominently. There's a snap and pop to the wine, a crunchy-crispness that marks it as more fun than serious. This is the best New Zealand Sauvignon Blanc for a house party, a porch gathering, a day at the beach.
Brand: Kim Crawford
Country/State: New Zealand
Vintage: 2021
AVA: Marlborough
Varietal: Sauvignon Blanc
Style: Crisp
Alcohol Content: 13%
Retail Price: $20
Restaurant Price: $40
Pairings: ceviche, fresh asparagus salad, goat cheese crackers with pepper jelly
---
---
Halleck Vineyard Sauvignon Blanc (2021)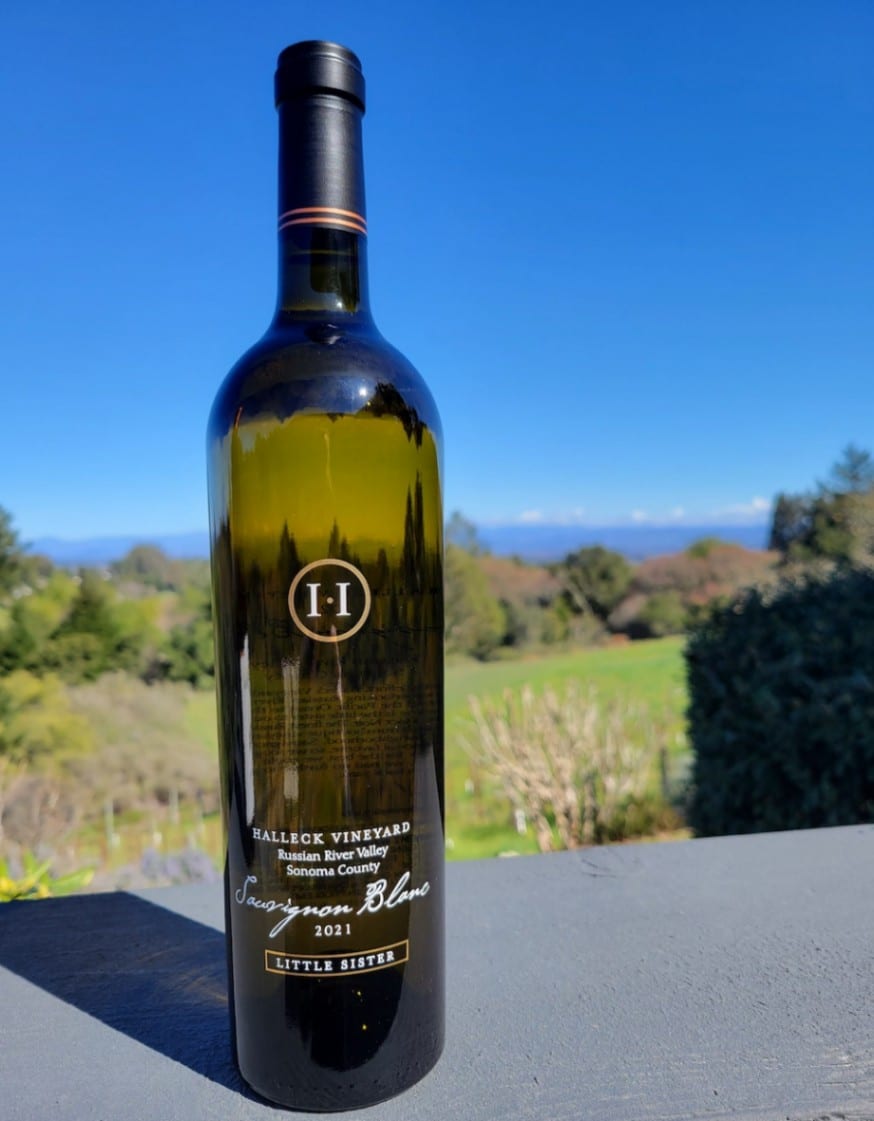 The subregions of New Zealand are just beginning to establish an identity. But the vignerons of the Russian River Valley have been doing it for decades. There are so many nuances here that it can be hard to characterize the region as a whole. Halleck Vineyards, located in the southern border of the AVA, lies inland from Sonoma Coast near the Petaluma Gap AVA. It's exposed to constant evening fog, dropping the temperature about 35-40 degrees from its daytime high. This little miracle, a natural air-conditioner, ensures a longer, cooler growing season. It's exactly what the best California Sauvignon Blanc needs.

The challenge is to tame these wild tendencies of the grape and balance the ripe fruit, strong herbal character, and high-toned texture. This is partly what makes it such a special project for any winemaker.
Here, the color is slightly darker than the Kim Crawford, a green-gold luminosity with deeper straw tones. There's much more minerality to the nose owing to the very close ocean influence. There's a whiff of sea breeze and citrus peel. Even the telltale hint of boxwood that one often finds in refined whites from the Loire and Bordeaux. There's more salinity on the palate, which produces a succulent, mouth watering elegance that immediately asks for another sip. Bring on more lemon peel, gooseberry, and hints of lime. The finish carries on like a friend who talks and talks, but you don't mind listening.
Brand: Halleck Vineyard
Country/State: California
Vintage: 2021
AVA: Russian River Valley
Varietal: Sauvignon Blanc
Style: Elegant
Alcohol Content: 14.1%
Retail Price: $47
Restaurant Price: $90
Pairings: raw oysters, seared scallops, whitefish with Parmesan herb crust, roasted chicken
---
---
Video Wine Review
The Last Word
The previous decade has seen Sauvignon Blanc become the white wine of choice for the majority of the casual imbibing public. A double-edged sword. Because it has a tendency to taste as if it all came out of the same stainless steel tank. Yet, the geographical spread and versatility of the grape means you will always find an array of respectable styles. There is sweet and serious Bordeaux, no-cares-in-the-world Kim Crawford, and one of the best California Sauvignon Blanc from Halleck vineyard. All stars in the same sky.
JOIN HALLECK VINEYARD AT THE BALLGAME!
JULY 8TH
IN THE BASELINE BOX AT ORACLE PARK, SAN FRANCISCO
Watch the game from this dugout at 1st base while enjoying Halleck Vineyard wines with Ross,…
Read More
Although they are based in west Santa Rosa, DeLoach has every right to call themselves a Russian River Valley winery. Sure, they also source fruit from the Sonoma Coast,…
Sonoma Wine Tasting in Sebastopol