Arctic Char with new potatoes, Apples and Endive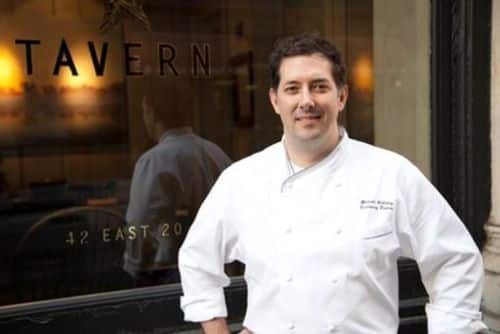 When I'm in New York, I have to pinch myself to see if I'm not dreaming. There is no city in the world that I find as hospitable, culturally rich, exciting, fun, or has as good of dining.
We've been privileged to be served by Thomas Keller at Per se with 24 members of our Inner Circle. And equally fortunate to dine at my favorite Jewish haunt, 2nd Avenue Deli. And everything in between. Whether it's Keens, Grand Central Oyster Bar, Del Friscos, Blue Hill, The Union League Club, Eleven Madison Park, The Norwood, The Tennis and Racquet Club, The Penn Club, Estiatorio Milos, The Trustees Dining Room of the Metropolitan Museum of Art, or any spot we stumble into at Eataly, there is nothing like the quality of food, service and ambiance of NYC.
With all these to choose from, time and time again we plan our trip around Gramercy Tavern and the extraordinary gifts of Mike Anthony, the Executive Chef.
Mike grew up in Cincinnati, Ohio, and graduated from Indiana University with degrees in Business, French, and Japanese. We both hale from the Midwest. He embarked on his culinary career in Tokyo, Japan, falling in love with the simple, seasonal Japanese approach to food.
Mike moved to France in 1992, working in several renowned kitchens. He returned to the United States five years later, working first at Restaurant Daniel and then as the Chef de Cuisine at March Restaurant. Subsequently, Mike joined the team of Blue Hill as co-Chef Blue Hill NY in Manhattan and later as the Executive Chef at Blue Hill Stone Barns.
In 2006 Mike took the position of Executive Chef at Gramercy Tavern. In this role he leads the restaurant into its next chapter while staying true to its original vision: to honor the rich tradition of American cooking and bring guests together in a convivial spirit of community to enjoy exceptional, seasonal food.
Passionate about using ingredients that can be traced to their sources, Mike forges strong ties between the restaurant and local farmers, very much like we do in California with our food and grape growers. He and his staff visit local farms. Mike also invites outstanding local producers to Gramercy Taver. The menus highlight these relationships and Mike's farm-fresh, thoughtful cuisine.
Mike was named one of Food & Wine magazine's "Best New Chefs" and was also lauded in Bon Appetit's "Next Generation". Under Mike's leadership, Blue Hill at Stone Barns received a three-star review in The New York Times, as well as a James Beard Foundation nomination for "Best New Restaurant" in 2005. The New York Times awarded Gramercy Tavern its second three-star review, and Time Out New York declared Mike "Best New Chef" in New York City. In 2008, Gramercy Tavern earned the James Beard Award for "Outstanding Restaurant." In 2011, he was named Chef-Partner of Gramercy Tavern. In 2012, Michael won the James Beard Award for "Best Chef in New York City" and in 2015, won the James Beard Award for "Outstanding Chef in America." Mike is also the author of The Gramercy Tavern Cookbook and V is for Vegetables.
I enjoyed the Arctic Char on my visit to Gramercy Tavern with my son, Connor, when he entered NYU. We paired it with our Three Sons Cuvee and it blew my socks off. I think it would go also particularly well with our Sonoma Coast Pinots due to their brightness and minerality.
Arctic Char with New Potatoes, Apples and Endive
Yields: 4 portions
4 four ounce portions artic char, skin on
4 small white new potatoes
4 small purple Peruvian potatoes
1 honeycrisp apple, ½ small diced, ½ julienne
½ cup celery, small dice
1 Tbsp pickled mustard seed (recipe to follow)
1 head endive, julienne
½ bunch chives, minced
Olive oil, salt, pepper, lemon juice, to taste
For the potato salad:
1. Boil white and purple potatoes in salted water until tender.
2. Peel the potatoes and cut into a medium dice.
3. Mix the potatoes with diced apple, celery, pickled mustard seeds, olive oil, salt, pepper and lemon juice to taste.
For the artic char:
1. Season artic char filets with salt, pepper, and a light layer of olive oil. Place filets skin side down on a hot grill. Cook for 4 minutes on each size for medium rare.
To serve:
1. In a bowl, mix the endive with minced chives and julienne apple. Season with salt, pepper, and lemon juice.
2. On each plate, place artic char on top of room temperature potato salad. Top artic char filets with endive salad.
For the pickled mustard seed:
Yields 1 C
1 cup rice wine vinegar
1 cup sugar
1 cup water
1 tsp salt
1 cup mustard seeds
1. Bring all ingredients to a simmer. Simmer for five minutes. Let cool at room temperature.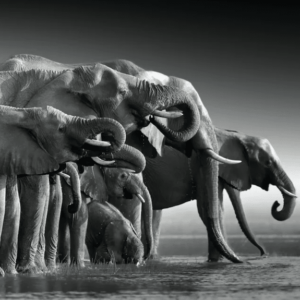 Join Sonoma vintner Jennifer Halleck on an unforgettable journey to Africa, where you will explore the wonders of this vibrant continent and share your passion for wine with fellow enthusiasts.…
Read More
What goes better with French food? French wines or California wines? Winemaker Ross Halleck of Halleck Vineyard in Sonoma County collaborated with Bar Boulud Sommelier Victoria Taylor in Manhattan on a private vintner dinner to find out. …
Sonoma Wine Tasting in Sebastopol