Curried Quinoa and Salmon: Austin Perkins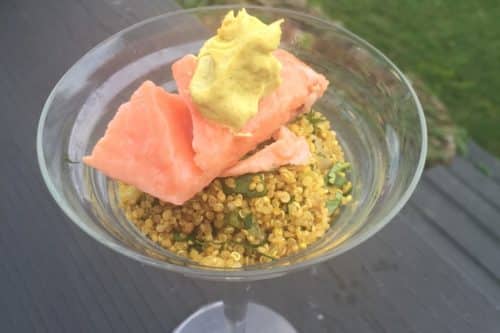 We are privileged to partner with the finest chefs in the world. Thomas Keller of Per Se and The French Laundry, Michael Anthony of Gramercy Tavern, Cat Kora, and Michael Psilakis, to name a few.
We're featuring dishes from many of our friends on a monthly basis with recipes and stories, like Austin Perkins, formerly of Nick's Cove, a local favorite.
He grew up in our neighborhood enjoying the coast, its natural beauty and abundant farm produce. Austin likes to keep it simple and let the natural flavor of each ingredient do the talking.
He began at Nick's Cove Oyster Bar and Cottages in 2008 and contributed to some our first vintner dinners. He took the helm at Nick's Cove in 2011 as Executive Chef, creating the finest seasonal, sustainable California cuisine from the area's abundant farms in Marin and Sonoma Counties, including fresh seafood and oysters from Tomales Bay.
Austin has built relationships with local farmers, like ourselves, sourcing ingredients for the menu. Dishes change seasonally as he creates special experiences and events to highlight the bounty of the area. He left Nicks in 2016, but continues to cater throughout the North Bay Area.
The dish we've come to love, the Curried Quinoa with Fresh Salmon and Aioli, he developed to pair with our Dry Gewurztraminer in his early days at Nick's. We use it to highlight the spicy and complementary fruity notes of this amazing wine.
Curried Quinoa with Fresh Salmon and Aioli
Ingredients:
Flank of salmon (think 8 slices, 1 inch wide to lay on top of quinoa in large martini glasses)
1 Cup Quinoa
1/2 tsp. Salt
4 shallots
small bunch green onions
small bunch of cilantro
cinnamon stick
1 med. jalepeno
Trader Joes curry powder (or create with equal parts Cumin, Corriander, Cardomom, Cumin and double Tumeric, with cayenne to taste)
Curry aioli (good mayo)
Cayenne
Preparation:
Salmon
Place salmon on small baking sheet covered in ample aluminum foil coated lightly with olive oil.
Preheat oven to 350 degrees. Bake for 10-12 minutes. Remove from oven and wrap in excess aluminum foil to finish cooking as it cools to warm or room temperature. Delicately flip salmon and remove the skin. Slice to desired size.
Quinoa
Cook as rice (1 1/2 cups water: 1 cup quinoa); boil water with salt, 2 tsp. of curry powder, and a cinnamon stick.  Add quinoa, simmer covered for about 15 mins.  Cool, drizzle with a little olive oil. Add more curry and salt to taste. Can take a good strong curry flavor.
Sauté chopped shallots and chopped jalepeno, add a little white wine when browning starts.  
Fold this into the quinoa
Chop up fresh cilantro and green onions (about 1/3-1/2 cup each) 
Fold this into the quinoa 
Salt to taste
Aioli
Select organic mayo made from olive oil. Just mix in curry powder to a strong flavor and deep mustard color. Add pinches of cayenne to taste.
Presentation
Place Quinoa in martini glass. Lay slice of salmon on top. Dollop aioli on top of the salmon.
PERFECT Pairing!
2016 Halleck Vineyard, Saralee's Vineyard, Russian River Valley, Dry Gewurztraminer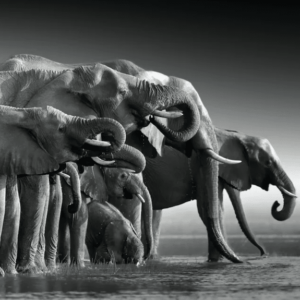 Join Sonoma vintner Jennifer Halleck on an unforgettable journey to Africa, where you will explore the wonders of this vibrant continent and share your passion for wine with fellow enthusiasts.…
Read More
What goes better with French food? French wines or California wines? Winemaker Ross Halleck of Halleck Vineyard in Sonoma County collaborated with Bar Boulud Sommelier Victoria Taylor in Manhattan on a private vintner dinner to find out. …
Sonoma Wine Tasting in Sebastopol