Top 12 Sebastopol Wine Tasting Spots (with Map)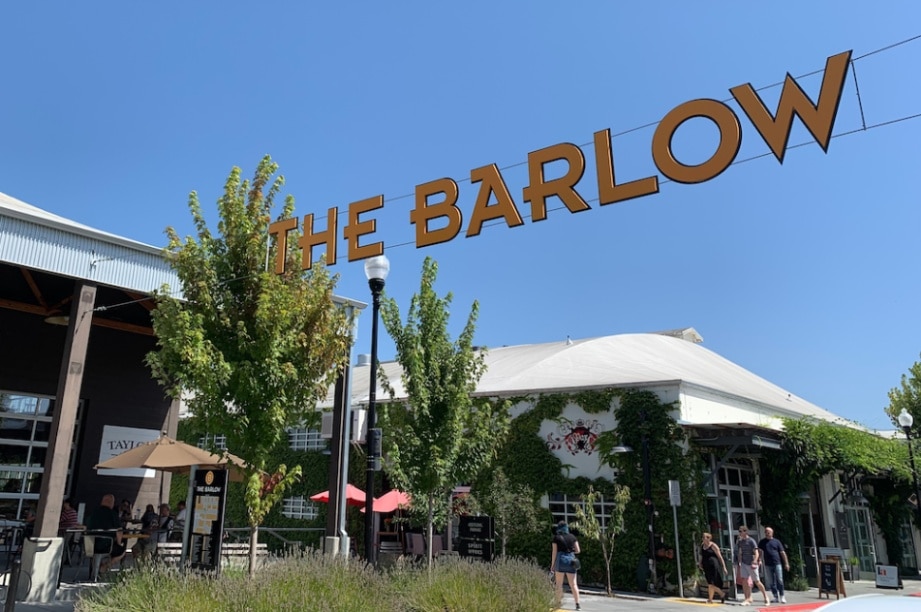 For over 150 years, Sebastopol was known as a farming and agricultural center of northern California. Once a plum and apple growing industry, the area is now a diverse paradise of flowers, fruits, vegetables, and of course, rolling green vineyards. Some of the wineries on our list are on Gravenstein Drive, which runs through the center of Sebastopol, which gives a sense of the town's agricultural roots.

Apples and wines like Pinot Noir and Chardonnay do well in a cool climate. Sebastopol is a microclimate with a terrior that has an excellent predisposition to harvesting world class Pinot Noir and Chardonnay grapes. They even have an annual Gravenstein Apple Festival. But historically, viticulture is relatively new in Sebastopol.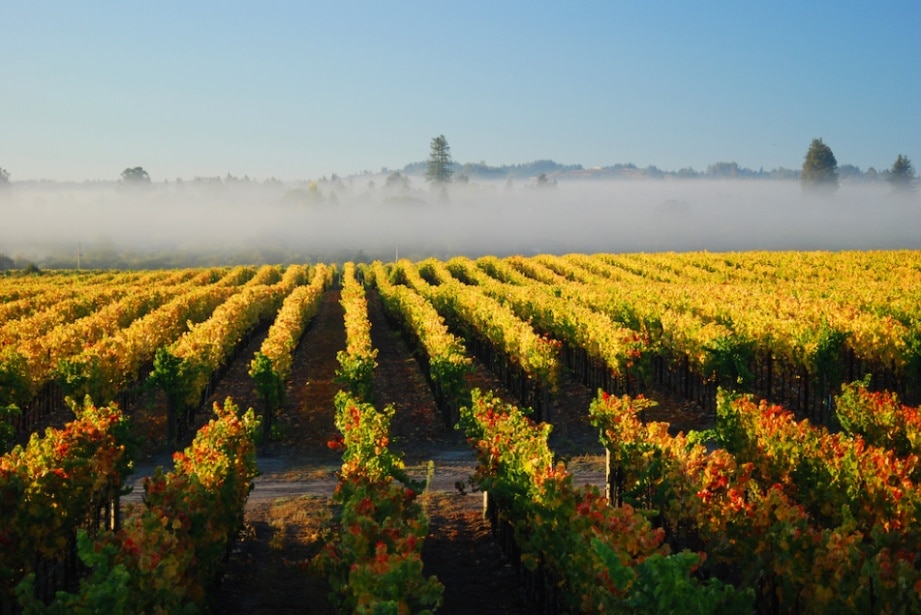 Today, heavy investment has turned nearly all former orchards into vineyards, may of which are in hilly areas enveloped in morning fog. Whereas grapes grown on a flat vineyard ripen evenly, on hilly vineyards some clusters ripen before others, which makes growing grapes in this area a little trickier, since vineyard are harvest in one fell swoop, making the pick date harder to call.
Nevertheless, the Sebastopol wineries are impressive. It's now one of the world's finest wine grape growing regions. But it's very different from Napa Valley, where producers make millions of cases. Sebastopol is home to more small wineries. In Sebastopol wine tasing rooms, the person pouring is usually also the winegrower and the vintner. At boutique wineries, the owners where more hats, so the wine tasting experience often gives visitors a closer view of winemaking process from grape to glass.

Here is some of the best wine tasting Sebastopol has to offer. Some of the wineries are in downtown Sebastopol, or the Barlow. But the more intimate wine tasting experiences are found off the beaten path, 10 to 20 minutes from the city center. Depending on what you're looking, you can use the Sebastopol Wine Tasting Map below to chart your course.
We start with a visit to one of Sebastopol's first vineyard ever planted in 1994.
---
---
---
Top 12 Sebastopol Wine Tastings Map
---
1. Halleck Vineyard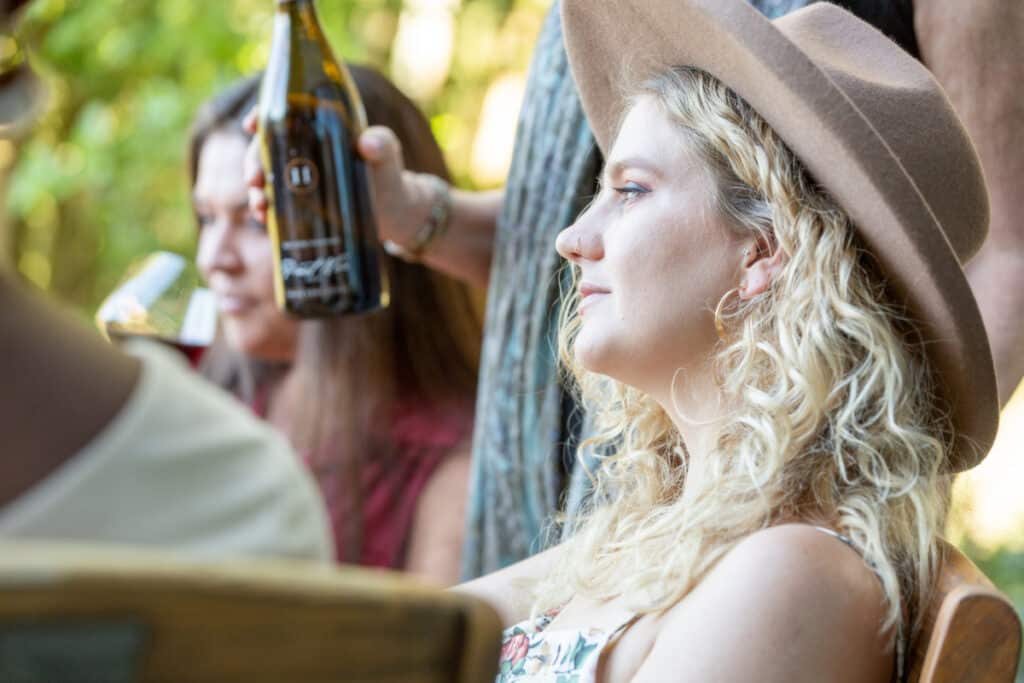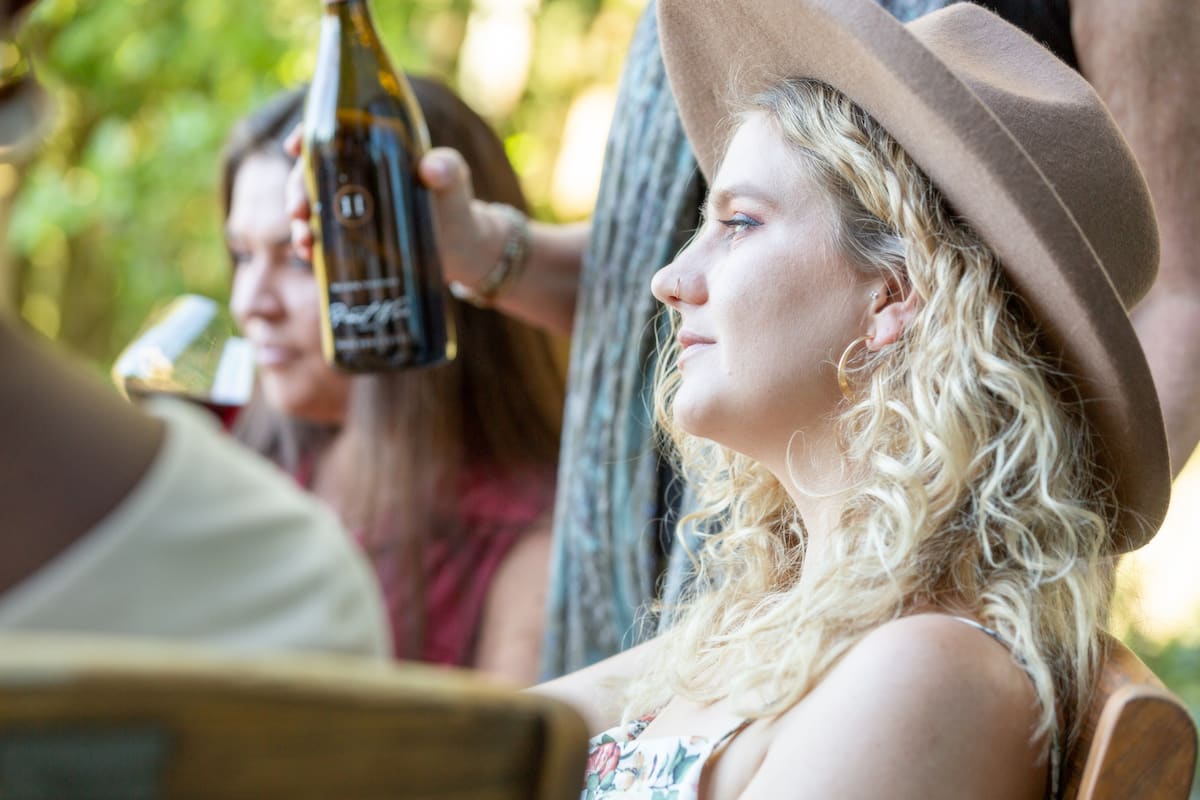 For true Pinotphiles, no trip to Sebastopol is complete without a visit to the Halleck Vineyard Estate. This is one of the first Pinot Noir Vineyards planted in Sebastopol in 1994. Pinot Noir from Halleck Vineyard was judged Best Pinot in America for three years in a row. Their Sauvignon Blanc was judged Best California White Wine, and their Dry White Gewürztraminer was judged Best White Wine. These are small batch, luxury wines made by Ross Halleck and Jennifer Halleck. They host small, intimate wine tasting salons at their hilltop Sebastopol Estate with sweeping views of the Russian River Valley. Only 16 people per wine tasting experience and dogs are welcome. Tour the viticulture roots of the best California Pinot Noir and get a chance to buy hard to find wines not sold in stores. Taste 8 different award-winning wines poured with stories about how they're made. Each is paired with delectable, single-bite delicacies made from locally sourced ingredients including triple cream truffle brie and Pinot Noir infused chocolate.
| | |
| --- | --- |
| Brand | Halleck Vineyard |
| Varietals | Pinot Noir, Chardonnay, Sauvignon Blanc, Dry Gewurztraminer and Dry White Zinfandel |
| AVAs | Russian River Valley and Sonoma Coast |
| Dog Friendly | Yes |
---
---
2. Merry Edwards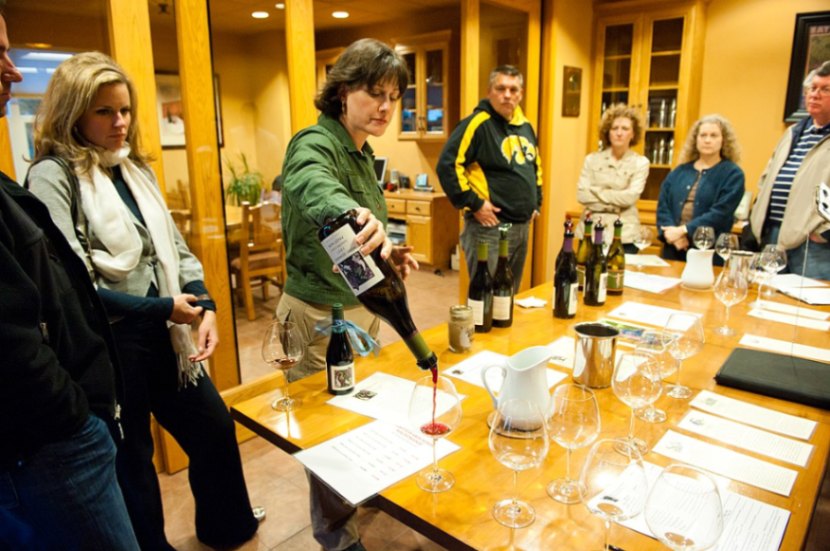 After you've visited the first Sebastopol vineyard, you may also want to visit the winery of Merry Edwards. She's one of the first women to become a winemaker in California. Merry Edwards has always been devoted to Pinot Noir. From 1973 to the present day, she's created award-winning wines by capturing unique Pinot flavors through site-specific viticulture. The tasting room built into the winery itself. You can taste through several single-vineyard Pinot Noirs, and even her hidden gem, a truly special Sauvignon Blanc. Each wine speaks to the diversity of the region. They show Merry Edwards' commitment to creating exceptional wines of depth that evoke a true sense of place. For the collector and aspiring wine lover, a vertical tasting flight is available. It's a sampling of six wines of radically different vintages. This will show how traditional, labor-intensive protocols in their cellar result in wines of depth and longevity.
| | |
| --- | --- |
| Brand | Merry Edwards |
| Varietals | Sauvignon Blanc, Chardonnay, Pinot Noir |
| AVAs | Russian River Valley |
| Dog Friendly | No |
---
---
3. Dutton-Goldfield Winery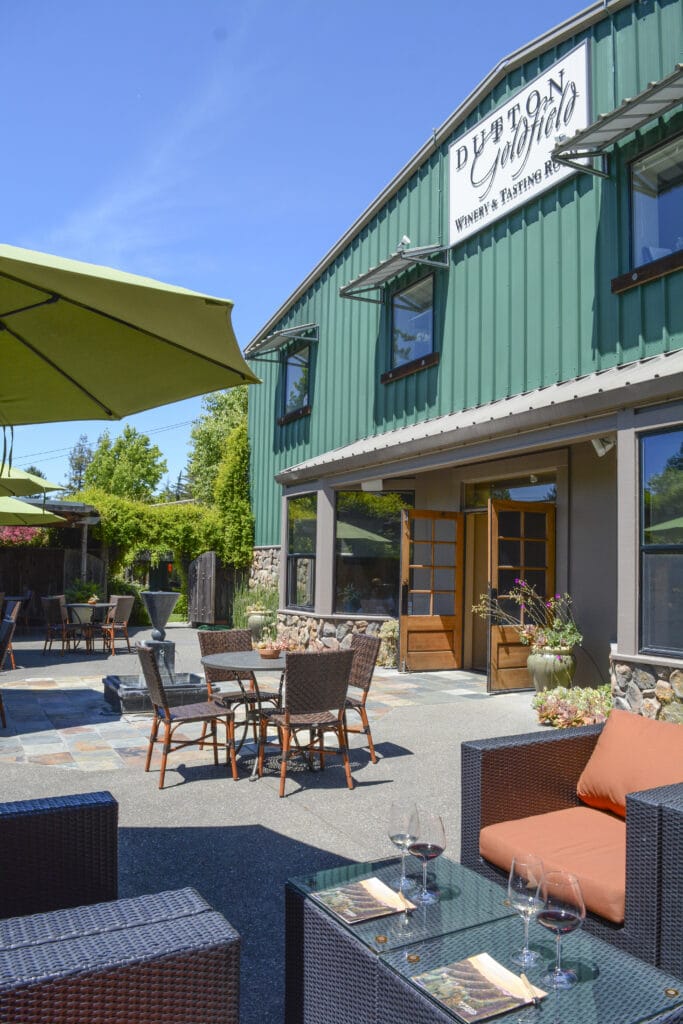 Consistently voted the best Russian River Winery to visit, Dutton Goldfield is a well-known gem. Not only a precious spot for grape vines, but a beautiful apple orchard as well. So for those looking to get away from the boisterous valley crowds, the winery has a spacious tasting room, full of natural light. Relax on the serene patio overlooking the vineyard and discover cool climate Pinot Noir and Chardonnay. You can choose the classic tasting experience, which includes a selection of their current release whites and reds, or the single-vineyard Pinot Noir experience. Another option is a seated tasting of their limited-production wines, ranging from across their portfolio of varietals, from Riesling to Zinfandel. Learn why they pair so well with the local artisan cheeses.
| | |
| --- | --- |
| Brand | Dutton-Goldfield |
| Varietals | Chardonnay, Pinot Noir, Syrah, Zinfandel, Pinot Blanc, Riesling |
| AVAs | Russian River Valley, Anderson Valley, Petaluma Gap |
| Dog Friendly | Yes |
---
---
4. Red Car Wine Co.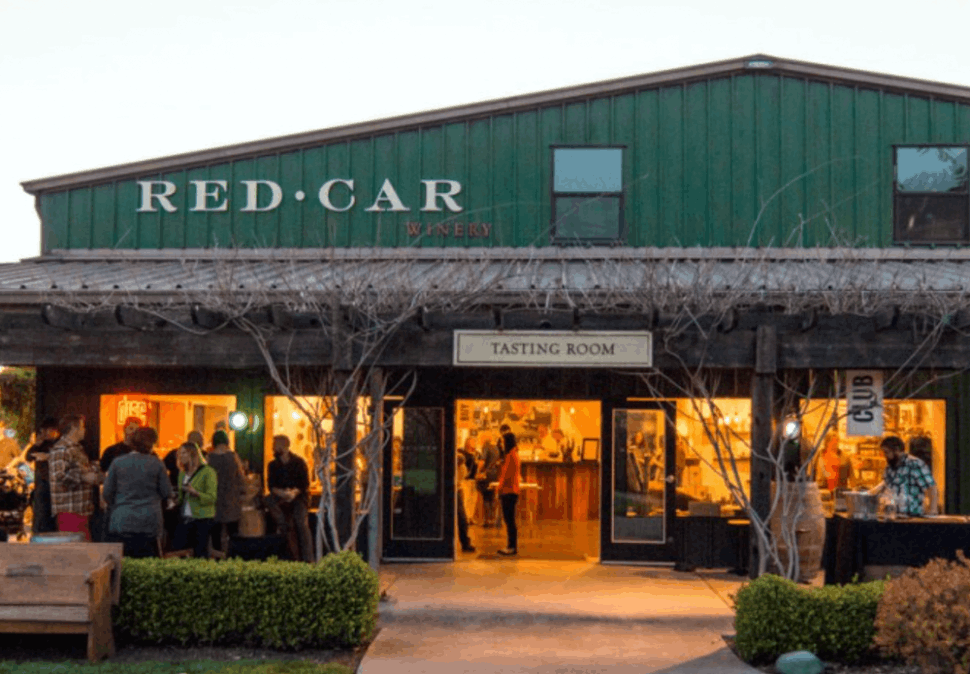 Red Car is an outstanding producer of limited, single-vineyard Chardonnay, Pinot Noir and Syrah wines from the Sonoma Coast. A laid-back, informative tasting will guide you through a delicious array of wines. Some are only available for purchase at the winery, including a stellar Cabernet Sauvignon. Ample seating available outside on the patio. For the enthusiast, there's the option of a walking vineyard tour of Freestone's Zephyr Farms Vineyard. It's a seven-acre site surrounded by breathtaking views, redwoods and coastal fog. You'll taste Red Car Zephyr Farms Pinot Noir and Chardonnay – wines cultivated from the same seven-acre vineyard site – while you explore this special farm. The experience concludes in their Sebastopol lounge with an additional tasting of their Sonoma Coast wines.
| | |
| --- | --- |
| Brand | Dutton-Goldfield |
| Varietals | Chardonnay, Pinot Noir, Syrah, Zinfandel, Pinot Blanc, Riesling |
| AVAs | Russian River Valley, Anderson Valley, Petaluma Gap |
| Dog Friendly | Yes |
---
---
5. Pax Mahle Wine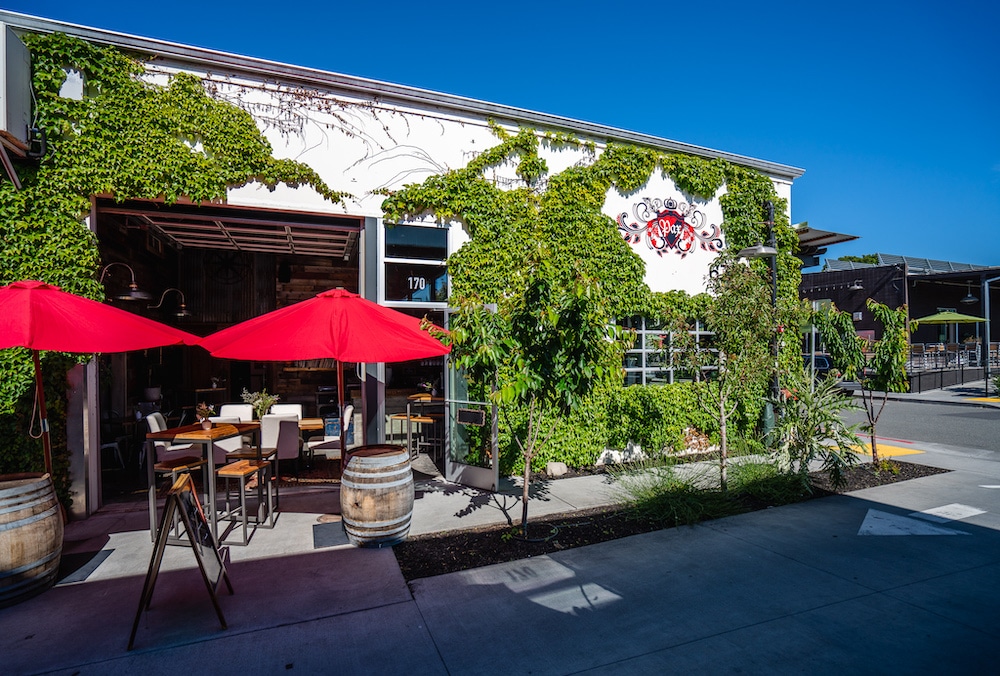 Pax Mahle focuses on Syrah and Gamay from coastal sites. They also produce more esoteric varieties that brilliantly showcase the diversity of California wine. Just stroll up to their garage door and listen to some vinyl spinning on the turntable. Their tasting room in the Barlow, in downtown Sebastopol has flights, wine by-the-glass/bottle, and a selection of small bites for every palate. There's an outdoor patio as well, dog-friendly. It's a laid back experience that everyone can enjoy. You can also book a private tasting and cellar tour that showcases single-vineyard Syrah paired with local cheese and charcuterie. So if you're looking for a lazy afternoon to sip wine and nibble on special treats, there's no better place. 
| | |
| --- | --- |
| Brand | Pax Mahle |
| Varietals | Syrah, Gamay, Vermentino, Chenin Blanc, Trousseau |
| AVAs | Sonoma Coast, Mendocino, Petaluma Gap, Russian River Valley |
| Dog Friendly | Yes |
---
---
6. Marimar Estate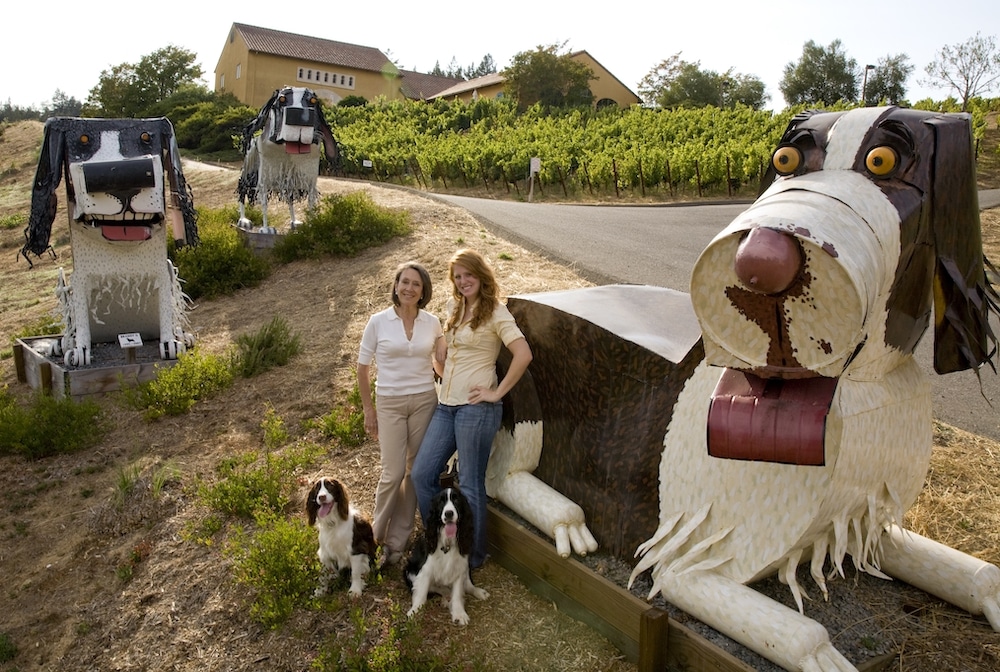 Nestled in the rolling hills of western Sonoma County, the Catalan-style winery sits on a hilltop surrounded by ancient vines. Here you can watch the birds soar at eye level. Very dog friendly. The rugged terrain, with its creeks and forests, provide magnificent scenery, and make this site perfect for Pinot Noir and Chardonnay. Grab a spot for a seated tasting with five reds and white wines on the spacious patio. They're paired with four tapas from Marimar's Cookbooks.
| | |
| --- | --- |
| Brand | Marimar Estate |
| Varietals | Pinot Noir, Chardonnay, Tempranillo, Albarino |
| AVAs | Russian River Valley, Sonoma Coast |
| Dog Friendly | Yes |
---
---
7. Horse and Plow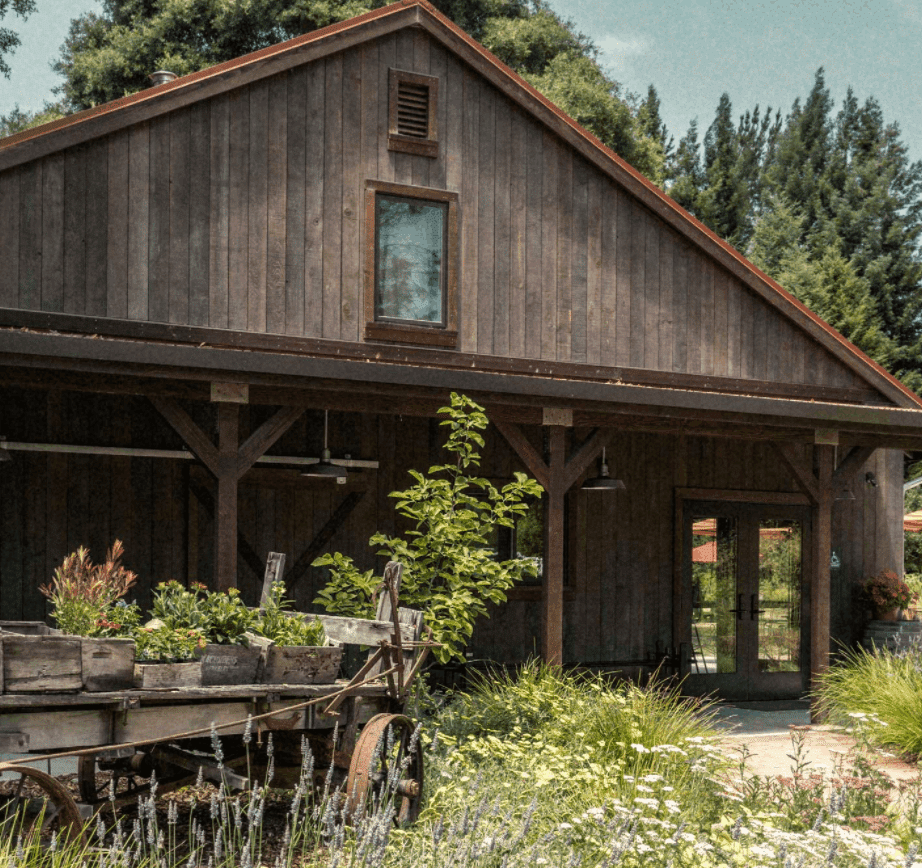 For a change of pace visit the redwood tasting barn at Horse and Plow, situated on two beautiful acres of gardens and orchards. The world-class apples and grapes grown in their North Coast region make spectacular cider and wine. You can taste ciders and wine by the glass, in special flights, and alongside cheese and charcuterie. Picnic-fun atmosphere. As a bonus, there's live music on the weekends.
| | |
| --- | --- |
| Brand | Horse and Plow, The Gardener, Cider |
| Varietals | Pinot Noir, Chardonnay, Carignan, Grenache |
| AVAs | Sonoma County, Mendocino, Dry Creek Valley |
| Dog Friendly | Yes |
---
---
8. Littorai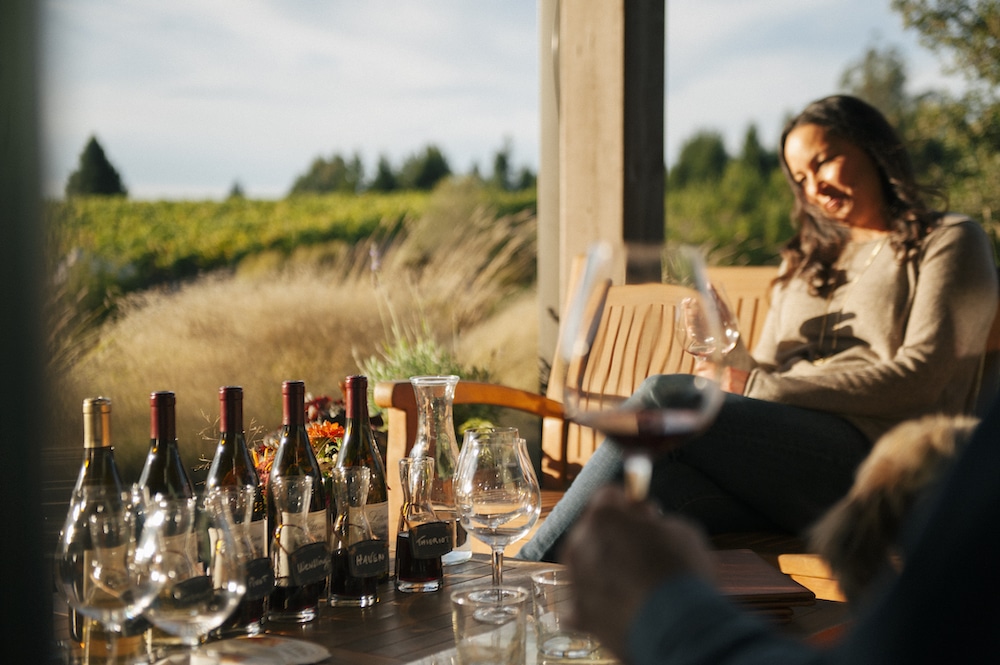 Littorai overlooks thirty acres of rolling hills in the western Sonoma Coast appellation. Their entry level tasting will take you through some dynamic examples of Pinot Noir and Chardonnay from the Sonoma Coast and Anderson Valley vineyards. There's also the highly enjoyable and unique walking tour of the farm and vineyard. This is a place of extraordinary discovery. The knowledgeable staff will lead you through the Pivot Vineyard and Gold Ridge estate farm. Learn about Littorai's history and discuss their generative farming practices. You'll see where and how they make agricultural teas, compost, and preparations for biodynamic farming. How they recycle and reuse water, and how and why animal grazing is an essential ingredient for the vineyards of the future. The experience concludes with a private tasting of site specific Pinot Noirs and Chardonnays.
| | |
| --- | --- |
| Brand | Littorai |
| Varietals | Pinot Noir, Chardonnay |
| AVAs | Russian River Valley, Sonoma Coast, Anderson Valley |
| Dog Friendly | Yes |
---
---
9. Region Wine Bar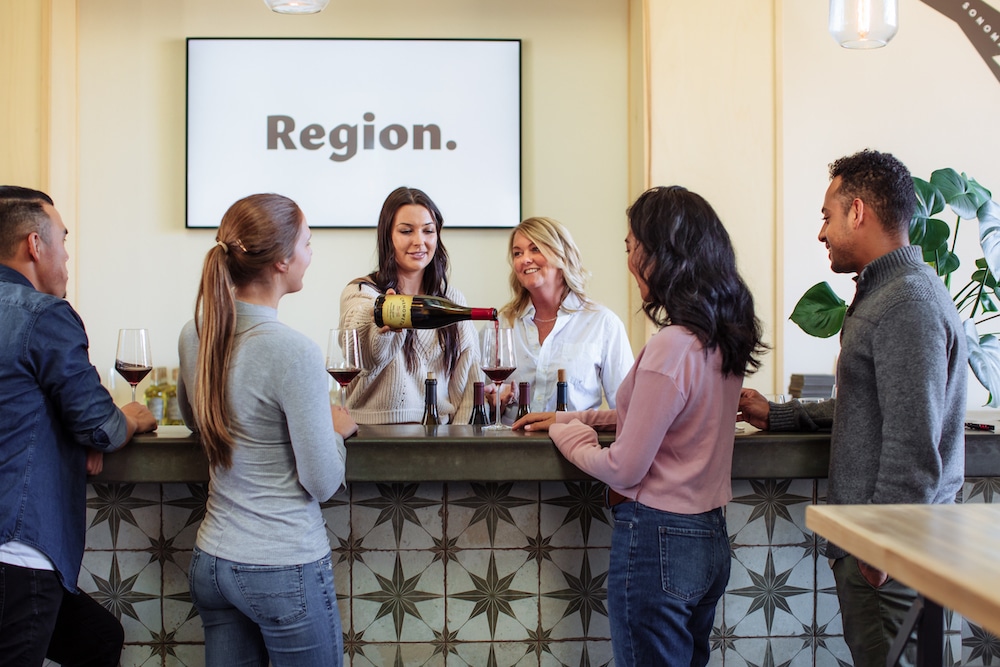 Region is something a little different for the average wine connoisseur. Conveniently located in the Barlow, they pour 2 or 4 oz. pours from 25 different West Sonoma County wineries. By establishing relationships with local wineries they love, Region is a community space to share and enjoy wine. It's a beautifully warm, modern, and rustic space, with lounge furniture and two fireplaces. Here you can use their self-serve wine station to try hard-to-find, independent wines from 25 local Wineries representing 14 different Sonoma County Appellations. With over 100 wines by the taste, glass, or bottle, there is always the diversity and opportunity to try something new. They even offer a tailored wine experience with an on-site sommelier. As a special treat, each week a winery-partner of Region does a takeover of the space, with distinct wine and food pairings. One of the best places to relax with your vino. Elegant and cozy.
| | |
| --- | --- |
| Brands | 25 distinct wineries |
| Varietals | over 60 different grapes |
| AVAs | 18 different appellations |
| Dog Friendly | No |
---
---
10. Claypool Cellars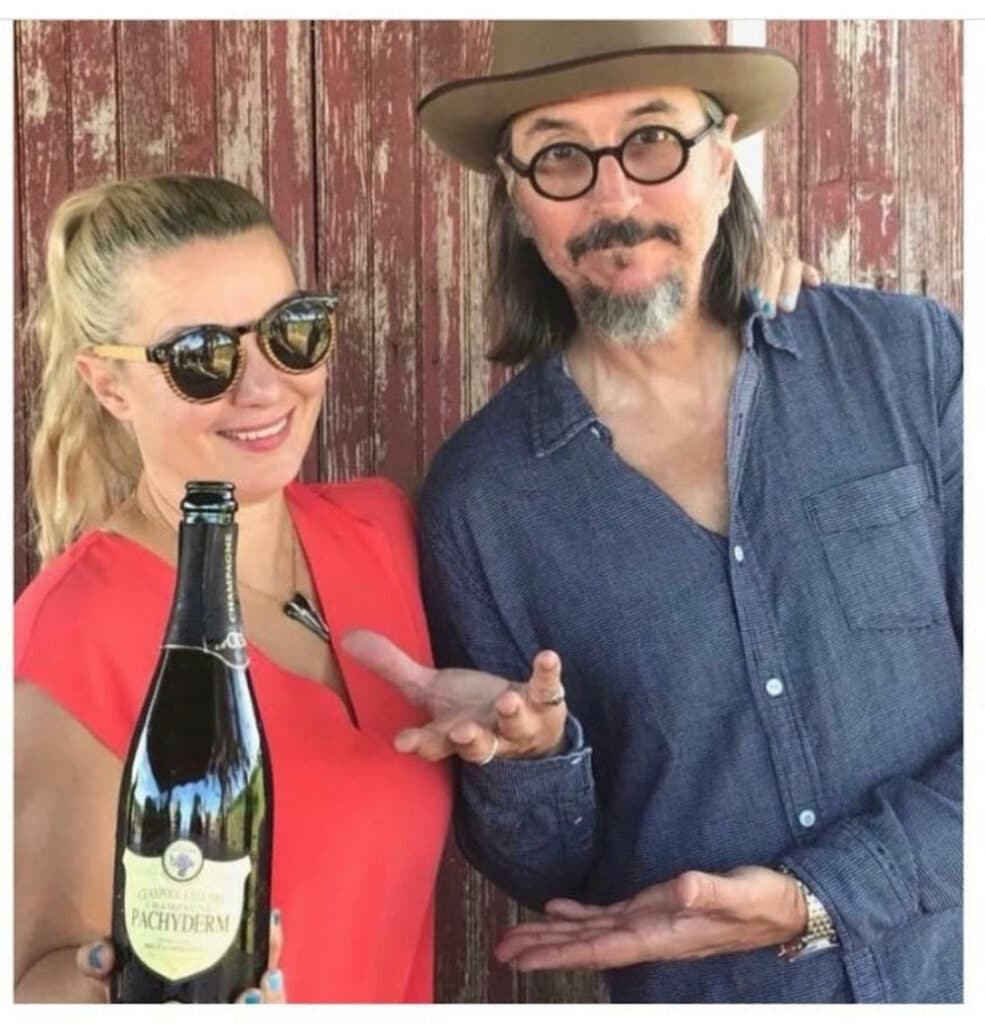 Famously owned by Les Claypool, the bassist for the band Primus. Claypool Cellars is truly doing something creative and unique in an over-saturated scene of one-note winery experiences. Quirky, creative, and delicious. That's Claypool Cellars. You can taste the wines at their charming, old-school saloon called Pachyderm Station and enjoy gourmet hot dogs. A perfect setting for the understated, too cool for school feel of this place. A very small production winery. The winemaker is Ross Cobb. They specialize in cool climate Sonoma Coast Pinot Noirs. But they also make a Rosé and a special production of Champagne which they make in France. Go figure, they even have stools at their tasting room bar. There's also full-service tastings by the glass or bottle on the patio. And they have delicious, high-end hot dogs for sale on Sundays. Super tasty!
| | |
| --- | --- |
| Brands | Claypool |
| Varietals | Pinot Noir |
| AVAs | Sonoma Coast |
| Dog Friendly | No |
---
---
11. Fog Crest Vineyard
Winner of multiple gold medals at the San Francisco International Wine Competition, Fog Crest Vineyard sits high atop the Laguna de Santa Rosa. Tranquil and off the beaten path. The tasting room boasts one of the most beautiful views in Sonoma County. Come for the Pinot and Chardonnay, and stay for the locally sourced Prosciutto, Salami & Cheeses. Don't pass up the truffle honey and fig jam! Fog Crest also offers a private gourmet lunch pairing. With rolling hills spanning for miles in front of you and a glass of wine in hand. It's tough to beat the sunset at Fog Crest Vineyards.
| | |
| --- | --- |
| Brands | Fog Crest |
| Varietals | Pinot Noir, Chardonnay |
| AVAs | Russian River Valley |
| Dog Friendly | Yes |
---
---
12. Lynmar Estate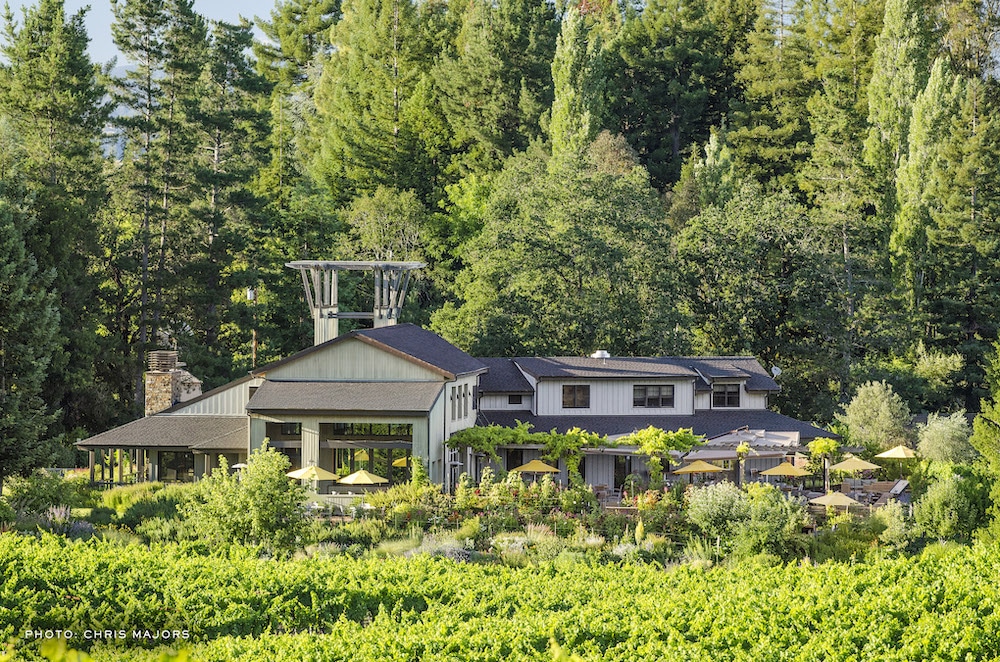 Surrounded by serene vineyards and lush gardens, Lynmar Estates is truly a luxury wine experience. The outdoor patio is essentially in the vineyards itself. The basic wine flight allows you to taste through their expansive portfolio of estate grown Pinot Noir and Chardonnay. Even sample little bites like homemade buttered popcorn! They also craft a terrific sparkling rose from some of the oldest vines in the valley. For the ultimate wine and food experience, you can book a private table in the magical setting of Quail Hill Vineyard. Here, your dedicated host will guide you through an elevated three-course lunch, individually plated, and paired to Lynmar's exquisite wines. If you haven't been, put this on your list right away.
| | |
| --- | --- |
| Brands | Lynmar Estate |
| Varietals | Pinot Noir, Chardonnay |
| AVAs | Russian River Valley |
| Dog Friendly | Yes |
---
---
Wrap-Up
For wine tasting enthusiasts, Sebastopol offers a perfect balance between small town charm and the sophisticated amenities of larger cities. There's a great sense of discovery here, as it's relatively new in the history of California wine. It more than deserves a place on the map, whether you're looking for laid-back vibes in the Barlow or heady opulence on hilltop vineyards. The fantastic locales around the Sebastopol wine tasting scene will leave you happy, sated, and wanting another glass.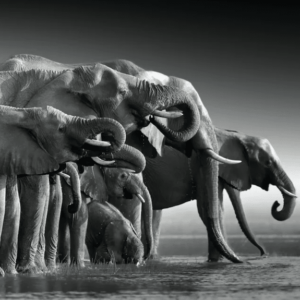 Join Sonoma vintner Jennifer Halleck on an unforgettable journey to Africa, where you will explore the wonders of this vibrant continent and share your passion for wine with fellow enthusiasts.…
Read More
The entry-level price of a Sonoma wine tasting rose 11% from $36 in 2022 to $40 in 2023. Adjusting for those cities with at least 15 wineries in the sample,…
Sonoma Wine Tasting in Sebastopol