Top 7 Russian River Valley Wineries to Visit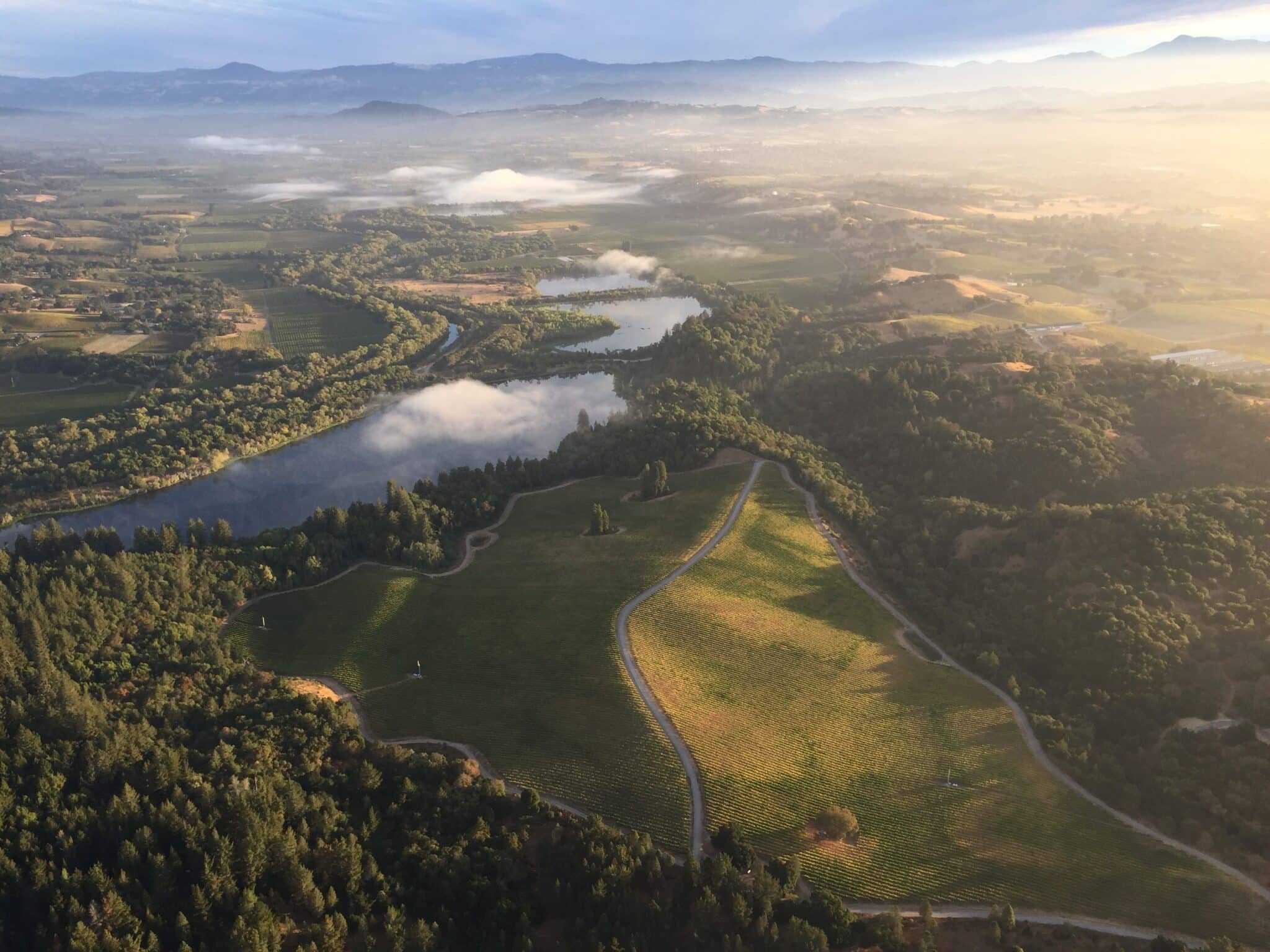 The Russian River Valley has a viticulture history unlike any other in California. Grapevines were first planted by immigrants from the Mediterranean region in the 19th century. Most were "gardens" that families used for personal consumption, using cuttings brought from their European homesteads. This is how Zinfandel, now a flagship US grape, first appeared in the country. 

By the early 20th century over 200 wineries were in operation. However, Prohibition devastated the nascent winemaking industry. Nearly all wineries closed. Those few that remained officially open were allowed by the government to produce "sacrificial" wine for religious purposes. And even after prohibition, most growers sold off their grapes to bulk jug wine producers. It would take until the 1970s for the Russian River Valley to return to the preeminence of former times. 
---
---
Now, the wines of the Russian River Valley are continually among the favorites of California wine aficionados and novices alike. If you're looking to taste great cool-climate California red wines, check out our Red Wine Lover's Guide to Russian River Valley Pinot Noir for more detail about this particular varietal. But if you're looking for the best Russian River Valley wineries to visit, read on.
Established as an AVA in 1983, the region now hosts over 70 wineries producing over 30 different varieties. The region's close proximity to the Pacific Ocean allows for the cooling influence of morning fog. This contributes to the very important diurnal temperature variations that facilitates a long, slow ripening period for the grapes. When combined with the sandy loam "Goldridge Soil" and clay-based "Sebastopol soil" one can see how this region was able to blossom out of obscurity into excellence.

All this contributes to the perfection of Russian River Valley Pinot Noir. While Russian River Chardonnay and Zinfandel are equally fantastic here, it's Pinot Noir that is king. Arguably, this is where California's New World style earned its accolades and set the standard. Here are 7 top Russian River Wineries every vino lover should have on their wine tasting rooms to visit list.
---
Russian River Wineries Map
---
---
Merriam Vineyards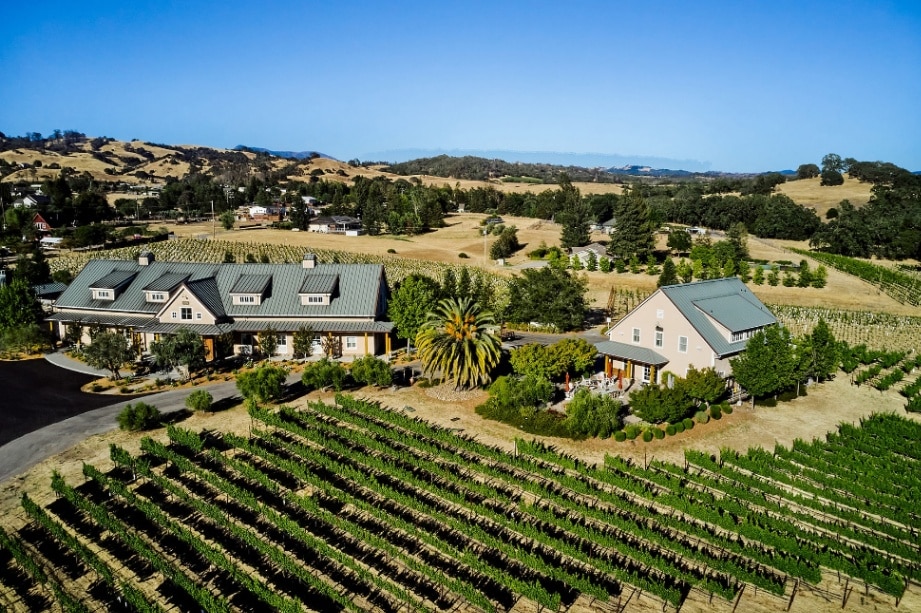 $35 seated tasting, $75 estate vineyard tour & tasting
(707) 433-4032
11650 Los Amigos Road, Healdsburg, CA 95448

Open Daily 10am – 5pm, walk-ins welcome, reservations required for Estate Tour


| | |
| --- | --- |
| Labels: | Merriam |
| Varietals: | Sauvignon Blanc, Chardonnay, Pinot Noir, Cabernet Sauvignon, Merlot |
| AVA: | Russian River Valley |
| Dog Friendly: | Yes |
Just minutes from downtown Healdsburg, enjoy a memorable wine tasting on the patio at the Merriam Estate House, in the heart of their 11 acre vineyard. It's designed with the comfort and warmth of a cozy New England farmhouse. The patio has surrounding views of Merriam's vineyards, and plenty of outdoor seating, with large umbrellas for shade. Choose between the Russian River Tasting or the Single Vineyard Tasting.

The Single Vineyard Tasting highlights the very best blocks of vines the estate has to offer. Each tasting includes five estate-grown, award-winning wines. For the enthusiast looking to go behind the scenes, take the guided estate vineyard and winery tour. It will give greater insight into the history of Merriam Vineyards, as well as the Eastern Hills of the Russian River Valley.

Stroll around the organic estate and investigate the winery and cellar operations. This is followed by a seated tasting of some of their Single Vineyard wines and includes a charcuterie and cheese board with delightful vegetable snacks. All items are hand selected and sourced from local purveyors or made in house.
---
Balletto Vineyards
$15-20 per person tasting
(707) 568-2455
5700 Occidental Road, Santa Rosa, CA 95401

Seated Tastings Daily from 10:30am, 11:30am, 1:00pm, 3:00pm, by reservation only


| | |
| --- | --- |
| Labels: | Balletto Vineyards |
| Varietals: | Zinfandel, Syrah, Pinot Noir, Chardonnay, Gewurztraminer |
| AVA: | Russian River Valley |
| Dog Friendly: | Yes |
Balletto Vineyards is one of a handful of Russian River Valley wineries that have 100% control from vineyard to bottle. After the founder John Balletto transformed the land from a vegetable farm to a fully functioning vineyard, their reputation for producing exceptional fruit has soared. They sell most of their grapes to other winemakers, however, they keep the best vineyards and blocks for themselves.

Try a four or five wine flight on their patio garden outside. Don't pass up the snappy dry Gewürztraminer, or bright and fresh Zinfandel. There's no "wine babble" here, just interesting and amusing tales of the winery itself told by friendly and welcoming staff.

A large, calming water fountain in the center of the patio and the breeze flowing through the surrounding vineyards is pretty much the definition of relaxation. Tasting fee waived with the purchase of two or more bottles.
---
Notre Vue Estate Winery
$25-50
(707) 433-4050
11010 Estate Lane, Windsor, CA 95492

11am – 3:30pm, Thursday – Monday, by appointment only


| | |
| --- | --- |
| Labels: | Notre Vue Estate, Balverne Reserve |
| Varietals: | Chardonnay, Sauvignon Blanc, Zinfandel, Pinot Noir, Cabernet Sauvignon |
| AVA: | Russian River Valley, Chalk Hill |
| Dog Friendly: | Yes (in tasting room only, not vineyards) |
Join Notre Vue for a crafted experience of wine, food, and nature. The property features 350 acres of "Forever Wild" protected open space, and 250 acres of beautiful rolling vineyards.

Take a hike around the property before or after a tasting, and explore some of the trails crisscrossing the nature preserve. Enjoy the cool breezes and sweeping views of the rolling hills of Sonoma countryside.

For the wine tasting, sit on the terrace perched high above their prized vineyard, and savor a flight of 5 gourmet estate wines, including Zinfandel and sparkling Rosé. Their wines are made in the European style, which focuses more on finesse and purity, rather than over-extracted, over-ripe grapes, and heavy-handed oak.

The terrace is decorated with chandeliers, plush sofas, wine fridges, coolers and is fully covered. There's an optional Charcuterie Board for $15 per plate (serves 1-2 people) which includes local cheeses from Point Reyes and cured meats.

They also offer a wine tasting at the lakeside pavilion. It's a secluded spot with comfy couches, and a great view where it's common to see herons, otters, ducks, deer, and other wildlife.
---
---
Siduri Wines
$30 – $80 per person with three different tasting options
(707) 578-3882
235 Healdsburg Ave., Healdsburg, CA 95448

10am – 5pm, Monday- Sunday, by appointment only


| | |
| --- | --- |
| Labels: | Siduri Wines |
| Varietals: | Pinot Noir, Chardonnay |
| AVA: | Russian River Valley, Anderson Valley, Sonoma Coast, Santa Rita Hills,Willamette Valley, and more |
| Dog Friendly: | Yes |
This is one of the largest tasting rooms in downtown Healdsburg. With oversized leather chairs, great artwork on the walls, and a wide selection of tasting options, Siduri lives up to their motto, "serious wine and serious fun." Although they offer wines by the glass, full bottles, and beer on tap, pick out one of their guided tasting to get the full experience.

There's the "Sonoma County Exploration" which focuses on specific, notable vineyard sites throughout the Russian River Valley and Sonoma Coast. The "North-to-South" tasting is an educational experience showcasing six of Siduri's single-vineyard Pinot Noirs that span 1,000 miles from Oregon to Santa Barbara.

Finally, there's the "Reserve" experience which combines the best Siduri has to offer from Oregon down to Santa Barbara. This wine tasting experience is ideal for the scrupulous Pinot-phile looking for that extra something special.

Their tasting bar also has a food menu with regionally inspired small bites, with a focus on pairing with the wines. Be sure to make a reservation for groups of 6 or more.
---
Halleck Vineyard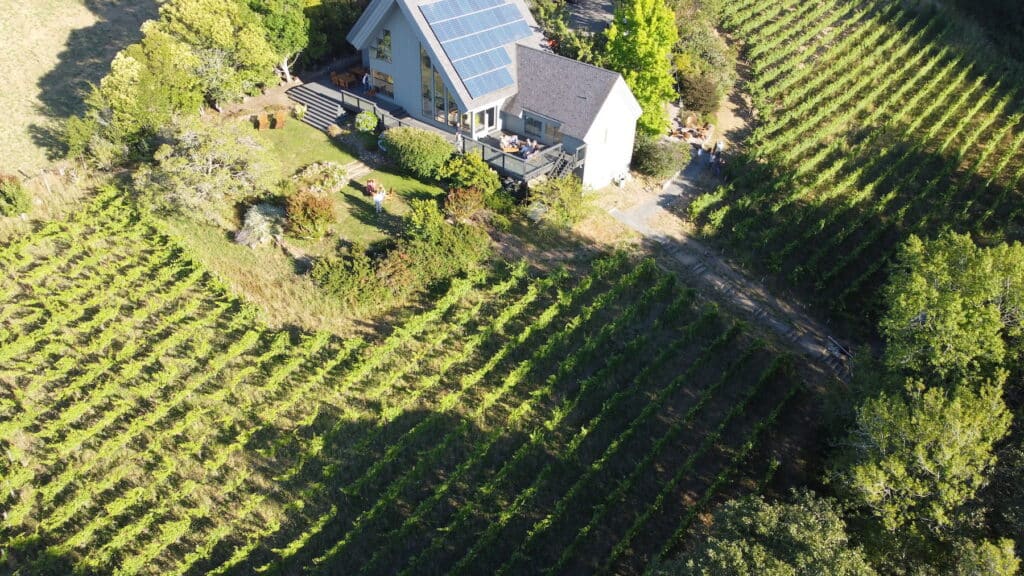 $65 per person includes vineyard tour and 8 wines paired with local delicacies
(707) 738-8383
3785 Burnside Rd, Sebastopol, CA 95472

Thurs-Sun 11am-3pm, by appointment only
Sebastopol Wine Tasting


| | |
| --- | --- |
| Labels: | Halleck Vineyard |
| Varietals: | Pinot Noir, Chardonnay, Sauvignon Blanc, Dry Gewurztraminer and Dry White Zinfandel |
| AVA: | Russian River Valley and Sonoma Coast |
| Dog Friendly: | Yes |
For true Pinotphiles, no trip to the Russian River area is complete without a wine tasting at the Halleck Vineyard Estate. It's surrounded by one of the very first Pinot Noir Vineyards planted in Sebastopol. Their Pinot Noir was judged Best Pinot in America three years in a row. Their Sauvignon Blanc was judged Best California White Wine. And their Dry White Gewürztraminer was judged Best White Wine.

These are small batch, luxury wines made by Ross Halleck and Jennifer Halleck. They host small, unpretentious wine tasting salons at their hilltop Sebastopol Estate with sweeping views of the Russian River Valley. This is your chance to live the dream and see what the Sonoma Coast lifestyle is all about.

Tour the viticulture roots of the best California Pinot Noir and get a chance to buy hard to find wines that are not available in stores. Taste 8 different award-winning wines poured with stories about how they're made. Each is paired with delectable, single-bite delicacies made from locally sourced ingredients including triple cream truffle brie and Pinot Noir infused chocolate.

Only 16 guests per wine tasting experience so make sure and book well in advance. And bring your pup for free admission into our Dog Club.
---
Jeff Cohn Cellars
$30 – $60 per person tasting
(707) 938-8343
34 North Street, Healdsburg, CA 95448

11am – 6pm, Friday – Sunday, by reservation only


| | |
| --- | --- |
| Labels: | Jeff Cohn Cellars |
| Varietals: | Zinfandel, Grenache, Syrah, Viognier, Mourvedre |
| AVA: | Russian River Valley |
| Dog Friendly: | Yes |
For something a little different, stop by Jeff Cohn Cellars along the Healdsburg plaza square. Trellised root vines hang on the walls, along with engaging modern artwork. Taste some highly-acclaimed, small-production Rhône varietals and single-vineyard Zinfandel wines. The Iris Reserve flight offers a unique GSM blend (Grenache-Syrah-Mouvedre) and the hard-to-find Petite Sirah. The Great Rhône Whites tasting is a fabulous introduction to the wines of that region, including Viognier and Marsanne. And the best of the bunch is the Private Vault Tasting.

Try eight coveted, limited production wines and dig deeper into Jeff's process, learning more about where he sources his grapes. This wine tasting includes an opportunity to purchase highly allocated wines. Or savor five of highly-acclaimed, small-production Rhône and single-vineyard Zinfandel wines.

The tasting room features small and large wooden tables around a cozy fireplace. They also have outdoor seating along the plaza square and a private tasting room for special events. But make sure to book this special wine tasting experience at least a week in advance, because they sell out frequently.
---
MacRostie Winery
$35 per person
(707) 473-9303
4605 Westside Road, Healdsburg, CA 95448

11am – 5pm, Monday – Thursday; 10am – 5pm, Friday – Sunday, reservations required


| | |
| --- | --- |
| Labels: | MacRostie Winery |
| Varietals: | Chardonnay, Pinot Noir, Cabernet Sauvignon |
| AVA: | Russian River Valley, Anderson Valley, Yountville, Sonoma Coast, Petaluma Gap |
| Dog Friendly: | Yes |
Voted the best winery in Sonoma by the San Francisco Magazine in 2017. MacRostie Winery is a place to slow down and soak in the beauty of the Russian River Valley. It's set against the stunning backdrop of the valley, and designed by the internationally acclaimed architecture firm of Gould Evans.

Light, airy, and built with natural materials, the winery features multiple indoor venues for seated wine tastings, and three expansive patio terraces. MacRostie's Wine Ambassadors are knowledgeable and enthusiastic, without being overly pedantic. They'll craft an engaging and memorable experience — sharing fascinating details about their winemaking and vineyards. Very much recommended if interested in the local viticulture.

Each tasting highlights five wines, with a focus on single-vineyard Chardonnay and Pinot Noir from the Russian River Valley and Sonoma Coast. Explore the sustainable building design, admire the nearby sycamores, and gaze at the large floor plan elegantly framed on the wall. Don't forget to reserve the best seat on the property: The Corner Table on the North Terrace. This panoramic view overlooks the Westside Road that runs through some of the most picturesque vineyards in Sonoma.
---
---
Top Russian River Wineries Wrap-Up
Russian River Valley wineries typically don't have expansive crowds or the level of snobbery you may find in Napa Valley. And the wines don't disappoint. In fact, some of the top Napa wineries source their cool-climate grapes from Russian River Valley vineyards.

Russian River wineries are not as isolated as the more northern parts of Sonoma County. There's an untroubled attitude to this lush and bountiful land that is steeped in tradition, yet open to new trends.

Old farm sheds, modern urban warehouses, sprawling ranch homes, redwood groves, apple orchards, and a majestic flowing river through the heart of it all. It's clear that the top Russian River wineries are among the best destinations for wine tasting in the state.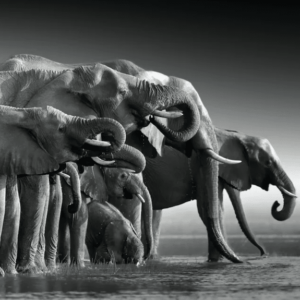 Join Sonoma vintner Jennifer Halleck on an unforgettable journey to Africa, where you will explore the wonders of this vibrant continent and share your passion for wine with fellow enthusiasts.…
Read More
The entry-level price of a Sonoma wine tasting rose 11% from $36 in 2022 to $40 in 2023. Adjusting for those cities with at least 15 wineries in the sample,…
Sonoma Wine Tasting in Sebastopol