Sebastopol's Hilly New Haven for Pinot Noir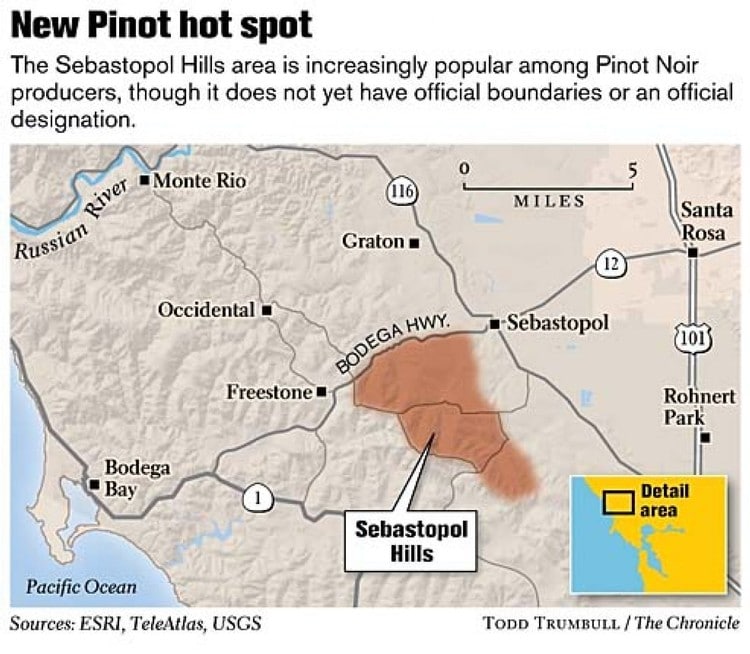 Jennifer and I planted Halleck Vineyard in the early 90s. Legend was created when our first vintage as a wine (2001 Tandem Winery, Halleck Vineyard, Sonoma Coast Pinot Noir) earned first place in the 2002 Pinot Noir Summit. This was also Greg Lafollette's first vintage under his new personal label, Tandem. He had recently left Flowers, where he earned status as "Winemaker Rock Star."
This competition set the stage for Greg to become our winemaker and mentor and Jennifer and I to build Halleck Vineyard as a winery and brand.
John Haeger further assisted, by including Halleck Vineyard in two of his scholarly tomes on the subject of Pinot Noir, published by the University of California Press in the mid-2000s.
I recently stumbled across this article by John, published in SFGate in 2008. In re-reading, the work is still timely and prophetic. So I thought to include the link and the article, below. Enjoy!
Since the middle of the 1990s, the crenelated hills southwest of Sebastopol – the increasingly posh town of about 8,000 that anchors southwestern Sonoma County – have become a new theater for wine grapes. First in blends, and then in vineyard-designated wines, grapes from these hills have impressed winemakers with exceptional balance and a special vocation for nuanced style.
"The area looks a bit like the new gold standard for reds," says Greg La Follette, a winemaker with impressive credentials, including the Hartford Court, Flowers and Tandem brands. When La Follette talks about "reds," he means Pinot Noir.
Called Sebastopol Hills, the area is a roughly triangular chunk of land consisting mostly of northeast-southwest-oriented ridges on the lee side of a transverse ridge that separates the Russian River Valley from the Petaluma Gap. It is also the main watershed for Arastradero Creek, which flows north into Green Valley Creek and then to the Russian River itself. It is rolling country – everything has "a lump or bump to it" according to viticulturalist and vineyard manager Charlie Chenowith. McMansions and horse ranches share the turf with shrinking apple orchards, disused tractors and scrabbling chickens.
Though the area has not even been proposed as an official wine appellation, growers and winemakers sometimes talk about Sebastopol Hills as if it were.
The Pinots produced here are distinctly different from others grown nearby. Russian River Valley wineries, Green Valley wineries, Petaluma Gap wineries and true Sonoma Coast wineries produce Pinots with their own unique nuances.
Rick Davis, the winemaker behind several Pinot labels sourced from Sonoma and Mendocino county vineyards, says Sebastopol Hills Pinots show "darker fruit, more earth and more minerality" than wines grown in the heart of the Russian River Valley. They are, he says, "a bit more masculine," and have "a bit more mid-palate weight." Others observe that Sebastopol Hills editions avoid the "cola flavors" many tasters find in Russian River Pinots, expressing "elegant floral aromatics" instead.
Many winemakers are impressed with the area's ability to produce Pinots that are "flavor-ready" at relatively low sugar levels, and that retain their acidity as the grapes grow riper. Winemaker Ed Kurtzman, who sources several Hills vineyards to make cuvees for Freeman Vineyards and Winery, says that the vineyards "have the common characteristic of getting fully ripe without showing raisiny or overripe flavors" even in troublesome years when the warmest weather occurs at the end of the growing season. He also likes the region's tendency toward "elegant, svelte and focused" structure, with "flattering, fine-grained tannins." La Follette and others comment that Hills fruit seems to retain its natural acidity longer than grapes grown in neighboring areas, and they exult in being able to grow wines that have "a hint of red Burgundy" in their character.
In tastings, Sebastopol Hills Pinots demonstrate a preponderance of earthy and savory elements with unusual notes of salt marsh, iodine and pepper, and undertones of sober, dried fruit – a marked contrast to the exuberant fresh fruitiness that often typifies Russian River, and the wild, exotic, garrigue-like flavors that often mark wines from the true Sonoma Coast. (See "Buying guide," at right).
Mysterious terroir
Just what properties have combined to produce this profile is not clear. Although the terrain is hillier and higher in elevation than the relative "flats" of nearby Green Valley and Laguna Ridge, the well-drained sandy loam topsoils are not very different.
Higher elevations almost certainly play some role, placing most vineyards above the coastal fog that seeps in from the ocean most nights from June through September. Thus the vineyards stay a bit warmer nights and early mornings than nearby sites in the Russian River Valley, while afternoon winds off the ocean, so strong that stand after stand of trees has been tilted permanently to the east, temper midday heat.
A few miles northeast, in the heart of the Russian River Valley, the fog intrusion is more predictable and more consistent from one day to the next, and generally produces more reliably warm days and cold nights. Just south, in the Petaluma Gap, vineyards must battle against much greater influence from the sea.
When La Follette, seeking to understand the area's whys and wherefores, took Andy Walker, a UC Davis viticulturist, to the Sanchetti Vineyard near the area's northwest corner in 1995, he hoped Walker would point to "something, anything" distinctive that LaFollette could reproduce elsewhere. Walker only deepened La Follette's sense of mystery. "Look to the site, look to the hills," La Follette remembers him saying, "to find your answer."
As far as anyone knows the area's first tiny vineyard – barely three-quarters of an acre planted shotgun-style to Pinot Noir, Gewurztraminer, Chardonnay and field blends in 1972 by a professor at Santa Rosa Junior College – was no more than a backyard project. But two decades later, after apple orchards had become unprofitable, the scene began to change.
First, new owners renovated the 1972 vineyard, near the intersection of Burnside and Sexton roads, and converted it entirely to Pinot Noir. Then, in 1994, Jennifer and Ross Halleck planted another backyard acre nearby, imagining it (perhaps unrealistically) as a "college fund" for their just-born sons. While her husband continued to ply his trade in marketing services and brand development for large companies in Silicon Valley, Jennifer calculated on the back of an envelope how many vines she would need to plant the acre, and called nurseries listed in the yellow pages.
"I had no idea what I was doing," she now admits cheerfully.
The following year John Balletto, the largest vegetable farmer on the Northern California coast, planted the Hills' first commercial vineyard on land he had bought 10 years before. As it turned out, vegetables had been too thirsty for its hilly, well-drained soils.
"I wasn't sure about grapes," Balletto says, but the late Warren Dutton, western Sonoma's premier grape rancher, assured him that grapes "would do fine."
Lee Martinelli's family, which had owned apple orchards on nearby Water Trough Road for a century, tried grapes, too. So did Ted Klopp, a farmer-cum-psychology professor who already farmed grapes on Laguna Road in the Russian River Valley. Klopp tried out a few vines of Pinot Noir and Chardonnay "where there were gaps" between the apple trees in his high-elevation site on Thorn Road.
When the first vineyards produced successful crops and surprisingly distinctive wines – against a backdrop of relatively low land prices and robust statewide demand for Pinot Noir – new venturers were attracted to the Hills. Down the slope from Klopp, Tom and Rebecca Kisaichi began to live a dream they had conceived in Japan. Tom had grown up drinking red Burgundy in Osaka, where his parents owned a wine store. After a year studying winegrowing with Charles Rousseau in Burgundy's Gevrey-Chambertin, the couple looked for an "affordable, Pinot-friendly hillside site" in California. In 1999 and 2000, they planted the vertiginous parcel below Klopp's vineyard, called it Maboroshi for their "dream" or "illusion," and committed to farm it with their own hands.
Area finds an advocate
At the south edge of the triangle, Rick and Diane DuNah tumbled into a larger-than-expected retirement project when they took junior college classes in viticulture. In 1998, they, too, planted Pinot Noir. Both they and the Kisaichis got encouragement from La Follette, who has become an advocate for the area.
A few industry veterans made substantial investments. Pinot Noir pioneer Merry Edwards planted a 24-acre parcel on Burnside Road in 1999. On Sexton Road, Jim Pratt, a veteran of the grapevine nursery business, bought enough declining apple orchard to set out 15 acres of Pinot. Pratt thought about planting Pinot Gris and Gewurztraminer "so I would not have to worry whether the grapes could ripen," but settled primarily on Pinot Noir because "I knew from nursery work that it was on the comeback trail."
By 2007, more than 120 acres of vines had been tucked into an area about half the size of Manhattan.
Pinot proliferation
What began as a tiny trickle of Hills' fruit into exogenous bottlings turned into a proliferation of increasingly vineyard-designated wines. The first commercial wine fashioned primarily from Sebastopol Hills grapes was apparently the 1998 Flowers Sonoma Coast Cuvee, the debut vintage anchored with grapes from Jim Pratt's vineyard. A year later, winemaker Fred Scherrer bought Halleck's first commercially viable crop, blended it with declassified lots from David Hirsch's iconic vineyard near Cazadero, and created the first edition of another Sonoma Coast blend.
By 2001, La Follette's new Tandem Winery had made a vineyard-designated Pinot from the Hallecks' vineyard that turned heads, finishing first in a national juried tasting. Some of Ted Klopp's first harvests at Thorn Ridge went to Scott Rich, who made memorable vineyard-designated Pinots under his fine Talisman label – appreciated for sleek textures, bright flavors and explosive aromatics. By 2002, the Hallecks, who had always intended to make wine of their own, launched their eponymous label, with first La Follette and then Davis in charge. The DuNahs followed in 2003, and Balletto made its first vineyard-designated wine from Hills fruit in 2007.
None of these wines is in huge supply. But for fans of Pinot Noir that is about much more than fruit, or for those who appreciate an earthier and more savory style, the effort to find these wines is entirely worthwhile.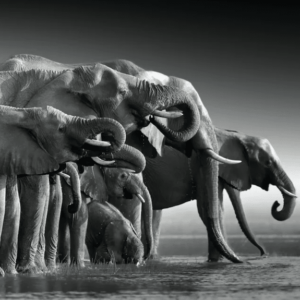 Join Sonoma vintner Jennifer Halleck on an unforgettable journey to Africa, where you will explore the wonders of this vibrant continent and share your passion for wine with fellow enthusiasts.…
Read More
If you're new to the world of red wine, or perhaps a white wine or rosé aficionado looking to branch into new (red) territory, you may have found yourself asking: "Is Pinot Noir sweet or dry wine?" …
Sonoma Wine Tasting in Sebastopol