Cherry Pie Pinot Noir vs Bourgogne vs Halleck Vineyard (Wine Review)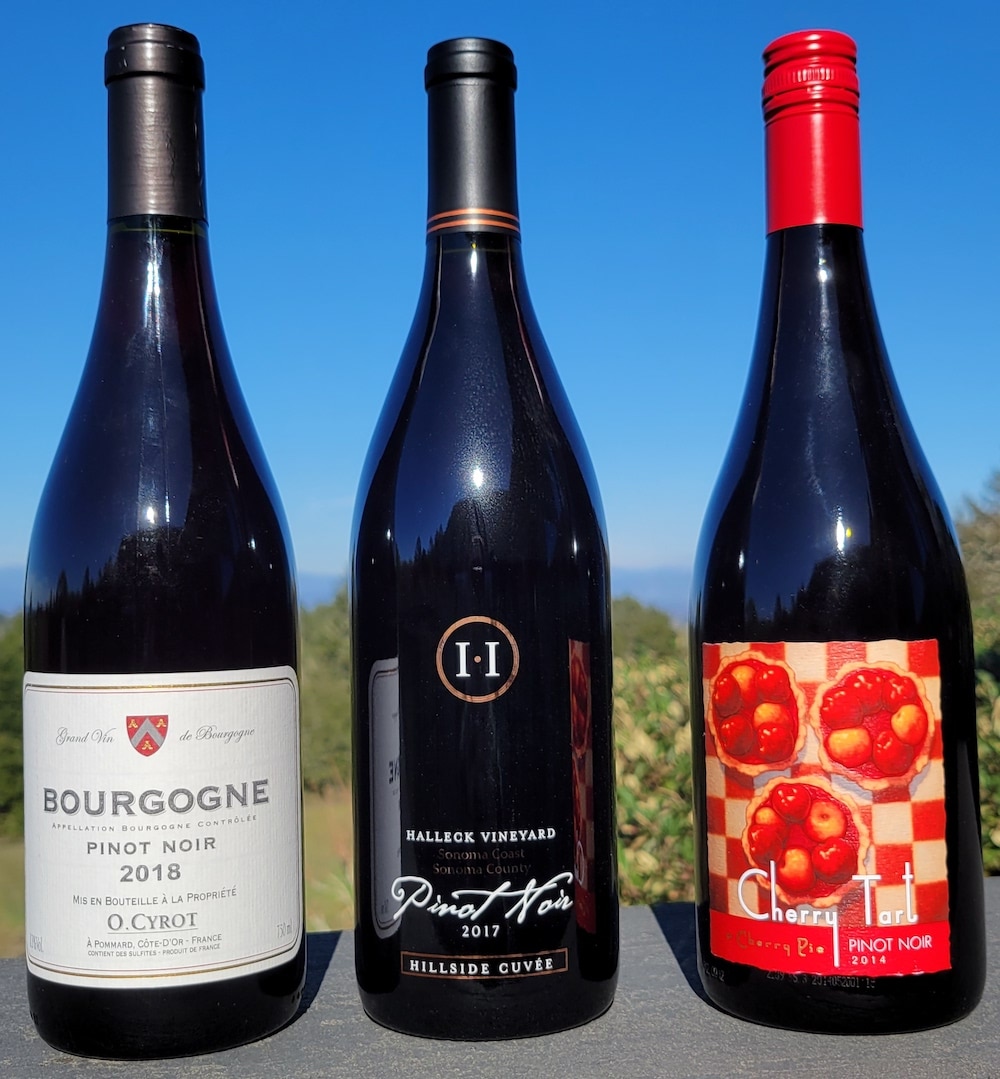 In this review, we're in Sonoma wine tasting and comparing a blended California Pinot Noir, a French Burgundy and our own Hillside Sonoma Coast Pinot Noir.
---
---
Cherry Pie Cherry Tart Pinot Noir Wine Tasting Notes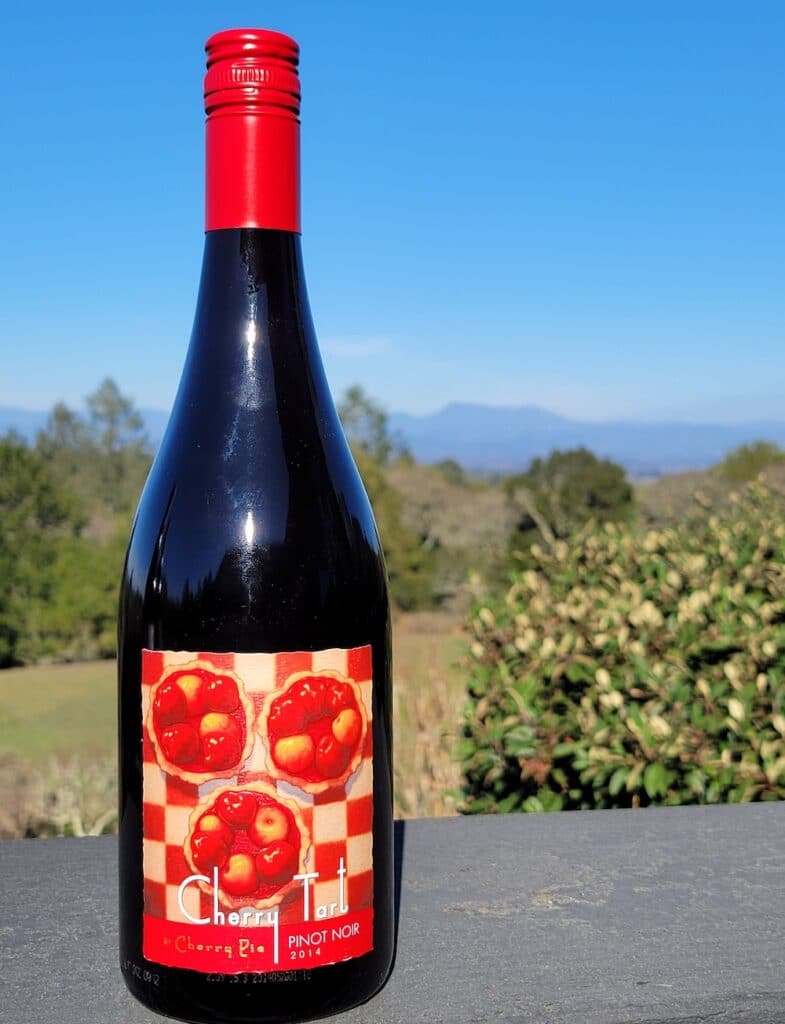 Highly popular and sought after, Cherry Pie Cherry Tart Pinot Noir (featuring a photo of three cherry tarts on its label) is a blend of three Pinots hailing from Santa Barbara County, Monterey County and Sonoma Coast. The name of the wine is a bit of a misnomer, however, as it has no literal cherry pie or tart taste. Bottled in 2014, this Pinot is a touch tawny in color, showing its age. Nonetheless, it's still mostly red and translucent — a classic Pinot burgundy color.
The nose is especially wild; some might even call it overpowering, as it can be discerned in a room after several glasses are poured. There are intense sauvage notes present, which are often found in Burgundian wines.
Simply stated, the taste of Cherry Pie Pinot Noir is not as powerful as its aroma. There's a bounty of rich fruit, especially red cherries (hence the name). But it's a complex wine, with subtle earth tones, served up alongside what approximates a smidgen of singed bacon fat, yielding an ever-so-slightly burnt quality. Overall, Cherry Pie is a delicious wine that does especially well with food (see its pairings below). The winery is located at Stanly Ranch, in the Carneros appellation of Napa.
AVA: California
Cherry Pie Cherry Tart Pinot Noir Alcohol Content: 14.5%
Retail Price: $30.00
Restaurant Price: $54.00
Pairings: The Cherry Pie Cherry Tart Pinot would pair wonderfully with pulled pork, pork belly, or any dish with bacon or pork.
O. Cyrot Bourgogne Pinot Noir Wine Tasting Notes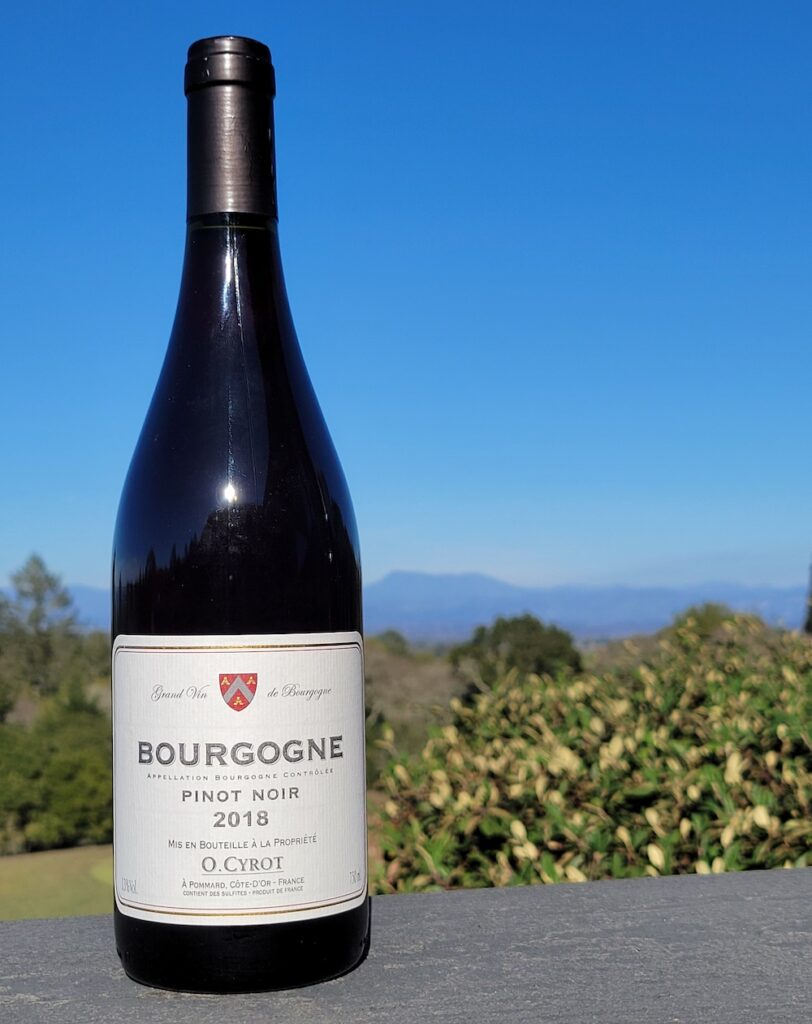 The O. Cyrot Bourgogne is a French Pinot Noir from Burgundy, France. But while it's a Burgundian Pinot Noir, it's not earthy in color; instead, it's a bright, beautiful, gem-like, purplish-red. Not exactly crystal-clear in translucency, it has a tint of haze to it.
The nose is lovely; one immediately picks up on abundant fruit and herbs. There's also an unmistakable aroma of garrigue, which is the product of an amalgamation of different sagebrush plants found in Provence, such as sage, lavender and juniper. Sage and lavender are especially prominent, along with a hint of cherry. Unlike many French wines, the O. Cyrot Bourgogne lacks feral notes, which is ironic, as the two other Pinots in this review possess this conspicuously.
For us, the flavor of the O. Cyrot Bourgogne is a bit of a let down. Up front, there are cherry notes, but the middle is mostly hollow. And while there are some herbs detectable in the finish, the flavor drops off and disappears quickly; it's thin, with a sharp acidity. The O. Cyrot Bourgogne isn't a horrible wine, but it falls unexpectedly flat.
AVA: Bourgogne Rouge, France
O. Cyrot Bourgogne Pinot Noir Alcohol Content: 13%
Retail Price: $28.00
Restaurant Price: $50.00
Pairings: The O. Cyrot Bourgogne Pinot Noir would pair well with herbed dishes, such as tabouleh.
Halleck Vineyard Hillside Cuvee Pinot Noir Wine Tasting Notes
The Halleck Vineyard Hillside Cuvee Pinot Noir is a blend of different Sonoma Coast Pinot Noirs originating in vineyards that are each within a few miles of each other.
The Hillside Cuvee Pinot is crystal-clear and ruby-garnet in color. The nose integrates feral notes that are balanced out by those of fruit, but the scent is much more subtle than that of the Cherry Pie Pinot. Cranberry and white pepper are additionally evident, along with a pleasant minerality.
Surprisingly bright and fruity, the Hillside Cuvee fills the mouth. One perceives the same earthy tones that are present in the nose; there are smatterings of spices, white pepper and minerals. This Sonoma Coast Pinot Noir is a grippy wine, without being over the top.
AVA: Sonoma Coast, California
Halleck Hillside Cuvee Alcohol Content: 14.3%
Retail Price: $55.00
Restaurant Price: $114.00
Pairings: The Halleck Hillside Cuvee Pinot Noir would pair excellently with game meats, particularly those that are mesquite-grilled.
---
---
Wine Reviews [Video]
Pinot Heros Wrap Up
While the Cherry Pie Pinot has a cultish buzz about it, its taste didn't necessarily live up to the promise of its nose. The French O. Cyrot Bourgogne was a disappointment along the same lines but was quite dissimilar to the two other wines we sampled. The Hillside Cuvee ended up somewhere in the middle between the promises of the first two Pinots, demonstrating a texture and astringency imparted by its tannins that outshone those of its competitors. I
For a truly memorable, intimate wine tasting in Sonoma, join us at our Sebastopol estate (by appointment only) any Friday, Saturday or Sunday to taste our fine collection of Sonoma Coast, Russian River Valley and Sonoma Mountain Pinot Noirs, as well as our California Chardonnay, Sauvignon Blanc, Dry Gewurztraminer and bone Dry White Zinfandel.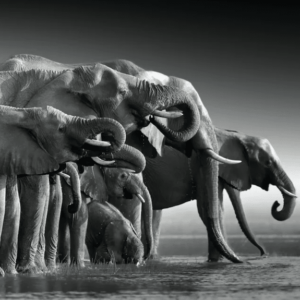 Join Sonoma vintner Jennifer Halleck on an unforgettable journey to Africa, where you will explore the wonders of this vibrant continent and share your passion for wine with fellow enthusiasts.…
Read More
Although they are based in west Santa Rosa, DeLoach has every right to call themselves a Russian River Valley winery. Sure, they also source fruit from the Sonoma Coast,…
Sonoma Wine Tasting in Sebastopol