Pursuit of the Best Sonoma Coast Pinot Noir: The Halleck History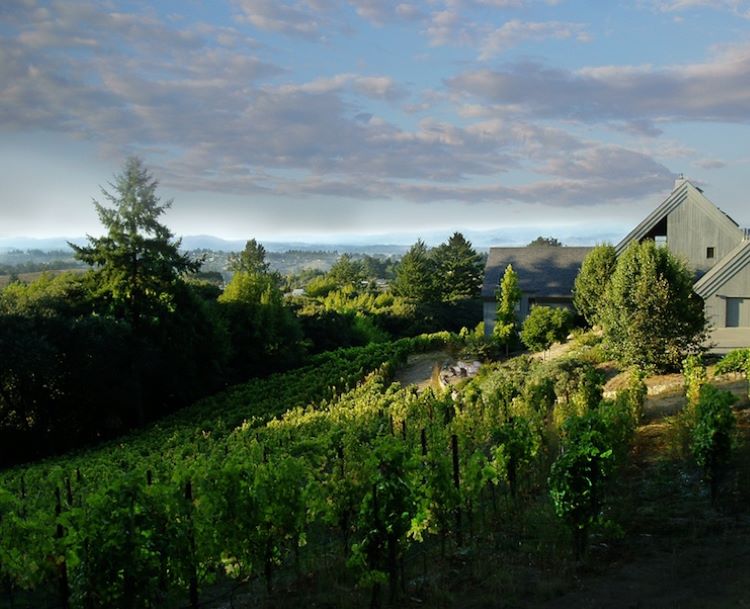 Near the coast of northern California is a place where the fog caresses the sea and envelops the rolling hills in its cool embrace. And here lies a family owned estate that started from the most humble of beginnings. One that would go on to create the best Sonoma Coast Pinot Noir around.
That estate is Halleck Vineyard.
But when Ross and Jennifer Halleck, the co-founders of Halleck Vineyard, originally planted their Estate Vineyard in 1993, their goals were not lofty.
According to Ross: "We thought it would be beautiful, relatively inexpensive landscaping and we could make 'backyard garage wine.' In the best of all worlds we could sell it and have some left over as a college fund for our infant son. That was the big vision."
---
---
Little did they know their hobby would become a hallmark of success.
Today, Halleck Vineyard is synonymous with the very best Sonoma Coast Pinot Noir.
But what makes this sublime glass of wine the best Pinot Noir wine in California? And what is Pinot Noir wine in the first place? It's time to take a look at the origins of Halleck Vineyard Pinot Noir, from the fickle fruit to the hard-earned fame.
What is Pinot Noir wine?
Pinot Noir is a crowd-pleaser. In fact, it's the most popular light-bodied red wine in the world. It's smooth, seductive, versatile, and bound to elevate any date or dining experience.
Characterized by spicy aromas, silky tannins, bursts of red fruit flavors and a long, smooth finish, Pinot Noir is a delight for the senses. When comparing Pinot Noir vs Cabernet Sauvignon, a Pinot is more elegant and subtle, while a Cab has more tannic bite and boldness.
Pinot Noir tasting notes can vary greatly from place to place. Sonoma Pinot Noir in particular is known for being fruitier, spicier, and bolder than its siblings from other regions.
What to expect while drinking: tasting notes and more
Take a sip of the best Pinot Noir in Sonoma County and let the sensual experience of velvety raspberry, vanilla, cherry, and allspice unfold.
With such fruity notes, you might be wondering "is Pinot Noir sweet or dry?" But rest assured that Pinot Noir wine, even a particularly fruity one, is a squarely dry red wine.
Delicately nuanced and multi-faceted, Pinot Noir is the wine to reach for in nearly any situation. It's a delightful pairing for everything from your holiday roast to a white pizza or a freshly-caught salmon dinner. The lower tannins and higher acidity in Pinot Noir wine make it a pleasure to drink with white meats too.
Pinot Noir grapes and growing regions
It may be light in body. But, as you can see, Pinot Noir is a hard-hitter of the red wine world when it comes to versatility.
But the same cannot be said for Pinot Noir's growing regions.
Pinot Noir grapes need exacting conditions to flourish – conditions only found in a few select regions around the globe.
Picky Pinot Noir grapes need lots of sunshine, but not too much heat or they will shrivel up and raisin. They need a cool climate, but not too cold or they will develop diseases.
As if that weren't complicated enough, Pinot Noir grapes need constant protection from pests and well-draining soil, and the harvesting window is incredibly short.
Finding the perfect Pinot Noir growing region is like finding a needle haystack. Lucky for Halleck Vineyard, the Sonoma Coast is that one-in-a-million gem.
So what exactly is it about the Sonoma Coast that allows its vintners to produce the best Pinot Noir wine time and time again?
Let's explore this highly revered region and discuss what sets Sonoma Coast Pinot Noir apart from the pack.
What makes Sonoma Coast Pinot Noir so special?
The Sonoma Coast region is the holy grail for Pinot Noir wine. The cool air that rolls off the Pacific coast is a natural air conditioner. It protects the delicate grapes and extends the growing season by up to 20 percent over Burgundy, the Old World hallmark of Pinot Noir.
Our very own Russian River Valley in particular is perfect for Pinot Noir wine. This small AVA has a staggering range of soil diversity thanks to many centuries of volcanic activity. The soil contains varying levels of clay, minerals, and sandy soils that are particularly well-draining and pure gold for Pinot.
Russian River Valley Pinot Noir is stunningly luscious and bold, with a mouthful of fruit flavors often associated with Syrahs. But these Sonoma Coast Pinot Noir wines are simply what other Pinot Noirs dream of being. They are Pinots elevated beyond belief.
A unique climate is the perfect home for a glass of red
This flavor-packed glass of red wine isn't only thanks to the soil and sea though. The fog may be one of the major contributors to the enhanced quality of Sonoma Pinot Noir.
Every evening, a thick blanket of fog envelops the Sonoma Coast regions and nestles into the Russian River Valley. The Pinot Noir grapes are swaddled and protected by this misty shroud. It also keeps temperatures low, converting the afternoon sun into a warm caress instead of a cause for concern.
It takes a perfect mix of climate conditions and the dedicated work of vintners who truly care about their crop. But thanks to this combo, Sonoma Coast Pinot Noirs are some of the best bottles of red wine you can find.
Sonoma Coast Pinot Noir is truly alive with acidity, bright berry notes, and robust tannins. It's the very boldest of Pinot Noir wines – and an experience every red wine connoisseur should try at least once in their life.
Because you haven't truly experienced Pinot Noir until you've had the best Pinot Noir in Sonoma County.
It's no wonder that Ross and Jennifer Halleck decided to call this Pinot Noir paradise home.
From humble origins to fame: the story of Halleck Vineyard
In 1990, Ross and Jennifer Halleck moved to the Sebastopol Hills in the Russian River Valley. There, they purchased a house, not knowing that it would become home to award-winning wines.
But the passion was there. Ross had spent years working in marketing for vineyards and Jennifer had worked in sales for Kosta Brown. So they both had a love of wine and agriculture.
Jennifer researched some rootstocks at local nurseries. She happened upon a single entry in the Yellow Pages from John Caldwell. And that call would change the fate of her family forever.
In 1992, Ross and Jennifer sampled some barrel samples of Pinot Noir from John. They fell in love with the Dijon clones 667, 777, and 115 – and these were the grapes that started it all.
The Hallecks started planting these grapes the following year.
A family legacy began
The Halleck family estate was one of the first vineyards planted in the Sebastopol Hills, and the very first in western Sebastopol.
At the time Ross and Jennifer didn't have a clue what they were doing. They were just hoping to earn some side cash to contribute to their son, Connor's, college education in the distant future.
But the vineyard was hard work, and it wouldn't be an instant success. According to Ross:
"The vineyard produced fruit, but it was meager and took much longer than expected. It was six years before it bore a commercial crop. We had three sons by then. It seemed an unlikely college fund."
But the land had something special, and Ross and Jennifer were determined.
The first harvest – and the first taste of success
Getting the brunt of the seaside breeze, Halleck's home was the coolest region in the Sonoma Coast. It also had some of the most clay-heavy soils, making it a truly unique wine-growing opportunity. It was bound to bear fruit.
And at last, the vineyard was ready for the first harvest in 1999. The Hallecks sold the harvest to a small winemaker for blending, and received a few cases of the pre-blended wine back as a gift.
Then things started to get interesting:
"We met Greg Lafollette. Greg had become a winemaking rock star with the meteoric rise of Flowers, the first "cult winery" in western Sonoma County. Greg's kids were in elementary school with our kids. After a parent-teacher conference one evening, I gave Greg a bottle of our first vintage to get his opinion."
The next morning, Ross received a call from Greg at the crack of dawn. He asked to buy the grapes and make a Halleck Vineyard designate the very next year. He was starting a winery called Tandem, and he wanted the Hallecks on board.
In its very first vintage, the 2001 Tandem, Halleck Vineyard was judged the number one Pinot Noir in the United States.
The Hallecks were certainly on to something, and their success didn't stop there.
Crafting the very best Pinot Noir
Bolstered by the success of their first vintage, the Halleck Vineyard brand began in 2002. The goal was no longer simply to put the boys through school. It was now to usher the spirit of the land into every bottle of Sonoma Coast Pinot Noir, and to truly perfect the craft.
In 2003, Halleck Vineyard won the first place prize at the Pinot Noir Summit for their 2001 Estate Grown Pinot.
And the awards kept rolling in. Every wine that Halleck Vineyard produced brought in scores of medals.
A timeline of Halleck Vineyard awards
In 2009, the Estate Grown Pinot Noir earned a perfect rating, "Extraordinary" from nationally syndicated columnist, Dan Berger. Dan stated, "If I judged wines on a 100 point scale, I wouldn't take a single point away from this wine."
Nearly a decade later, in 2018, Somm Journal Magazine named Halleck Vineyard as one of the top 5 vineyards in all of Sonoma County.
And, in 2019, many of the Halleck wines were judged Best In Class multiple times. They were recognized in the SF Chronicle Wine Competition, Sunset Magazine, the California State Fair, and by the Orange County Wine Society.
Finally, in 2020, Halleck Vineyard earned the Double Gold at the SF Chronicle Wine Competition. This solidified their Sonoma Coast Pinot Noir's position at the very top of the pack.
Now, Halleck Vineyard was becoming a household name in the Pinot Noir world.
The original 2001 vintage of the Estate Grown Pinot Noir quickly became a highly sought after glass of wine. The Hallecks sold a bottle of it to a collector for $2500!
You can see how very special a bottle of Halleck Vineyard Pinot Noir must be. Ross and Jennifer have poured their love for the craft into their wine bottles, and the result is nothing short of spectacular.
"Our Halleck Vineyard Pinot Noir remains the flagship of our fleet of wines. It is complex, boasting a nose of earth, fruit and spice in equal measure. The earth tones might be what one would expect of a Gran Cru Burgundy. But the deep red fruit notes are definitely of a Sonoma Coast Pinot Noir. It's certainly not a competition, as the wine delivers in full measure on both counts. Then it surprises with spice, minerals and white pepper as it unfolds and unfolds in a long languorous and mouth-watering finish."
So are you ready for a taste?
Try Halleck Vineyard's award-winning Pinot Noir for yourself!
If you'd like to try this sought-after Sonoma Coast Pinot Noir wine, you have plenty of options. For a single delivery, you can purchase a bottle or two online and have them waiting at your doorstep in a couple of days. Or you can sign up for our wine subscription to make sure you always have your favorite wine stocked.
Want something more intimate?
Make it a date by joining us for Sonoma wine tasting with a loved one. Or delve into wine culture by becoming a part of the Inner Circle, Halleck Vineyard's very own Inner Circle, their wine club.
Regardless of the option you choose, we invite you to join the Halleck Vineyard community. It's a community that Ross and Jennifer have lovingly cultivated, and constantly give back to.
And when you join Halleck Vineyard, you join family.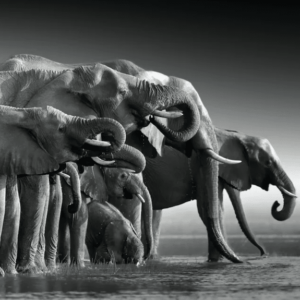 Join Sonoma vintner Jennifer Halleck on an unforgettable journey to Africa, where you will explore the wonders of this vibrant continent and share your passion for wine with fellow enthusiasts.…
Read More
Want to experience the best Pinot Noir wine this world has to offer? Pinot Noirs that are so bold and fruity you might mistake them for Syrahs?…
Sonoma Wine Tasting in Sebastopol