Wine Club Gathers for Los Angeles Wine Tasting at Amarano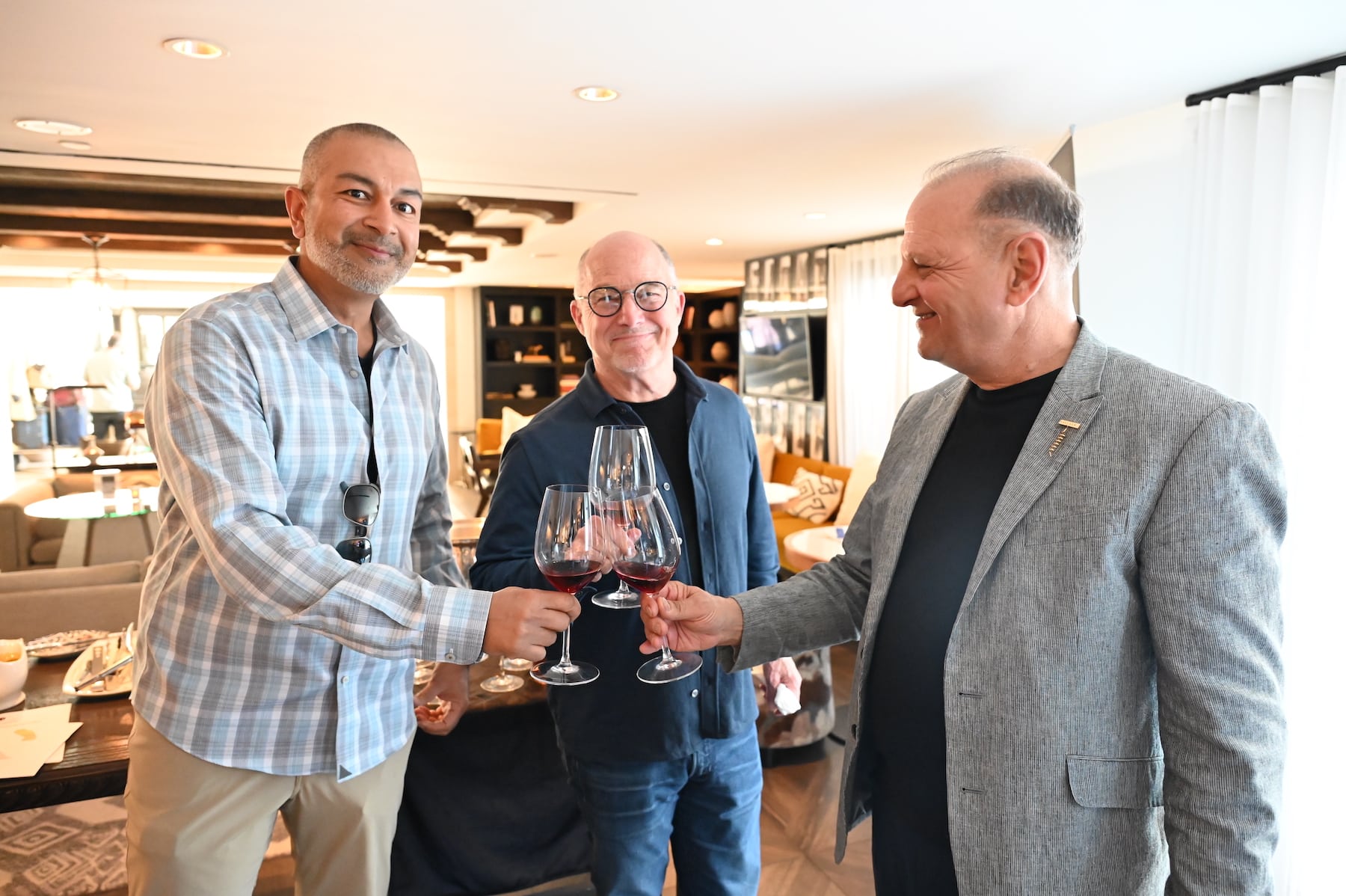 Winemaker Ross Halleck of Halleck Vineyard has always believed in the power of wine to bring people together and build communities. To this end, he has been tirelessly promoting his wines beyond the borders of Sonoma County, seeking to share his passion for exceptional Sonoma Pinot Noir with a broader audience.
Ross hosted a wine-tasting event for his Inner Circle Wine Club members and hotel guests at The Amarano in Burbank, California, which provided the perfect backdrop for an evening of conviviality and fine wine. The hotel, which has 131 newly remodeled rooms, two meeting rooms, and a restaurant with a full bar, provided a sophisticated and welcoming setting for the occasion.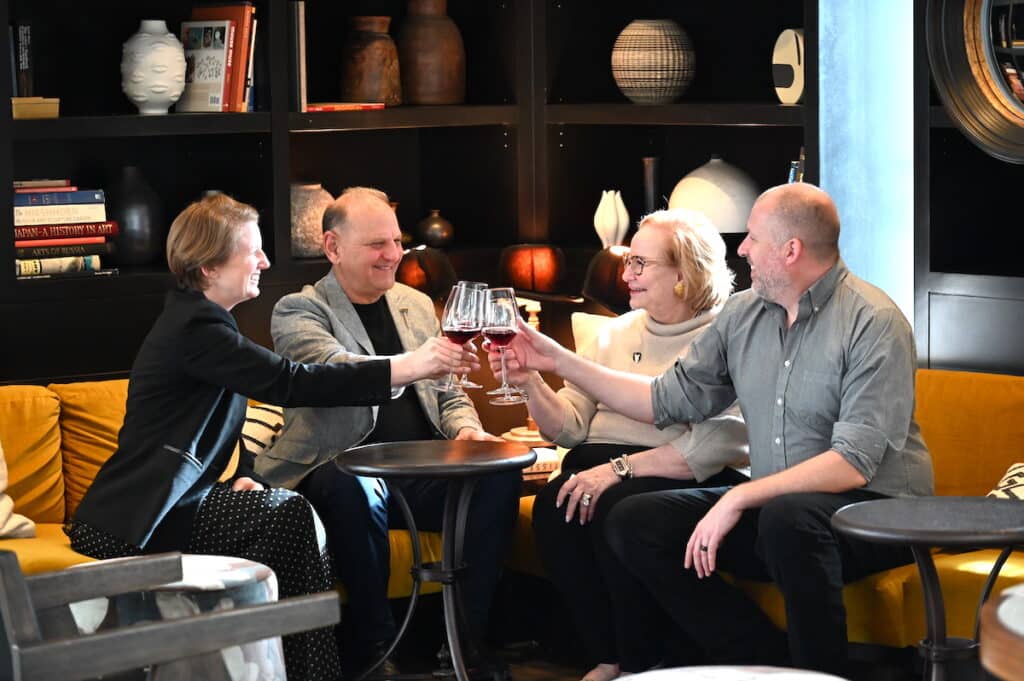 Guests were treated to a selection of Halleck Vineyard's finest wines, including the award-winning Clone 828 Pinot Noir and the crisp, refreshing Dry White Zinfandel while enjoying the hotel's luxurious amenities and picturesque surroundings.
By taking his wines to new and diverse venues, Ross Halleck is building connections and forging relationships with a wider community of wine enthusiasts. After all, wine has the power to bring people together and create lasting memories, and wine tasting experiences like these provide the perfect opportunity to showcase his Sonoma Coast and Russian River wines and share his vision with a wider audience.
---
---
Special Los Angeles Wine Tasting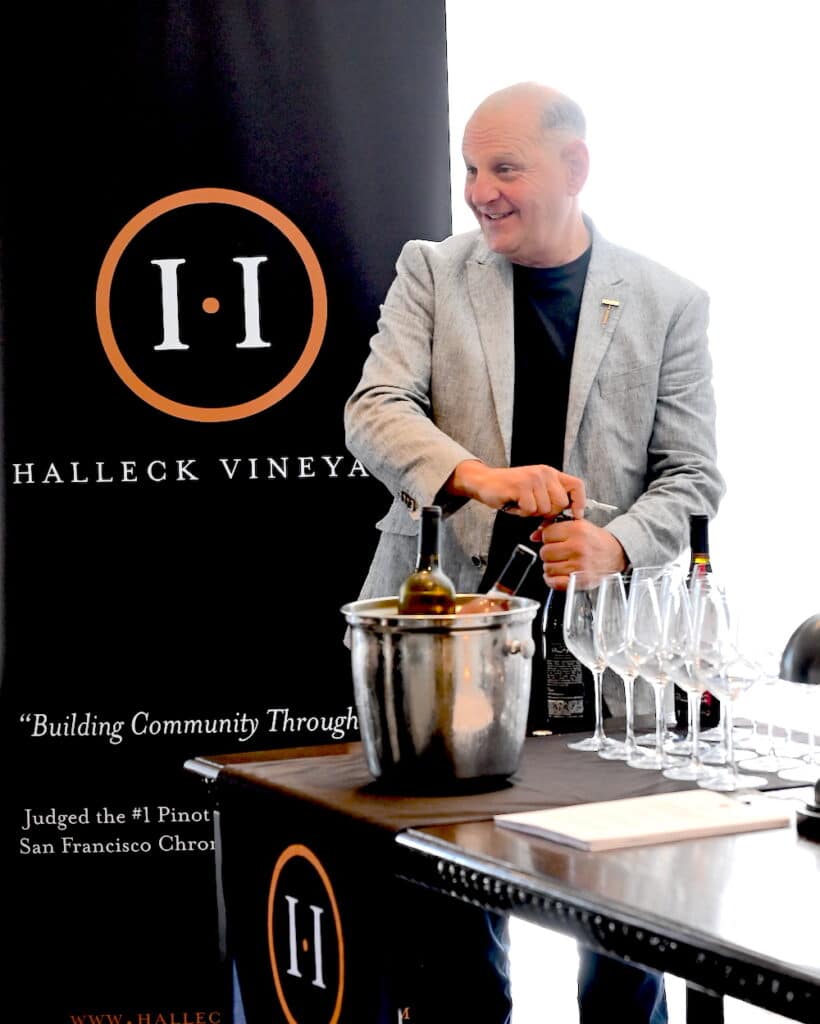 While many California visitors associate Hollywood with the motion picture studios, Burbank has quietly surpassed its neighboring city as the entertainment capital of Los Angeles. Home to Warner Bros. Studios, Walt Disney Studios, and Universal Studios, Burbank has become a hub for the entertainment industry. And nestled within its bustling streets is The Amarano, a hidden gem of a hotel where top celebrities working on shows and entertainment industry professionals can hideaway and reside outside the fanfare while they're busy filming and dealmaking.
Ross Halleck brought a taste of his Sonoma family winery to Los Angeles by hosting the wine tasting event for guests who were treated to a selection of Halleck Vineyard fine wines, including their expressive and delicate Dry White Zinfandel rosé wine, their crisp Russian River Valley Sauvignon Blanc (judged "Best in Class" by Sunset Magazine), the harmoniously balanced Three Sons Russian River Pinot Noir (judged "Best in Class" at the LA International Wine Competition), and the award-winning Clone 828 Sonoma Coast Pinot Noir (judged Double-Gold at the San Francisco Chronicle Wine Competition).
As hotel guests and members of the Inner Circle Wine Club mingled and sipped on these small-production Sonoma at the wine bar, they indulged in various carefully paired cheeses, grilled steak, and San Felipe-style shrimp soft tacos. The intimate gathering provided a unique opportunity for attendees to try the flavors of the Sonoma vineyard in the heart of Los Angeles County, surrounded by the luxurious amenities of the Amarano Hotel.
---
---
By bringing his wines to a hotel frequented by industry professionals, Ross Halleck expanded his winery's reach, creating opportunities for new connections with the entertainment industry. And as Burbank continues to solidify its position as the entertainment capital of Los Angeles, it's clear that The Amarano's wine tasting events will play a key role in the city's future.
Hollywood Wine Experience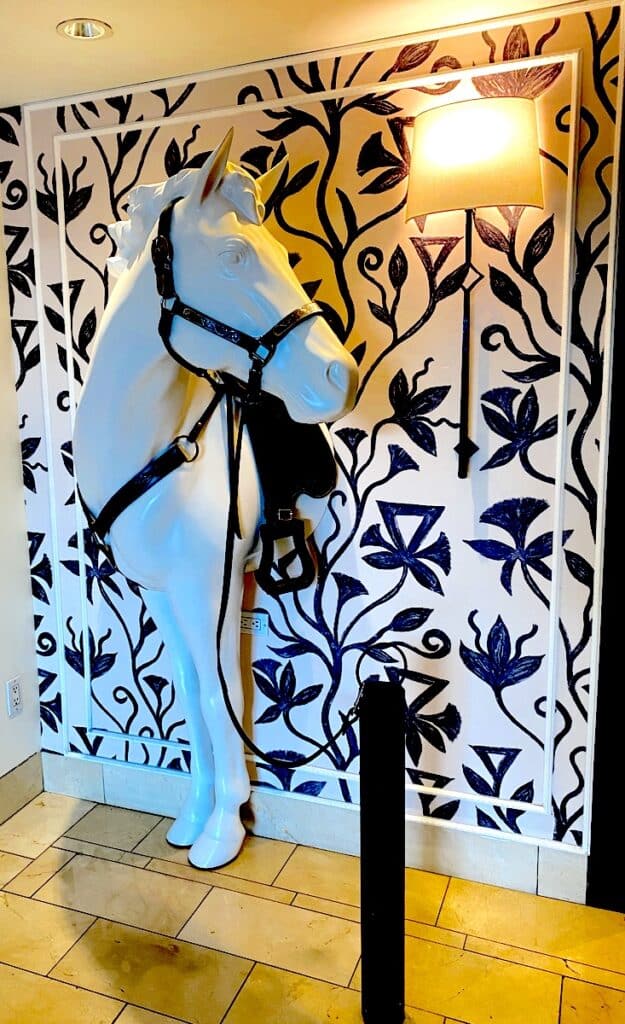 PJ Gunsagar and Brad Lewis of Spire Animation Studios, who were in town from the Bay Area on business, jumped at the opportunity to attend the wine tasting event and sample the latest Russian River Valley and Sonoma Coast white and red wine releases. As they mingled with other guests and savored each sip, they couldn't help but marvel at the complex flavors and expert craftsmanship that went into each varietal.
As accomplished executives in the entertainment industry, Gunsagar, and Lewis have collaborated on a variety of projects, including acclaimed animated feature films Ratatouille and How to Train Your Dragon. They were thrilled to have the chance to connect with other industry professionals at the wine tasting event, and be part of the vibrant community that Ross has created through his wines.
For Gunsagar and Lewis, the wine tasting event at The Amarano was not just a chance to enjoy rare, limited-reserve wines but also an opportunity to build relationships and network with others in the entertainment industry. They left the event feeling inspired and invigorated, eager to continue their work and to see what exciting developments the future may hold.
New Family Found
Erin Roberson and Patrick Regan are two lovebirds whose passion for each other is only matched by their love for fine wine. As they made their way to a wedding planning meeting with their parents, the couple took a moment to savor the crisp and refreshing taste of the Halleck Vineyard Russian River Valley Dry White Zinfandel.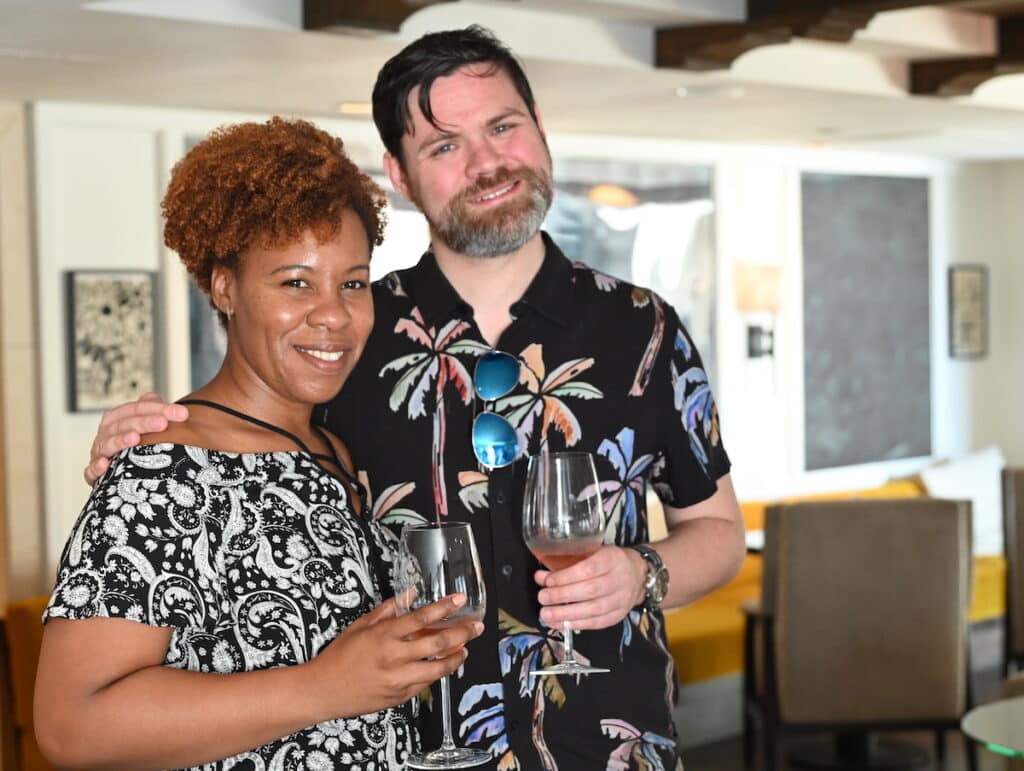 Erin and Patrick's love story is one for the ages, with the couple having met by chance online. They quickly fell in love and have been inseparable ever since. As they prepare to exchange vows and seal their futures at Corondelet House in Koreatown, they can't help but feel grateful for the love and support of their families.
To make their special day even more unforgettable, Erin and Patrick have enlisted the help of Très L.A.. This renowned catering company specializes in creating unique and memorable dining experiences. With Très L.A.'s expert guidance, the couple will impress their guests with an exquisite culinary experience that perfectly complements the joyous occasion.
---
---
And when it comes time to hit the dance floor, Erin and Patrick will be grooving to the beats of DJ Second Song, a talented musician whose infectious energy and eclectic musical tastes will surely get the party started. As they celebrate their love and commitment to each other, Erin and Patrick know they have found a soulmate who shares their passion for life, love, family, and fine wine.
New Member Spotlight
Halleck Vineyard welcomes our newest member IASTE Assistant Director Karen Sudtell to the Inner Circle Wine Club. Karen – who learned about the private wine tasting event after receiving a newsletter notification – first tried Halleck Vineyard at the Ahwanee Hotel in Yosemite, and decided to come out to meet Ross in person and try the wines, which are only available at select restaurants and through the wine club.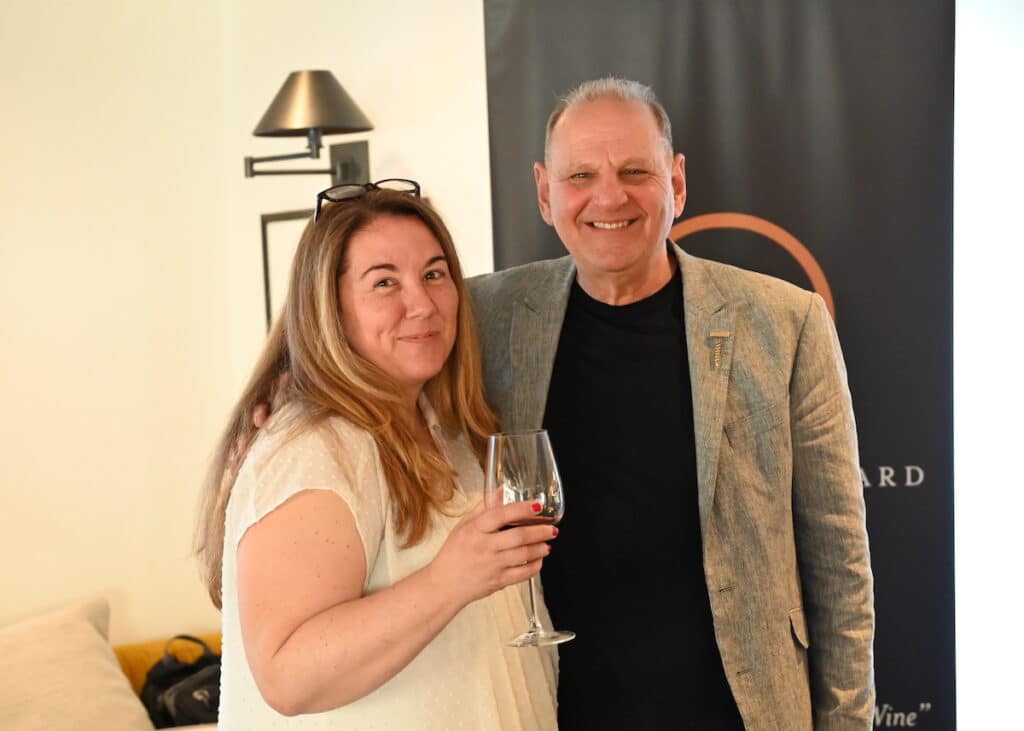 Karen recently wrapped principal photography on five episodes of The Company You Keep, a television show starring Milo Ventimiglia and Catherine Haena Kim, which tells the story of a con man and undercover CIA agent who, after a night of passion, ignite a love affair that puts them on a collision.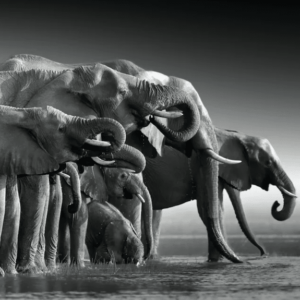 Join Sonoma vintner Jennifer Halleck on an unforgettable journey to Africa, where you will explore the wonders of this vibrant continent and share your passion for wine with fellow enthusiasts.…
Read More
The entry-level price of a Sonoma wine tasting rose 11% from $36 in 2022 to $40 in 2023. Adjusting for those cities with at least 15 wineries in the sample,…
Sonoma Wine Tasting in Sebastopol