Wine Festivals: 2022-2023 Calendar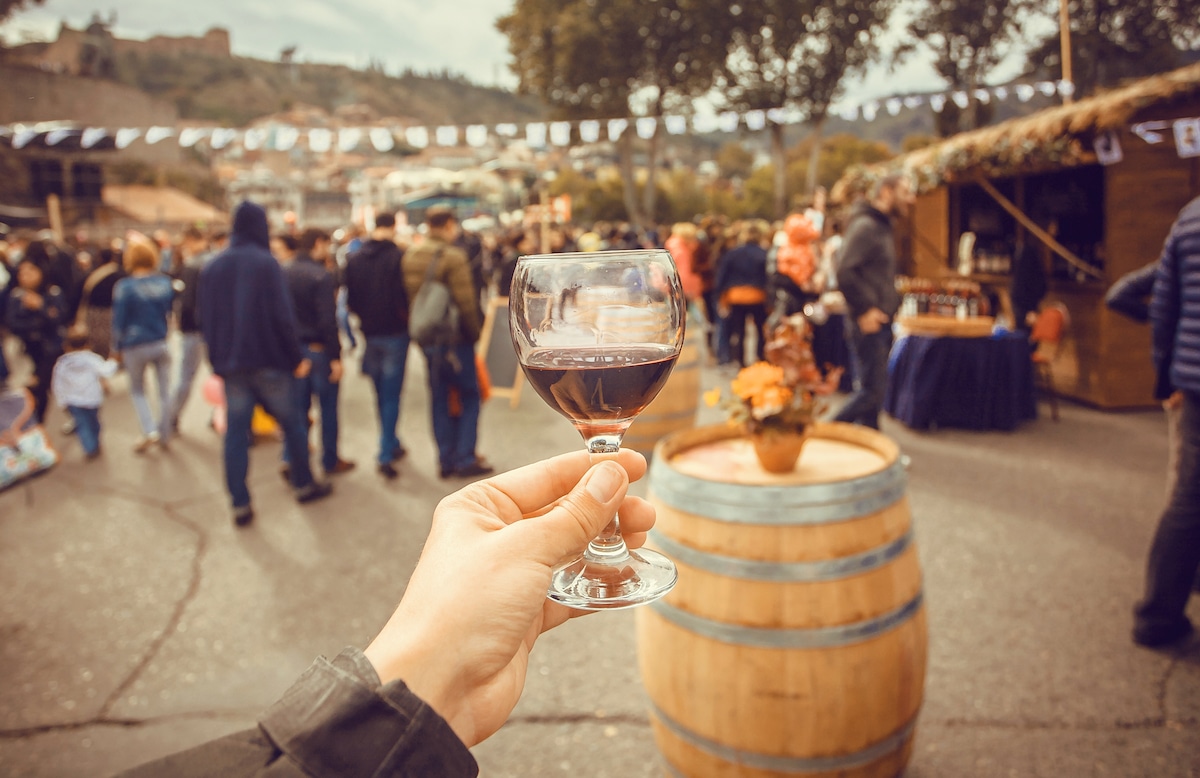 After a two-year lockdown, life is finally opening up again. So we scoured the web to put together this endemic 2022-2023 Wine Festival Calendar. It features 11 California Wine Festivals, including 4 in Sonoma and Napa, and 2 in Santa Barbara. Plus Nantucket, Oregon, and Colorado wine festivals, and a wine festival reopening in France. The Dana Point Wine Festival is happening too close to our publication date, so we opted not to cover it.

All the festivals serve food, but these are true wine festivals, organized to appeal to aspiring wine enthusiasts and serious wine collectors.

A lot has changed, but one thing remains the same. We still love gathering together to share our passion about wine with others. So start with the Garagiste Festival in late April 2022, and end at the Winter Wineland on March 2023. This is your fact checked, 100% up to date, post-lockdown wine festival calendar for 2022-2023.
---
---
11th Annual Garagiste Festival Northern Exposure – 4/30/22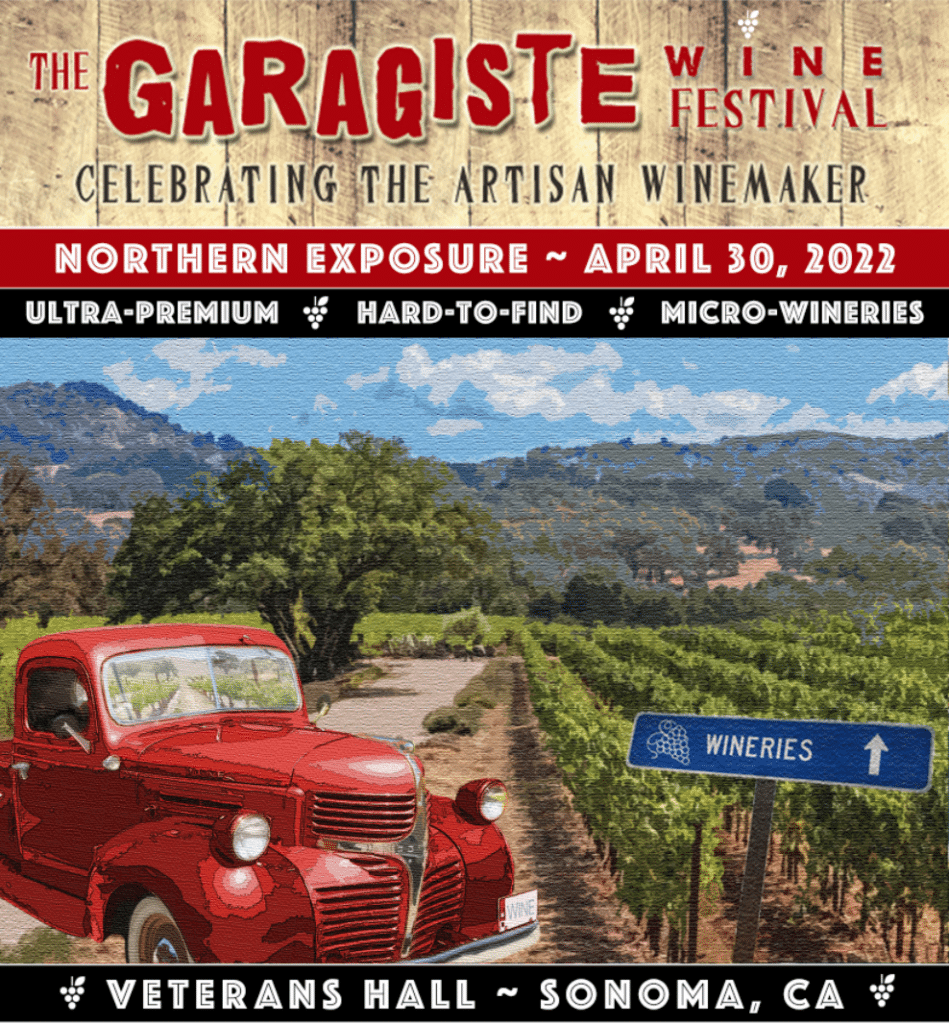 April 30, 2022
Sonoma Veterans Memorial Hall, 126 1st St W, Sonoma, CA 95476
Tickets: $10 – $100
| | |
| --- | --- |
| Selected Wineries: | Clos Serene, Piedrassasi, Sweetzer Cellars |
| Popular Varietals: | Pinot Noir, Cabernet Sauvignon, Syrah, Grenache |
| Prominent AVAs: | Paso Robles, Santa Barbara, Napa, Sonoma, and more. |
The Garagiste Festival is the first and only wine festival dedicated to the undiscovered and under-recognized American artisan 'garagiste' producers. They're making some of the most exciting, innovative, handcrafted small-lot wines in the state. "One of the premier wine events of the year", according to the LA Times. And named the 'Best Wine Festival in the US in 2018.' Every winery featured during the tasting makes under 1,500 cases. During the Grand Tasting, complimentary cheese & charcuterie (and water) will be provided along with tasty treats from artisan vendors. A signature Stolzle glass is included in the ticket purchase. And don't forget the silent wine auction. Proceeds from this fund-raiser go to the Garagiste Scholarship Fund at Cal Poly San Luis Obispo, funding the future of CA winemaking.
---
30th Annual Sun, Wind, and Wine Festival – 5/14/22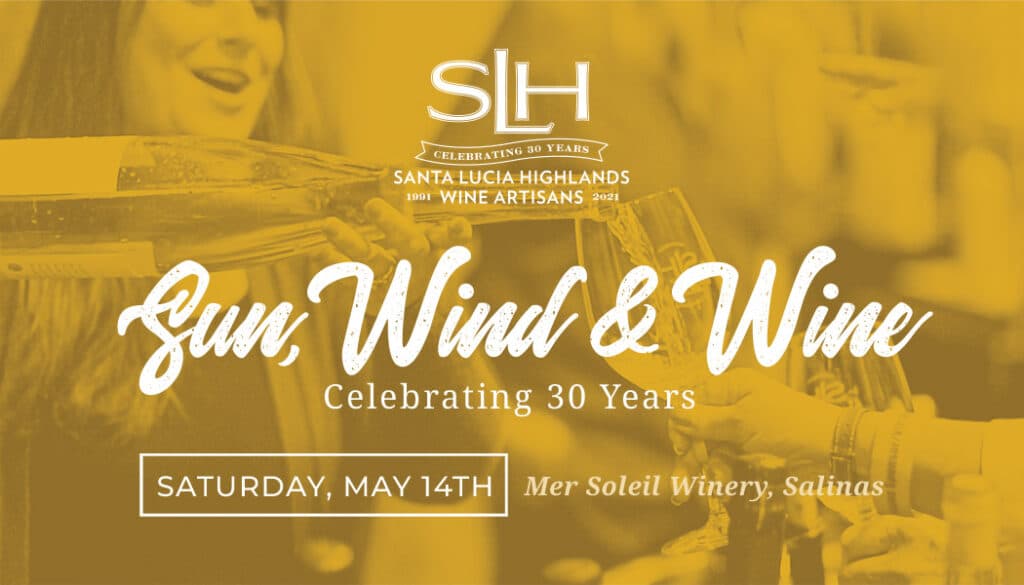 May 14th, 2022
Mer Soleil Winery, 1290 River Road, Salinas, CA 93908
Tickets: $120 – $150
www.santaluciahighlands.com/events/wine-festival/

| | |
| --- | --- |
| Selected Wineries: | Pisoni Vineyards, ROAR, Siduri |
| Popular Varietals: | Pinot Noir, Chardonnay, Syrah |
| Prominent AVA: | Santa Lucia Highlands |
Every summer, Mer Soleil Winery generously opens its doors and allows wine lovers to visit a beautiful property not often open to the public. Join the preeminent producers of the Santa Lucia Highlands for an unforgettable vino-afternoon. Chat with the winemakers Charles Hendricks of Hope and Grace or Scott Shapley of ROAR. They'll personally pour their most sought-after Santa Lucia Highlands bottlings. The wines can be paired with gourmet delicacies prepared by exceptional Monterey Peninsula restaurants and food purveyors. There's also live music and a silent auction that benefits a local charity.
---
Les Fondamentales – 5/14/22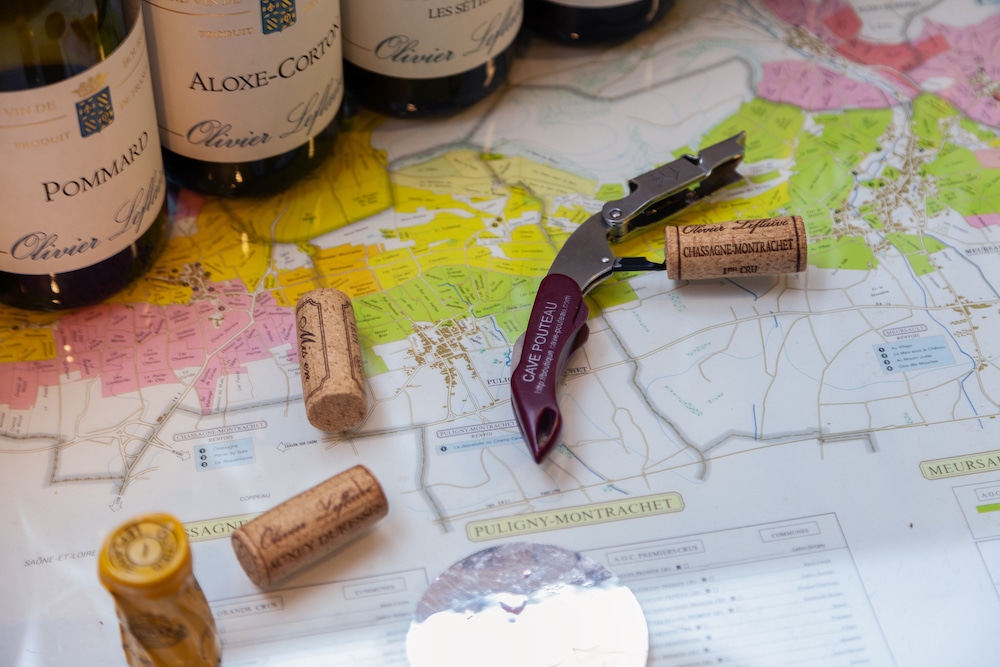 May 14th, 2022
Ecole des Vins de Bourgogne, Beaune, France
Tickets: $100
https://www.bourgogne-wines.com
| | |
| --- | --- |
| Popular Varietals: | Pinot Noir, Chardonnay |
| Prominent AVA: | Burgundy, Champagne |
If you're feeling adventurous, there's no better place to taste Pinot Noir than in the Burgundy region of France. This is the holy grail of Pinot Noir, the most famous and high-quality appellation for this particular grape. Few places express the notion of "wine civilization" as well as they do. The Fundamentals are a half-day initiation into the exciting sphere of Burgundy wines. You can be a confirmed wine-buff or a simple enthusiast keen to stimulate the taste buds. This class will initiate you into the secrets of the land, and the magic of vinification. Learn to look, smell, taste, and properly identify and evaluate the white wines of Chablis, and the legendary reds of Cote de Nuits. Agricultural conservation, the correct serving of wines, and the association of food and wine pairings are also discussed. At the end, you'll be more comfortable with a glass of Burgundy in your hand, and find the right words to share your impressions.
---
24th Annual Nantucket Wine Festival – 5/18/22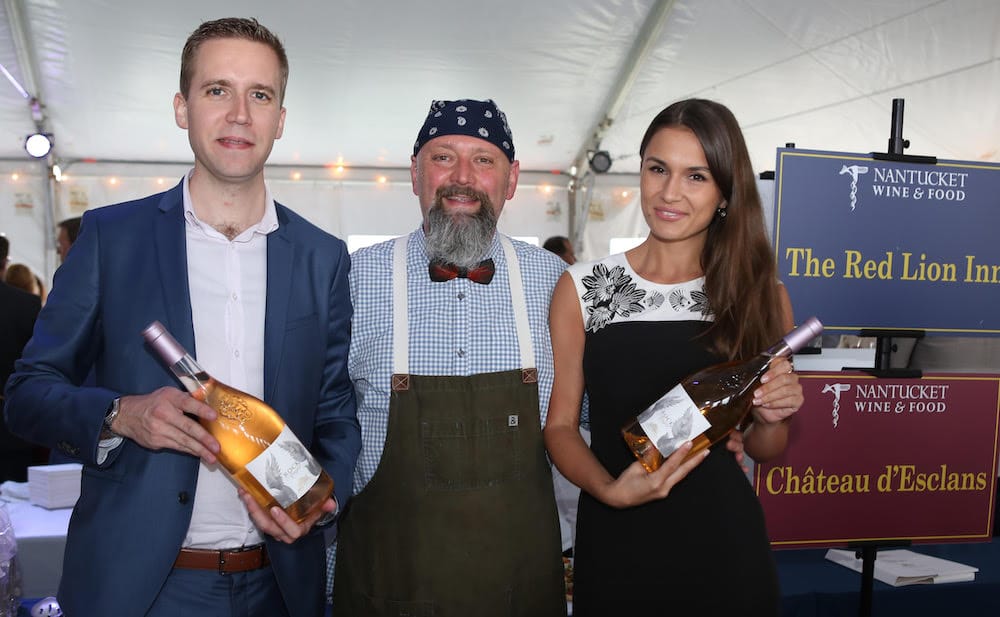 May 18th – 22nd, 2022
White Elephant, 50 Easton St, Nantucket, MA 02554
Tickets: $150 – $650 (events vary)
| | |
| --- | --- |
| Selected Wineries: | Château de Beaucastel, Ovid, Taittinger, Vega Sicilia |
The Nantucket Wine Festival is easily one of the most prestigious of its kind. It draws over 3,000 attendees to the island. There's a massive star-studded lineup of vintners, wineries, chefs, and restaurants such as Paul Hobbs, Eric Asmov, Kevin Zraly and Joseph Keller. Despite its illustrious pedigree, the Nantucket Wine Festival remains boutique in style and intimate in its setting. Sit down with an educational seminar on Chablis Grand Cru, savor a five-course dinner with Opus One. Don't miss the grand tasting. Besides the good vino, this festival marks the awakening of the island itself, as restaurants, galleries, activities, and tours open for the season. Try over 100+ wineries from Italy, France, Spain, Germany, New Zealand, South Africa, Chile, Argentina, California, and Oregon.
---
23rd Annual Anderson Valley Pinot Noir Festival – 5/20/22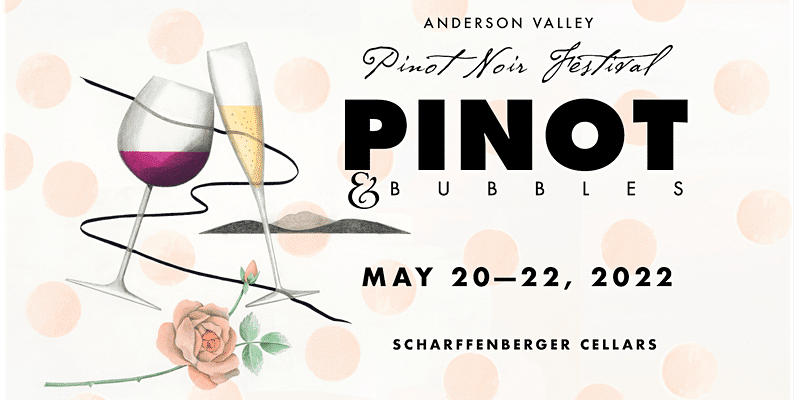 May 20-22, 2022
Scharffenberger Cellars + Other Locations within Anderson Valley, Philo, CA
Tickets: $75 – $150
avwines.com/pinot-noir-festival/
| | |
| --- | --- |
| Selected Wineries: | Cobb Wines, Copain, Kosta Browne, Littorai |
| Popular Varietal: | Pinot Noir |
| Prominent AVA: | Anderson Valley |
For an unmatched combination of the ruggedly beautiful and exquisitely refined, there's no better place than Anderson Valley. Few do California Pinot Noir quite as they do. The cool climate and clay-loam soil breath elegance and grace into the grapes. You can taste from more than 50 wineries at the festival. There's more than a dozen prestige labels from Napa and Sonoma that bottle this fabulous fruit. Local culinary talent will serve up delicious food pairings, and wine enthusiasts can also acquire exclusive wine at the ever-popular silent auction. A VIP Bubble Lounge will pour sparkling wines from family-owned wineries from the Anderson Valley and the Champagne region of France. Learn alongside winemakers at Friday's educational seminars. Drink amazing Pinot, rosé and sparkling wines at the Grand Tasting on Saturday. Explore the valley during Sunday's winery open houses. This is outdoor, so bring comfy footwear and layers in case it gets chilly.
---
Bottle Rock Napa Valley – 5/27/22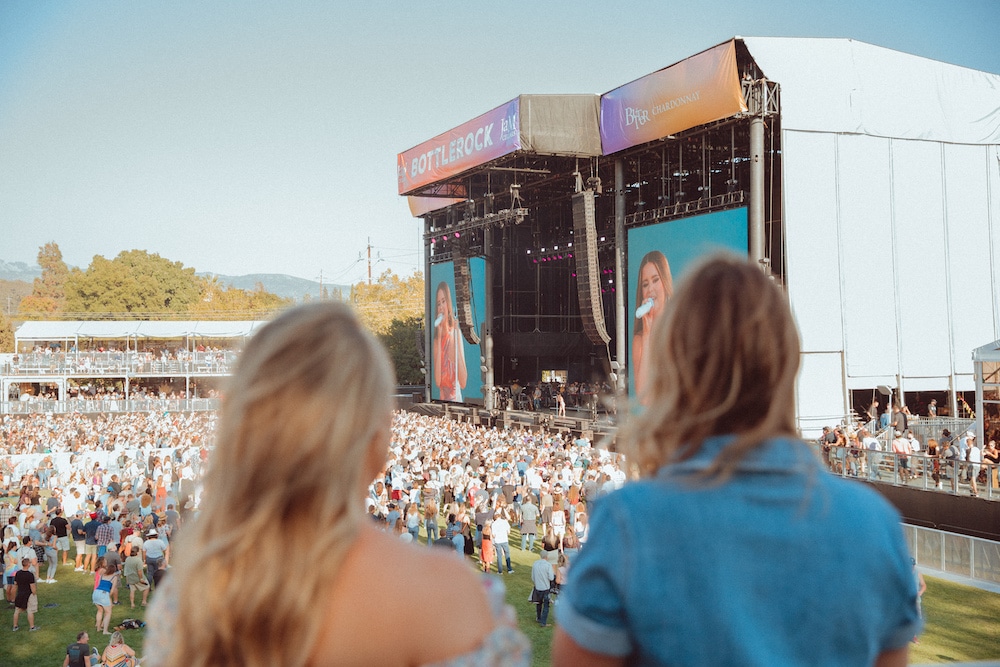 May 27th – 29th, 2022
Napa Valley Expo, 575 3rd St, Napa, CA 94559
Tickets: $179
| | |
| --- | --- |
| Selected Wineries: | Amuse Bouche, Stag's Leap Winery, Schramsberg Vineyards |
| Popular Varietals: | Cabernet Sauvignon, Chardonnay, Syrah, Sauvignon Blanc |
| Prominent AVA: | Napa Valley |
The 2022 line up features three days of music headlined by Metallica, The Black Crows and Pink. There's also a culinary stage featuring cooking seminars and a VIP oasis with premium bars and comfortable seating. There's even a spa offering massages, facials, and hairstyling. Bottle Rock strives to become one of the most sustainable festivals by increasing compost, decreasing landfill waste and eliminating single use plastic.
---
39th Annual Temecula Valley Balloon & Wine Festival – 6/3/22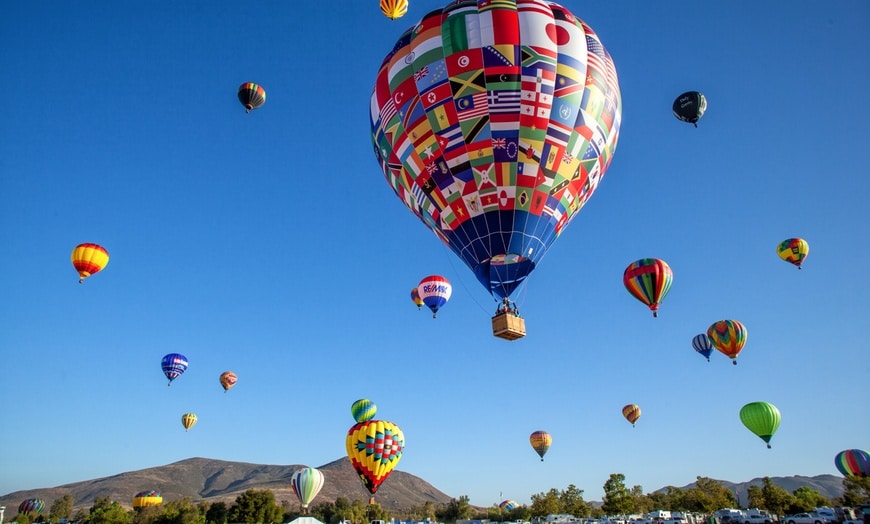 June 3rd – 5th, 2022
Lake Skinner Recreation Area, 37701 Warren Rd, Winchester, CA 92596
Tickets: $35 – $125
| | |
| --- | --- |
| Selected Wineries: | Altisima Winery, Palumbo Family, Vindemia |
| Popular Varietals: | Zinfandel, Cabernet Sauvignon, Chardonnay |
| Prominent AVAs: | Temecula Valley |
The Temecula Valley Balloon & Wine Festival continues to give vino lovers a truly unique experience. Where else can you view grape vines from a hot-air balloon? This three-day offering of exquisite wine and top-name entertainment continues to go strong. Past headliners include Bush, Dramarama, Daughtry, Chris Young and Cassadee Pope, but the 2022 line up is yet to be announced. The festival is bustling each afternoon with neighborhood favorites and up-and-coming indie producers of wine and beer from near and far. Walk along the Commercial Court, which is home to over 100 vendors that deliver all of your favorite fair foods. Arrive early to take the balloon ride of your life 3,000 feet above Lake Skinner. If you're not an early riser, take in the evening Balloon Glow. Held Friday night under the stars, this special show features tethered balloons dancing to live music.
---
17th Annual Paso Pinot and Paella – 6/5/22
June 5th, 2022
Templeton Park, 550 Crocker St, Templeton, CA 93465
Tickets: $85
| | |
| --- | --- |
| Selected Wineries: | Dilecta, Field Recordings, Opolo |
| Popular Varietals: | Pinot Noir |
| Prominent AVA: | Paso Robles |
One of the most intimate wine festivals on our list, attendance is limited to 500 guests in order to emphasize quality over quantity. This one-day event features 20 Paso Robles Pinot Noirs and 20 restaurateurs creating 20 different paellas. Live music under the shade of Big Oaks in the beautiful Templeton Park. Bring blankets, lawn chairs, and dancing shoes. Mingle with the winemakers and discover how the Paso-sense-of-place is reflected in each glass of their Pinot Noir. Visit with culinary stars Maggie Bond of Alchemists Garden or Ken Martin from Enoteca. Taste the talent of the Central Coast in each unique Paella. Find out why Paso Robles is legendary for its friendliness. A souvenir burgundy-style fine wine glass comes with your ticket. Proceeds benefit local youth arts foundations.
---
34th Annual Ojai Wine Festival – 6/18/22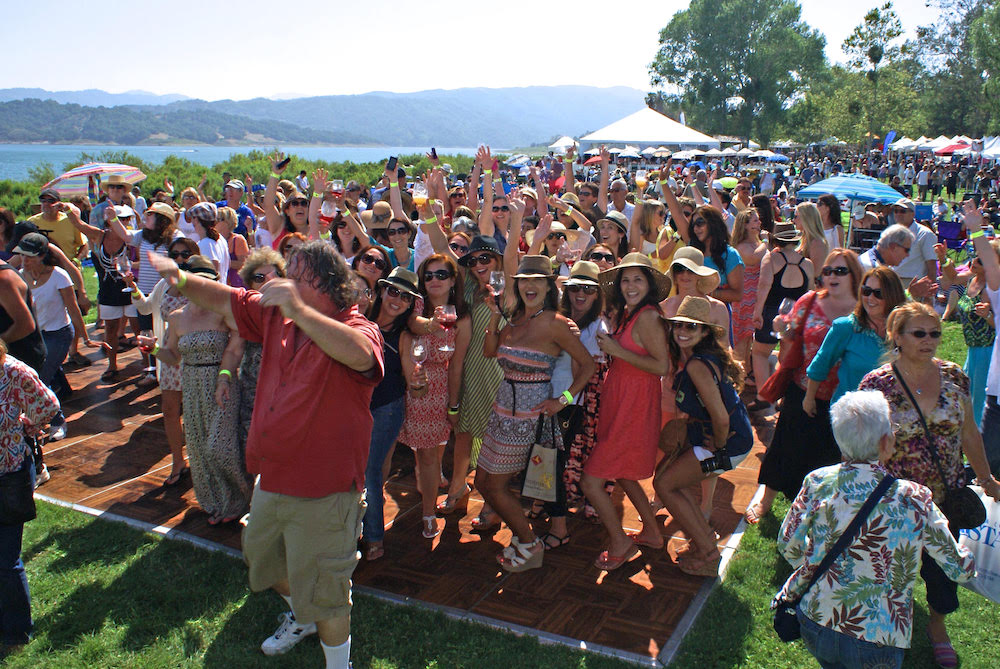 June 18th, 2022
Lake Casitas Recreation Area, 11311 Santa Ana Rd, Ventura, CA 93001
Tickets: $105 ~ Limited to 2000 attendees
| | |
| --- | --- |
| Selected Wineries: | Beckmen Vineyards, Fat Cat Cellars, Valley of the Moon Winery |
| Popular Varietals: | Pinot Noir, Sauvignon Blanc, Chardonnay, Syrah |
| Prominent AVAs: | Santa Barbara, Ventura County |
Overlooking scenic Lake Casitas, the 34th Annual Ojai Wine Festival is the longest running wine festival in Ventura County. Lake Casitas is an idyllic venue to taste Santa Barbara and Ventura County's award-winning wines, craft beers, ciders, seltzers, and fine spirits. Attendance is capped at 2000 and guests have access to a veritable fleet of gourmet food trucks, as well as fine arts and crafts booths. There is a silent auction for private tasting parties, VIP tours of wineries, and more. The festival has live music on the lakeside dance floor by Area 51, Santa Barbara's popular dance band. The Ojai Wine Festival is a fundraiser for the Rotary Club of Ojai-West Foundation. A non-profit focused on improving education, aiding low-income families, and activities that enrich the lives of young people. Get your ticket now, before they sell out.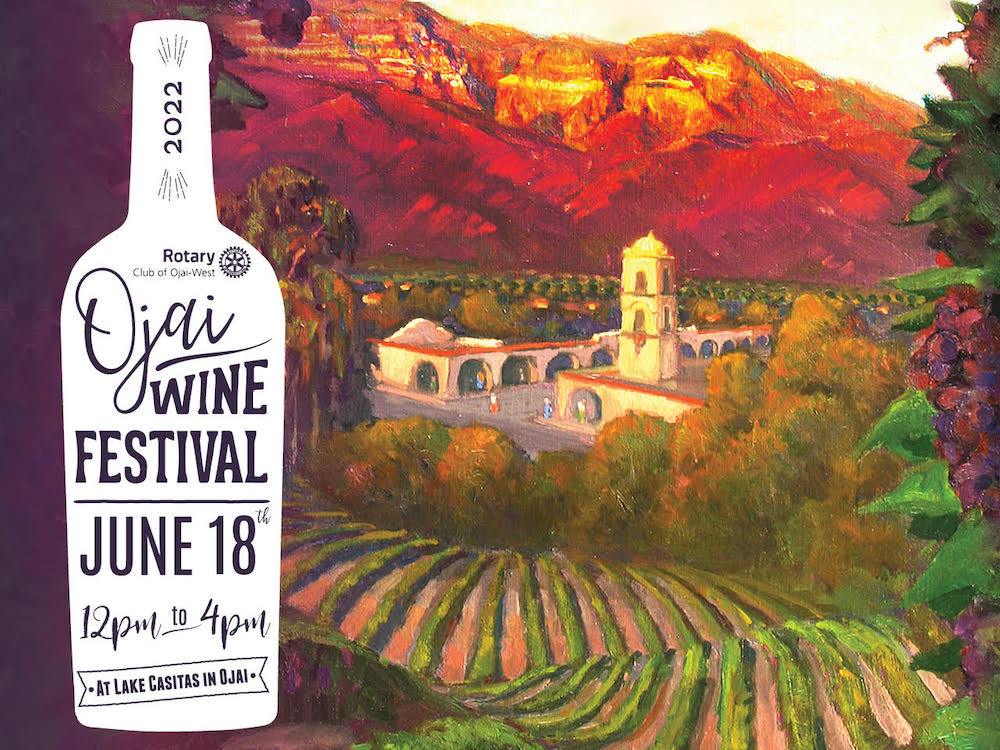 ---
39th Annual Food & Wine Classic in Aspen – 6/17/22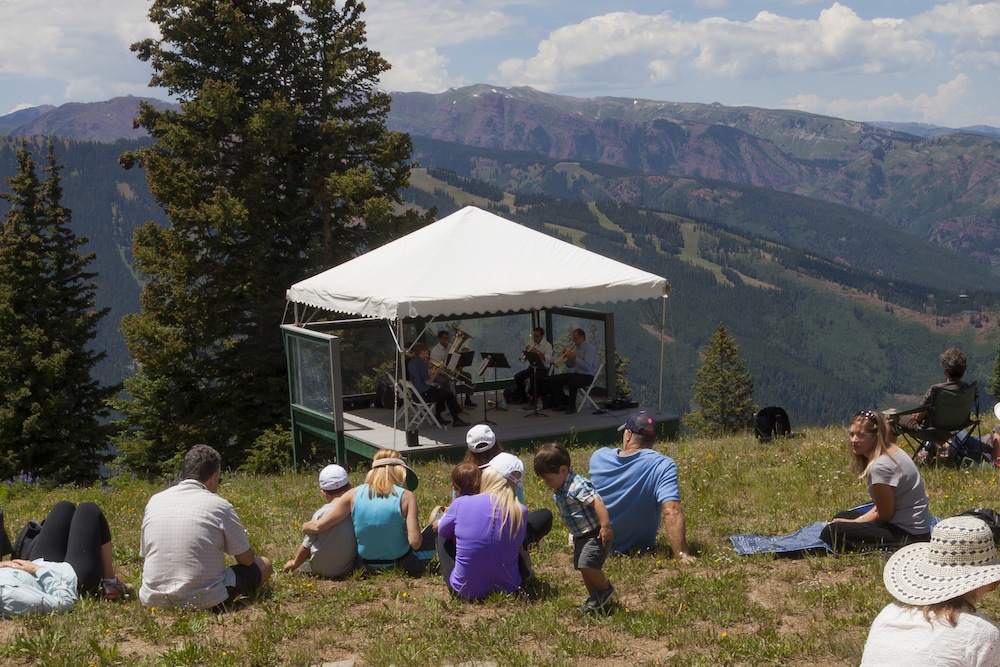 June 17th – 19th, 2022
Wagner Park, 350 E Durant Ave, Aspen, CO 81611
Tickets: $250 (Sold Out – Waitlist Only)
Set against the spectacular Rocky Mountains backdrop, guests enjoy three incredible days of unparalleled food and wine. Attendees have the opportunity to choose from over 40 cooking demonstrations and wine seminars. These are led by celebrity chefs and wine & spirits experts, such as Andrew Zimmern, Carla Hall, Kwame Onwuachi, Leslie Sbrocco and Carlton McCoy. Don't miss the chance to sample outstanding wines, food, spirits and beers in the Grand Tasting Pavilion.
---
North Coast 2022 Wine Festival – 6/18/22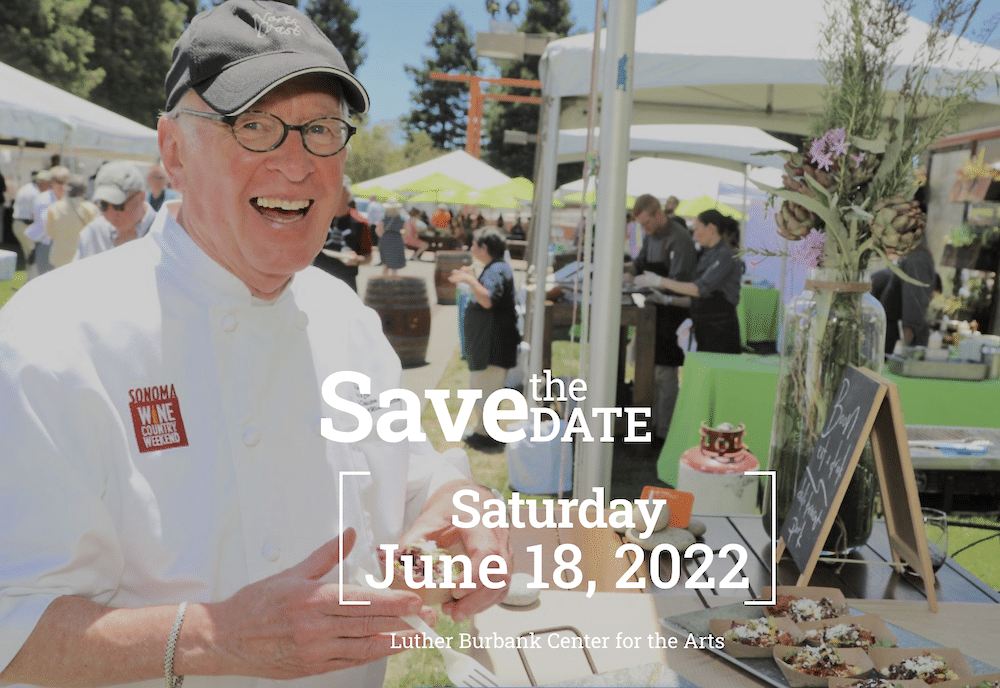 June 18th, 2022
Luther Burbank Center for the Arts, 50 Mark West Springs Rd, Santa Rosa, CA 95403
Tickets: $95 – $135
| | |
| --- | --- |
| Selected Wineries: | Gloria Ferrer, Pedroncelli, R Vineyards |
| Popular Varietals: | Pinot Noir, Zinfandel, Cabernet Sauvignon, Chardonnay, Sauvignon Blanc |
| Prominent AVAs: | Napa County, Sonoma County, Russian River Valley |
The North Coast Wine & Food Festival is a celebration of the best wine and food of this preeminent region of California. Come early and find a spot on the gorgeous front lawn pavilion of the Luther Burbank Center for the Arts. You'll bask in a long afternoon of excellent wine and delightfully surprising food options. There's various caviar, donuts and grilled cheese tasting stations. The event also features live music and ongoing interactive programs. Convenient on-site parking and non-alcoholic beverages are also available.
---
2022 California Wine Festival Santa Barbara – 6/15/22
July 15th – 16th, 2022
Chase Palm Park, 323 E Cabrillo Blvd, Santa Barbara, CA 93101
Tickets: $70 – $180
www.californiawinefestival.com/santa-barbara
| | |
| --- | --- |
| Selected Wineries: | Bernardus, Hitching Post, Walt Winery |
| Popular Varietals: | Pinot Noir, Grenache, Sauvignon Blanc |
| Selected AVAs: | Santa Barbara, Central Coast, Paso Robles |
It's back. The ever-popular and renowned California Wine Festival at Santa Barbara. It brings thousands of wine lovers into the city for two days of sun, sea, wine, food and music. Both the curious novice and the serious collector will find hundreds of wines to taste and enjoy. Snacks like artisanal cheese, chocolate and seafood are abundant. Live music from Upstream, the soulful reggae band, keeps the mood upbeat all day. Shop at specialty vendors along the beach and pick-up raw organic honey, infused olive oil, gourmet toffee, and more. A VIP ticket gives you access to shaded tents, catered refreshments and a private bar. But for those wanting an extra special treat, try the Sunset Reserve Tasting. This romantic evening of rare wine tasting begins with a champagne reception under the stars at Santa Barbara's charming Carousel House. Extremely limited reserve level wines are matched with appetizers from top city restaurants, while live music keeps things super cool. Proceeds benefit the Food bank of Santa Barbara County.
---
35th Annual International Pinot Noir Celebration – 7/29/22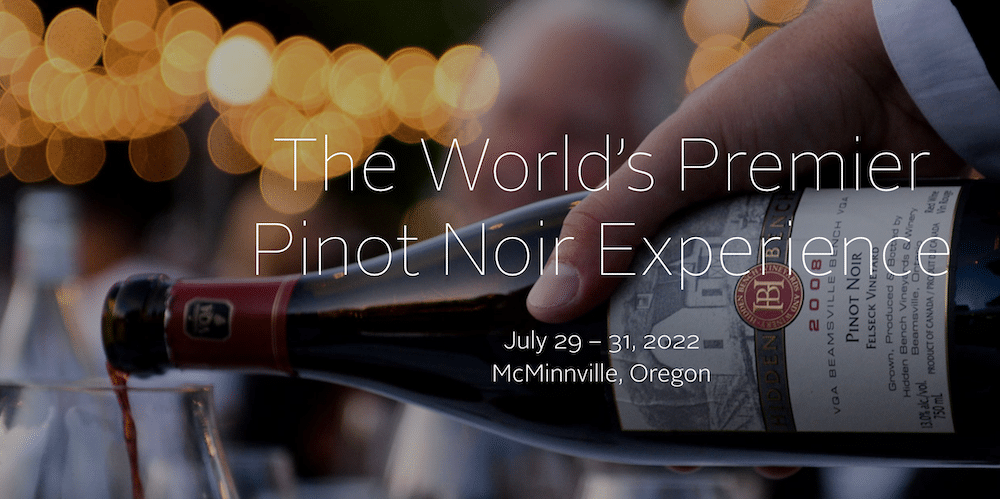 July 29th – 31st, 2022
Oak Grove at Lindfield University, 900 SE Baker St, McMinnville, OR 97128
Tickets: $150 – $225
| | |
| --- | --- |
| Selected Wineries: | Big Table Farm, Domaine Serene, Wayfarer Vineyards |
| Popular Varietals: | Pinot Noir |
| Prominent AVAs: | Oregon, California, New Zealand |
The second largest single-varietal event of its kind is the International Pinot Noir Celebration. Equivalent to the Cannes Film Festival, but for Pinot Noir instead of films. Sample an unparalleled array of over 70 featured wineries from five different countries and three continents. It takes place in the shaded oak groves of Linfield College in McMinnville, Oregon. Guests might find themselves chatting with a Tasmanian winery owner, or eating lunch with a writer from a favorite wine publication. They might even walk through vine rows with the Willamette Valley vintner who planted them. To maximize personal interaction with each winemaker, the organizers split it into two sessions. Thirty-five featured winemakers will pour for each session and break in the middle for winemaker introductions and surprises. And at the end of the day, everyone celebrates together at tables topped with a collection of Pinot Noir and the finest Northwest cuisine. Decadence at its finest.
---
16th Annual Pinot on the River – 10/8/22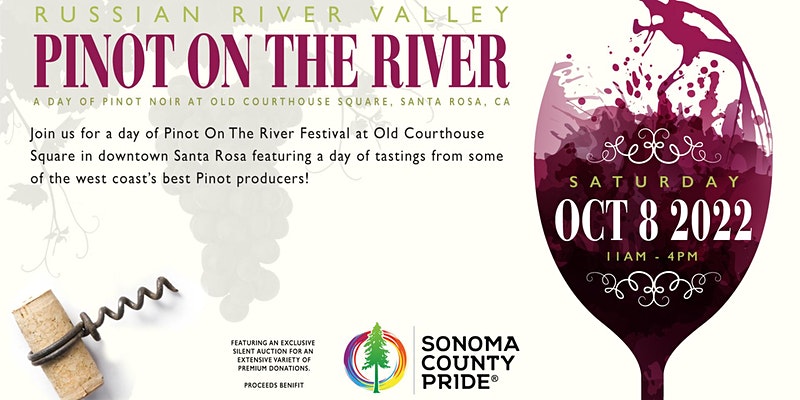 October 8th, 2022
Old Courthouse Square, 1071 Santa Rosa Plaza, Santa Rosa, CA 95401
Tickets: $50
https://www.eventbrite.com/e/pinot-on-the-river
| | |
| --- | --- |
| Selected Wineries: | Balletto, Guarachi, Coppola |
| Popular Varietals: | Pinot Noir |
| Prominent AVAs: | Sonoma County, Central Coast |
Pinot on the River is a fun-filled Saturday gathering of Pinot Noir lovers in the beautiful Russian River Valley. Previously held in Healdsburg, this year the festival is relocating to Old Courthouse Square in Santa Rosa, in central Sonoma County. Sit with the winemakers and other Pinotphiles and focus on limited production West Coast Pinot Noirs. Don't miss the Grand Tasting, with 40 wineries plus guest Artisan Food Vendors. Sip on some of the best Pinot Noirs California has to offer. More than 40 small-production artisanal wineries join forces with neighborhood food vendors. Proceeds benefit Sonoma County Pride, enhancing the lives of our Lesbian, Gay, Bisexual, Transgender, Queer, Intersex (LGBTQI) community.
---
30th Annual Winter Wineland – 1/14/23
January 14th – 15th, 2023
Healdsburg, CA
Tickets: $70 – $120
https://www.wineroad.com/events/winter-wineland/
| | |
| --- | --- |
| Selected Wineries: | A. Rafanelli, Pech Merle, Ridge Vineyards |
| Popular Varietals: | Pinot Noir, Cabernet Sauvignon, Syrah, Chardonnay |
| Prominent AVAs: | Napa and Sonoma County |
Far removed from the boisterous festival atmosphere, Winter Wineland presents an opportunity to enjoy spring in the actual vineyards. This is a long-overdue chance to get out and meet winemakers, taste limited production wines and new releases from 50+ wineries. The ticket price covers wine tastings at all of the participating wineries for the weekend. Attendees will have the opportunity to sample three wines at each winery they visit. Revel in the beauty of Sonoma County and treat yourself to a relaxed, personalized tasting experience. Restock your wine collection, join new wine clubs, and take the opportunity to taste varietals you may have never even heard of before. Make it a time of discovery. This is not a food pairing situation. It is an opportunity to sample wine, meet owners and winemakers, reconnect with your favorites and explore some new treasures.
---
21st Annual World of Pinot – 3/2/23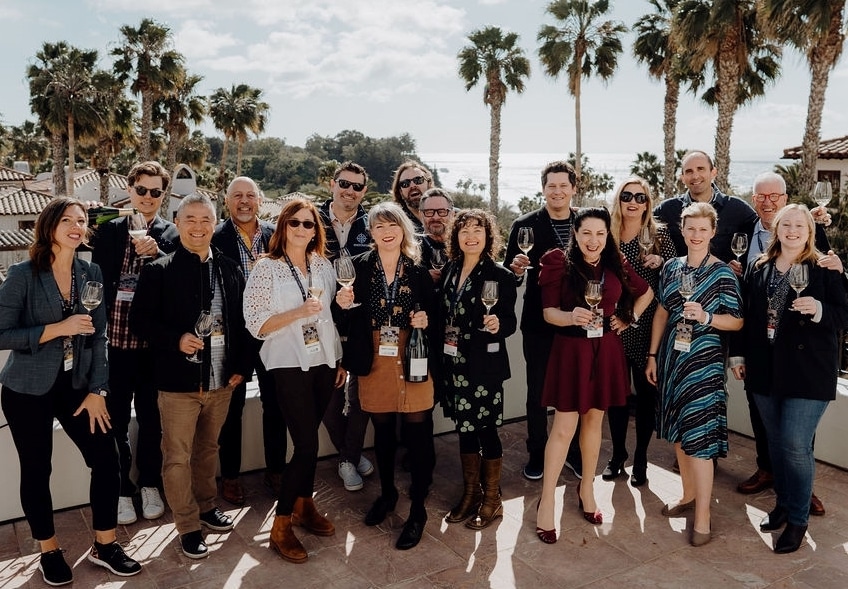 March 2nd – 4th, 2023
Ritz Carlton Bacara, 8301 Hollister Ave, Santa Barbara, CA 93117
Tickets: $125 – $20
| | |
| --- | --- |
| Selected Wineries: | Big Basin, Cirq, Red Car, Belle Glos |
| Popular Varietal: | Pinot Noir |
| Prominent AVAs: | California, Chile, New Zealand |
The annual World of Pinot Noir gathers the foremost Pinot Noir wineries, winemakers, renowned chefs, sommeliers, and leading wine scholars. This is a weekend-long seaside celebration of all things Pinot. Luncheons are hosted by Santa Barbara winemakers who emphasize the haunting qualities of this special grape. Sign up for a Grand Cru Burgundy dinner, educational seminars, blind tastings, and VIP sommelier tours. The Grand Tasting takes place at the Ritz-Carlton's Grand Ballroom. This gathering sells out fast, so advance tickets are a must.
---
Wine Festivals Wrap-Up
The universe of wine festivals is opening back up. Now is the time to pick the ones you want to attend and start making plans. Good news if you're Los Angeles or Orange County based and interested in attending any of the Napa or Sonoma wine festivals. A new airline called Avelo recently added competitively priced round trips from Burbank to Santa Rosa. You can avoid the major metropolitan airports like LAX and SFO and get in and out quicker.

We can all appreciate a bottle in the privacy and comfort of our own homes. But for beginners and aficionados alike, there simply is no better place to taste and learn about wine than a festival. Sample 20 different southern Rhone blends from just the Central Coast, or five different Pinot Noirs from five different continents. Discuss oak treatments with a vigneron from Chablis and one from Napa. Wine festivals bring so much originality and exclusivity to the table, so they're impossible to pass up.

Regardless of what state you're based in, if you love luxury wine, indie wine, or small-production wine, you need a handy reference guide. We're pleased to provide this accurate, up to date and fact-checked Wine Festivals Calendar for 2022-2023 to help you plan your trip.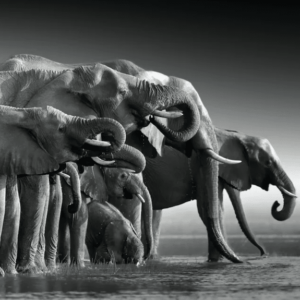 Join Sonoma vintner Jennifer Halleck on an unforgettable journey to Africa, where you will explore the wonders of this vibrant continent and share your passion for wine with fellow enthusiasts.…
Read More
The entry-level price of a Sonoma wine tasting rose 11% from $36 in 2022 to $40 in 2023. Adjusting for those cities with at least 15 wineries in the sample,…
Sonoma Wine Tasting in Sebastopol