Inner Circle Gathers at Sebastopol Winery Harvest Party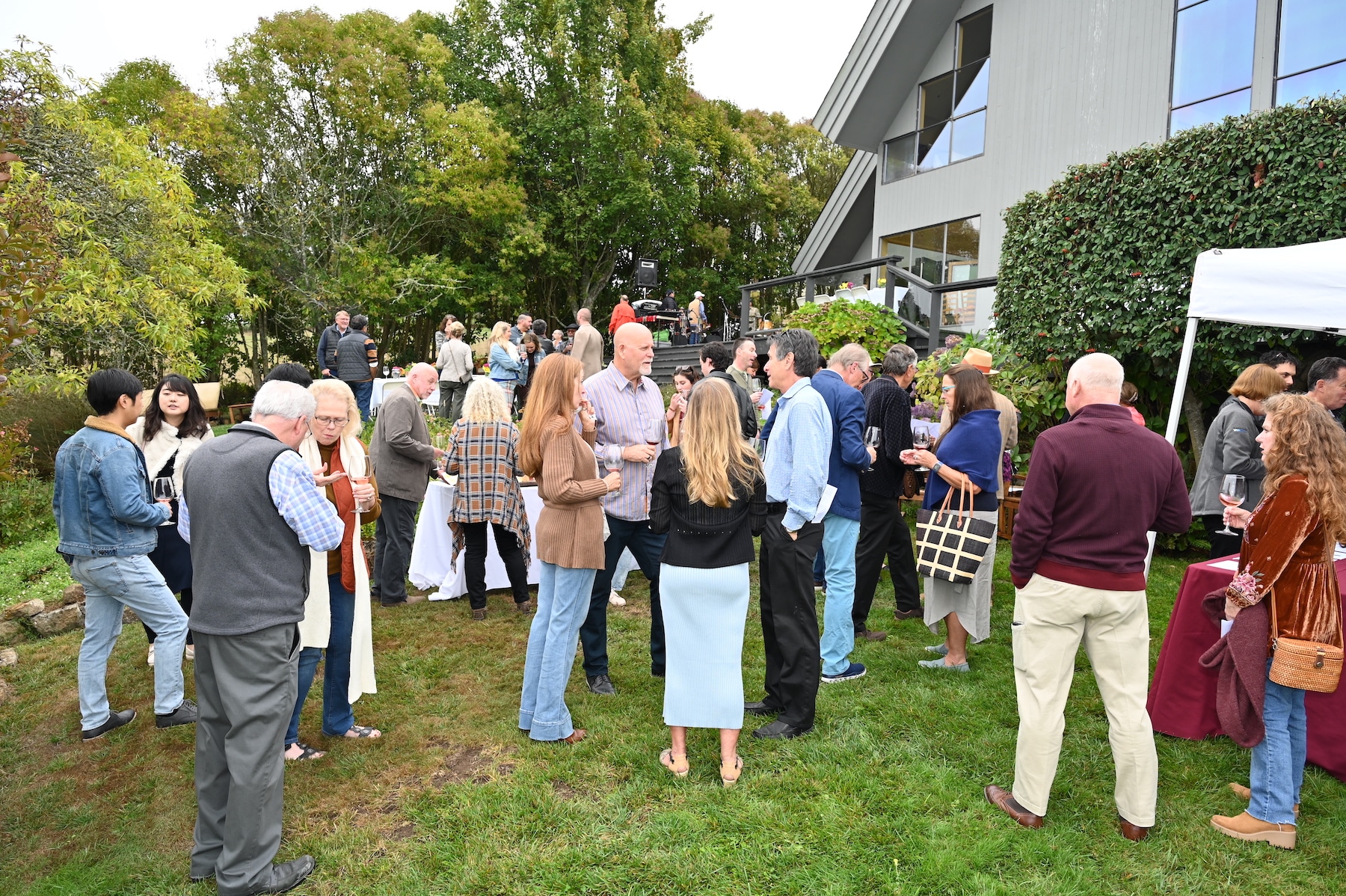 On Saturday Oct. 15th, over 100 Inner Circle Wine Club Members and their guests from across the US gathered at the Halleck Vineyard Sebastopol Winery Estate for their annual wine harvest party.
The Sebastopol estate winery – surrounded by a single-acre Pinot Noir vineyard whose maiden vintage in 2001 earned Best of Class at the Pinot Noir Summit – drew wine club members and their guests for a library tasting with local cheeses, live music, and a bountiful buffet lunch that included:
---
---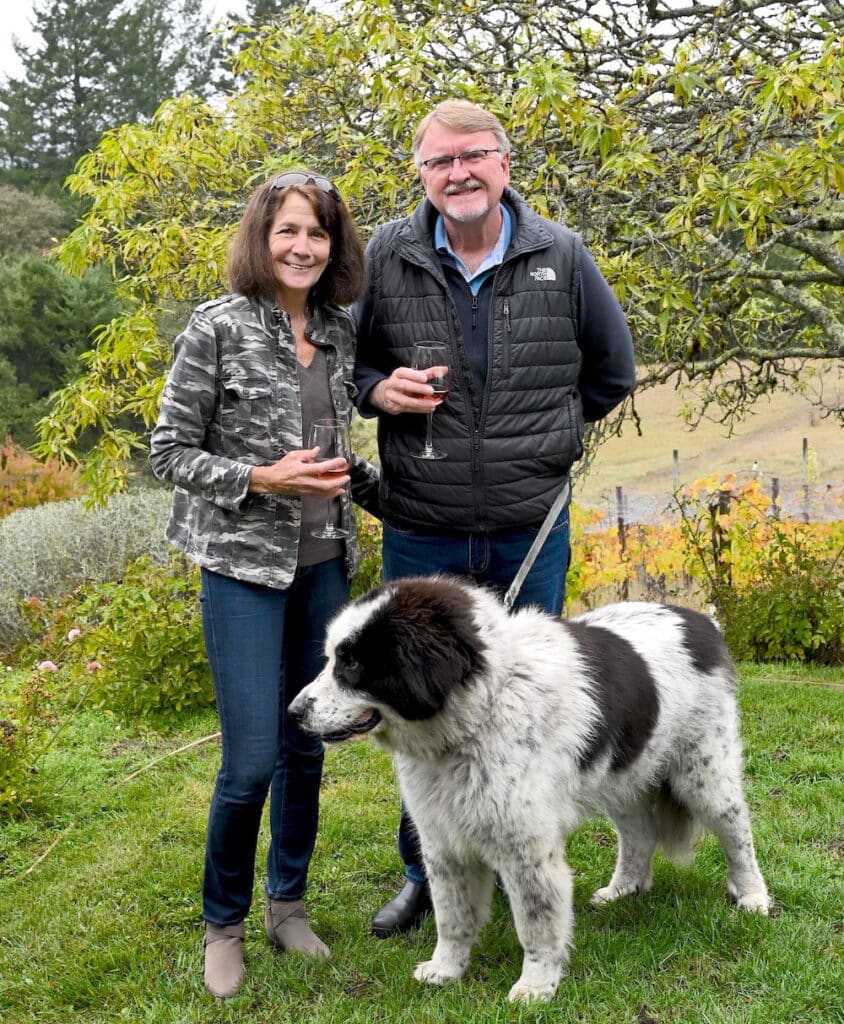 Fresh-shucked Kumamoto and Miyagi oysters paired with 2021 Little Sister California Sauvignon Blanc, a startlingly complex white wine that offers the perfect blend of crisp acidity, tropical notes, and herbaceous green flavors. The Halleck Vineyard Sauv Blanc was judged "Best in Class" by Sunset Magazine and has won Gold and Double Gold medals at numerous competitions.
Three Sons Cuvee Pinot Noir paired with Traeger smoked Filet Mignon. This Russian River Valley Pinot Noir – is lovingly named after their grown children Connor, Quinn, and Adam Halleck.
House-made Baked Salmon over curried Quinoa with green onions and cilantro, accompanied by curry aioli paired with 2021 Little Sister California Sauvignon Blanc.
Fresh Caprese salad, toasted butternut squash, and organic green salad with toasted walnuts, feta, and beets.
The dessert was freshly baked chocolate chip, oatmeal, and snickerdoodle cookies from the Sebastopol Cookie Company.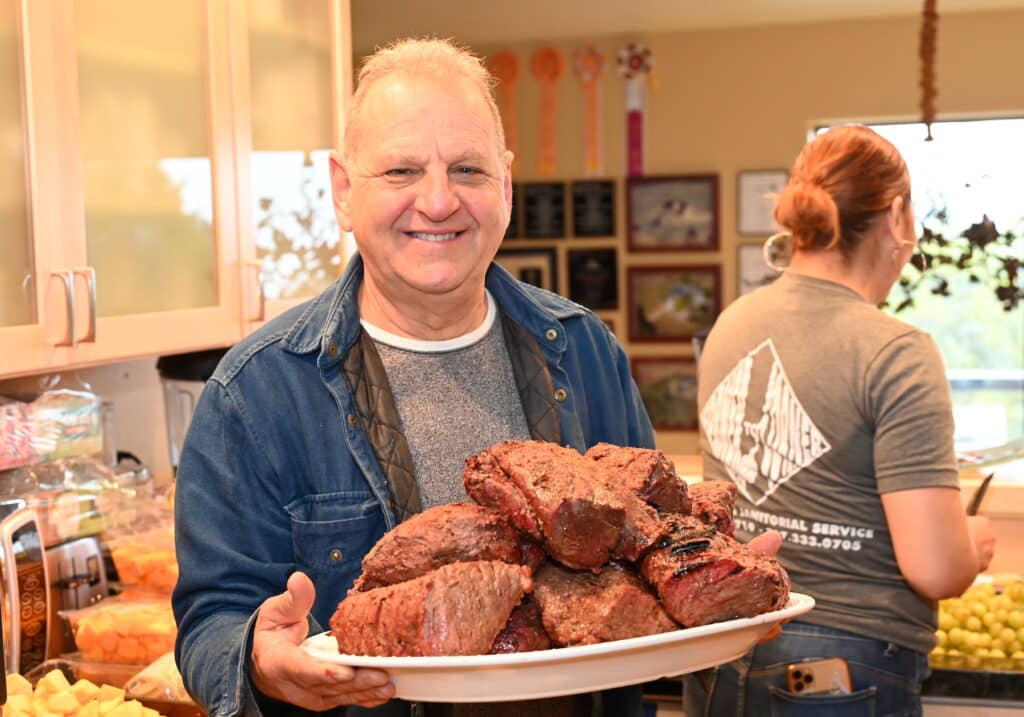 Upon arrival, guests were greeted with a tasting of the signature 2021 "Not Your Mother's" Dry White Zinfandel, the antithesis of the sweet White Zin from Sutter Home that was popular decades back.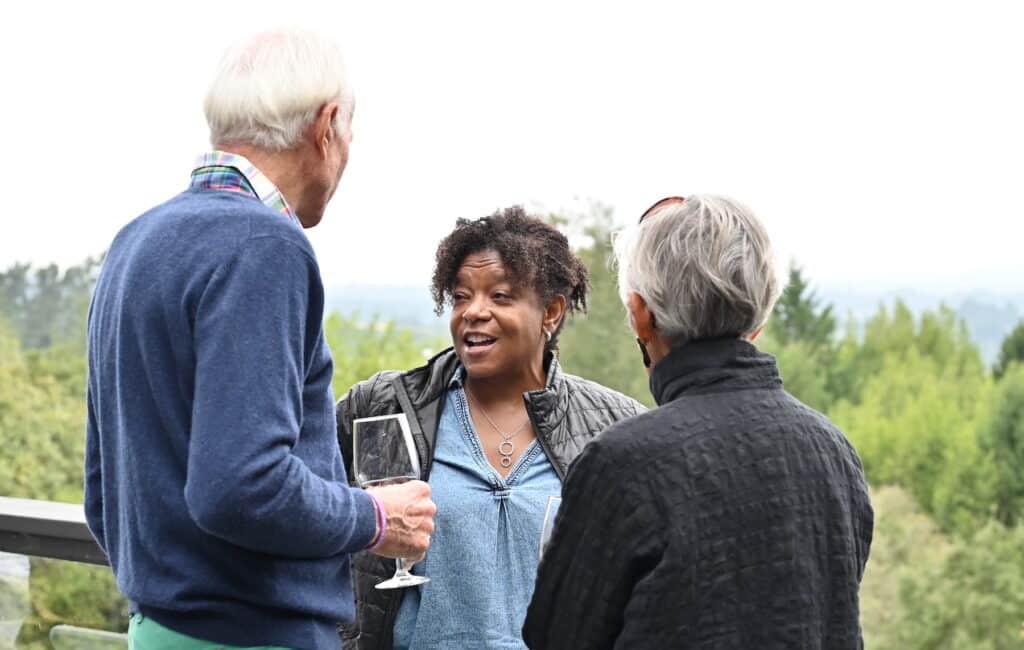 This Dry White Zin wine features full floral notes and bright, crisp acids that blend with minerality on the mid-palate, offering flavors of subtle strawberry, rose petals, and other floral notes, with hints of apricot and zero sweetness.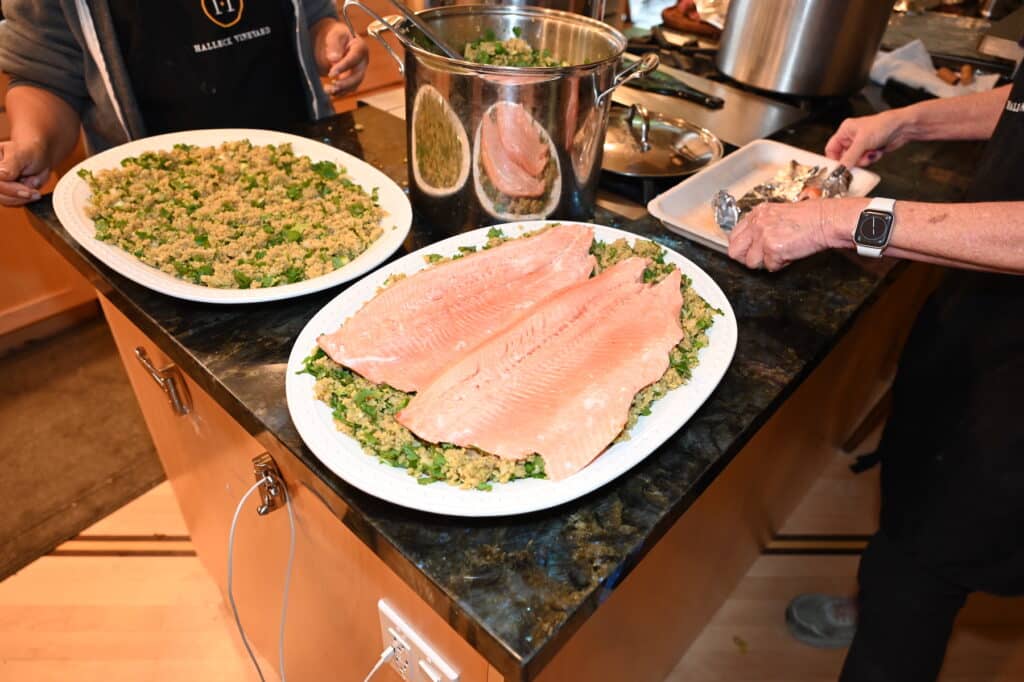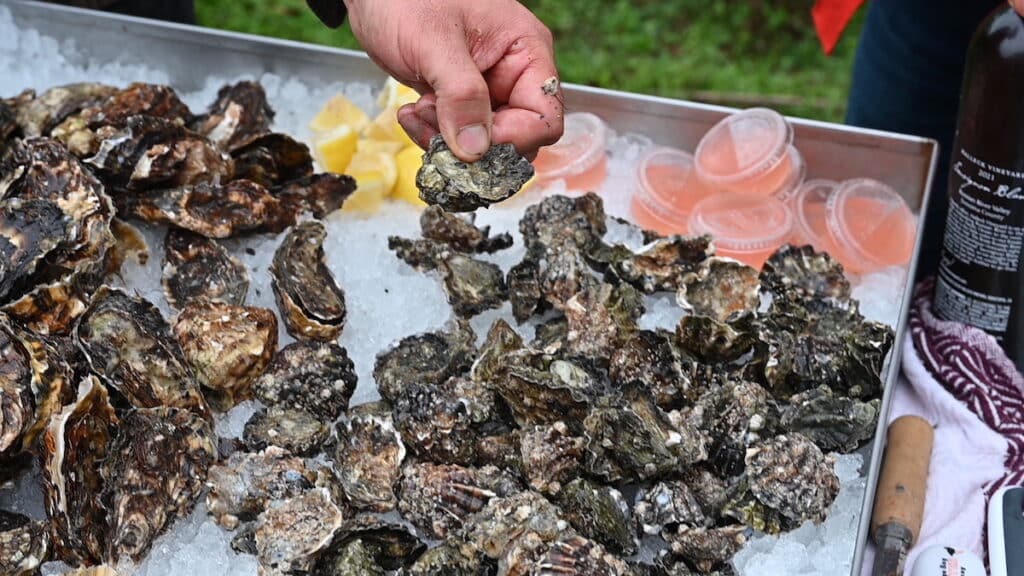 Immediately following, club members and their wine harvest party guests were invited under the festive library wine tasting tent in the garden to sample an ensemble of past vintages poured from youngest to oldest, each of which is described by wine steward Harris Miner in these wine tasting notes:
Russian River Valley Pinot Noir, 2013 Three Sons Cuvee
The nose leads with dried cherry, thyme, Canela cinnamon, and dried leaves. Great roundness in the mouth with a lingering sweet spice on the finish. This vintage shows more earthiness than its predecessors, tipping its California hat toward Burgundy in the east. More info on this Russian River Valley Pinot Noir.
Sonoma Coast Pinot Noir, 2013 Clone 828
This Gold Medal Winner at the 2022 San Francisco Chronicle Wine Competition features tart pomegranate, cedar, and well-aged tobacco wafting out of the glass. The tobacco combines with a leathery richness on the palate. This wine has some life left in it yet, drink now or hold because this Pinot Noir will only continue to improve over the next 3-5 years. More info on 2013 Clone 828 Pinot Noir.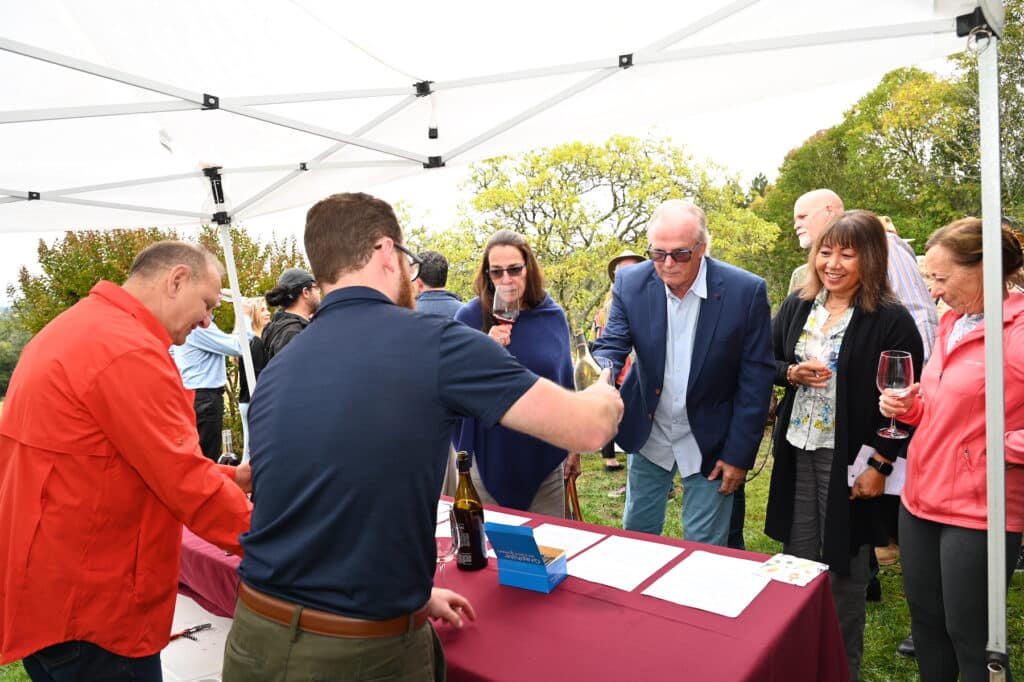 Sonoma Coast Pinot Noir (Magnum), 2012 Estate-Grown
Grown in the oldest publicly accessible Pinot Noir vineyard in Sebastopol, this beautifully expressive nose is filled with alpine herbs, brandied cherry, smoke, and white pepper. Guests visiting the Estate can walk the vineyards, a unique part of any Sonoma wine tour experience. The mouthfeel is rich and indulgent, with smooth tannins and a long finish that speak to the age of this wine. Yet it is still surprisingly bright for its age. Should only improve over the next 10-15 years. More info on the 2012 Halleck Vineyard Estate Grown Pinot Noir, made from the fabled one-acre vineyard surrounding the estate.
2010 The Farm Pinot Noir
This Pinot Summit Gold Medal Winner is surprisingly bright, given its age. Balanced acidity with orange zest and bright pomegranate. Black tea and toasty clove flavors abound, with a great minerality to finish. When this wine was made, the grapes were picked before sunrise, hand-sorted, and de-stemmed. They were cold-soaked for five days before going through whole-berry fermentation and receiving two punch-downs per day. This vintage is delicious now and will only improve over the next 10 years. Very limited reserves are available. More info on the 2010 Farm Sonoma Coast Pinot Noir.
Sonoma Coast Pinot Noir, 2008 Hillside Cuvee
Dried cranberry, damp earth, and a touch of Burgundy-like musk abound. The palate abounds with mushroomy forest floor, red fruits, and a certain rockiness that is the signature of this wine, even so, many years later. Hillside Cuvee is sourced from vineyards close to the Halleck Vineyard Estate, of similar elevation and character. More info on this Sonoma Coast Pinot Noir.
Russian River Valley Pinot Noir, 2007 Hallberg Ranch
The final Pinot Noir in the library tasting series was the 2007 Hallberg Ranch. Red plum and raspberry, both slightly desiccated and concentrated, are the first aromas to greet you. The fruit mixes with dried herbs and earth to create a comforting impression of a root cellar. The finish is long and satisfying, like the last sip of a pot of tea. Drink now. More info on the 2007 Halberg Ranch Russian River Valley Pinot Noir.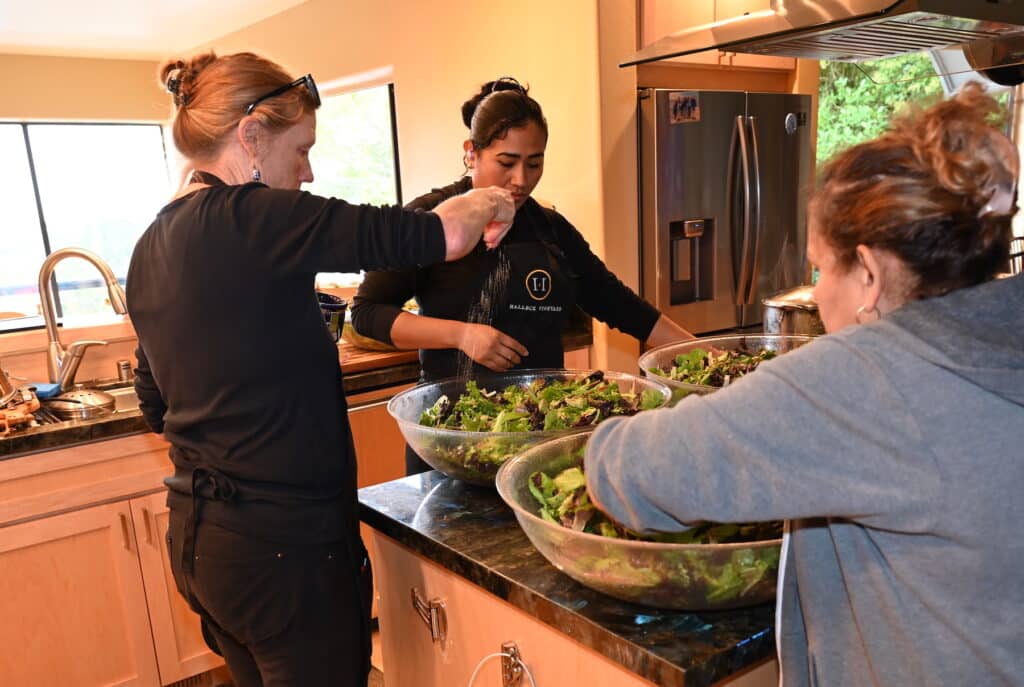 A local New Orleans-style band, The Pulsators, and a local teen trio, Gas Money, performed live music as guests mingled, danced, and enjoyed sweeping Russian River Valley views from what is one of the most beautiful wineries for Sonoma Wine Tasting.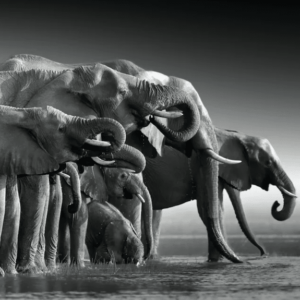 Join Sonoma vintner Jennifer Halleck on an unforgettable journey to Africa, where you will explore the wonders of this vibrant continent and share your passion for wine with fellow enthusiasts.…
Read More
What goes better with French food? French wines or California wines? Winemaker Ross Halleck of Halleck Vineyard in Sonoma County collaborated with Bar Boulud Sommelier Victoria Taylor in Manhattan on a private vintner dinner to find out. …
Sonoma Wine Tasting in Sebastopol