Best Wine for Peruvian Food at La Mar SF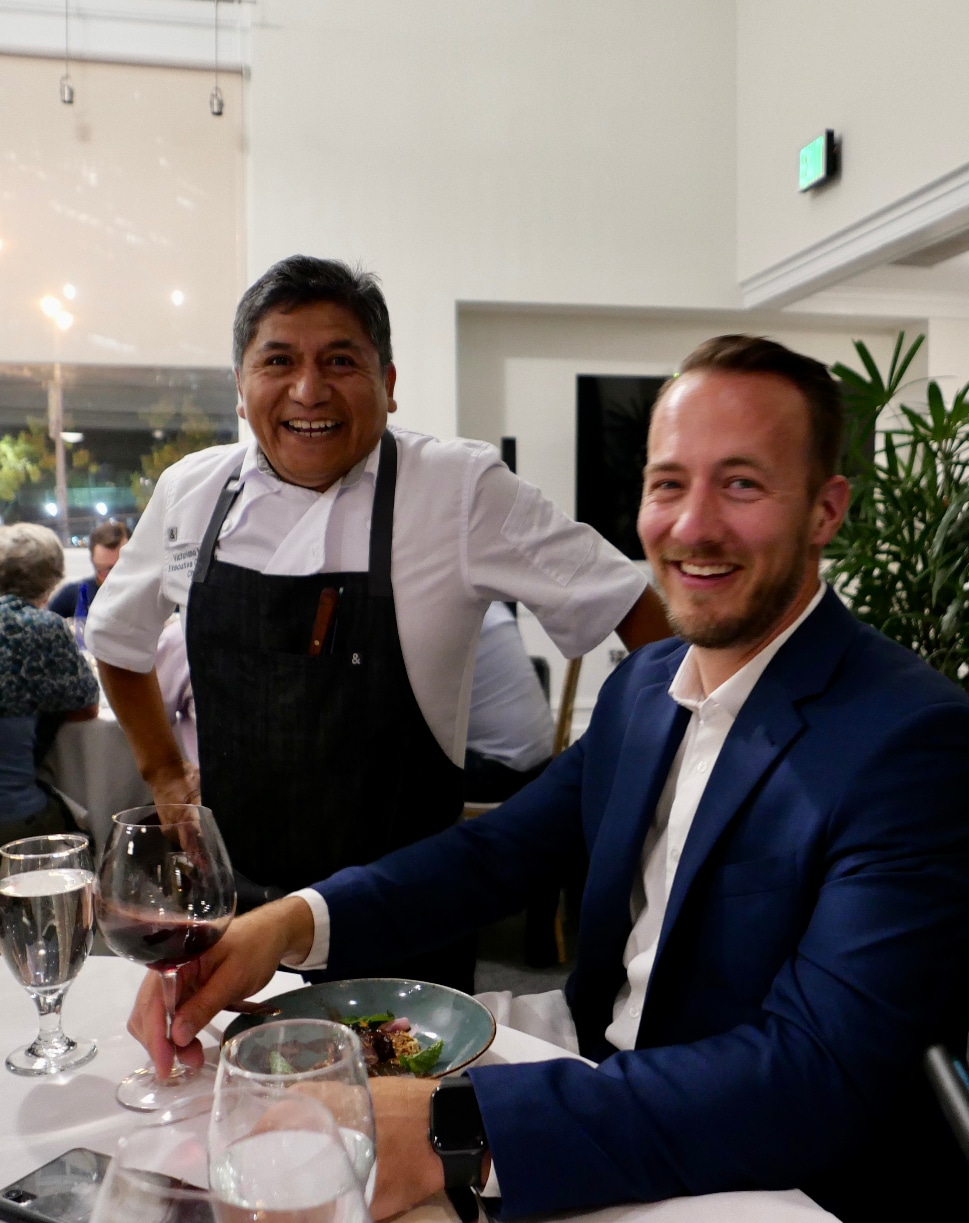 If you're looking for the best wine for Peruvian food, this post is for you. Executive chef Victoriano Lopez hosted a wine pairing dinner at La Mar SF, which included food and wine pairing with his delectable Peruvian recipes, showcasing some of the best wine for seafood with a Peruvian twist.
We usually imagine a Sonoma County Wine Tasting paired with a charcuterie board of hard and soft cheese, cured meats, pickles and olives. Those are familiar flavors, so they're easier to balance with different wine varietals.

And food and wine pairings are all about balance. Henri Matisse once wrote that he dreamed of art in balance. But pairing Peruvian food and cool climate Sonoma wines requires a particularly nimble approach.

I attended such a wine dinner event at La Mar, a Peruvian Restaurant at the Embarcadero in San Francisco, California. Executive Chef Victoriano Lopez collaborated with Wine Country vintner Ross Halleck to explore daring flavor combinations at a private dinner for Inner Circle Wine Club members.

Peru's dynamic culinary traditions developed over nearly 500 years of cultural fusion. European, West and Central African, and Asian immigrants arrived with their own culinary styles, which became intertwined with the indigenous Inca styles and flavors.

"There is so much biodiversity in Peru," says La Mar General Manager Thomas Medl. Not only does quinoa originate from Peru, the country has 159 microclimates and 2000 types of potatoes."

For those who haven't enjoyed Peruvian food, it can be a surprise to see the transformation of simple ingredients like corn.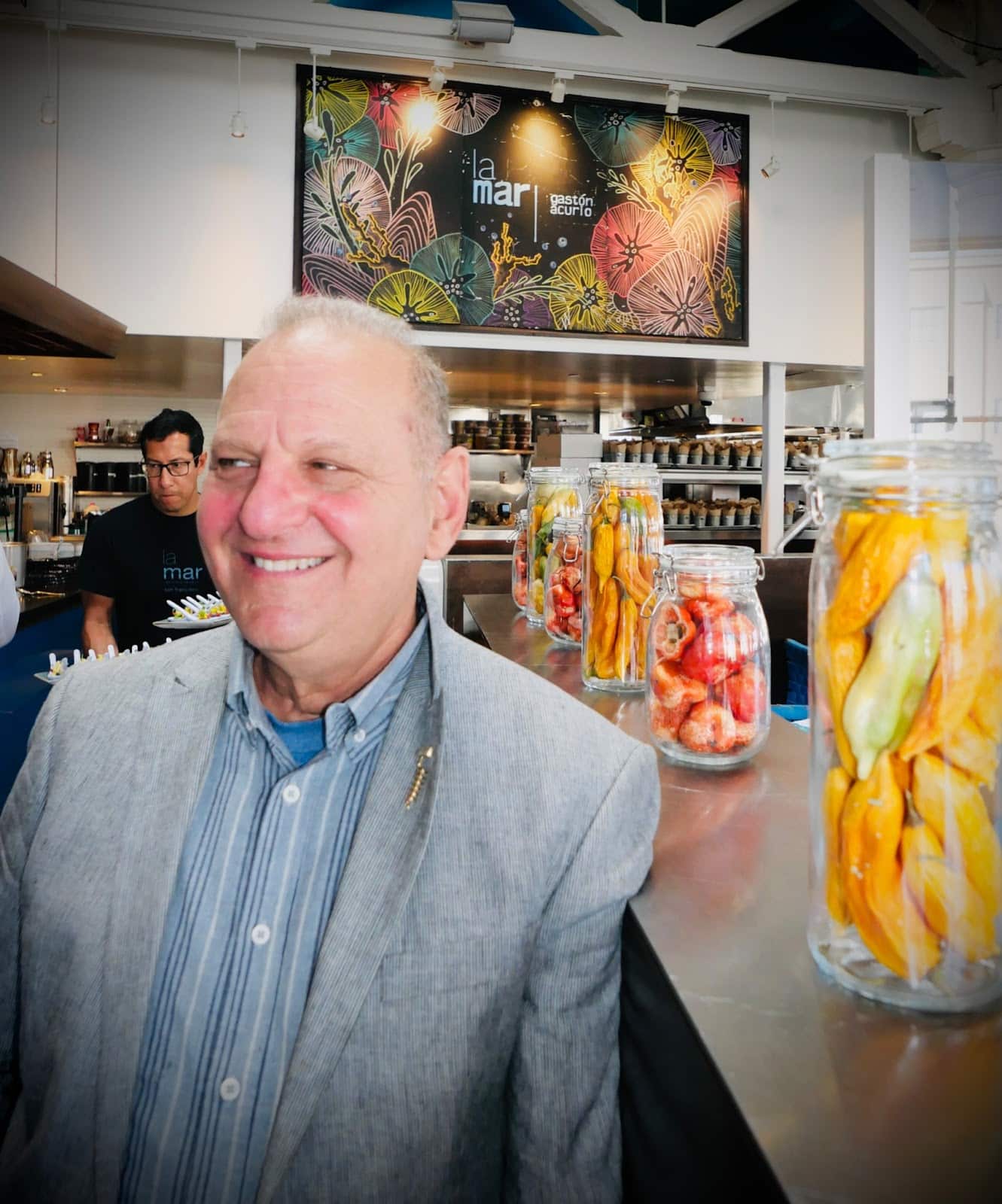 Earning the Best Wine for Peruvian Food Designation
Located in Sonoma Valley in the hills of Sebastopol, near the Russian River in western Sonoma County, Halleck Vineyard is one of the highest-elevation vineyards in the county. It is also the oldest accessible vineyard in Sebastopol that you can visit. Halleck Vineyard was the first publicly accessible Pinot Noir vineyard that you can tour in Sebastopol.
Founded in 1993, the family-owned winery began receiving top honors as soon as its first vintage of Pinot Noir was released in 2002. "We are intent on being in harmony with the land," Ross explains.
Communities are built through shared experiences, often around the dining room table at Ross' home. If you've never been, Sonoma County and Napa Valley are just 2 hours away from each other by car. But the vibe is world's apart. Napa is where the large production wineries operate large-scale tasting rooms. Sonoma County, on the other hand, is home to more small production wineries. In Sonoma County, the person pouring in the tasting room is likely the winemaker who also tended the vineyard, called the pick date, and oversaw the winemaking process.

That is the case with Halleck Vineyard. They have raised hundreds of thousands of dollars for art education by harnessing the power of the wine community to fund philanthropic causes, and sponsor many a Sebastopol charity. "It all began with a small plan to plant a one-acre vineyard. That one-acre vineyard allowed me to make the world a better place," says Ross, who hosts guests at intimate wine tasting salons in his top-rated tasting room.

The La Mar and Halleck Vineyard food and Sonoma County wine tasting dinner began with a delightful amuse-bouché. Tuna sushi with micro greens and a drop of torch singed creamy pepper sauce.
---
---
1st Course Ceviche Victoriano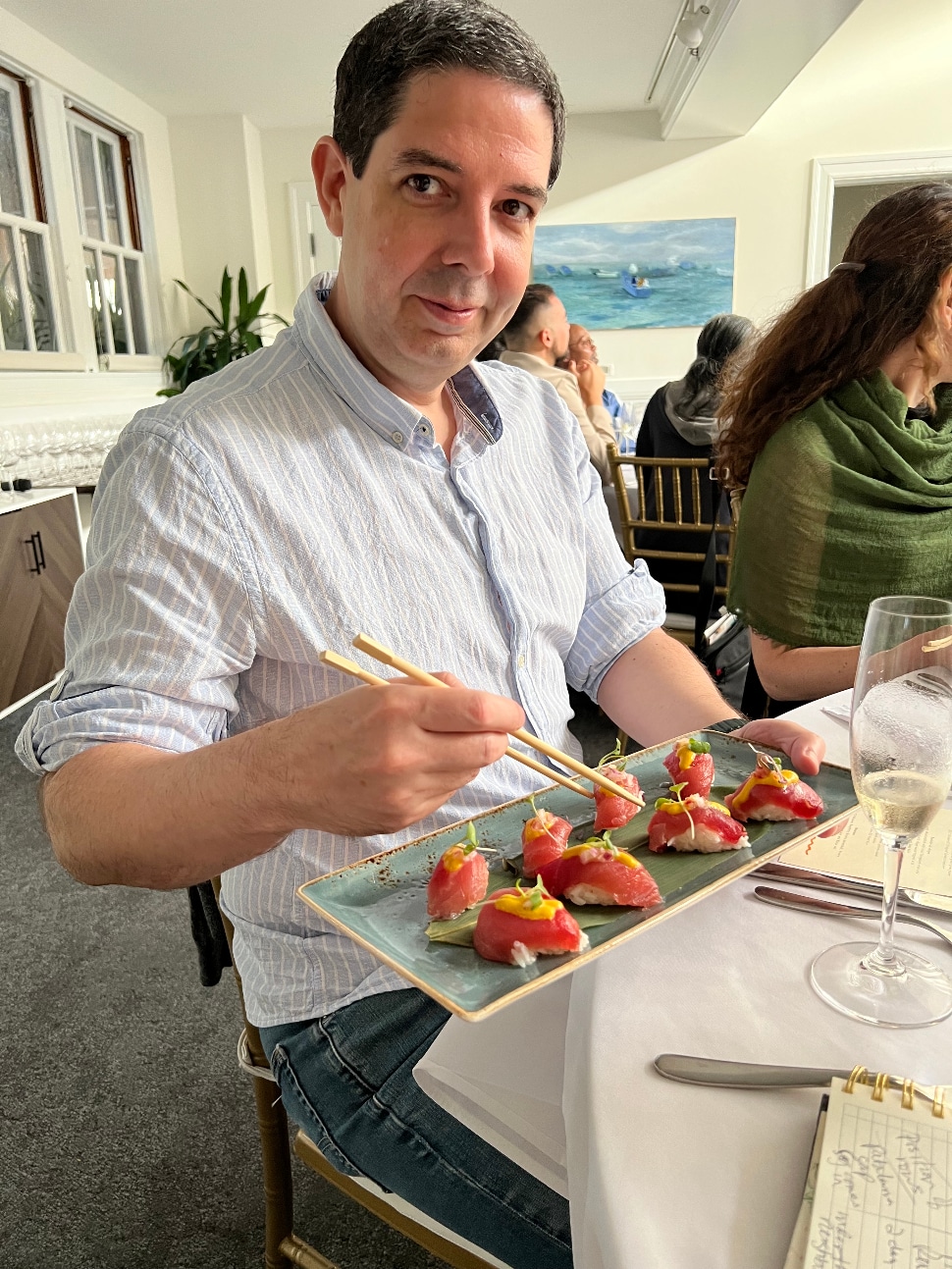 The meal started with local halibut in artichoke leche de tigre, the citrus-based, spicy marinade used to cure the fish that translates into tiger's milk.

The ceviche was served with artichoke chips, orange sweet potatoes, choclo (Peruvian corn). It was paired with Russian River Valley Chardonnay made with Sobre Vista grapes from the Sonoma Coast.

Peruvian dishes use a vibrant range of colors, "You can paint the dish with all range of colors," says Krzysztof Kaczka, food and beverage manager at San Francisco's Pacific Union Club, which pours an extensive list of Sonoma Valley wineries, including Halleck Vineyard.

The Sonoma County Wine Tasting dinner drew a diverse crowd. I sat with San Francisco residents Albert Kim and Yeara Jo, who recently attended a Sebastopol wine tasting at the Halleck Vineyard Winery estate. Peruvian Pablo Bariola and wife Sylvia attended because they are fans of La Mar. Our table discussed the evolution of ceviche in Peru where the seafood is served raw rather than marinated in lime juice 

The rich creaminess of the leche de Tigre received a little kick from a hint of pepper in the drizzle of olive oil that topped the dish.

It's not always possible to pair Chardonnay and ceviche. "Most Chardonnays don't have enough lean acidity to pair well with ceviche or sushi," says Ross.

Halleck's 2020 Sobre Vista Vineyard Chardonnay is intentionally fashioned like a white Burgundy. It has less alcohol than most American Chardonnay, less sugar and a light mouth feel because the wine sees very little oak and does not undergo malolactic fermentation.

The nose reflects the floral aromas of apple blossom and flavors of green apple, sour fruits, sweet peas and green tea.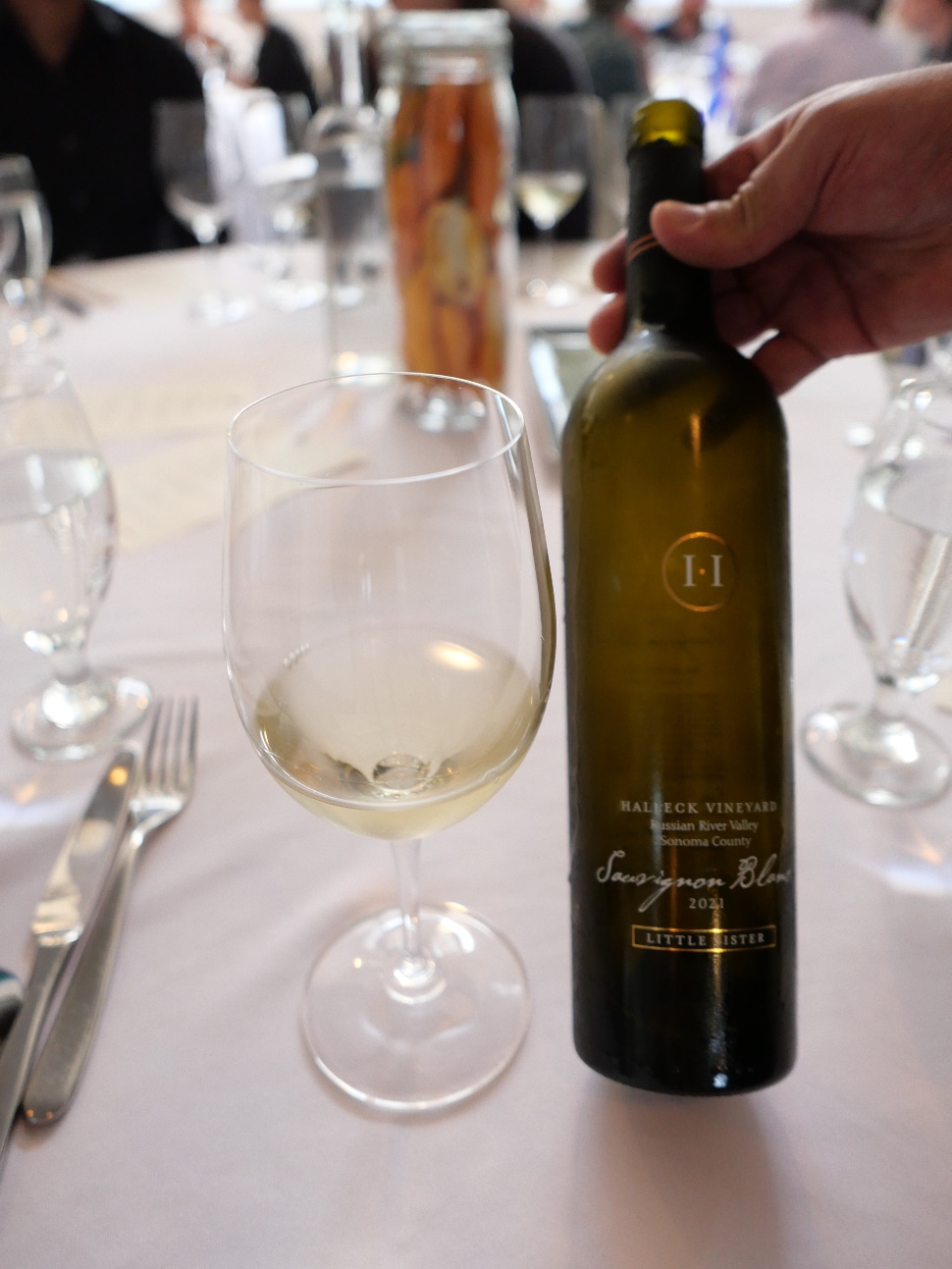 2nd Course El Poderoso with Sauvignon Blanc
The second course was the standout favorite. Maine live scallop, Santa Barbara sea urchin, and Kumamoto oyster served on smoked aji Amarillo sauce and paired with 2021 Little Sister California Sauvignon Blanc.

Artistic in its presentation of colorful morsels and special flavors, when the dish arrived, it reminded me of Henri Matisse's famous 1912 painting Goldfish for several reasons. 

Matisse's semi-still life features a glass cylinder housing bright orange goldfish on a table. Big, bright yellow Peruvian peppers in a glass cylinder served as the centerpiece of our table. 
Even though it's costly and a challenge to source, the aji pepper is an extremely versatile ingredient.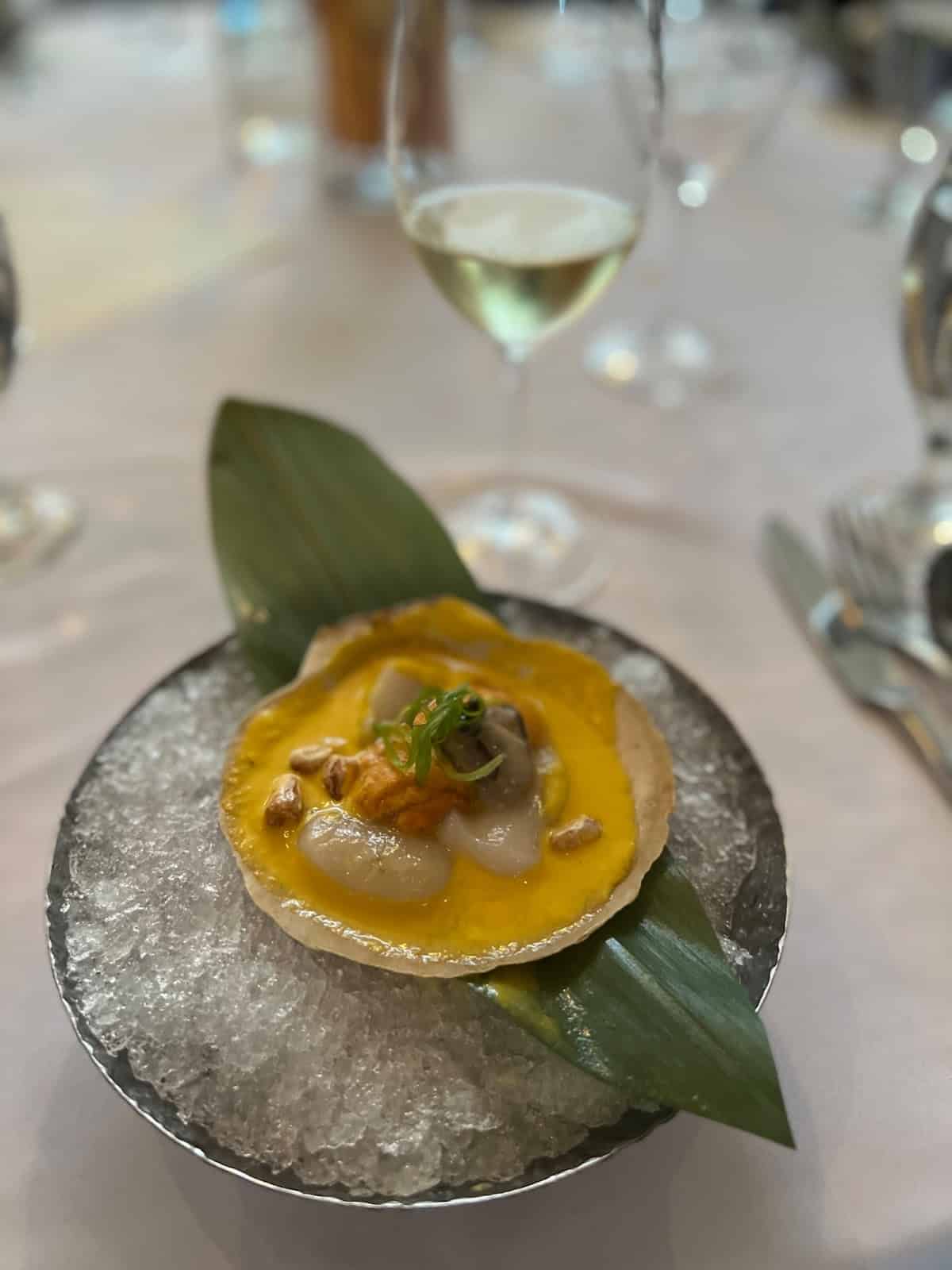 In Matisse's painting, the table is decorated with tropical dark green leaves surrounding colorful fruit. Chef Lopez's El Poderoso was served in a scallop shell framed by banana leaves arranged with a similar look.

Albert shared that he gets an almost geographical feeling from uni, depending on the region from which it's sourced. "You imagine being in front of the beach in Santa Barbara," he mused while describing its "lovely fatty, kelp flavor."
"Peruvian sea urchin is very intense, like being swept over by a wave," Pablo explained.
For Krzysztof, the provenance of the uni can be compared in significance to the concept of terroir for wine.
The 2021 Little Sister Sauvignon Blanc paired nicely with the oyster, lending it a floral characteristic. The dish was extravagant in its use of high-quality ingredients, and the flavors were magnified by the Sauv Blanc, truly one of the best wines to pair with seafood.
In fact, Sommelier Jose Delgado at Mourad says this Sauvignon Blanc is also the best wine with Salmon.
3rd Course: Los Tres Socios with Dry Gewurztraminer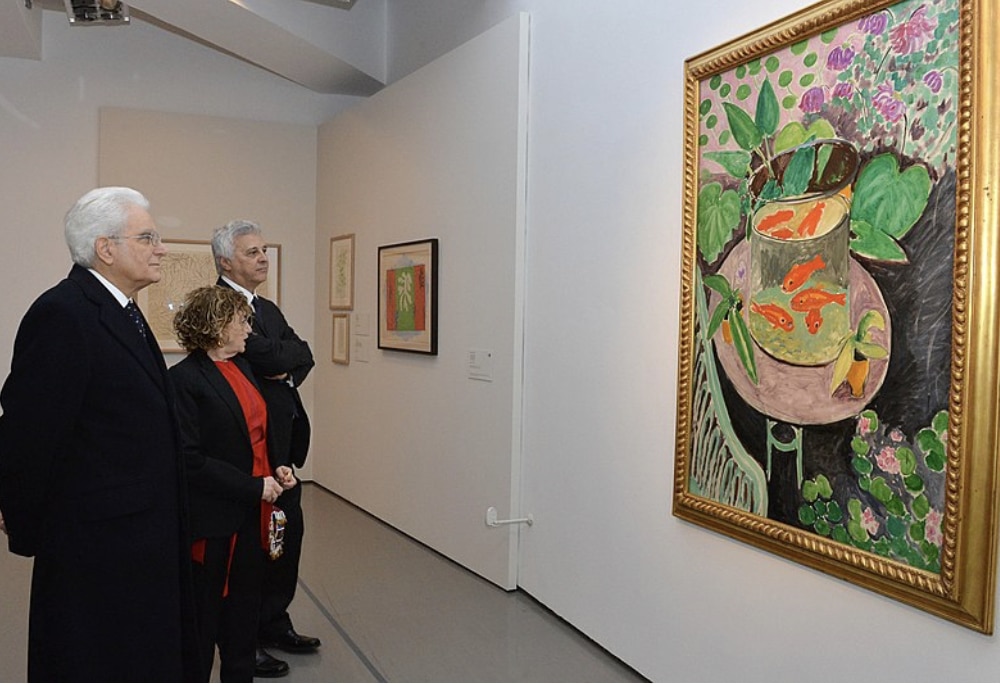 The 2021 Calandrelli Vineyard Dry Gewurztraminer was paired with Ahi tuna collar, Alaskan halaszk halibut cheeks, Hiramasa belly, glazed with nikkei sauce, served on green peas puree. This German-style wine has aromas of rose petals and lychee. But don't be fooled. It is not sweet and is made bone dry, in an Alsatian style.

The meatiness of the fish – which had a spicy barbecue flavor courtesy of the glazed Nikkei sauce – paired quite nicely with the Dry Gewurztraminer, a favorite among guests at Halleck Vineyard Sonoma County Wine Tastings.

The dish took a culinary detour toward India in style with whole green peppercorns that thankfully weren't insanely hot and a pea puree that was a colorful and savory compliment.
4th Course: Ravioli de chupe with Dry White Zinfandel
Sous Chef Ricardo Younis shared that he drew on his Italian heritage experience. He created this Squid ink pasta stuffed with local Dungeness crab and shrimp, covered with chupe sauce, topped with quail egg and fried kale.

The chupe sauce was Peruvian by design but paired perfectly with the Rosé 2021 Not Your Mother's Dry White Zinfandel. I thought it nudged the dish into a new Italian flavor profile. 

Also, the spring onion, sesame oil and dim sum seasoning of the dish accentuated the Asian influence on Peruvian cuisine. 

Purely Peruvian ingredients, like the smoked Amarillo sauce and dried lima beans, were topped with a surprising addition: a quail egg.

It was as though the tone of the meal shifted in order to give us a view of a completely different aspect of Peruvian cuisine. 

For Sylvia, it was as though the diners had climbed a mountain in four courses. "We went from sea level to the Andes in this dish," she opined.

Unlike most White Zinfandel, the 2021 Not Your Mother's Dry White Zinfandel was made in an intentionally dry, direct-pressed style after wine club members started requesting a Rosé. 

The wine has flavors of stone fruit, including maraschino cherries, and is unctuous but lean, with high acidity and not sugary to the taste. The wine's spirited pink color reminded me a bit of bubblegum. 
5th Course: El Adobowith 2018 Clone 828 Pinot Noir
In my book, the Berkshire pork cheek in adobo with quinoa tamal and pickled onions paired nicely with 2018 Clone 828 Pinot Noir. Presented in a traditional way and made with vinegar to marinate the meat imparted a sensational tangy flavor. The dish was accompanied by quinoa to balance the intense flavor of the pork. It was parallel to the Pinot's acidity and was the perfectly paired sip.

The wine shows flavors of baking spice, tobacco, and rich fruit, as well as a chalky minerality that comes from the soil. Its garnet color is in sync with the bright, refreshing flavor. The wine is balanced and restrained rather than overpowering, making it a delicious tasting experience.
---
---
Dessert: Peruvian Chocolate with 2018 Haas Vineyard Pinot Noir
The last course was Fortunato N4 Mousse raspberry rocoto marmalade, brown butter financier, chocolate lace and maras salt. It was paired with 2018 Haas Vineyard Pinot Noir from Sonoma Mountain. This is a leaner Pinot from an area that for many years was considered undesirable for growing Pinot, but has since become a sought-after AVA. 

The nose is more floral with a hint of anise. Its slightly barnyard aroma indicates that it will likely age well. The wine reveals darker tannins and is lower in alcohol at 13.1%. 

The dish was designed to give the sense of the Andes mountains. The perfectly dry mousse was both flavorful and rich but not overly so and shaved slices of Amazon chocolate added a delicate outer structure to the dish. The raspberry marmalade featured spicy pepper from the south of Peru and the finishing touch was a dusting of green matcha powder. 

Peruvian food and Sonoma County wines are both magical. They guide visitors through an entirely unexpected food and wine tasting experience. La Mar combines the best of both worlds in a fresh and exciting way, in the heart of San Francisco. 

Although many of the dishes featured ingredients that might be difficult to source, the evening was a great reminder of something we all know already. The best flavors come from the freshest ingredients. I left inspired to experiment with spices and techniques in order to color outside of the traditional culinary lines. I was reminded to stay open to new food and wine pairing ideas. I am delighted to seek out wine varietals that can enhance dishes as unique as those conjured up at this memorable Peruvian Sonoma County wine tasting event.

 

 

 

 

 

 

 

 

-30-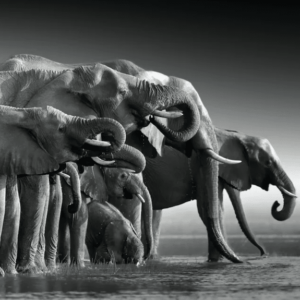 Join Sonoma vintner Jennifer Halleck on an unforgettable journey to Africa, where you will explore the wonders of this vibrant continent and share your passion for wine with fellow enthusiasts.…
Read More
What goes better with French food? French wines or California wines? Winemaker Ross Halleck of Halleck Vineyard in Sonoma County collaborated with Bar Boulud Sommelier Victoria Taylor in Manhattan on a private vintner dinner to find out. …
Sonoma Wine Tasting in Sebastopol