Sonoma Coast vs La Crema Monterey Pinot Noir (Wine Review)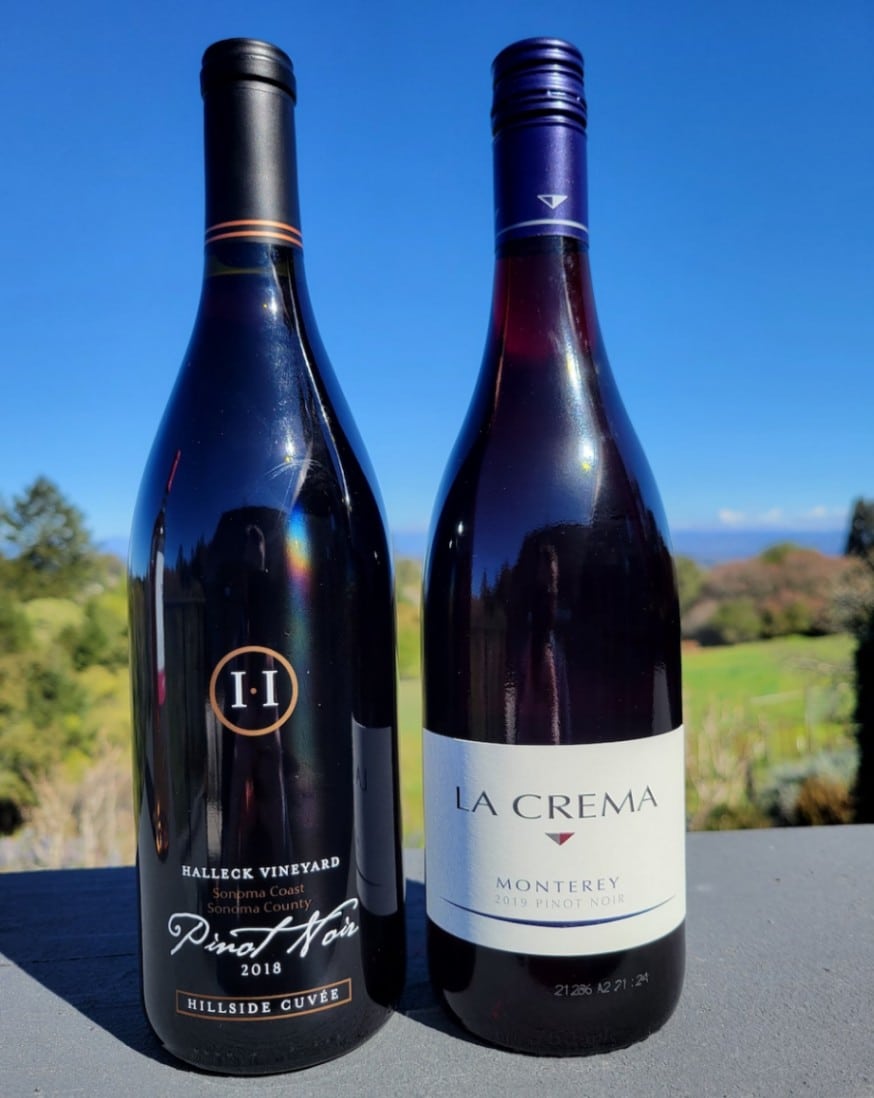 In this wine review Ross Halleck and Harris Miner are in Sonoma wine tasting and enjoying two California Pinots; La Cream Pinot Noir from Monterey and Halleck Vineyard Hillside Cuvee from Sonoma Coast.
La Crema Monterey Pinot Noir Tasting Notes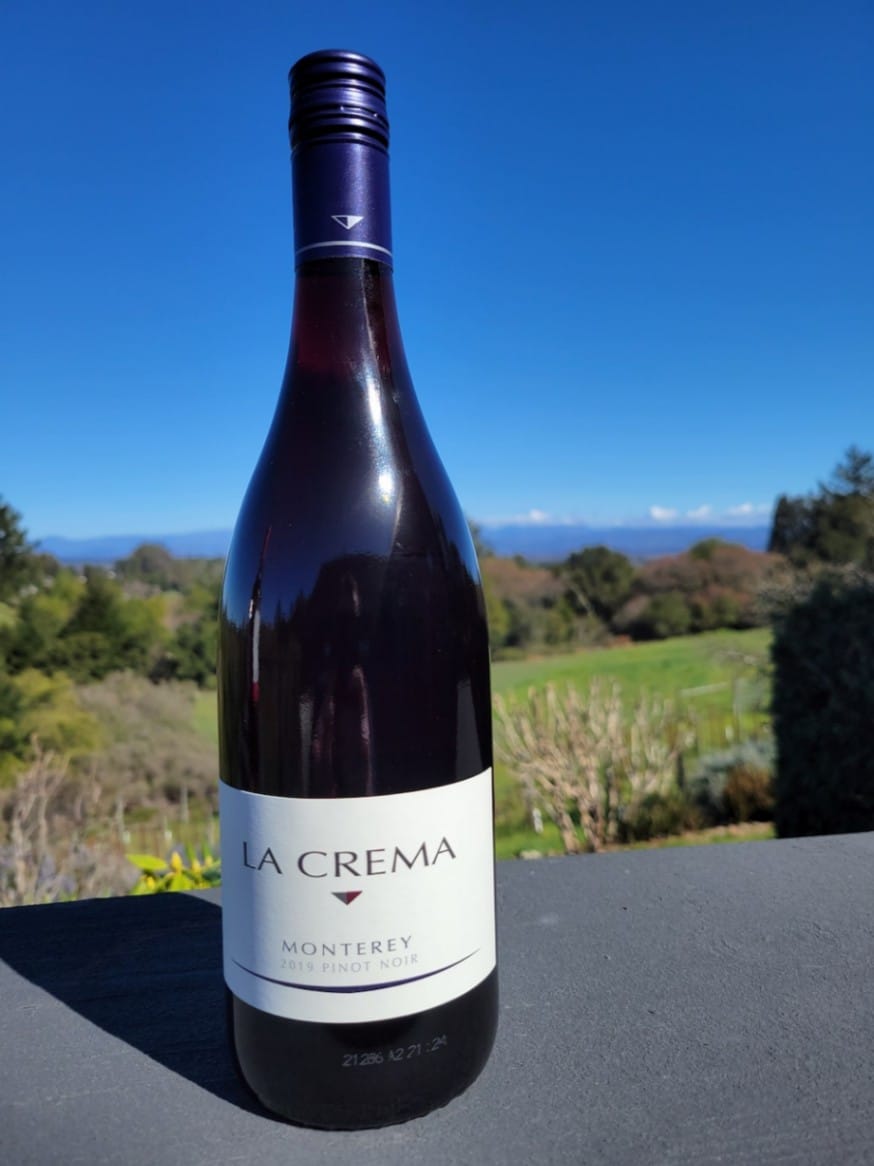 La Crema Monterey Pinot Noir is one of the most popular wines in the world. It's been instrumental in creating a market for this grape that eventually overtook Cabernet in the marketplace. Such a monumental shift took place, in part, through crafting single-vineyard wines with impeccable fruit. Although a Russian River Valley winery, La Crema has a major presence in vineyards up and down the Sonoma Coast. And there's enough soil variety here to rival all of France.

Monterey is Pinot Noir's dreamland, planted on south facing slopes of the Santa Lucia Highlands. The grapes here, on average, enjoy an extra forty-five to sixty days of development on the vine compared to other northern viticultural areas. Its distinctive physical geography, which includes cooling fog and natural wind tunnels, gives it one of the longest growing seasons in the world.
The color of La Crema is bright red and dark orange, garnet-like. There's some toasted oak and butterscotch at the top of the nose. Then cherry and plum in one nostril, mushroom and beef jerky in the other. As a contrast, it's rich and coating on the palate, round easy tannins. The wine wavers between spice and fruit, dried cherry and beef jerky. Then it drops off at the end like somebody not wanting to be seen sneaking out of a party.
Brand: La Crema
Country/State: California
Vintage: 2019
AVA: Monterey
Varietal: Pinot Noir
Style: Elegant
Body: Medium Bodied
Alcohol By Volume (ABV): 13.5%
Retail Price: $26
Restaurant Price: $50
Pairings: beef jerky, margarita pizza, mushroom jerky
---
---
Halleck Vineyard Sonoma Coast Pinot Noir Tasting Notes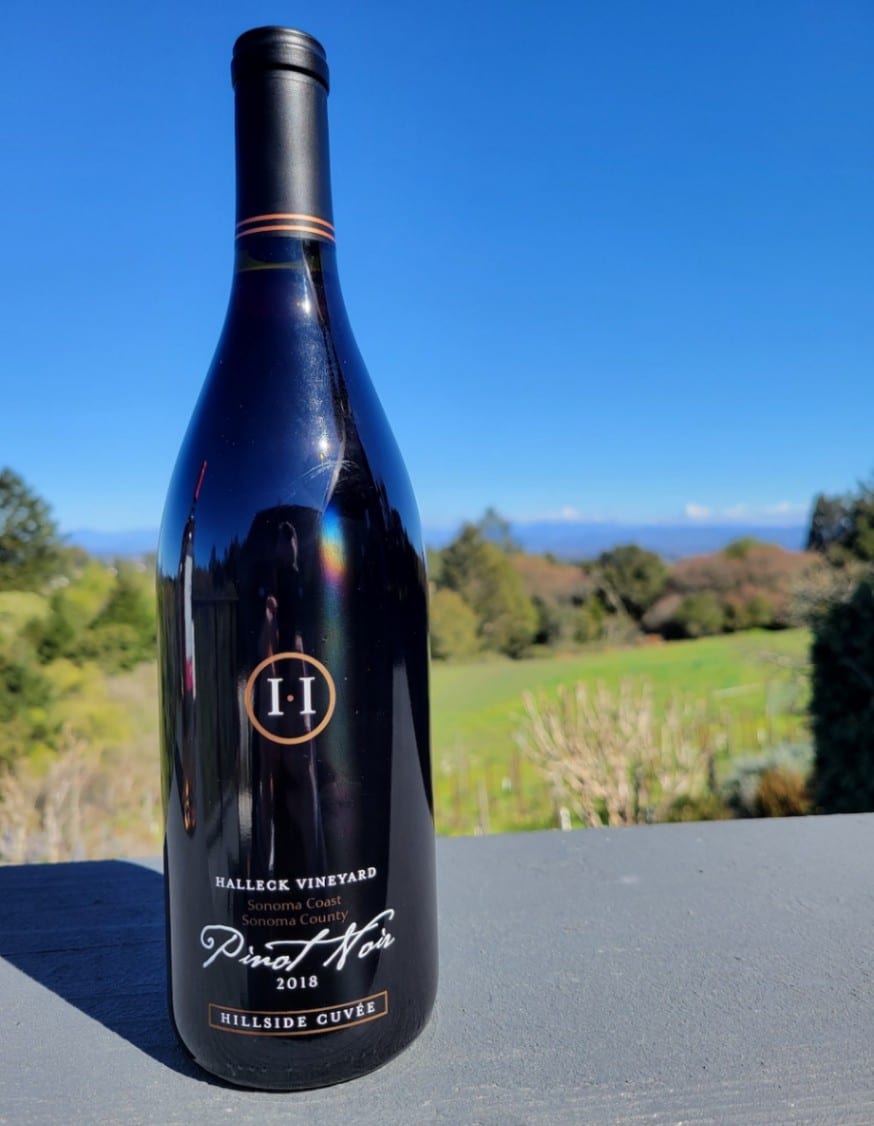 In our Kosta Browne Pinot Noir review, we mentioned that winemaking styles are as diverse as weather patterns and soil structure. Along with terroir, these techniques of oenology create the wine experience. And this is the source of wine's enduring and endless appeal: there's always something new to experience. Infinite possibilities. 

These possibilities are reflected in the broad range of microclimates along the Sonoma Coast AVA. It's a vast area of half a million acres, with only a small fraction planted to vine. A pure maritime climate, characterized by cooler temps and higher rainfall. Many of the most celebrated Pinot Noirs are grown in this region, which Halleck Vineyard is proud to call home. The vineyards for our Sonoma Coast Hillside Cuvee Pinot are located at the southern tail of the appellation, just North of Petaluma Gap AVA. They rest in a sheltered, pastoral valley and bask in the sun that breaks through the afternoon fog. Coastal fog and ocean breezes give Pinot Noir an almost spa-like growing season.
Though La Crema and Halleck are quite different in style and substance, they share a love for the expressive side of Pinot. The color here is more purplish, a lovely ruby glint. The fruit pops. Raspberry, cranberry, and a whiff of white pepper. Some chalkiness in the background, but this is more fruit than earth or mineral. Very bright mouthfeel, acidity that makes you stand up straight. It's not as lush as La Crema or Kosta Browne, but there is a tremendous layering of flavor. Bright red fruits, a musky, woodsy note, zipping along with a high energy fruit finish. A smooth, well-built rollercoaster.
Brand: Halleck Vineyard
Country/State: California
Vintage: 2018
AVA: Sonoma Coast
Varietal: Pinot Noir
Style: Elegant
Body: Full Bodied
Alcohol Content: 14%
Retail Price: $57
Restaurant Price: $100
Pairings: cedar plank salmon, melt-in-the-mouth pork belly, wild mushroom risotto
---
---
Wine Review (Video)
The Last Word
This area in California is profoundly effected by the San Andreas Fault. Constant tectonic movement has churned up a wild mix of rock sediment in the area. This was blended with glacial activity from the mountains nearby and led to the development of a nutrient dense clay-based soil. This cycle of soil uplift, erosion, and deposits created a potent patchwork of vineyards capable of producing world-class wine in either Monterey or Sonoma. Mother Nature at her best.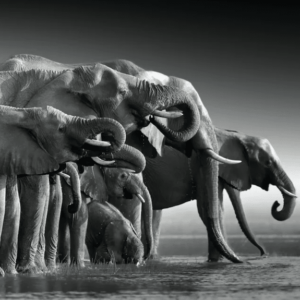 Join Sonoma vintner Jennifer Halleck on an unforgettable journey to Africa, where you will explore the wonders of this vibrant continent and share your passion for wine with fellow enthusiasts.…
Read More
Although they are based in west Santa Rosa, DeLoach has every right to call themselves a Russian River Valley winery. Sure, they also source fruit from the Sonoma Coast,…
Sonoma Wine Tasting in Sebastopol