Wine Wars: Tasting Showdown Between French Wine and California Wine at Bar Boulud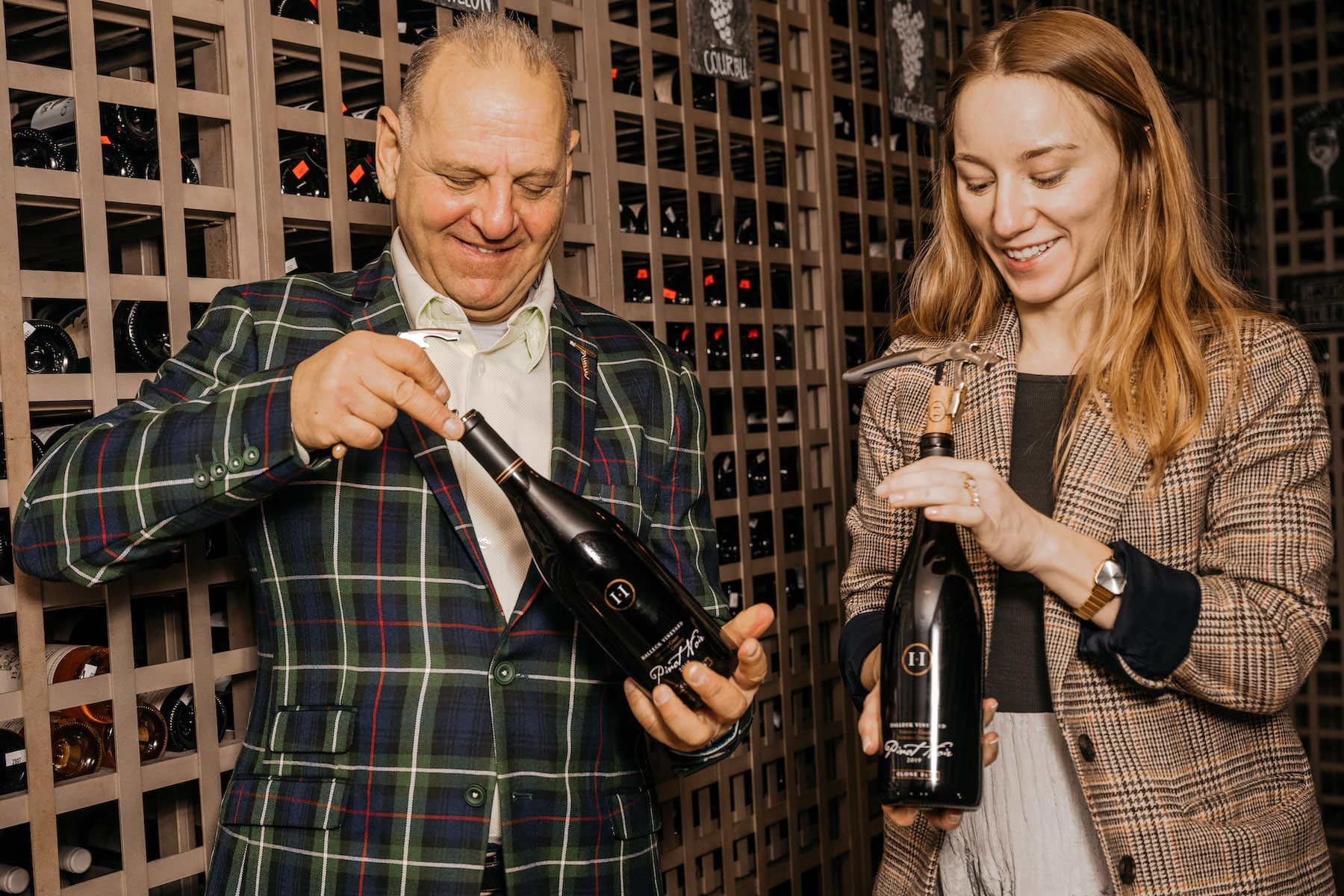 What goes better with French food? French wines or California wines? Winemaker Ross Halleck of Halleck Vineyard in Sonoma County collaborated with Bar Boulud Sommelier Victoria Taylor in Manhattan on a private vintner dinner to find out.
They compared 4 award-winning, small-production California wines from the Halleck Vineyard boutique Sonoma winery in the West Sonoma County town of Sebastopol with 5 French wines, all carefully paired with contemporary French dishes from one of the most celebrated French chefs in America.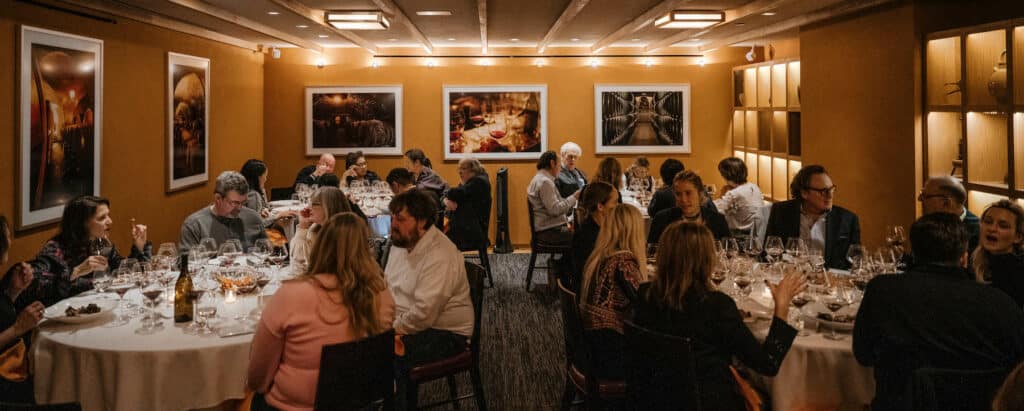 The French wines, selected by Taylor, all had similar grapes to the Halleck Vineyard varietals They were served with the California wines to illustrate the variations in styles and terroir. The wine dinner was hosted for members of the Inner Circle Wine Club and regular customers of Bar Boulud in their resplendent and cavernous underground wine cellar located near Lincoln Center in Manhattan.
---
---
The bistro was founded by Daniel Boulud, a French-born chef and restaurateur renowned for his contemporary French cuisine. Born in Saint-Pierre-de-Chandieu, France in 1955, he began his culinary training at 14 and has worked in some of the most prestigious kitchens in France including the Michelin-starred restaurants Le Moulin de Mougins and Le Cirque in New York City.
In 1993, he opened his first restaurant, Daniel, in New York City, which has earned 2 Michelin stars and is considered one of the best French restaurants in the US. He has since opened several other successful restaurants in New York City, Las Vegas, Miami, Singapore. He has won numerous awards for his culinary achievements, including the James Beard Outstanding Chef Award and the Chevalier de la Légion d'honneur from the French government.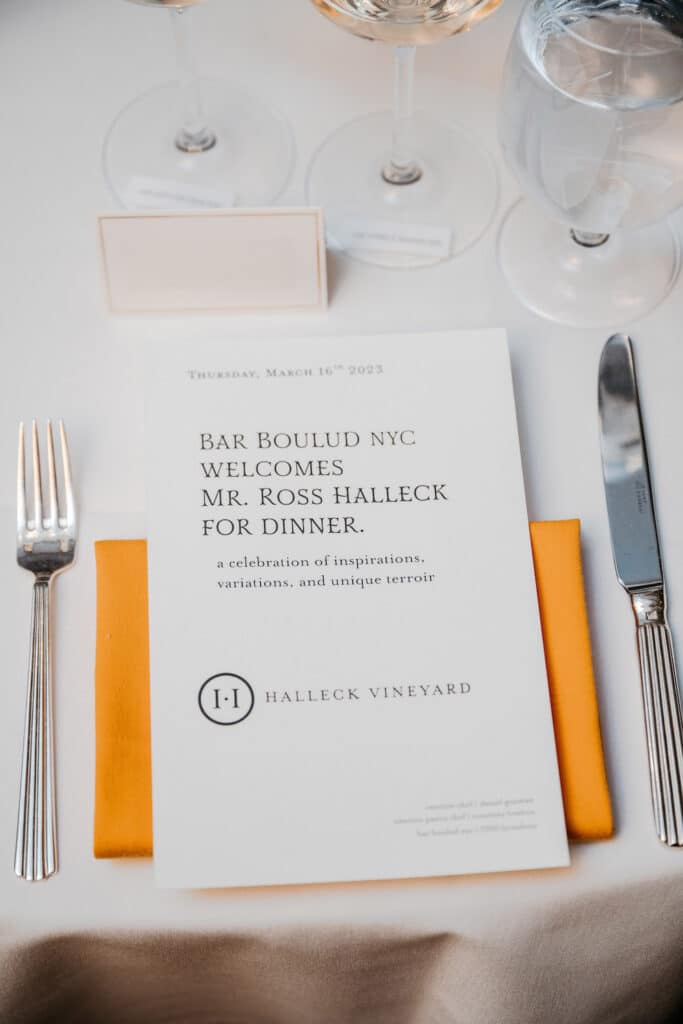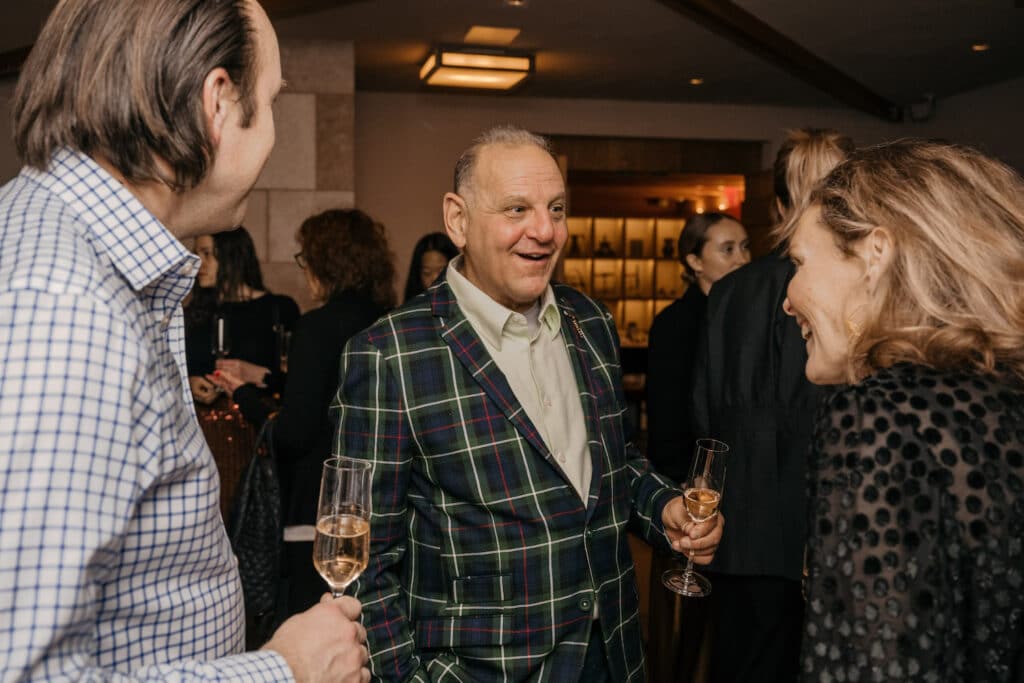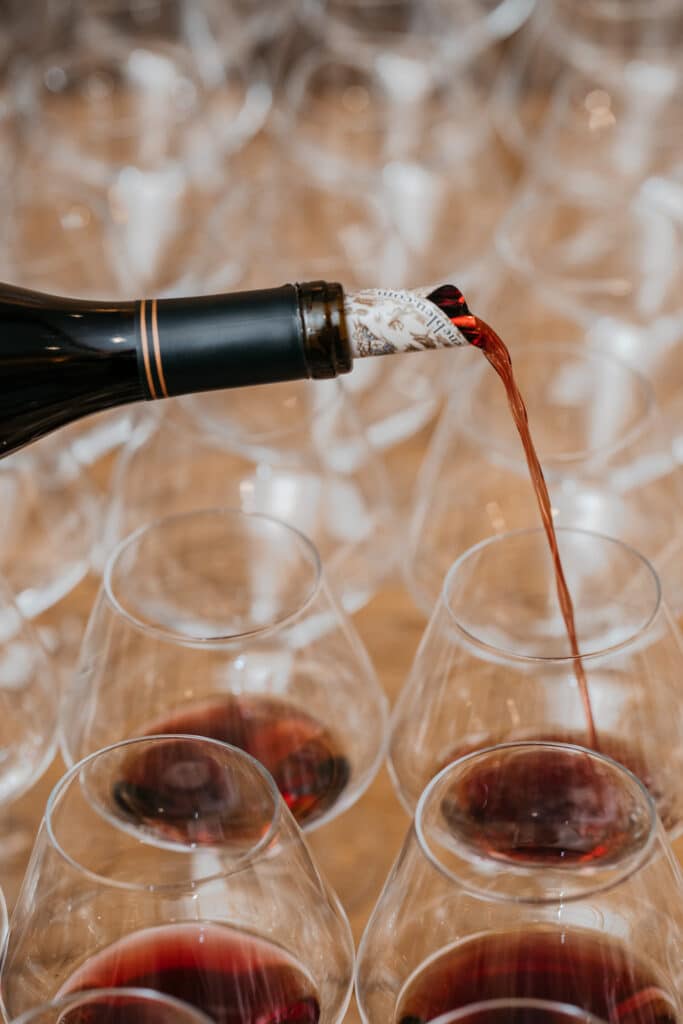 Since pairing wine with Mediterranean food is something we get asked about about a lot, we previously covered pairing the Halleck Vineyard Hillside Sonoma Coast Pinot Noir with the signature basil fruit spiced Rohan Duck entree served at Chef Boulud's standout New York City Mediterranean restaurant, Boulud Sud.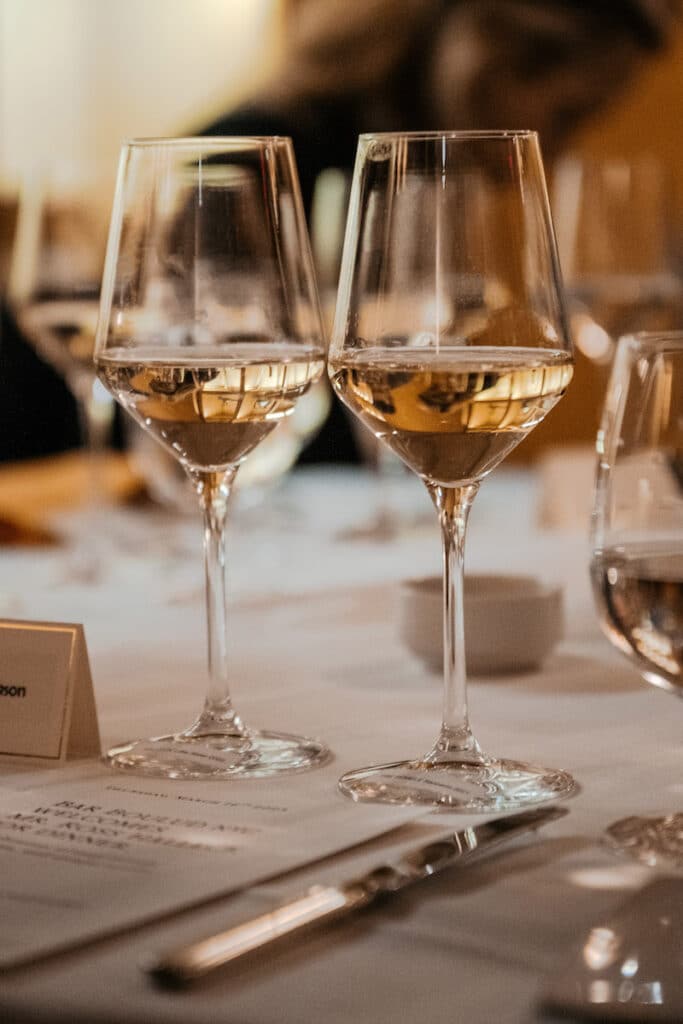 Bar Boulud is a quintessential "casual" French Bistro in New York City. Not as formal as the Michelin-starred Upper East Side restaurant, Daniel, Bar Boulud near Broadway's restaurant row carries a loose, lively vibe, with an emphasis on regional French dishes and charcuterie. And there's an exciting selection of terrines, pâté, and wine from around the globe.
Ross Halleck did not take your typical path to the winemaking profession. He found success as one of the leading brand agencies in Silicon Valley in the 1980s. But once his wine obsession finally took over, he planted a vineyard in the Sonoma Coast American Viticultural Area in 1991 as a fanciful notion. Planting exclusively Pinot Noir, it was the first vineyard in the region. Its first harvest was in 1999.
Ross is passionate about creating perfect pairings and enchanting wine dinners with top chefs for Halleck Vineyard's Inner Circle Club members. Previous dinner collabs include Chef Victoriano Lopez from La Mar in San Francisco, featured Ceviche Victoriano with Halleck Vineyards Sobre Vista Chardonnay, and Lumache bolognese with black truffle and Halleck Vineyard's Three Sons Pinot Noir at Chef Alfred Portale's flagship Portale restaurant in the chic Chelsea borough of Manhattan. Ross delights in creating extraordinary opportunities to build community through wine, and these wine dinners are just one of the ways Halleck Vineyard brings their wine club members together.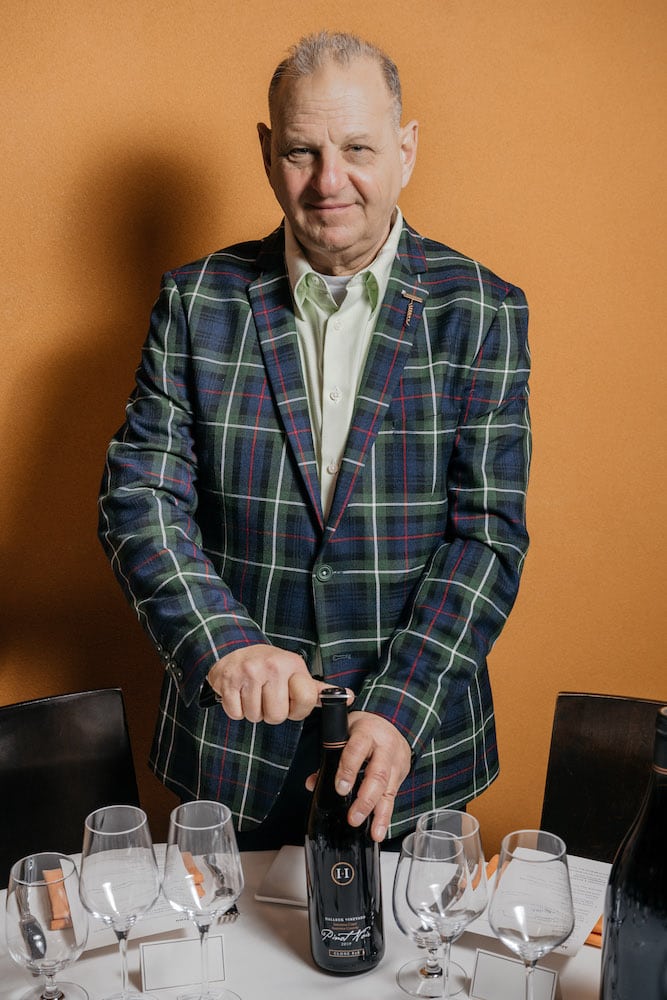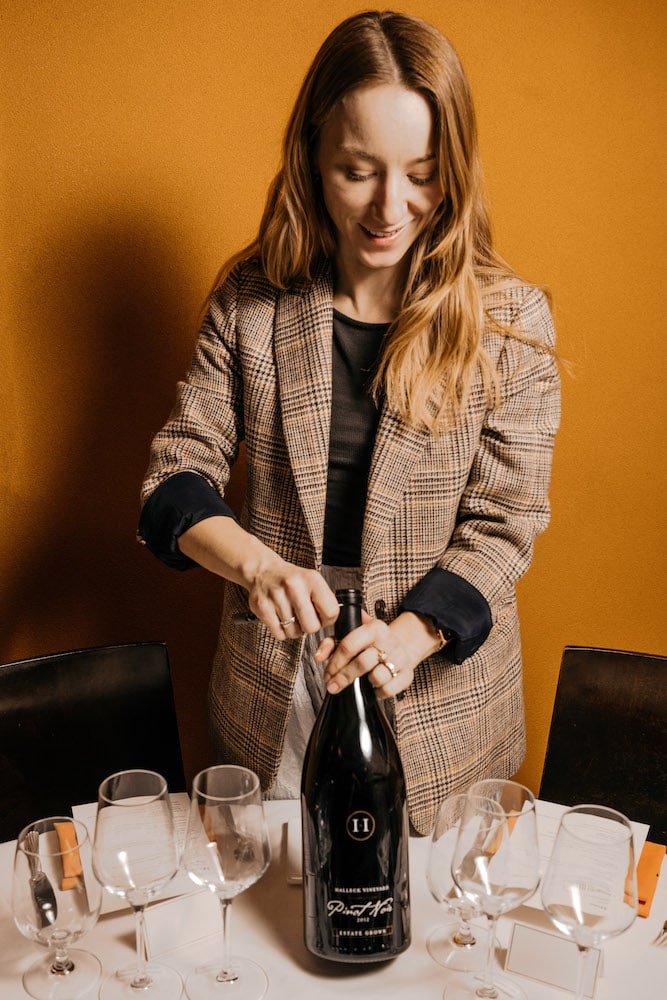 With a penchant for sustainable winemaking, Halleck Vineyard embraces the low-intervention, cool-climate style of Cote de Beaune in Burgundy. There's an even and measured oak treatment in the red wines: only 30% new French Oak. Grapes are hand-sorted and go through whole-berry fermentation. As a result, the wines have higher natural acidity and minerality without losing the typical fruit profile of California Pinot Noirs.
Halleck Vineyard falls into the 'boutique winery' category with fewer than 2,500 cases produced annually. But since these are small-production wines made exclusively from the Sonoma Coast, Russian River Valley, and Sonoma Mountain vineyards, and given the finite amount of fruit harvested in these iconic regions, their case production is too limited for retail distribution. These fine California wines are only found at select restaurants like Bar Boulud, via wine club allocations, or at a wine tasting at the Halleck Vineyard Winery Estate in Sonoma County, which recently opened a wine lodge for guests on the property.
---
---
First Course Halleck Vineyard Wine Dinner
Escargots Persillade with garlic herb butter
The Escargots Persillade with mushroom garlic herb butter at Bar Boulud in NYC is a classic French dish that is executed to perfection. The tender escargots are served deshelled and bathed in a delicious garlic herb butter, which adds richness and depth of flavor.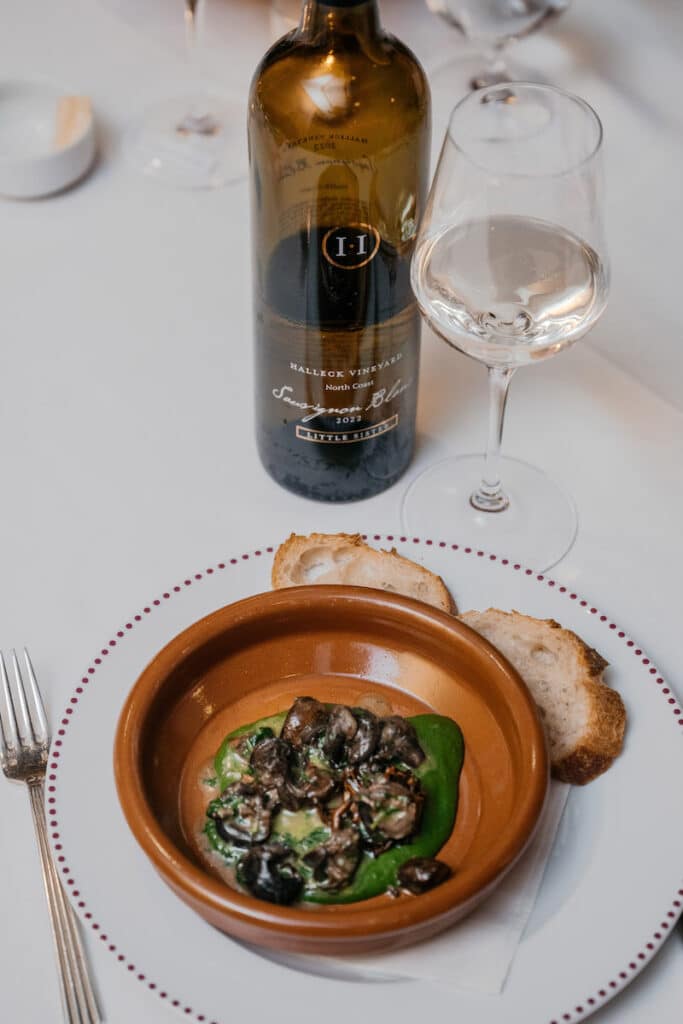 It was presented with a slice of crusty baguette, perfect for dipping into the sauce and sopping up all the delicious juices. The parsley and garlic add a bright, fresh note to the dish, balancing out the richness of the butter. This is a must-try dish for any foodie looking for an authentic French culinary experience in New York City.
The crisp, bright Little Sister Sauvignon Blanc highlighted the richness of the snails. The nose of lemon, lime, and boxwood shrub really complemented the garlic and herb sauce. Medium to high acid on entry, the wine smooths out and becomes creamy at the core.
---
---
There's no oak on the wine, similar to the Domaine de Pre Sancerre. This French wine is rounder and richer, with a bit more saline on the finish. Not as vivacious as the Little Sister Sauv Blanc, but more voluminous. It matched the weight of the snails, a heavy-for-heavy pairing. All were surprised by the character of the French wine leaning more in style to California, a result, expressed Taylor, of global warming.
Second Course Halleck Vineyard Wine Dinner
Oxtail Ravioli with tomato and fine herbs
The Oxtail Ravioli with Tomato and Fine Herbs at Bar Boulud in NYC is a unique and delicious take on a classic Italian dish. The homemade ravioli is stuffed with tender and flavorful braised oxtail, perfectly balanced by the light and tangy tomato sauce.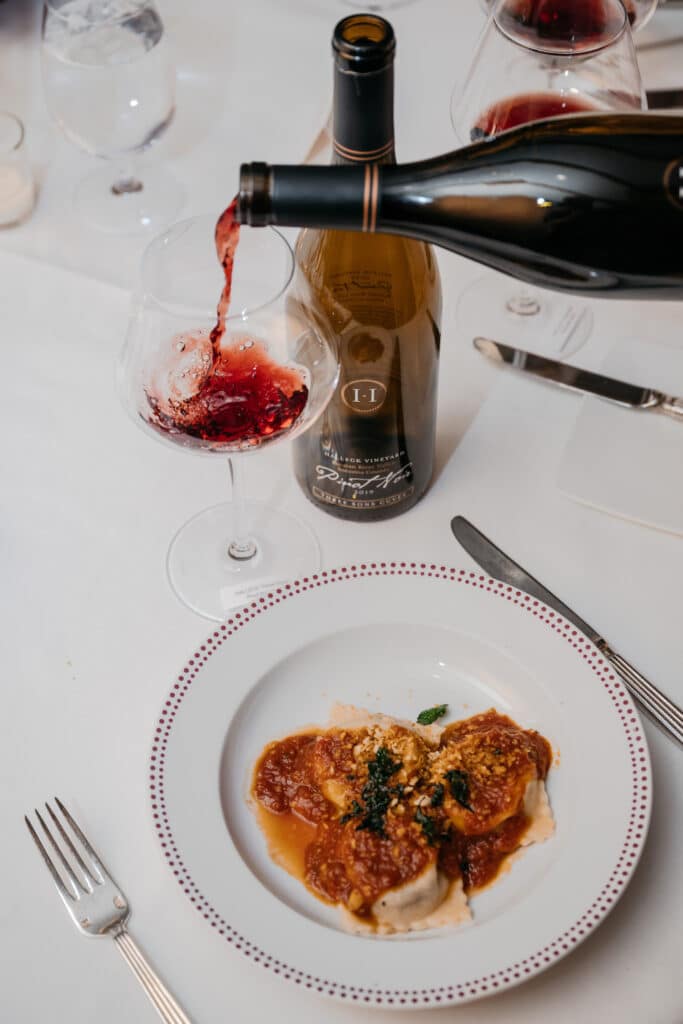 The fine herbs add a fragrant and fresh note to the dish, elevating the flavor profile and giving the dish a vibrant and appetizing appearance. Each bite of the ravioli is a delight, with the rich and savory filling contrasting with the delicate pasta and bright tomato sauce.
There's a savoriness in the oxtail and tomato which is like the deeper fruit tones of the Halleck Vineyard Three Sons Pinot Noir. The wine comes from the Russian River Valley, but it doesn't have that region's typical intense baked fruit character or red opaque color. It has a jewel-like shimmer. More caramelized cherry, earth, and pepper aromas. Far more complex than typical Russian River Pinot Noir and a fantastic compliment to the zesty tomato sauce
---
---
By contrast, the Clos Salomon was a touch muted on the nose. A bit of earth, soil, ripe cherries. Very autumnal. Yet the wine was quite clean and refreshing. Smooth and supple tannin, ripe dark cherry fruit. But both wines melted into the oxtail with ease, no flavors fighting for supremacy.
Third Course Halleck Vineyard Wine Dinner
Coq au Vin with lardons, mushrooms, and pearl onion
The Coq au Vin at Bar Boulud is a quintessentially French dish that showcases Chef Boulud's mastery of classic French cuisine. The dish features tender chicken that has been slow-braised in red wine with lardons, mushrooms, and pearl onions, resulting in a rich and complex flavor profile.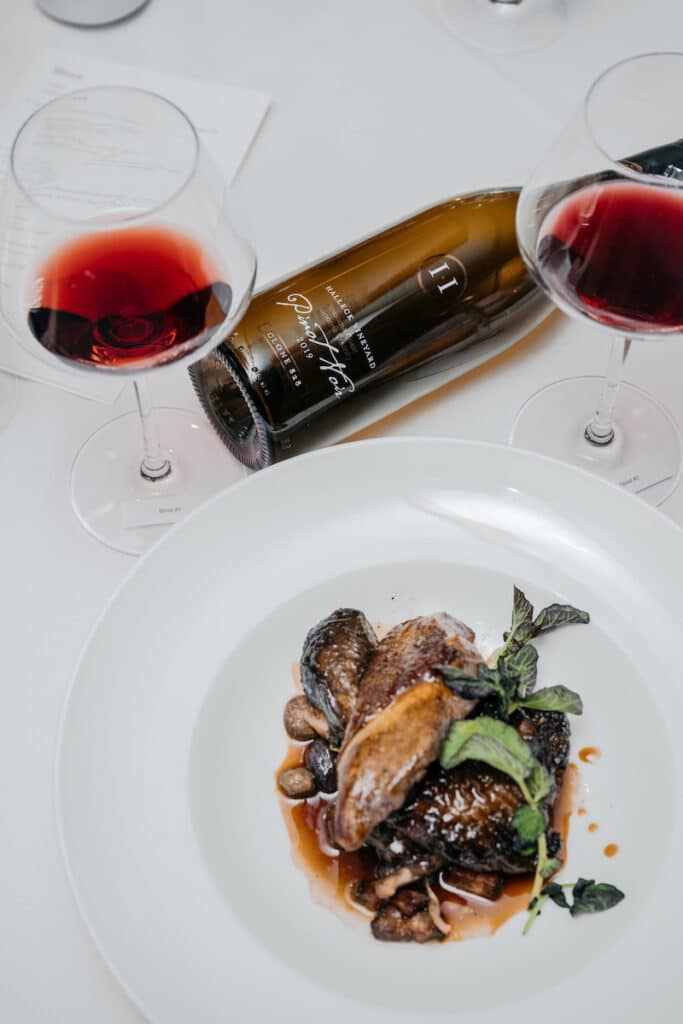 The sauce is velvety and sumptuous, with the bacon lending a smoky note and the vegetables adding a subtle sweetness. The chicken itself is cooked to perfection, with the meat effortlessly falling off the bone. This dish is a delicious reminder of the warmth and comfort that French cuisine can provide.
The course was Initially paired with Halleck Vineyards Pinot Noir Clone 828. This wine recently earned double gold at the 2023 San Francisco Chronicle Wine Competition. High-tone cranberry and pomegranate on the nose gives way to a much more complex bouquet of pepper, saddle leather, and an elusive smoky tobacco note, much like a fine cigar. It was remarkable that the strong flavors didn't overwhelm some of the subtleties of the dish.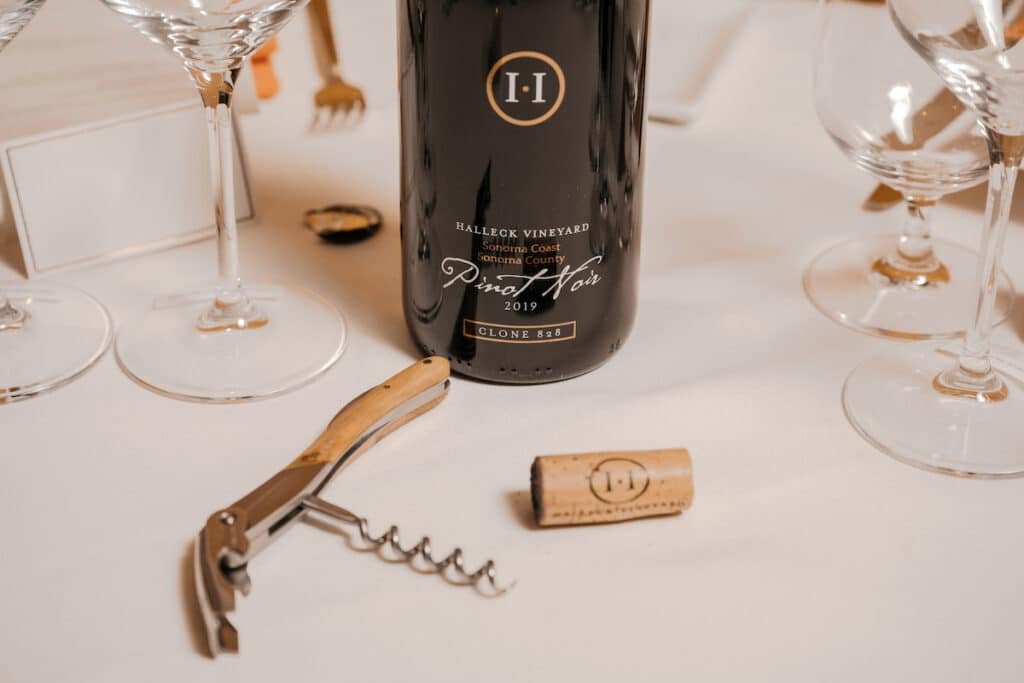 Later, the two other reds were served blind. Sommelier Victoria Taylor labeled each glass so there would be no confusion, and the wines were tasted side by side.
The 2012 Halleck Estate had no browning or bricking around the edges, suggesting quite a long life ahead for it. There's more density and complexity here. Refined and impressive. The Gevrey-Chambertin (also served blind) was similar in flavor and aroma but earthier than both Halleck Pinot Noirs. A little more tannic feel here, with more power. It was four years younger.
Dessert Halleck Vineyard Wine Dinner
Raspberry Mousse with orange blossom, almond, and marzipan ice cream
The Raspberry Mousse with Orange Blossom, Almond, and Marzipan Ice Cream at Bar Boulud is a dessert fit for royalty. The mousse is light and airy, bursting with the sweet and tangy flavor of fresh raspberries.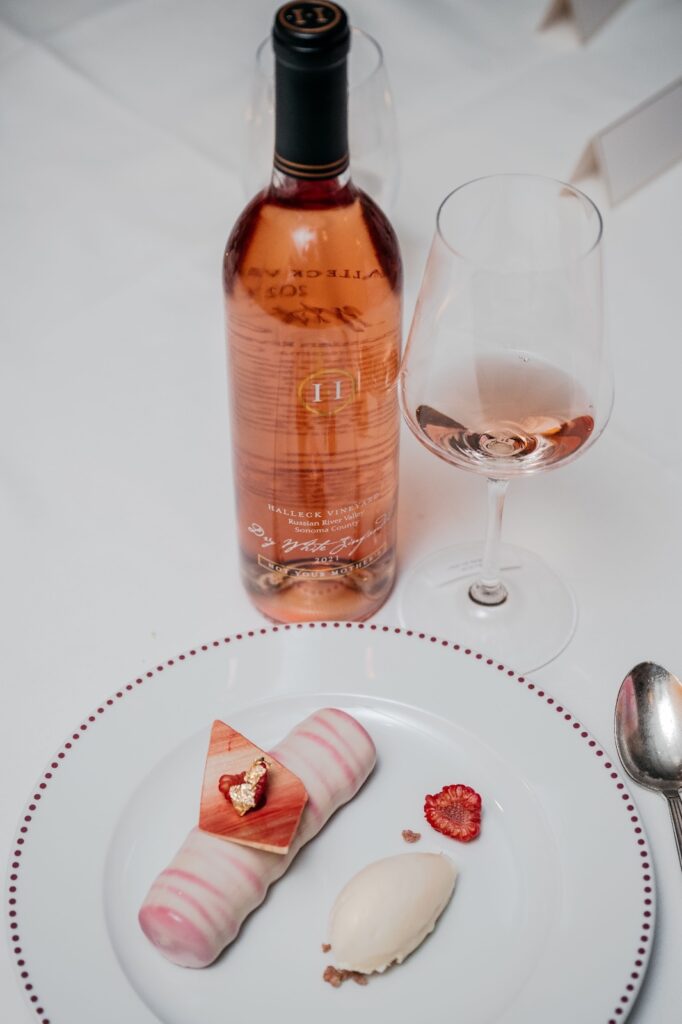 The marzipan ice cream is a delightful surprise, with its subtle almond notes and delicate hints of orange blossom adding a touch of sophistication to the dish. The ice cream's creamy texture and velvety finish perfectly complement the mousse's silky texture, creating a heavenly dessert experience that is both indulgent and refined.
The Halleck Dry White Zinfandel is a crowd-pleaser. After a meal such as this, it's like ringing in a new party. Sheer watermelon pink color, it doesn't have that cotton candy sweetness typical of other California roses. Zippy and energetic, there is a buzzy quality to this wine. Bright citrus fruit all the way through from entry to a snappy finish. Not the least bit of sweetness.
And the Gros Nore, a classic Provencale Rosé, was perfectly aged. A deep nose of cherry, strawberry, licorice, and spice. But still delicate on the palette. A combination of muscle and grace. As per the rest of the meal, both wines showed extremely well and presented as distant cousins,, but both paired with the dessert exceptionally well.
---
---
California and French Wines – A Grape Comparison
California and French wines are renowned for their exceptional quality and diversity of styles. California is known for producing rich, full-bodied wines with bold fruit flavors and high alcohol content, while French wines are often characterized by their elegance, finesse, and complexity. The wines from Halleck Vineyard definitely lean toward the French in style and character, making this event particularly interesting.
California's warm climate and abundant sunshine are ideal for producing nuanced Pinot Noirs and Sauvignon Blancs. At the same time, France's diverse terroir is perfect for producing nuanced and flavorful wines such as Burgundy and Sancerre.
The opportunity to compare the best California and French Wines with a privately prepared meal by a Chef like Daniel Boulud is just one of the benefits Halleck Vineyard wine club members enjoy. Other benefits of club membership include allocations to award-winning vintages like the Dry Gewurztraminer from Calandrelli Vineyard – like the Clone 828 Sonoma Coast Pick, not Noir is only available at fine restaurants like Bar Loulud or through the California wine club.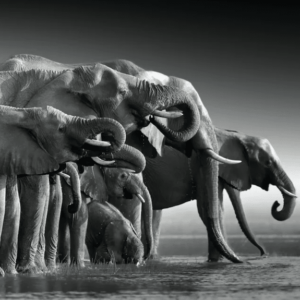 Join Sonoma vintner Jennifer Halleck on an unforgettable journey to Africa, where you will explore the wonders of this vibrant continent and share your passion for wine with fellow enthusiasts.…
Read More
Pairing the best wine with Mediterranean food is notoriously difficult. There's a menagerie of spices and herbs that don't mesh easily with white and red wine varietals. …
Sonoma Wine Tasting in Sebastopol