Feeling Special and Loved: Intimate Virtual Wine Tastings at Home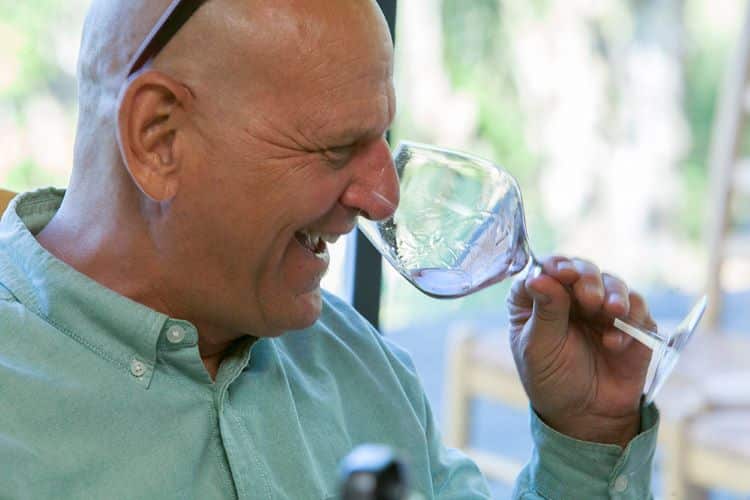 I own a small, family-operated winery, one of an esteemed few Sebastopol wineries in Sonoma County, California.
We make Russian River Valley and Sonoma Coast Pinot Noir, Dry Gewürztraminer, Dry White Zinfandel and California Sauvignon Blanc, also from the Russian River Valley.
We hosted our first wine tasting at our estate in Sonoma County in 2002.
Before the pandemic, the wine tasting rooms in Sonoma and Napa were thriving. Not anymore.
Virtual Wine tasting has become a pivot for wineries challenged by shifts in travel, protocol, and concern for the safety of their guests.
At Halleck Vineyard, our challenge was to keep the experience as intimate as possible, aligned with making a personal connection with everyone who enjoys our wine.
Within days of the shelter-In-place mandate, we created a virtual tasting room that was like none other.
And we've continued to improve it since. We've been written about in Forbes, Walnut Creek Magazine and 7×7.
Our Virtual Tasting Salons are designed not only to bring the vineyard to you, but to offer a tasting experience paired with organic delectables created by local artisan producers. As part of our California Wine Club, we've explored food pairing with Pinot Noir wines, Gewurztraminer, Sauvignon Blanc and many others.
With Stephanie Culen, Certified Sommelier, I've been hosting tastings of our wines paired with a selection of specialties sourced from local purveyors of the finest food items.
Artisan olive oils, boutique cheeses, organic house-made pastas of garden vegetables, and hand-made organic chocolate truffles infused with Halleck Vineyard wine are expertly paired with individual wines.
Having been awarded the best Sonoma Coast Pinot Noir in the United States for our 2001 vintage, we've enjoyed a following of Pinot enthusiasts to our door since. In 2019, we were judged Best of Class, the best Russian River Valley Pinot Noir in North America, for two of our wines in the prestigious San Francisco Chronicle Wine Competition. And Sunset Magazine awarded our Sauvignon Blanc Best of Class in the United States. To top it off, the California State Fair awarded our Dry Gewurztraminer 99 Points and deemed it Best Micro White Wine in California.
Virtual Wine Tasting Party
Our intention with these intimate virtual wine tastings is to bridge the gap imposed by the pandemic and our inability to see those most important to us, face-to-face. We host families, friends across the country, and even corporate colleagues, all separated by the inability to travel, to enjoy these experiences together, from the comfort of their homes. We offer to keep groups together for their own private experience or blend people who join for the simple pleasure of meeting new people and sharing an experience.
With the local bar off-limits, we've found people thrilled to meet over a glass of wine. Or delighted to connect with family members in an event bringing them together. Companies are rewarding their top-performers or gifting cherished business partners, creating experiences money-can't-buy over a glass of wine with the vintner. There is nothing that can substitute for a hug, a warm touch, or a look into the eyes of someone we care about. But we're finding this hunger nourished over a glass of wine, laughter, and warm conversation. We're attempting to create an intimate experience within the confines of our limitations.
Virtual Wine Tasting Kits
So we meet people where they are, literally. That means wherever they're comfortable; we ask them to pull up a chair, a glass, and a computer. We encourage people to put their feet up and enjoy the experience.
That the experience takes place at home eliminates any concerns we currently experience in public places. Feeling safe is the first threshold to achieving intimacy.
Also, to meet the broadest set of needs, we offer three Virtual Wine Tasting Kits:
Essential Wine Tasting Kit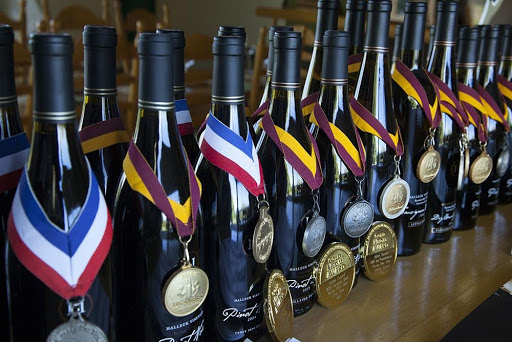 For those simply wanting to explore Halleck Vineyard wines, to learn about the place, our family, the vineyard, and our community, we offer our Essential package. This includes a selection of three wines: Russian River Valley Pinot Noir, Sonoma Coast Pinot Noir, California Sauvignon Blanc. We add our professional sommelier wine opener, and some reference material to use during our tasting together. People select a date and time of preference on our online calendar to make the reservation. We then collect shipping and credit card information to send the pack
age. We ask for two weeks between order and scheduling, but can accommodate shorter timeframes if requested personally and shipping allows.
After receipt of a beautiful selection of wines, I and/or Stephanie will meet our guests on Zoom to guide them through this intimate wine tasting experience. To bring people to the vineyard, we present slides of Halleck Vineyard, this wonderful home and vineyard along with stories, descriptions and instruction of how to most deeply appreciate each of the wines. We hope to impart a deeper understanding of what goes in the winemaking, but more importantly the mystical nature of our role in its creation. We explore how to taste, introducing our guests to tasting techiniques, perhaps for the very first time.
Deluxe Wine Tasting Kit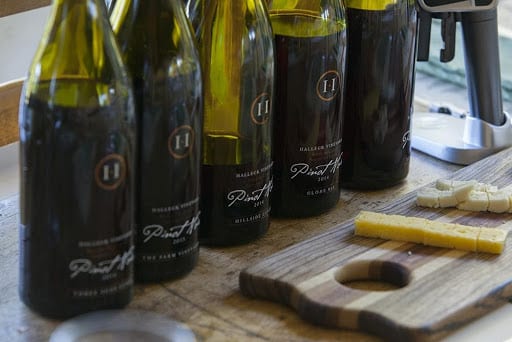 For those desiring a full tasting seminar, introduction to our wines and some absolutely delicious delectables provided by like-kind artisan producers, we offer our Deluxe package. Again, there's a selection of three wines: : Russian River Valley Pinot Noir, Sonoma Coast Pinot Noir, California Sauvignon Blanc.
Also included is a sampling of personally selected pairings with some extraordinary products. Our olive oils are sourced from a family in the Sierra foothills, growing olive trees and making award-winning oil for over 20 years. Our Sonoma County cheeses are produced by a family just down the street, who've been raising cows and making cheese for generations. We have chocolate truffles infused with our Russian River Valley Pinot Noir by one of the most celebrated chocolatiers in California, right in our home-town of Sebastopol.
We not only walk through the wines, sharing tidbits and stories, but we take our guests on an exploratory journey of their palate with flavors never experienced. For many, this is truly tasting for the very first time.
Ultimate Wine Tasting Kit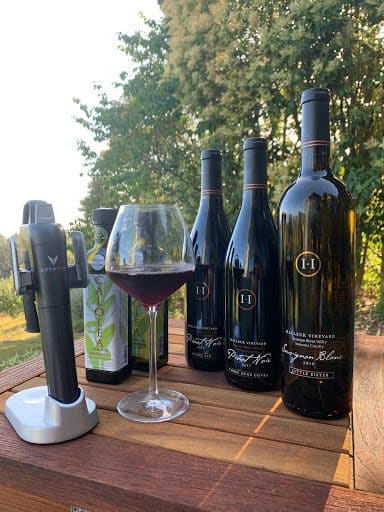 Our Ultimate package includes everything described in our deluxe with a significant addition.
We offer our guests a Coravin Model 1 or 3. For those unfamiliar, the Coravin is a wine preservation system that allows one to enjoy our wines, and every wine in their cellar, on an "as desired" basis. Simply, one can enjoy a glass or a taste anytime desired and the wine will remain fresh, as if never opened, for months. This device, which has revolutionized the wine industry, allows one to start the evening with a glass of rosé or white, and continue with two different reds without committing to the entire bottle. Due to a special partnership with enjoy with the manufacturer, we're thrilled to share it with our community at a price available nowhere else.
All said these Wine Tasting Experiences are the most extensive, intensive, fun, and intimate that we know of. Our wish is to build community through wine, and in doing so, contributing in our small way to making the world a better place.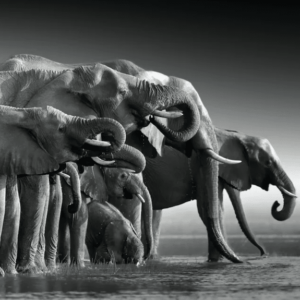 Join Sonoma vintner Jennifer Halleck on an unforgettable journey to Africa, where you will explore the wonders of this vibrant continent and share your passion for wine with fellow enthusiasts.…
Read More
Donors, Sonoma wineries, local businesses, and community members rallied to help Sebastopol charity Ceres Community Project raise over $300,000 at this year's Harvest of the Heart fundraiser on Sept….
Sonoma Wine Tasting in Sebastopol