5 Tips for Planning a Great Virtual Wine Tasting with Friends and Family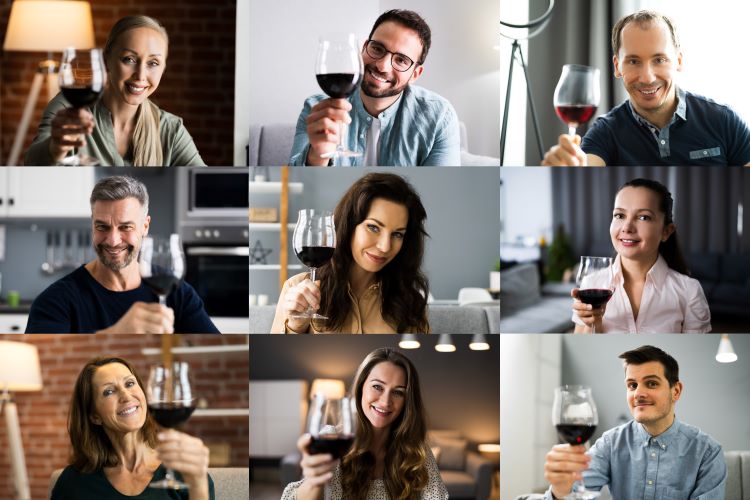 Zoom isn't just for business meetings and online classes – did you know you can even enjoy a wine tasting over this handy little app? That's right, you can enjoy delicious wines from the comfort of your home with a virtual wine tasting.
A virtual wine tasting is a fantastic gift for a business partner or friend, and it can make a super fun experience for the family – or for a fun date night! It's also a great team building experience for your colleagues.
You might think it a bit odd to have a wine tasting outside of a vineyard, but a virtual wine tasting can be every bit as enjoyable and educational as an in-person wine tasting. In fact, you might find it to be even more intimate!
So let's get you up-to-speed with all the ins and outs of a virtual wine tasting, so you can plan the best one possible for friends and family.
---
---
What is a virtual wine tasting?
If you don't have the option to travel to your favorite vineyard for an in person wine tasting, you can bring the vineyard to you. Virtual wine tastings are becoming more and more popular, and it's time for you to learn how.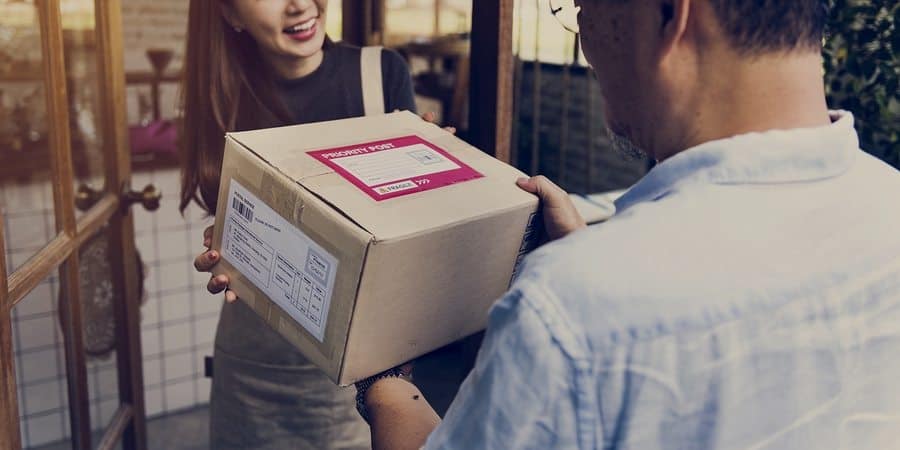 So how does a virtual wine tasting work?
When you sign up for a virtual wine tasting through your selected vineyard, the wine bottles for your tasting will be sent straight to your door (and the doors of any other participants).
Some vineyards have made educational video series for you to watch on demand at home. Others are opting for a more personal approach, and hosting private wine tasting parties for you over Zoom or other video streaming apps.
A virtual wine tasting can be extra-educational. If you get a vintner over Zoom, you're getting access to all their expertise. You can ask as many questions as you'd like about the wine, the wine-making process, and the history of the vineyard.
You can book a regular virtual wine tasting to meet other wine-loving individuals, or a private virtual wine tasting to provide a perfect, intimate event for your business team, or for a holiday celebration!
---
---
How much does virtual wine tasting cost?
Virtual wine tastings come in a range of prices, depending on the experience you choose. Halleck Vineyard, for example, has three different virtual wine tasting packages.
The "Essential" package costs $199 and comes with a selection of three bottles of wine, a wine bottle opener, an aroma wheel, a tasting menu, a wine-tasting placemat, and a map of Sonoma County.
If you want to upgrade your experience, you can choose the "Deluxe" package, which contains everything listed above, as well as expert food pairings, such as three bottles of artisan olive oil. The Deluxe package costs $249.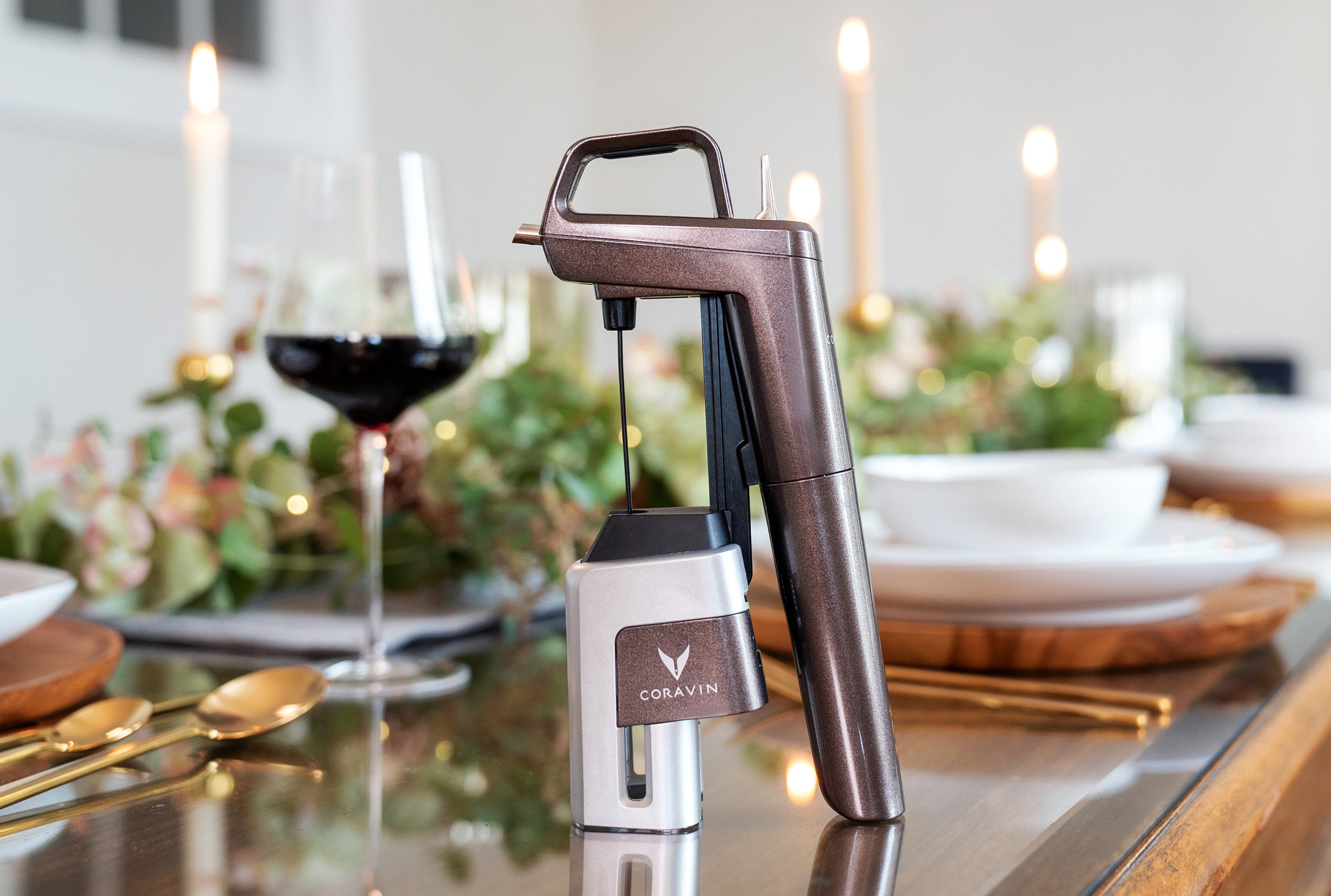 If you want to go all out and enjoy your wine for weeks to come, The "Ultimate" virtual wine tasting package comes with not only delicious food pairings and olive oil, but also a Coravin system.
The Coravin system is designed to keep your wine fresh as long as possible. It allows you to enjoy as many wines as you please without worrying about finishing the bottles or having your wine go to waste. 
The Coravin has a small, hollow needle that pierces through the cork of your wine bottle. Once the needle is inside, you inject Argon gas into your wine bottle. The pressurized wine bottle then pours wine out of the bottle through the needle and into your glass.
When you're done pouring, all you do is remove the Coravin from the wine bottle. When the needle is removed, the cork will reseal itself, keeping your wine as fresh as if you'd never opened the bottle.
---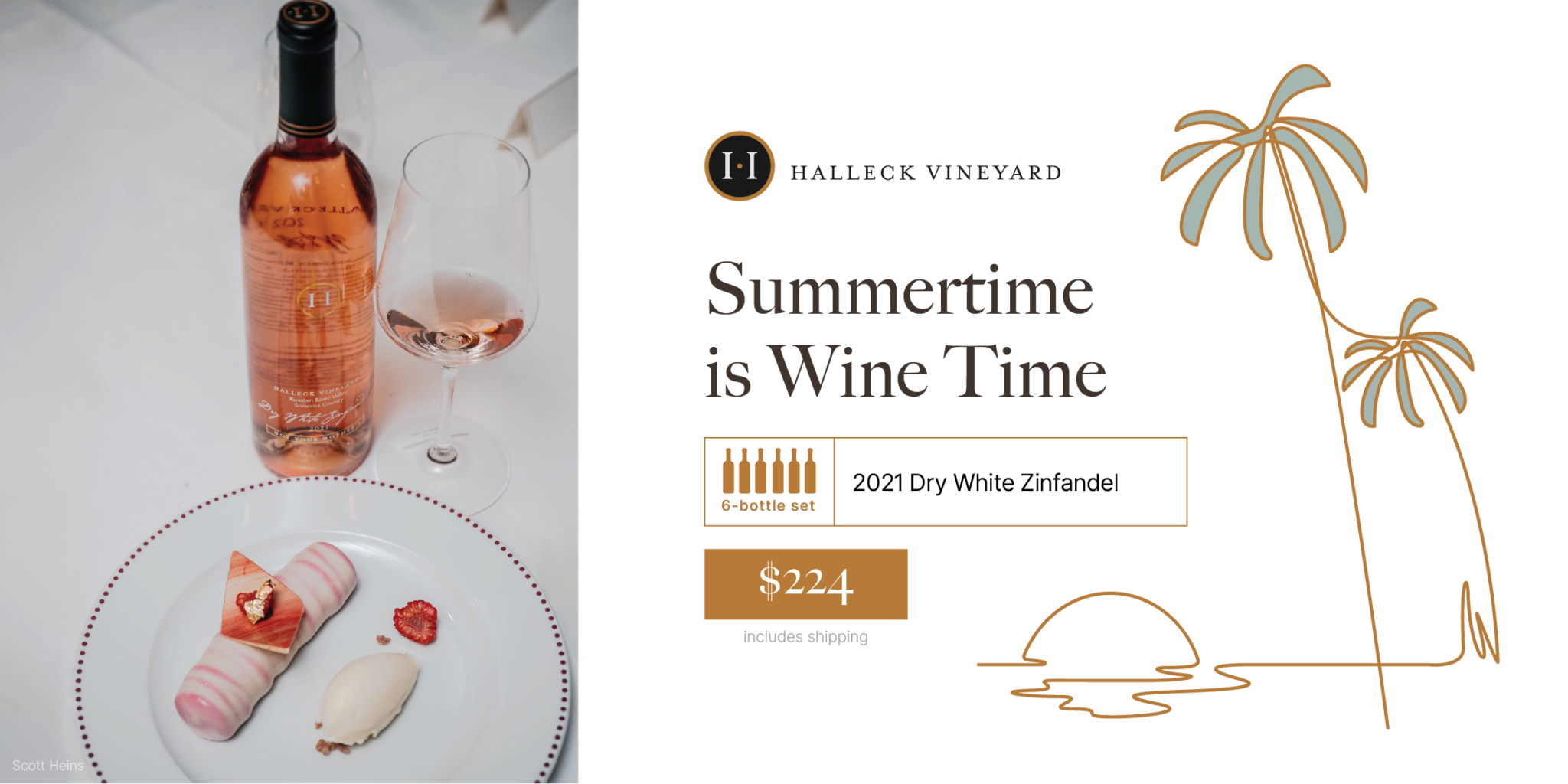 ---
If you'd like to add this incredible wine-preservation system to your virtual wine tasting experience, you can purchase the Ultimate package for just $449.
You can purchase any of these three "Tasting Salons" for as many friends and family members as you choose. You can schedule the date that works best for you via Calendly, a simple-to-use online calender app and the wines will be shipped to the door of each virtual wine tasting participant in two weeks or less.
Shipping is included in the price of your virtual wine tasting package – and ask us about our preferred shipping rates only available to virtual wine tasting attendees.
Which wines come with each virtual Tasting Salon?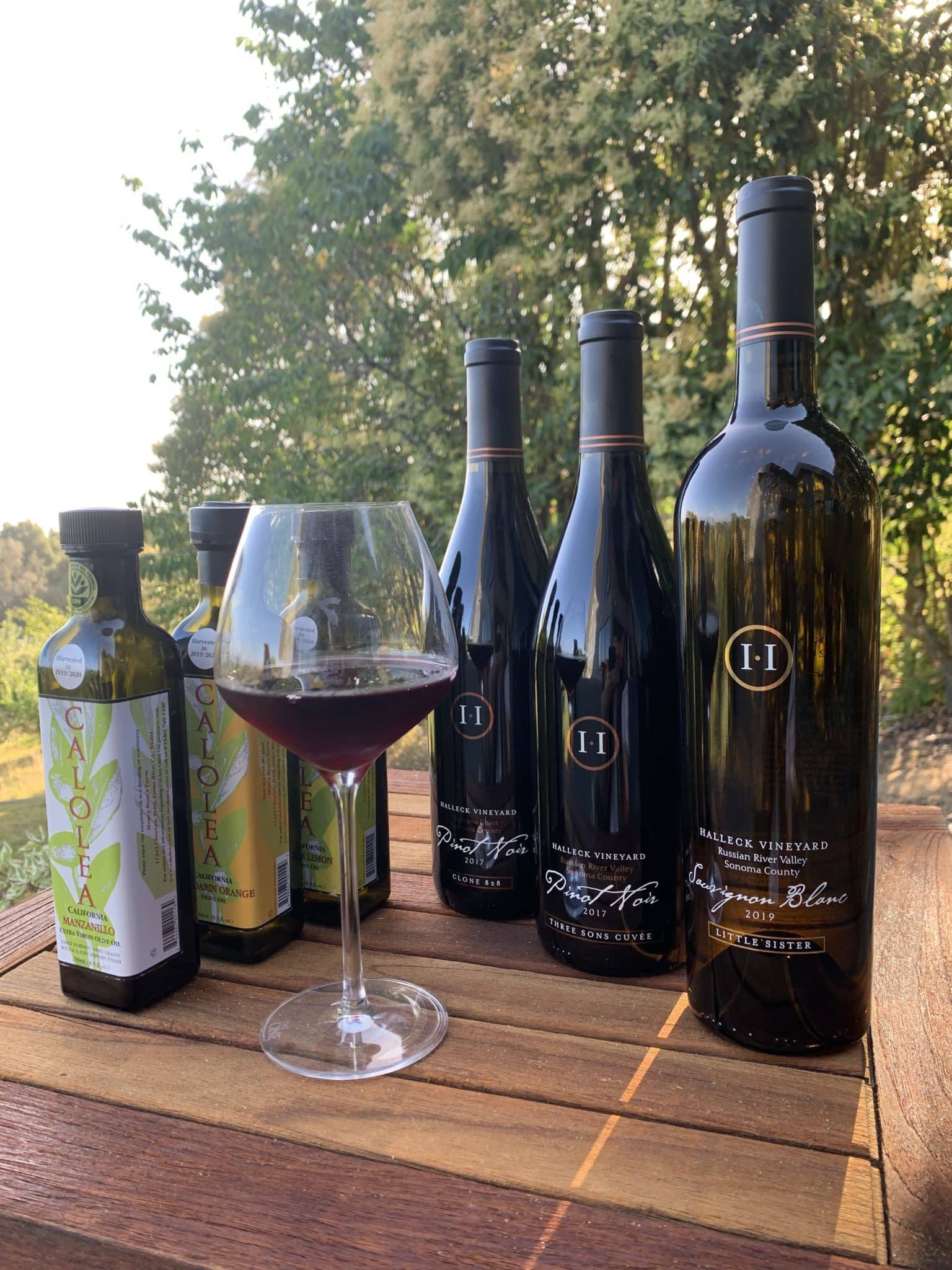 All three virtual wine tasting experiences with Halleck Vineyard come with a bottle of Sauvignon Blanc, a bottle of Three Sons Cuvee Russian River Pinot Noir, and a bottle of Sonoma Coast Pinot Noir Hillside Cuvee.
Our 2019 Sauvignon Blanc wine is a wonderful wine for white-wine lovers. It is bright and acidic with notes of pineapple and passion fruit. It has a crisp, lingering finish – and an alluring nose that hints at a sea breeze. A truly refreshing glass of wine.
The Three Sons Pinot Noir is a hearty red wine which leads with the taste of cherries and offers lingering notes of clove, cinnamon, and spice. The finish has tastes of both black and white pepper, with trailing fruit notes.
Your third bottle of wine will be a 2017 Hillside Cuvee. The Hillside Cuvee Pinot Noir is a Sonoma Coast blend with bright fruity flavors of cranberry, red raspberry, and strawberry, as well as notes of pepper and minerality. It has a long, smooth finish and silky tannins. 
---
---
If these wines don't sound up your alley, don't worry! You can create your own custom experience. Consider ordering the White Zinfandel rosé wine or Dry Gewurztraminer white wine for you and your friends to enjoy. The options and opportunities for memorable experiences are endless!  
How to plan the best virtual wine tasting
Now that you know what a virtual wine tasting is, and some of your virtual wine tasting options, it's time to plan an event of your very own! So let's get started with our top tips for hosting the best virtual wine tasting.
1. Plan ahead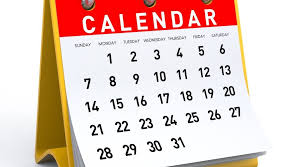 A virtual wine tasting is not something that can be set up last minute. You don't want to spend the time and money to send wine to someone's doorstep only to find out they can't join the experience. Make sure everyone is on-board and available. They certainly would be missing out on all the fun!
When picking a date for your virtual wine tasting, make sure it's at least two weeks in advance. It can take up to two weeks for your Halleck Vineyard wines and tasting materials to arrive.
2. Gather everyone's mailing address
We can't send the virtual wine tasting experience if we don't know where to send it! (And we certainly don't want to send our delicious wines to the wrong address.) Coordinate with the participants to find the best place to send our wine bottles before you sign up for your virtual wine tasting. Someone needs to accept and sign for the package who is over 21 years old. If they work from home, all the better. Otherwise, consider sending it to their place of work.
3. Find a good place to set up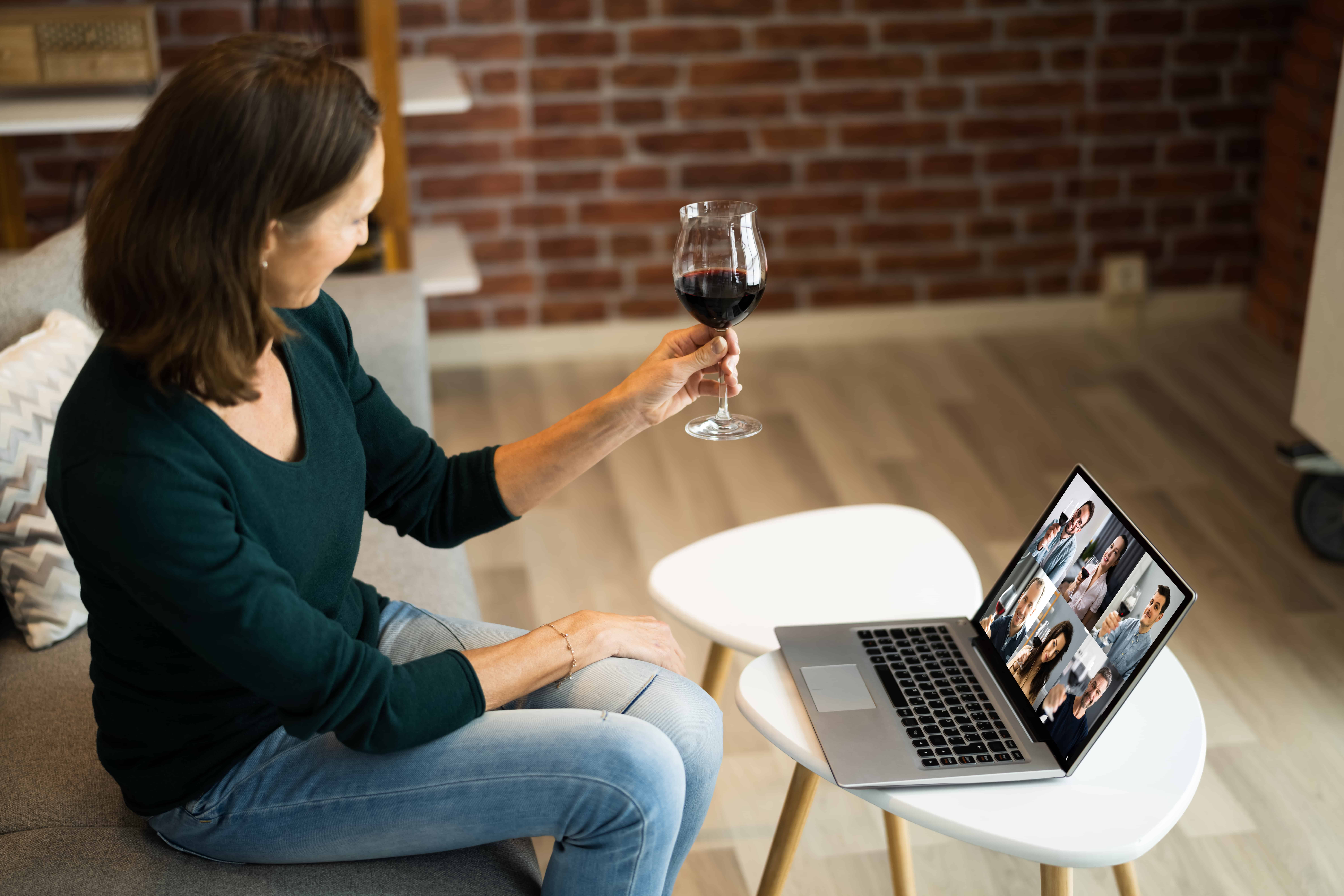 One of the most important things to think about with a Zoom experience is where you want to experience it.
You want to make sure it's somewhere you will be comfortable sitting for an hour to hour and a half during your tasting, and that you have a stable desk, table, or countertop to place your food and wine on. (No one wants to spill on camera!)
It's also important to think about your background. You probably don't want to give everyone a tour of your bathroom or show off your unfolded laundry. Make sure your screen is set up so that it frames your face well – but doesn't frame anything else you don't want to be seen. You might consider elevating your screen for the best view of you and of your guests. Stacking books on your table or setting a small bookshelf on your table work well.
4. Prepare some food pairings
If you decided on the Essential package for your virtual wine tasting, then it would be a good idea to make your own food pairings. You can do a little research, and spread your new wine pairing knowledge to your friends and family so they can partake too. Or ask your hosts. They certainly have some ideas.
It's also a good idea to have water handy in case you get thirsty for more than just wine during your tasting experience. It's always important to stay hydrated any time you're consuming alcohol.
5. Come ready with questions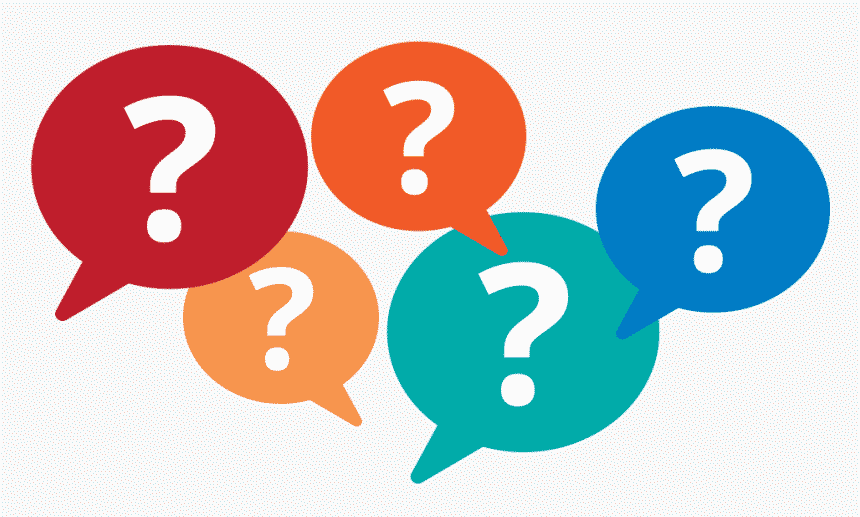 A virtual wine tasting is your chance to learn some inside knowledge about wine! You'll be talking with our vintner Ross Halleck, or our talented educator and Certified Sommelier, Stephanie Culen. Either way, you'll be able to ask any questions you'd like in an intimate setting, so it's a good idea to prepare some questions before you begin your experience.
You can ask questions about the winemaking process, the terroir of the vineyard, how we got started with winemaking, anything at all! We enjoy meeting new people and hearing about your experiences as well. We are excited to share our passion for wine with you and want to nourish your mind as well as your palate.
Sign up for your own virtual wine tasting experience
A virtual wine tasting is a great way to connect with long-distance family members, your remote corporate team, or reward top-performers. You can even send it to 40 or 50 of your favorite customers as a thank you! A virtual wine tasting is a fun way to spend an evening, and is as educational as it is enjoyable. Think of it as "edu-tainment."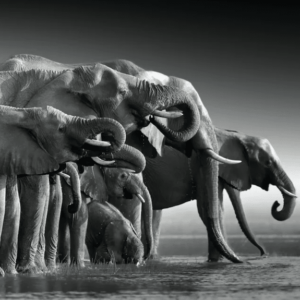 Join Sonoma vintner Jennifer Halleck on an unforgettable journey to Africa, where you will explore the wonders of this vibrant continent and share your passion for wine with fellow enthusiasts.…
Read More
The entry-level price of a Sonoma wine tasting rose 11% from $36 in 2022 to $40 in 2023. Adjusting for those cities with at least 15 wineries in the sample,…
Sonoma Wine Tasting in Sebastopol