Belle Glos vs La Crema vs Meiomi Pinot Noir (Wine Review)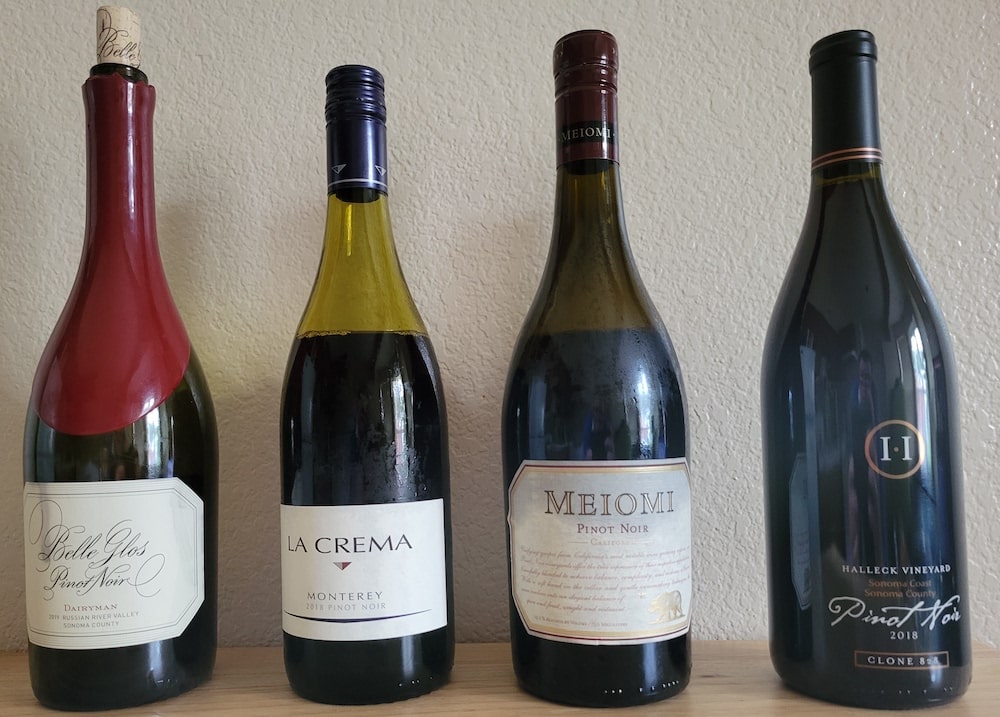 Pinot Noir is the primary red wine grape planted in Burgundy. So if you're talking about red Burgundy, you're talking about Pinot Noir. But not all Pinot Noir comes from France. In fact, some of the best Pinots in the world aren't French at all. Many are made from grapes grown on the west coast of the US from Oregon down to Central California.

According to Google, the first three are most searched Pinot Noir wine brands in the US. And we compared our own Sonoma Coast Hillside Cuvee Pinot Noir to these most searched Pinot Noirs.
We bought bottles of the same vintage and sipped all four. If you're looking for the best Pinot Noir wine for your money, read on. In this article we characterize the taste of this variety of red wines to help you pick the right Pinot Noir.
---
---
If you're looking for the best Pinot Noir in America, Meiomi, Belle Glos and La Crema are the biggest brands. Each of them make from 700,000 to 1.2 million cases of Pinot each year. A case of wine contains 12 bottles.

We are a much smaller winery. Our Sonoma Coast and Russian River Valley Pinot Noir wines have received top scores and numerous awards. And we make fewer than 1,500 cases per year. Even if we wanted to, we could never satisfy the global demand for Pinot Noir. That's where bulk wines do the heavy lifting. Our Pinot Noirs have very limited availability.

But as a family owned winery specializing in Russian River Valley and Sonoma Coast Pinot Noir, we wanted to give you some guidance. Use this guide to decide which of the 3 most popular Pinot Noir wines and regions are right for you.
Wine Reviews [Video]
Meiomi Pinot Noir (non vintage)
Meiomi is the most searched Pinot brand in the US. This Pinot is made from grapes from the Central Valley of California. The warm, dry conditions in this part of California and much hotter than the climate in Burgundy, France. For this reason, the area is much more conducive to higher grape yields. These harvests support bulk Pinot Noir wine production.

So Meiomi is a bulk Pinot Noir, and it is also the darkest of the pinots we sampled for this review. Pinot Noir wine is typically not as dark or opaque as the Meiomi Pinot. In terms of the aroma, the Meiomi Pinot was our least favorite of the three we tasted. We hate to say it, but the Meiomi Pinot smells like industrial plastic and mass-produced chewy candy, like Twizzlers or Skittles.
But if you can get past the nose of this Pinot, this pinot is super smooth. Meiomi is a rich, luscious pinot with a delicate plum and berry finish. If we had to rank the Meiomi Pinot against the Belle Glos and La Crema, it's the weakest of the three. But if you'd like to try it yourself, wine.com is selling a Meiomi 2017 Pinot Noir (375ML half-bottle) for 14.99.
---
---
Belle Glos Pinot Noir (2019)
If you compare the color of Pinot vs Cabernet Sauvignon, Pinot is not quite as dark in color and is more translucent. We savored the Belle Glos Dairyman Pinot which has a deep dark purple and almost opaque color that promises richness and boldness. And its aroma definitely delivers.

Pour an ounce into a proper Pinot or Burgundy wine glass and twirl it around, so it opens up. You'll find the Belle Glos Pinot delivers an almost meaty, savory aroma. Its smell includes touches of spice, raisins with a hint of violets.
The Belle Glos Pinot Noir is just as powerful in the mouth as it is in the nose. This really is the mark of any good wine, be it an award winner or not. You don't want smell a pinot and be impressed, only to drink it and be disappointed.

Made with grapes from the Russian River Valley, a cool coastal climate with dense fog, Belle Glos strikes a nice balance between what you expect and what it delivers. And now through the holidays, you can get a lovely Belle Glos 2017 Clark and Telephone Vineyard Pinot Noir (1.5 Liter Magnum) for just $99.97.
For being such a bold red wine, the Belle Glos is also very smooth. Wines with a higher alcohol content are typically bolder or "hotter". The heat from a higher alcohol wine can be abated by pairing with a meal.
La Crema Pinot Noir (2018)
La Crema Pinot Noir is based in Sonoma County, but they make several Pinots from grapes from the Monterey and Sonoma regions of California. And they recently introduced a new one from Willamette Valley in Oregon. But we didn't review the new one. Instead, we sampled their Monterey Pinot, which is one of their older offerings.

The color of this La Crema Pinot Noir Willamette Valley is much truer to what you'd expect from a California Pinot. It is translucent and garnet red in color. The aroma of La Crema is very earthy. It smells almost untamed and has a subtle skunk note that's hard to ignore. Many wine lovers actually prefer this quality in a wine, which is called animal or savauge in France. The La Crema doesn't have much fruit in its aroma.
But the La Crema Pinot Noir delivers much more fruit flavor than its aroma. This wine has a nice candied sour cherry style to it. La Crema is probably not the best to serve as a cocktail wine because it does have a faint, lingering bitter aftertaste. Because of that, the La Crema really does demand that food be served with it. In fact, it would be quite nice paired with a rack of lamb, filet mignon or perhaps other dish in that range. But in our opinion, the tannins are not well integrated. We reviewed the La Crema Monterey Pinot Noir in another post.
Halleck Vineyard Hillside Cuvee Pinot Noir (2018)
The Halleck Vineyard Pinot Noir we drank alongside the Meiomi, Belle Glos and La Crema was our Hillside Cuvee Sonoma Coast Pinot Noir.

This wine is 100% Pinot Noir, a blend of Sonoma Coast vineyards that's reminiscent of a fine French Burgundy. Like Belle Glos, this Pinot is also made in Sonoma Coast, a popular American Viticultural Area for growing Pinot Noir.

In terms of color, this Halleck Vineyard Pinot Noir is not quite as dark and opaque as the Meiomi. But it's also not as light and translucent as the La Crema. So the color of the Hillside Cuvee is about midway between those two popular Pinots. But it's more ruby than garnet red, like La Crema.

The aroma of the Halleck Vineyard Hillside Cuvee Pinot Noir is earthy, with a hint tart cranberries and pomegranate. And it has a dash of white pepper, making it the most complex of these four Pinot Noirs. The Halleck Vineyard Hillside Cuvee aroma is brighter than the other three red wines. It has a more acidic lift, making it a good choice with or without a meal.

In terms of flavor, this pinot also has hints of raspberry. The brightness carries through with earthiness and fine tannins in the mid-palate. The finish is long and rich combined with emerging cherry, gentle minerality, lustrous acidity and lingering white pepper.
Pinot Heros Wrap Up
Since we make wines that appeal to our own liking, we usually do prefer our own wines. These pinots all deliver their own, unique experience. If you want a fruity Pinot Noir wine for a modest price, the Meiomi might be your choice.

If you're looking for an extra smooth wine and are okay with a higher alcohol content, try the Belle Glos. It satisfies with or without food.
If you'd like a more earthy wine with less fruit, try the La Crema Pinot Noir.

And if you'd like to try a more complex, dimensional wine, try Halleck Vineyard Hillside Cuvee. But which ever you select, we hope you enjoy it! And as promised, our Kosta Browne Pinot Noir review is live now too.
We plan to do reviews Mark West, Elouan and Erath next. New Zealand is producing some very interesting Pinots these days, and we'd like to know more about them.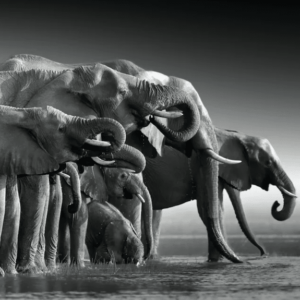 Join Sonoma vintner Jennifer Halleck on an unforgettable journey to Africa, where you will explore the wonders of this vibrant continent and share your passion for wine with fellow enthusiasts.…
Read More
Although they are based in west Santa Rosa, DeLoach has every right to call themselves a Russian River Valley winery. Sure, they also source fruit from the Sonoma Coast,…
Sonoma Wine Tasting in Sebastopol