Popular Pinot Noir: Mark West vs Elouan vs Erath (Wine Review)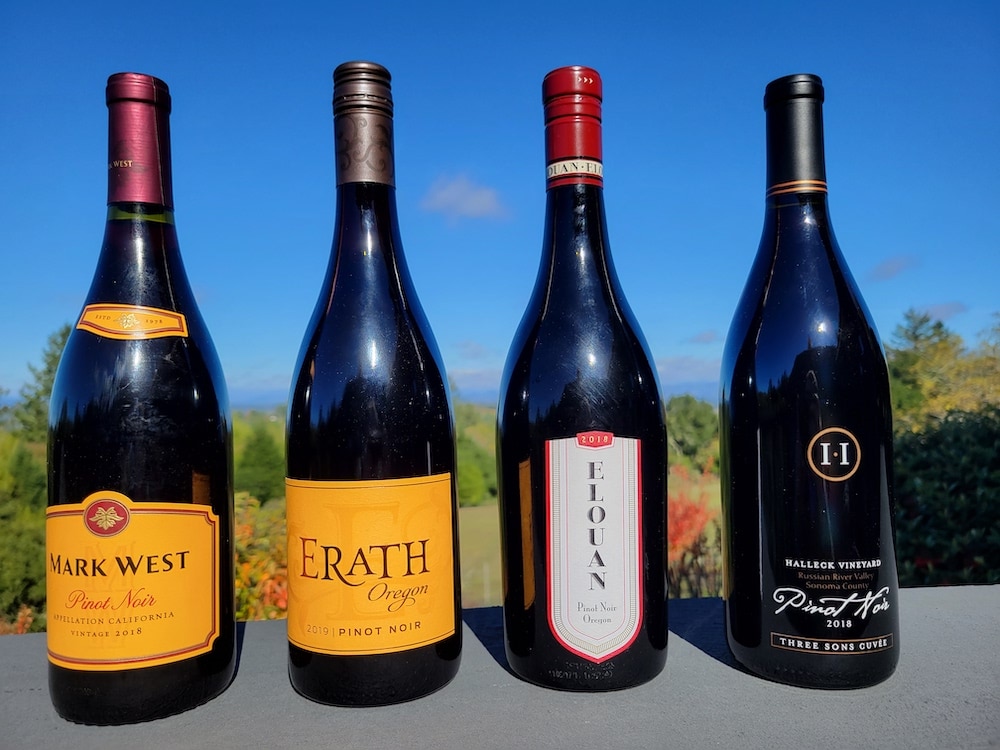 We're in at our estate in Sonoma wine tasting and talking about popular Pinot Noir brands in the US. If you search "Pinot Noir" you'll probably find that Mark West ranks around fourth on Google.
Not all results from different parts of the world are the same, but fourth is their average ranking. This means that Google thinks Mark West Pinot Noir is the fourth best Pinot Noir brand in the US. But are they correct?

In our last wine review, we compared Meoimi, Belle Glos and La Crema, which rank first, second, and third most searched.

The fifth and sixth most popular Pinot Noir brands are Elouhan and Erath. In this wine review, we cover the fourth through sixth most popular Pinot Noirs. If this article is TLDR, here's a…
Our search results were based on Google's US index. Interestingly enough, two of the these top ranking pinots happen to be from Oregon. We were curious to see how this varietal from Oregon tasted against Russian River.
Wine Reviews [Video]
Popular Pinot AVAs
Where wine comes from is important because climate is one of the main factors influencing taste. In the wine world, the climate is designated by geography, or American Viticultural Area, AVA. France sanctions AVAs, using the term Appellation d'Origine Contrôlée. All Champagne labeled as such is from the Champagne Valley in France. Otherwise, they can't call it Champagne. It's just sparkling wine.

In terms of AVAs, California possesses a whopping 139. Oregon has a mere 18, as many as are in California's Sonoma County alone. This means that California's AVAs are much more diverse in terms of their climate and wine output. Some of the best Pinot Noir is from Sonoma County.

Another point to consider is that Oregon's AVAs are expansive, whereas California's AVAs are smaller, more defined locations. Because of these conditions (and others), it cannot be stated that there's a collective, overarching "style" of Californian versus Oregonian Pinots. One can only compare individual wines to one another.
Top Ranking Pinots
According to Google, after Meoimi (1st), Belle Glos (2nd) and La Crema (3rd), these are the most popular Pinot Noir wines in US: 

• Mark West Pinot Noir (4th)
• Elouan Oregon Pinot Noir (5th)
• Erath Oregon Pinot Noir (6th)

Along the way, we characterize the taste of these Pinots, to help you choose the best one for your palette. Read on if you want to see which of the popular Pinots to shop for and why.

We tasted our own Three Sons Cuvee Pinot Noir alongside these popular brands. Halleck Vineyard is a much smaller winery. We make Sonoma Coast and Russian River Valley Pinot Noir. But we produce approximately 1,500 cases of wine per year. So there's no way we could come close to satisfying the US demand for Pinot Noir. That's what commercial wines are for. Our vintages are small and sell out quick to the discerning few.

If you go to the grocery store and pick up a bottle, you'll probably be choosing from one of these six. So this will give you some guidance in choosing a Pinot. Because if you're at the market and need to buy a bottle on short notice, you may want some help picking the best one. Use the tasting notes to learn the differences between the three wines we tasted. 
Mark West Pinot Noir Tasting Notes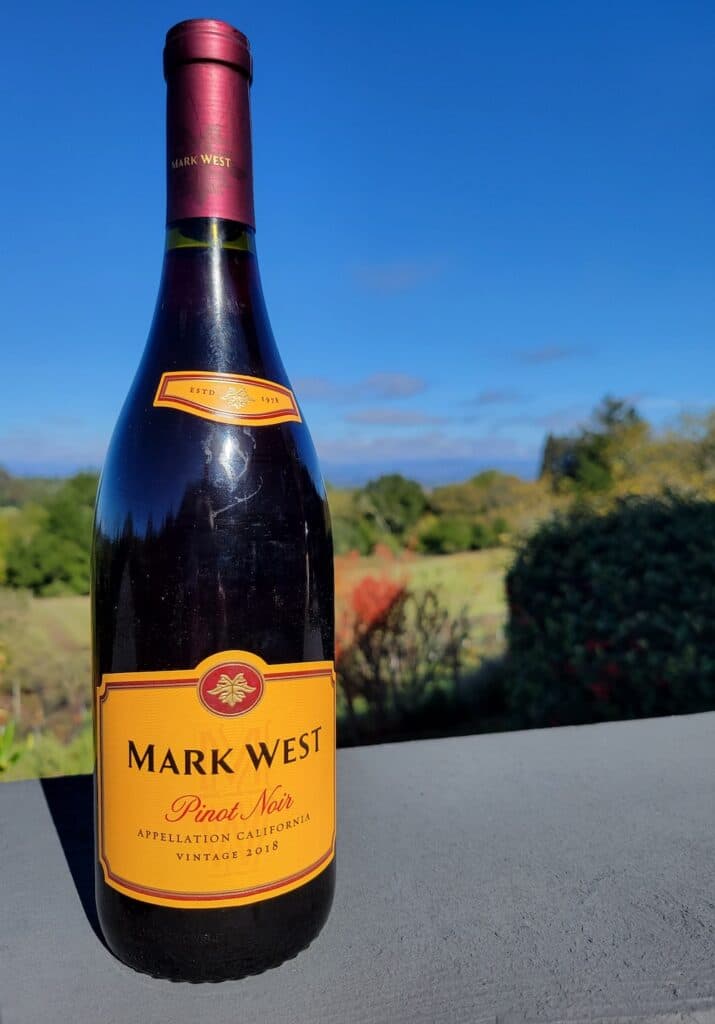 The color of the Mark West Pinot Noir can be described as deep ruby red and translucent. It is a classic Pinot Noir color, and the nose (or aroma) of the wine we sampled was redolent of dark cherries and cinnamon. There were no "holes" to be found in the flavor of the wine in the mouth. It delivered flavors from the front to the middle to the back of the palate.
Is the Mark West Pinot dry or sweet? The simple answer is that it's dry, as are the other Pinots we reviewed. But the more fitting answer is that in tasting this wine, we recognized the cherry and cinnamon-spice notes from the nose. We also detected traces of burgundy and earthiness on the palate. And there is a bit of bitterness at the back of the throat (although with food, this likely wouldn't be noticed). The cinnamon-spice element led into the finish, which was pleasant.

It can be stated there's a lot to like about this wine; for the money, it's an incredible value. Tending on the lighter side, it's delicate and well-made. That said, it's simple tasting. It should be noted they also produce the popular Mark West Carneros Pinot Noir, but we couldn't get a bottle of it, although we did try the Acacia Pinot Noir from Carneros in another wine review.
Stats
AVA: California
Alcohol Content: 13.5%
Retail Price: $10.99
Pairings: Lighter holiday meats like turkey, chicken or pork.

Elouan Pinot Noir Tasting Notes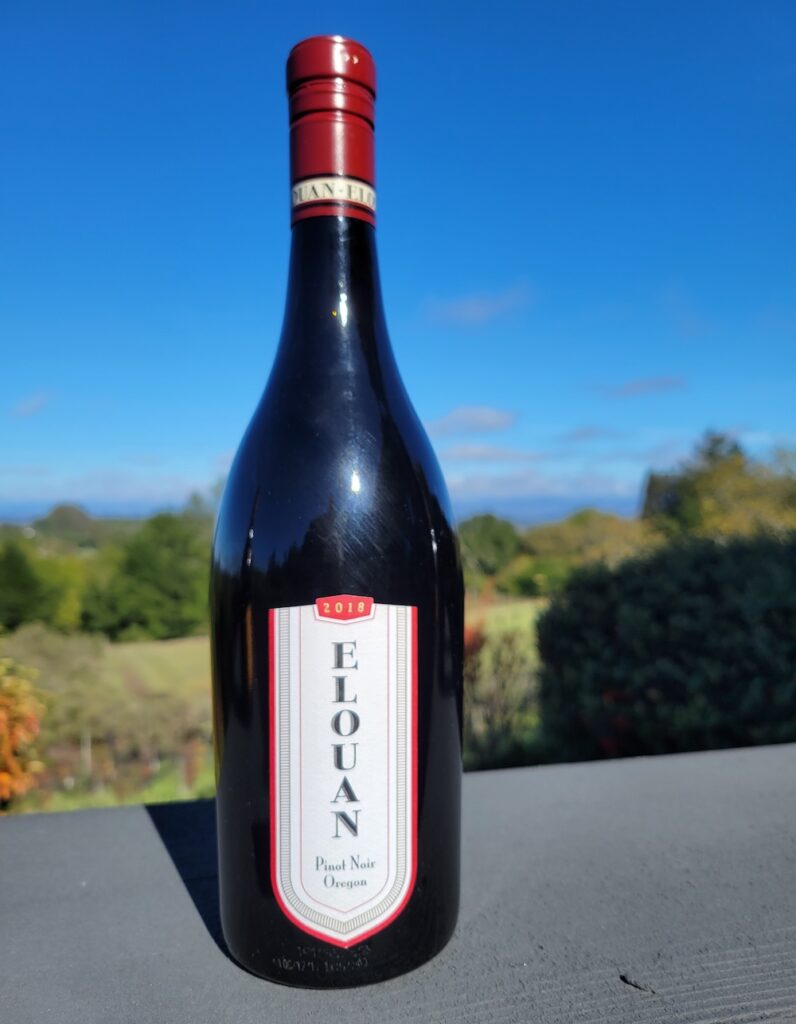 This is an Elouan Pinot Noir 2018 vintage review. We didn't review the controversial 2017 vintage — a California wine that was mistakenly labeled as originating in Oregon, causing a stir — but the price is around the same.

The color of the Oregon Pinot from Elouan is different from that of the Erath and the other wines reviewed. It was both deep purple and opaque to our view, giving it the appearance of a Zinfandel.

The nose of this wine is sizable, rich and "meaty" (meaning it's full-bodied). It has a "stewed fruit" character, rather than that of a classic Pinot, which may be to some people's liking. A fair amount of "heat" can be detected, which comes from its higher alcohol content. The mouthfeel of the wine is lush, rich and heavy, yet at the same time, surprisingly delicate.
The notes detected in the nose are larger than those observed on the palate. We found essences of flowers and herbs — violets and lavender — present, along with some acidity. In general, the flavors are fruity, balanced and better integrated than those of the Erath. The finish is pleasant and long.
Stats
AVA: Oregon
Alcohol Content: 13.7%
Retail Price: $24.99
Pairings: Salmon or delicate, less fatty meats — such as filet mignon — seasoned with Herbes de Provence.
Erath Pinot Noir Tasting Notes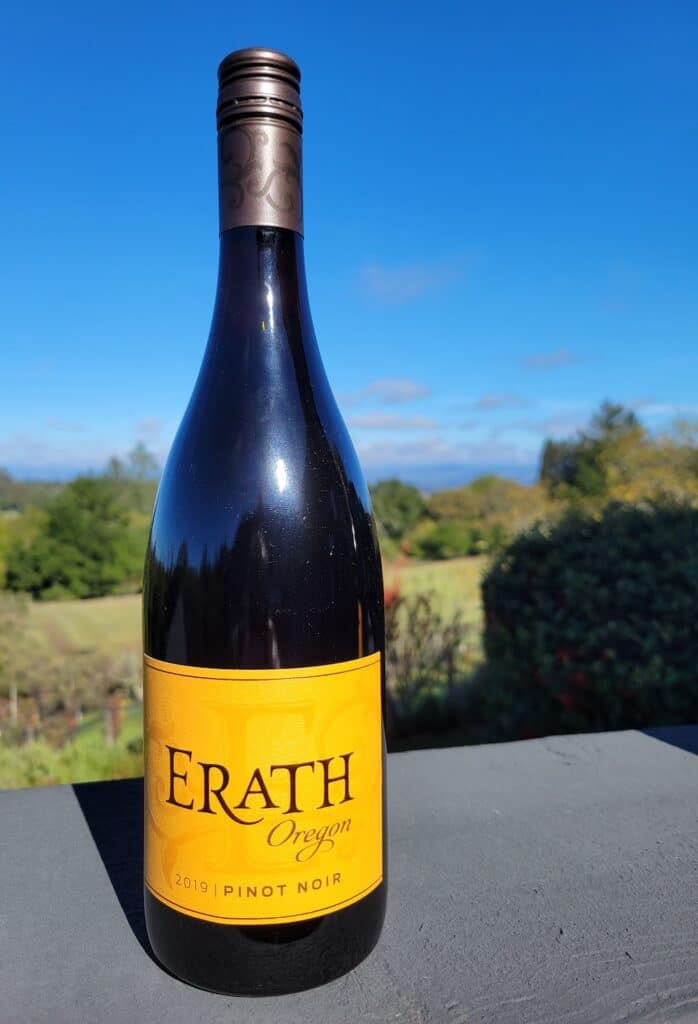 Compared to the Mark West, the color of the Erath has a beautiful Pinot character. It's more of a dark purple, but still translucent.

In terms of the nose, it's a single note, which could be characterized as fruity (blackberry-ish). But it's the sort of flavor that might be found in taffy or candy, as opposed to juice. The mouthfeel of the wine can be termed medium — it's thicker than that of the Mark West.
The fruit notes of the nose are present in the taste, but they give way to an earthy quality that can be described as bramble-ish or underbrush-like. In short, this wine doesn't have a classic Pinot Noir flavor. It's "underbrush" quality has a sharp acidity that isn't well-integrated into the rest of the flavor of the wine. The finish has a touch of bitterness which wasn't to our taste. If you don't like bitter, skip this one.
Stats
AVA: Oregon
Alcohol Content: 13%
Retail Price: $24.99
Pairings: Hanger steak or aged cheese, such as Gouda or Parrano.
Halleck Three Sons Cuvee Pinot Noir Tasting Notes: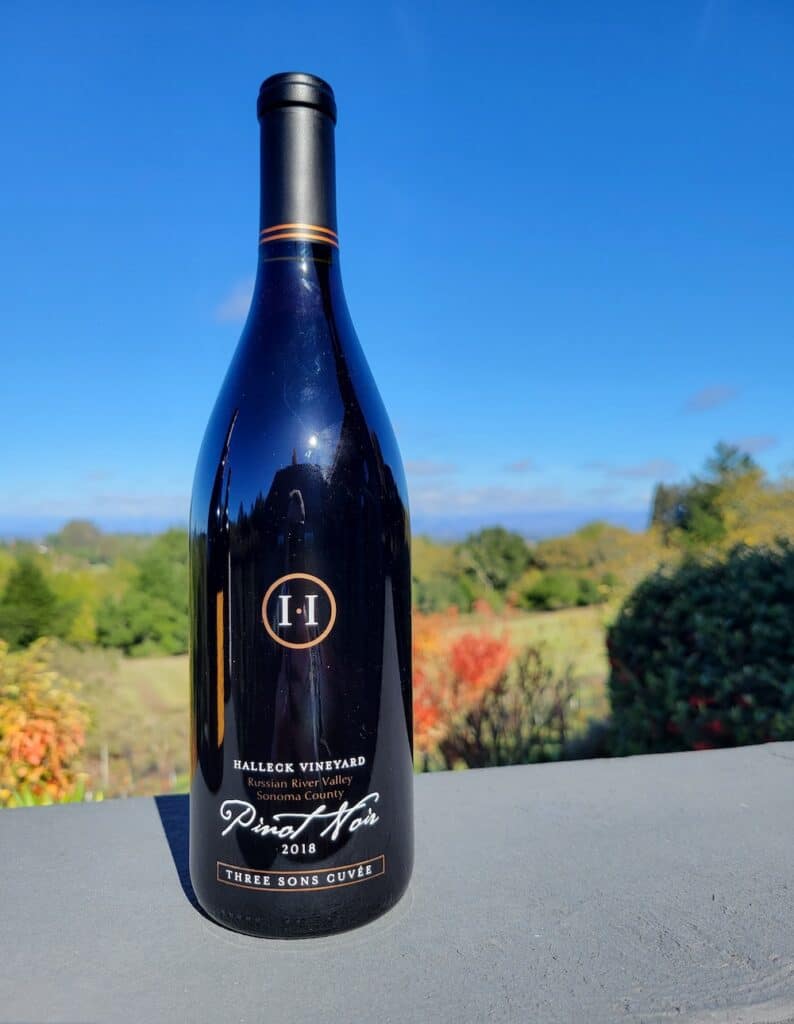 The Halleck Vineyard Three Sons Cuvee Russian River Pinot Noir is garnet-colored, with a gem-like shimmering transparency; its nose leads with earth and fruit. It could be referred to as Burgundian. There are "animale," "sauvage" or "feral" notes present, but these are balanced by the fragrance of dark cherry.

You can detect hints of pepper and Christmas/baking spices, as well as a classic Pinot Noir forest-floor scent. The mouthfeel is rich and filling in comparison to the previous wines.
The taste of the Three Sons Cuvee delivers on the promise of the nose, which is the hallmark of any good wine. The spices are prominent, along with traces of minerality. This is a complex yet balanced Pinot. It's produced in California's Russian River Valley — an area known for superb Pinot Noir grapes. The Three Sons name comes from the three sons of the Halleck family. Their names and ages are inscribed on the back of the bottle.
Stats
AVA: Russian River Valley, California
Alcohol Content: 14.1%
Retail Price: $49.00
Pairings: Filet mignon or any other luscious, lean meat.
Next, we'll be tasting the seventh, eighth and ninth most search Pinot Noir brands, which are from Bread and Butter, Flowers and Josh Cellars.
We're also planning to cover New Zealand and French Pinot Noirs in another post as well.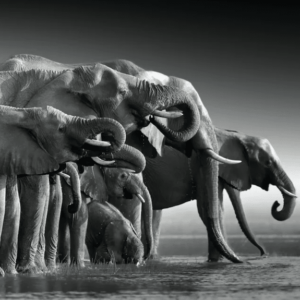 Join Sonoma vintner Jennifer Halleck on an unforgettable journey to Africa, where you will explore the wonders of this vibrant continent and share your passion for wine with fellow enthusiasts.…
Read More
Although they are based in west Santa Rosa, DeLoach has every right to call themselves a Russian River Valley winery. Sure, they also source fruit from the Sonoma Coast,…
Sonoma Wine Tasting in Sebastopol